Meet Your Military: Volunteers Find Serving "Labor of Love"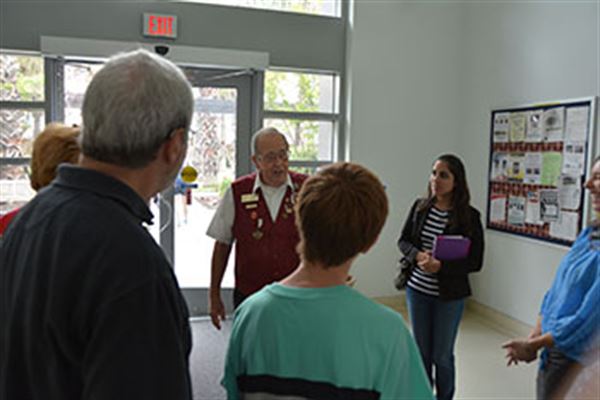 Tony Meyer, a 30-year Navy veteran, serves as tour guide for a group at the Center for the Intrepid in San Antonio, Texas, March 23, 2016. Meyer, a Brooke Army Medical Center volunteer since 2004, was named Office of Volunteer Services' Volunteer of the Year for BAMC and will now vie for honors at the JBSA-Fort Sam Houston and San Antonio United Way levels. Army photo by Robert T. ShieldsJOINT BASE SAN ANTONIO-FORT SAM HOUSTON, Texas, April 1, 2016 — Joyce Earnest sat in the waiting area anxiously awaiting an update on her husband, who was undergoing bypass surgery at San Antonio Military Medical Center here.
The first person who came out to reassure her was not the doctor or nurse, she recalled, but a volunteer."I was so grateful for all of the care, especially from that volunteer … I decided that day to come back after I retired and give back," she said.
Twelve years later, in 2012, Earnest became the first volunteer clerk in the intensive care unit. "I love helping people -- whether it's a patient or family member or the staff -- using my knowledge and experience to be there for them, even if it's just holding someone's hand or providing a shoulder to cry on," she said.
Hundreds of Volunteers
Earnest is one of about 425 volunteers serving throughout the hospital and outlying clinics in every aspect of patient care, from care mobile drivers and front desk clerks to doctors and nurse midwives. Most, donned in red, burgundy or blue vests, pop popcorn in the Medical Mall, listen to family members' concerns, guide people to appointments, serve in the ministry, provide wheelchair transportation or in-person escorts and pull records for patients -- to name just a few of the jobs they do.
Situated in nearly every office and clinic, together, they give more than 80,000 hours of their time each year, said Michael Dulevitz, chief, Brooke Army Medical Center Volunteer Services."The volunteers here amaze me every day with their dedication and caring," he said. "I attribute a great deal of our mission success to their service."
Most volunteers have military ties of some kind, while others are community members with a strong desire to give back, Dulevitz noted.
"It's a labor of love for both the staff who create the positions and the volunteers who serve in them," he said. "Our volunteers are incredibly selfless and caring, and are absolutely vital to the success of the hospital.
"They all really appreciate what the military has done and continues to do," Dulevitz added. "They give back out of gratitude and a sense of service."
Long-Time Volunteer
Tony Meyer, a 30-year Navy veteran, signed up to volunteer in 2004. He'd just retired for a second time from a business career, and missed the military's camaraderie and sense of service. He started as a Caremobile driver, shuttling patients to and from the hospital's front door. He soon took charge of the program and built it up from four carts to 10, and from 16 drivers to 48. For his efforts, he was named Office of Volunteer Services Volunteer of the Year for BAMC. He will now vie for recognition honors at the JBSA-Fort Sam Houston and San Antonio United Way levels.
"I used to tell everyone that the military is not just a job, it's a way of life," said Meyer, the former Navy Command Master Chief of the Pacific Fleet Seabees, who currently serves as a tour guide at the Center for the Intrepid. "I'll volunteer for as long as they'll have me."
Linda Sanders, whose husband is an Air Force retiree, offers coffee and refreshments donated by the Ministry Department to family members with loved ones in surgery. "We do our best to take care of families during a stressful time," she said as she offered a cup of coffee and a cookie to a visitor at the Post-Anesthesia Care Unit Volunteer Station here.
Sanders said she always carries a few extra cookie boxes just in case they run out. "We grandmas always feel you can't have too many cookies," she said. "It may be a small thing, but I hope it makes a difference for these families."
Shirley Adcock, a volunteer in the U.S. Army Institute of Surgical Research Burn Center, offers comfort to family members waiting to see their loved ones after surgery or a treatment. When the waiting room is empty, she reaches for the knitting needles and sews hand-crafted dolls and stuffed animals that she donates to the pediatric hematology/oncology clinic.
At 88 and "with nothing left to buy, this gives me something to do," she said with a smile. With a passion for volunteer work and knitting, Adcock said she's here to stay.
Earnest also plans to stay for "as long as they'll have me." As a clerk in the ICU, she feels she's paying it forward by keeping families updated about their loved ones, just as the volunteer did for her 12 years ago. "When patients come to the ICU it's often a trauma situation and any information you can provide to the families, that they can cling to, is good," she said.
"It's incredibly rewarding to give back and feel like you're making a difference."
Whether retired military or a family or community member, BAMC always has room for more volunteers, Dulevitz noted. "Our doors are always open for people wanting to give back to the military," he said.
Written April 1, 2016 By Elaine Sanchez. Republished and redistributed by permission of DoD. ***SOT***