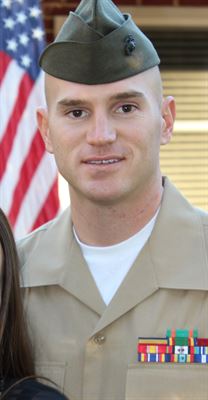 Marine Corps Sgt. Austin Brasington is the station commander for Recruiting Substation Meridian, Miss., where he works to find the future of the Marine Corps. Courtesy photoMERIDIAN, Miss., April 27, 2016 — The alarm goes off at a disquieting volume at five in the morning. Groggily, the sergeant rolls over and quiets his wake-up call. He rubs his eyes, walks to the bathroom, and takes a look at himself. Thoughts begin to fill his head about the day ahead and he begins to calculate how much time he has to do his job and still be home for dinner.
This is the life of a station commander at a recruiting substation, and the story of Marine Corps Sgt. Austin Brasington.
Brasington, a station commander with RSS Meridian, Mississippi, and a native of Montgomery, Alabama, enlisted in 2008 as an aviation ordnance systems technician.
He said that he liked the history of the Marine Corps and the fact that it was the toughest challenge out of all of the service branches.
Challenging Deployments
Challenge is exactly what he got with back-to-back deployments to Afghanistan in 2009-2010, the 22nd Marine Expeditionary Unit from 2011-2012, and to Bahrain from April 2013 to October 2013.
After his time in the Fleet Marine Force, he reported to the Basic Recruiter Course at Marine Corps Recruit Depot San Diego, California.
The grueling seven-and-a-half-week course teaches Marine Corps presentation skills, quality enlistment procedures and systematic recruiting.
Brasington said that his time at RSS Meridian has been exceedingly rewarding because he has been able to enlist new Marines and make a difference in someone else's life.
He said that for anyone thinking about joining to Marine Corps, it all comes down to having a plan.
"Go in having goals set and making sure that you hold yourself to them," Brasington said. "Make sure you push yourself to be the best that you can [be] and never give up when things don't go your way."
Written April 27, 2016 By Marine Corps Cpl. Krista James 6th Marine Corps District. Republished and redistributed by permission of DoD.