Share the walk and buy Dr. School's insoles at Walmart.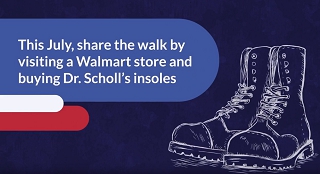 Watch on YouTubeThis July, imagine walking in the shoes of an American Soldier.
When you try to understand the sacrifice our soldiers make, you can see why supporting America's Troops is so important.
This July, share the walk by visiting a Walmart store and buying Dr. School's insoles.
For every sale over $10, Bayer will donate $1 to SupportOurTroops.Org !
---