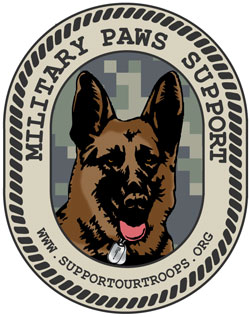 In this edition of Support Our Troops.org, we present the fascinating world of America's K-9 teams and the many ways they keep our servicemembers safe. Military working dog teams participate in dangerous missions all over the world, often in extreme conditions for extended periods. These K-9 handlers work long hours, many times away from home and family, while the hone the skills that save lives in combat.
What began as a request from a dog handler for "hard to get" K-9 supplies resulted in Support Our Troops.org founding the Military Paws Program to assist the 2,000 or so military working dog teams operating around the world.
Here's how it works.
Support Our Troops.org realized that, while our armed forces do an excellent job providing the basics, America's K-9 teams lacked some of the "comfort" items commonly enjoyed by civilian pet owners.
Support Our Troops.org collects and repackages donated comfort goods for K-9 teams, ranging from cooling vests to toothpaste, and ships them to military bases at home and abroad.
Even a small donation goes a long way towards shipping costs and bulk purchases. Please go to our secure site https://supportourtroops.org/donate to make your tax-deductible contribution today!
If you wish to personally shop for America's K-9 teams, go to our website https://supportourtroops.org/k-9-soldier-treats for a list of comfort items that are the hardest to get and most in demand by our troops.