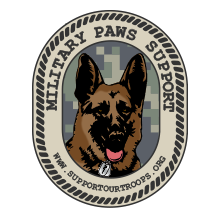 The Military Paws Support Program directly impacts morale and welfare of troops worldwide who handle America's K-9 soldiers by providing them with a variety of dog care items to foster a good environment for the dog and handler. K-9 soldiers work side by side with our troops to keep them safe and assist them in their duties, and their handlers greatly appreciate supplies received through this program. These dogs work hard for a living, and for us! Let's thank them!
Why the Military Paws Program Matters:
Do you love animals? Well, the United States has more than 2,000 military working dogs deployed worldwide. Military working dogs are an integral part of the missions around the globe. These K-9 soldiers often work long hours in heat and sandstorms, just like their handlers. Their keen sense of smell and unique training provide their handlers with assistance in detecting explosives and drugs. The military also relies on military dogs to provide security on bases around the world. All to keep our service members safe.
How You Can Help:
Even a small donation helps us pay for shipping costs and other expenses connected to our Military Paws program. We are doing a lot of good with it and you can help! Donate now SupportOurTroops.Org is a 501(c)(3) nonprofit organization and your donation is fully tax deductible.
Ship K-9 Soldier Treats to:
Support Our Troops®
249-J Third St.
Ayden, NC 28513
Tel. 877-879-8882
Tel. 386-767-8882

Dog Care Items the Troops Request:
K9 cooling vest
K9 cooling mat K9 cooling collar
K9 booties
K9 goggles
K9 collapsible nylon dog bowl
K9 3" rubber ball Large rope chews
K9 eye drops
K9 ear wash

DO NOT SEND DOG FOOD OF ANY TYPE OR SIZE
DO NOT SEND DOG BEDS
DO NOT SEND MILKBONES
They are not needed by the military.

K9 Advantix, flea and tick
K9 salve for paws and noses
Towels to wipe paws
K9 shampoo and conditioner
K9 grooming tools (combs, brushes, etc.)
K9 beds or pillows
K9 toothpaste and brush
K9 biscuits (1lb boxes)
K9 jerky (beef, rice, vegetable, etc.)
The Rules:
Nothing less than the best for these first class people and K-9s! All first class, brand new, unopened, safety-sealed goods for America's finest.
Please include copies of the purchase receipts for the items for safety cross-checking.
Please include your name, address and phone number in case we need to get hold of you about the shipment. Also, be sure your name, address and phone appears legibly on the outside of the box.
Please include a print-out of a digital picture of your group, school and class, or such and any notes about why you did this so the troops can know how much the folks here really love, respect and appreciate them and their K-9s. We want the troops and their families to know who, way back here at home, is thinking about them.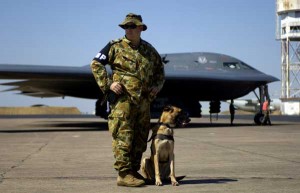 U.S. Military K9 and his Soldier
Ship K-9 Soldier Treats to
Support Our Troops®
249-J Third St.
Ayden, NC 28513

Use UPS, FedEx Ground, or Post Office parcel post.
Be sure your name, address and phone number is on the outside of each box.
If you are a company or manufacturer wishing to donate large quantities of any of the foregoing or similar, please contact us for trucking and warehouse information before shipping anything.