Meet Your Military: Army Civilian Finds Passion in Engineering Project Management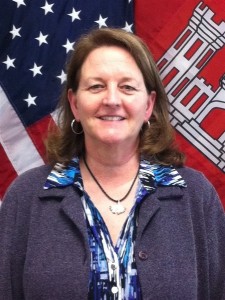 Rhonda Brown, a landscape architect, for the U.S. Army Corps of Engineers Galveston district, has managed projects around the world during her 21-year USACE career. U.S. Army photoGALVESTON, Texas, Sifting through artifacts dating back to the Roman era -- discovered while excavating a roadway for a $200 million Army housing project in Wiesbaden, Germany -- is the most interesting job assignment Rhonda Brown has overseen during her 21 years with the U.S. Army Corps of Engineers.
"We came across Roman coins, tile roof and pottery pieces," said Brown. "I thought for sure this would require the project to be relocated. However, Roman sites are found all over Europe so the German government simply collected some items, documented the location and the project continued with construction over the Roman site." Brown's career has provided her with other memorable experiences around the world, including a visit to ground zero of the World Trade Center during a disaster clean-up mission. The landscape architect now serves as a project manager for the USACE Galveston District, directing each stage in the life of a project, from programming and planning to design and construction.
Broad Responsibilities "I am currently managing the design of eight U.S. Customs and Border Protection command-and-control facilities in Texas and am the project manager for the Corpus Christi Border Patrol Station, Rio Grande City Border Patrol Station vehicle maintenance facility, and the Freeport Harbor Channel Improvement Project," Brown said. She said the USACE Galveston District provides planning, design and construction services to local, state and federal agencies, such as the USCBP, that either do not have in-house capabilities or are interested in combining their resources with the Corps' to support construction projects that serve our nation and our armed forces.
"Keeping customers informed of project progress is imperative to maintaining good working relations," Brown said. "Most of the border patrol project-development team members are located all over the United States. Each team is composed of a diverse set of individuals who bring to the table key skill sets that make a project successful." In the case of the $1.5 million Rio Grande City Border Patrol Station Vehicle Maintenance Facility, completed in September 2014, Brown said the project required a collaborative effort to identify and integrate critical functions that would adequately support border patrol operations and maintain more than 60 vehicles per week for the 400-plus agents who work at the station.
High Standards Most Corps projects are designed and built to Leadership in Energy and Environmental Design certification standards, which seek to improve energy savings, water efficiency and indoor environmental quality, as well as to reduce carbon dioxide emissions. Brown said she's please to incorporate all of those features into her designs. "I chose this field and career with the Corps because I like to make things happen, I'm passionate about natural resources, and I enjoy getting to create both functional and aesthetic spaces in our environment," said Brown. "Whether it's improving the life of a border patrol agent through new and improved facilities or working to better manage our coastal resources, I feel rewarded by being able to contribute to state and federal assets." A native of Dallas, she earned her Bachelor of Science in Landscape Architecture from Texas A&M University in 1990 and is a registered landscape architect. Throughout her career, Brown has earned the Commander's Award for Civilian Service three times, the Achievement Medal for Civilian Service, the Galveston District 2002 Employee of the Year, and the coveted USACE Landscape Architect of the Year Award, also in 2002. When she's not working, Brown and her spouse of 17 years, Georgia, help by volunteering in their community. They help at their church and take their dog, Lola, to local nursing homes to provide residents with pet therapy.
Written July 2, 2015 By: Sandra Arnold U.S. Army Corps of Engineers, Galveston District
Republished and redistributed by SOT by permission of DOD