Meet Your Military: Reserve Airman Saves Child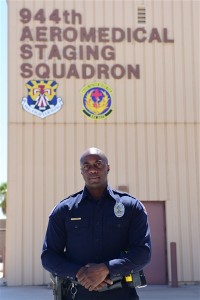 Air Force Tech. Sgt. Jude Joseph, 944th Aeromedical Staging Squadron medical technician and eight-year veteran of the Phoenix Police Department, poses in front of the 944th ASTS building July 8, 2015. Joseph, an Air Force Reservist, was the first police officer to respond when two children were found at a bottom of a swimming pool July 2. U.S. Air Force photo by Staff Sgt. Lausanne KinderLUKE AIR FORCE BASE, Ariz., July 9, 2015 – Air Force Tech. Sgt. Jude Joseph, a medical technician with the 944th Aeromedical Staging Squadron here, saved the life of a child who was found at the bottom of a swimming pool July 2.
Joseph is a member of the Air Force Reserve and also an eight-year veteran of the Phoenix Police Department. In that capacity, he responded to a 911 call and was the first to arrive at a residential backyard to find two children lying on the poolside patio. "My immediate thought was that I have two babies who need help," Joseph said. "I needed to triage the worst-injured, but still provide some care to the other baby and update [the] Phoenix Fire [Department] with information." Quickly assessing the situation, he instructed a man who was with the children to monitor the child who was vomiting, and he administered CPR and rescue breathing to the unresponsive child until Phoenix Fire arrived.
Tragedy Averted "Both children were transported to a local hospital and doctors are reporting that not only are the children expected to survive this near tragedy, but they are cautiously optimistic the children will recover with no permanent effects of the drowning," Phoenix police officials said in a statement. "Officer Joseph's immediate response to the home, his calmness under great pressure and his training all contributed to the recovery of the 1- and 2-year-old victims." Joseph said his CPR and emergency medical technician training taught him to keep the first baby's airway clear due to vomiting and to check the second baby for "CAB," short for circulation, airway and breathing. Joseph has been with the 944th ASTS for almost 12 years, and he credits his success to the military and civilian training he's received. "To be able to assist in saving the lives of two babies in one incident using my training as a med tech was great," he said.
Written July 9, 2015 By: Air Force Staff Sgt. Lausanne Kinder 944th Fighter Wing
Republished and redistributed by SOT by permission of DOD