Meet Your Military: Soldier Puts the Count in Accountability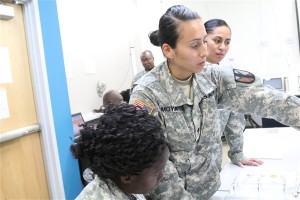 Army Spc. Donna C. Moya, a human resources specialist for the 303rd Maneuver Enhancement Brigade, instructs a junior soldier during Exercise Imua Dawn at Sagami Depot, Japan, July 4, 2015. Imua Dawn is the culminating training event for the 303rd MEB to achieve full operational capability status in phase 3 operations. U.S. Army photo by Staff Sgt. Melissa McGaugheySAGAMI DEPOT, Japan: It is 15:07. Army Spc. Donna C. Moya stands up. "Sir, the number of personnel on the ground is 4,721. In the last 24 hours we received enemy contact at two locations within Task Force Bayonet. Seventy-nine soldiers are being treated, 14 have been medically evacuated. Currently we are still operating at full strength. There are no additional issues. For the next 24 hours, we will continue to monitor any developing situations. Pending any questions, this concludes my brief."
There are no further questions. Moya sits down. While the words may sound simple, a vast amount of work goes on behind the scenes in order to create that accurate picture of the battlefield. In the U.S. Army, that work is done by human resource soldiers in the S-1 -- the personnel section. Moya is one of those soldiers, serving in the 303rd Maneuver Enhancement Brigade during annual training here as part of Exercise Imua Dawn. Imua Dawn is a command post exercise created specifically for maneuver enhancement brigades. The exercise covers the fictional island of Tembago, and is designed to replicate the Pacific Command area of responsibility and exercise the brigade-level staff. Within the exercise, the S-1 must maintain accountability of almost 5,000 troops operating on a simulated battlefield of more than 236 square miles. Moya's job is to make sure the numbers add up.
Changing Roles Moya joined the Army as a mechanic in 2010. After three years on active duty, she decided to continue her military career by joining the Army Reserve's 303rd Maneuver Enhancement Brigade in Fort Shafter Flats, Hawaii, as a human resources specialist. Within six months of getting her new job, Moya accompanied the unit to their annual training -- a combat support training exercise that took place at Fort Hunter Liggett, California. It was Moya's first opportunity to see how a human resource specialist would work in a forward-deployed environment. "At first, I found it different, going from turning wrenches to typing," she said. "It was a huge change for me." She spent most of her time learning the roles and responsibilities of her new position. Along with the new work environment, Moya also had to deal with the simulated battlefield. She recalled an incident during last year's exercise when the scenario had the base being attacked by mortars. "I never had that level of realism in training before. Even on active duty, I didn't have training like that," she said. "It was very different."
Responsibility for Accountability This year, Moya has found her rhythm. "I've gotten so much more proficient than last year," said Moya. "This year I have perfected my ability to do my job." During exercise Imua Dawn, Moya is responsible for receiving and maintaining the personnel status from every subordinate unit in the brigade's area of operations. "We keep accountability of all the down-trace units, and their subordinate units," Moya said. It sounds simple, but accountability is more than just tracking numbers on paper. "You're not only accountable to the commander, you're also accountable to the American public -- to the families," said Lt. Col. Daniela A. Allen, the brigade's senior human resource officer. "They need to know their loved ones are being taken care of while they do their job. Accountability is so critical." For the S-1, that means constantly monitoring the movement of every single soldier. Luckily for her, Moya said putting all the pieces together comes naturally.
A Numbers Puzzle "I really like problem-solving," Moya said. "For me, it's fun. It's a lot like solving puzzles. You have to figure out the numbers." In addition to tracking the numbers, Moya also prepares the daily brief for the commander which is an integral part of what the S-1 does. "You give the commander a picture of who he has on the ground," said Chief Warrant Officer Eric P. Hollis, a human resources technician in the 303rd Maneuver Enhancement Brigade and Moya's supervisor. "That picture is what allows him to make decisions." A lot of times, Hollis added, the numbers don't add up. "Specialist Moya has the ability to go in and find the missing piece."
Written July 10, 2015: By Army Staff Sgt. Melissa McGaughey 303rd Maneuver Enhancement Brigade
Republished and redistributed by SOT by permission of DOD