Meet Your Military: Marine Serves His New Country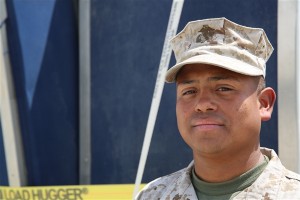 U.S. Marine Corps Sgt. Edwin Maldonado, warehouse chief with Special Purpose Marine Air-Ground Task Force Crisis Response- Central Command, facilitates logistics in Southwest Asia, July 11, 2015. U.S. Marine Corps photo by Lance Cpl. Garrett WhiteSOUTHWEST ASIA: Although some families can trace their heritage back to the days of the founding fathers, more recent arrivals often hear the call of duty just as keenly. U.S. Marine Corps Sgt. Edwin Maldonado emigrated from Honduras to Miami as a child, and now he continues a recently founded family tradition of service in the U.S. military.
"For the first five years of my childhood I didn't know my mother or father because they had already moved to the United States," said Maldonado. "In 1993, when I was about six years old, the rest of my family began to get their visas and we all moved to the U.S." Maldonado said his cousins were the first members of his family to join the U.S. military.
"I always knew growing up I wanted to join the military, I just didn't know what branch I wanted to join," he said. "I had cousins that were already in the Navy and Army, but I wanted to do more than that, be better than them."
From Recruit to Marine Recruiter Maldonado set foot on the yellow footprints of Marine Corps Recruit Depot Parris Island, South Carolina, January 21, 2004, to begin his career in the Marine Corps. "Graduating was the proudest moment of my life," Maldonado said. "My friends and family all came to my graduation … It was a very emotional time. Part of that was because I did this for them -- I wanted to do something that they would be proud of, and when I came home everyone was very proud of me." He completed his military skills training as a warehouseman and reported to Okinawa, Japan. "I think I enjoyed my first two years in the Marine Corps on Okinawa the most," he said. "It's where I got to know the Marine Corps, and I had a lot of fun there. It's also where I decided that this was the career for me." Maldonado said he and his fellow Marines in Okinawa talked about the idea of becoming drill instructors. Soon after, he had an assignment to the Marine Corps Recruit Depot in Parris Island, South Carolina. He worked there in his primary specialty, but he said he saw firsthand what life was like for the DI's there. "I saw how hectic the life would be and decided it didn't fit my personality," he said. "Although I love to teach and train, that just was a different side than what I wanted to do." Instead, he decided to become a recruiter, and he submitted his special duty assignment request. Before long, he was on his way to attend the Basic Recruiter Course. The school was very demanding, Maldonado said. Though he struggled academically, he said it was ultimately his personality and attitude that got him through. After graduating, he moved to Tucson, Arizona, as a recruiter. He met his wife while stationed there, and they now have a young daughter.
Task Force Warehouse Chief After four years of recruiting, Maldonado is now deployed with Special Purpose Marine Air-Ground Task Force Crisis Response-Central Command as a warehouse chief. Sgt. Adam Becker, SPMAGTF Command Element supply chief, said for the seven months he has known Maldonado, his leadership skills and motivation have made for a lively but effective work environment. "It was a bit rough at first," he said. "Two sergeants coming together, both wanting to be sergeants of Marines, but we have since worked things out and now work well together. "He has a very uplifting attitude so it breaks up the monotony of working behind a desk all day," Becker added. "It's pretty good to know that if we need to do something, I can just tell him what needs to get done and he will do everything he can do to help me accomplish it. He is a very hard worker, when he sets his goals he hits them on the mark every time." Now in zone for promotion, Maldonado said he plans on submitting another recruiting package once his current deployment is over. "I always told my [recruits] that if you want to do something, why not go for it?" Maldonado said. "The Marine Corps might not be for everyone, but even if you do only four years, eight years or make it a career, you can take what the Marine Corps has given you and be successful."
Written July 13, 2105 By: Marine Corps Lance Cpl. Garrett White Marine Corps Forces Central Command - Forward
Republished and redistributed by SOT by permission of DOD