Meet Your Military: Civil Engineer Airman Builds Toward Dream
BAGRAM AIR FIELD, Afghanistan – Air Force Senior Airman Carl Vanlandingham, 455th Expeditionary Civil Engineer Squadron structural journeyman, always knew he wanted to be a carpenter and welder.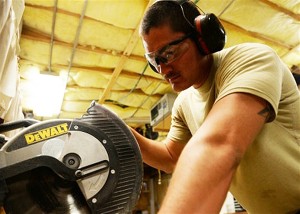 U.S. Air Force Senior Airman Carl Vanlandingham, 455th Expeditionary Civil Engineer Squadron structural journeyman, works on a project at Bagram Air Field, Afghanistan, July 16, 2015. Vanlandingham builds various projects during duty and on his days off to support the mission. U.S. Air Force photo by Senior Airman Cierra Presentado He said he was only 12 when he built his first project. He noticed he had a talent for working with his hands, he said, so he proceeded to experiment and build things throughout his young life. Ultimately, he decided to follow a three-generation family tradition and join the Air Force. As a civil engineer airman, he said he knew he would be able to deploy and make a difference doing what he loved.
Dream Job "I made the decision at a young age that this is what I wanted to do," Vanlandingham said. "From building a dog house to now building projects for the Air Force, I'm living my dream." Since being deployed here, Vanlandingham has worked on numerous projects, including building platforms for air conditioning units and a stand for the air traffic control tower. "We get many work orders to build things around the base," he said. "I always jump at the chance to build something new. It's always exciting to see what the next project is going to be." During free time and days off, many airmen prefer to catch up on sleep or relax. Vanlandingham said he prefers to use his free time go to work and build things from scratch. "When I have down time, I really enjoy going to my shop and working on projects. It's really relaxing to just build stuff with my hands," he said. "That's what I like to do."
Building a Future Vanlandingham said the unique part of being deployed is getting to apply his home-station training to real-world situations. "We trained for all this stuff back at Minot, but here I'm actually doing it -- things I've never done before, like painting the ramps on the flight line and painting parking lanes for Black Hawks," he said. "It's truly an amazing experience." Vanlandingham said being a civil engineer airman will ultimately help him achieve his dream of opening his own carpenter business and building his own home himself. "I plan on doing a full 20 years and retiring from the Air Force," he said. "And when I do, I will open my own business as a carpenter and welder. The ultimate goal that I've always had is to build my family a home. I even already have sketches of floor plans that I might want for my home." Vanlandingham continues to use his skills by helping others and to make projects that impact the Bagram mission. "It's really great being here and working with my fellow airmen. We learn and build new things every day," he said. "I love being here and getting to wake up and do what I love."
Written July 20, 2015 :By Air Force Senior Airman Cierra Presentado 455th Air Expeditionary Wing
Republished and redistributed by SOT by permission of DOD