Michigan, August 16, 2012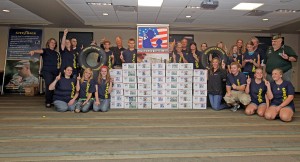 The Michigan care package pack-out sponsored by Goodyear Tire & Rubber Co. went great! Organized by Goodyear for SupportOurTroops.Org, it was conducted at the Michigan International Speedway in Brooklyn, Michigan as part of Goodyear's Give-Back program, now in his third year with Support Our Troops®. It was a great opportunity for local troop-support groups to connect. Julie Watrous, now with Operation Cuppa Joe organize it locally and was there to help package the care boxes, something she is well experienced in. And the good folks from Faith Baptist Chapel in Napoleon Michigan which have a very good care package program led by Teri Behnke, participated with over 20 volunteer members. Half of these were adults, and half were high school students. With folks like these America is in for a very bright future!
Goodyear rounded up and shipped pallets of care goods from its partners to SOT for the event including racing magazines, Anacin, Crest toothpaste packets, and Zest bar soap. SOT shipped in 2 pallets of goods donated by Biofreeze, 3 pallets of Trails-End Popcorn, and 1 pallet of Buckyballs donated by Buckyballs. The total value of all of these care goods delivered into Michigan was $173,051. Support Our Troops also presented a check for $1,345 to pay for the postage, made possible by donations from good Americans all across the country. Julie prepped all of the address labels and completed all of the customs forms. Thank-you cards and notes were written and included. 100 USPS Flat Rate Priority Mail boxes were packed, each containing $353 of goods. The United States Post Office was on hand with a vehicle and employees to pick up the care boxes and get them shipped out fast to the troops in Afghanistan. So between all of us bringing something to the table, the troops are going to have a great surprise from home. All of these boxes were shipped to deployed Michigan troops serving in Afghanistan on behalf of all Americans. These troops are principally from the 507th EN BN and 1433rd EN CO, both working in some of the most difficult areas in Afghanistan.
SOT's Martin Boire delivers postage check for the 100 Michigan Goodyer Gives Back Care Packages to Brooklyn, Michigan, Postmaster Dennis Williams
A moment of silence was held for one of their members recently lost while serving to protect us all. As part of its care goods grant program, SOT donated all of the remaining pallets of goods to the local Michigan troop-support group to use in their future care packages. This connection will serve the troops well into the future by connecting troop-support groups in the various states. When it comes to the military, state lines don't matter; the troops act on behalf of the entire nation and we're all in it together. Goodyear recognized this three years ago, and stepped up for the troops in a major way with its Goodyear Gives Back Campaign generating support for the U.S. Armed Forces and their families sacrificing daily to protect Americans' freedom. For three years in a row Goodyear has run this major nationwide campaign promoting support for and awareness of the troops nationwide. This truly effective campaign raises money to do tangible good for the deployed military, and increases public appreciation for America's military. You can't do better than that.
Way to go Goodyear!