Meet Your Military: Two Generations of Dark Horse Marines, 60 Years Apart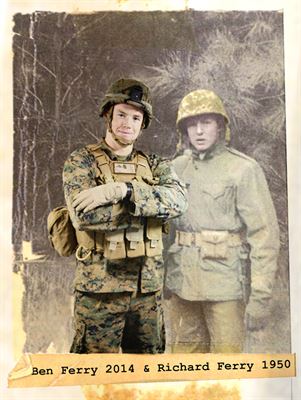 PHOTO: Lance Cpl. Benjamin Ferry and his grandfather, Richard T. Ferry, have each served with the 3rd Battalion, 5th Marines -- more than 60 years apart. U.S. Marine Corps photo illustration USS PELELIU – Marine Corps Lance Cpl. Benjamin J. Ferry joined the Corps because of his grandfather. "My grandpa always said I could go in any branch, and die in any branch, but if I joined the Army he would shoot me tomorrow," said Ferry, a 23-year-old from Martha's Vineyard, Massachusetts. "I always wanted to be a Marine, so that's the way I chose to go." Richard Ferry, Benjamin's grandfather, is a Marine combat veteran who served with 3rd Battalion, 5th Marine Regiment in the Korean War, fighting in Inchon and at the Chosin Reservoir. "I encouraged [Ben] to join the reserves and stay in college so he would have a good shot for a commission," said Richard. "Like me, he didn't pay any attention!" Benjamin, who was working toward a criminal justice degree after high school, temporarily set his books aside to enlist in 2013. "Infantry was the only option," said Benjamin, an automatic rifleman currently deployed with Battalion Landing Team 3/5, 31st Marine Expeditionary Unit. "I wanted to be a trigger puller."
A family's service history His 83-year old grandfather, a Boston native, had different reasons for joining the Marines, but it would ultimately set a path for Benjamin to follow. In April 1949, Richard was spending time with a high school classmate who was the son of Boston Red Sox chief scout Neal Mahoney. Neal would often take his son, Neal Jr., and Richard on scouting trips during the summer break. One day at Fenway Park, Richard and Neal Jr. met Ted Williams, the famous Major League Baseball player who served as a Marine Corps pilot in World War II. Neal Jr. was a pitcher in high school at the time, and Williams challenged him to throw some pitches from the mound. "Neal took the mound and Ted belted a few balls out of the park and teased the hell out of Neal," said Richard. "Afterwards, he asked what we were doing in town. Neal admitted that we had caught the ride with his father because we wanted to go to the Federal Building to join the Naval Reserve, [mainly] so we could get an ID card and alter the date of birth [so] we could drink."
The legal drinking age of Massachusetts was then, and still is, 21. "Of course Ted thought that was funny but he asked, 'what are you, a couple of [wussies]? If you want to drink and be men, why don't you join the Marine Corps like I did?'" So, Richard and Neal Jr. took Ted's advice and joined the Marine Corps' Inactive Reserve. Later that year, Richard received a telegram ordering him to boot camp at Marine Corps Recruit Depot Parris Island. A year later he was with 3/5 fighting in the Korean War. He was wounded twice at Chosin Reservoir, first on November 27, 1950, and again on December 2, 1950. His second wound required an air evacuation from the small village of Hagaru-Ri, and after a series of flights, he eventually ended at the Chelsea Naval Hospital in Boston. He would later receive two Purple Heart medals for his wounds. Richard later earned a commission and served in several challenging billets. His notable assignments include training officer for the 2nd Recruit Training Battalion at Parris Island, South Carolina; combat cargo officer on the attack transport ship USS Renville; instructor at The Basic School in Quantico, Virginia; and a staff officer for Gen. David M. Shoup, the 22nd Commandant of the Marine Corps.
He resigned as a captain in 1964 after 15 years of service. More than 60 years after earning the eagle, globe, and anchor, Richard returned to Parris Island. This time it was to see his grandson, Benjamin, march across the depot's Parade Deck as a new Marine. Benjamin's drill instructors learned about his grandfather's story and they did not hesitate to introduce themselves after the graduation ceremony. "Instead of the recruits getting to take pictures with their drill instructors," said Benjamin, "the drill instructors all asked to get pictures with him." After boot camp, Benjamin attended the School of Infantry, East. While there he shared more stories about his grandfather with his Marine buddies.
Like the one about the Tootsie Roll Marines. "The brevity for mortars in the Chosin Reservoir was 'tootsies'," said Benjamin. "[My grandfather told me that] some supply person dropped off tootsie rolls instead of mortar rounds." Although they did not receive the requested mortar rounds, it turns out the Tootsie Rolls were exactly what the Marines needed. The blistering subzero temperatures froze a lot of the food rations. "They kept [the Tootsie Rolls] on the inside of their parkas so they would soften up to chew on them while they marched out of the Chosin," said Benjamin. Another story was about the time his grandfather got into trouble just before the Korean War and had to report to his commanding officer. That commander was none other than Col. Lewis "Chesty" Puller. While the encounter was short and to the point, it left an impression on Richard to steer clear of trouble in the future. "[My] gunny overheard me telling some of the Marines that story," said Benjamin. "He asked to have [my grandfather] be the guest speaker at my graduation." A few months later, his grandfather did just that.
"Dark Horse" unit cohesion The already strong bond between the two men became stronger when Benjamin received orders to 3/5. Now they can both say they are a "Dark Horse" Marine. "I wanted to stay in the Carolinas because I was an East-coast boy, but I said if there was anywhere else I wanted to go, it was 3/5," said Benjamin. "It was exciting for my grandfather when he found out. I don't think he stopped smiling for a couple of days." "He was the only one in the group that went to 3/5," said Richard. "It was only a coincidence, but I loved it!" The Marines of BLT 3/5 know Benjamin has big shoes to fill, but it is the passion of his grandfather that pushes him to be a model Marine. "It's known around the platoon that his grandfather was a part of 3/5," said Staff Sgt. Omar Martinez, platoon sergeant for 3rd Platoon, India Company, BLT 3/5. "[Benjamin] is extremely disciplined and eager to learn. He's working his way to be a team leader and I'm confident he can fill in those shoes without question."
While Benjamin serves with BLT 3/5 on deployment, Richard is also traveling the world for his work. More impressive is that he is an avid runner and still competes in races of varying length across the globe, from 5Ks to half marathons. He recently signed up to compete in the Athens Marathon. Notably, he was the oldest competitor to finish the 2014 Marine Corps 17.75K race. During the event, he wore a Dark Horse 3/5 shirt that read "Get Some" in honor of his old unit and grandson. He crossed the finish line waving a banner that read "The Chosin Few". "The 17.75k meant the most to him; he had some unfinished business," said Benjamin. Benjamin hopes to run a marathon with his grandfather when he completes his tour with the 31st MEU, with both donning 3/5 t-shirts. "He has always said 'never stop: it's going to be tough … but keep pushing, don't ever stop,'" said Benjamin. "I can't really argue with that because he was at the frozen Chosin." Benjamin is currently deployed with India Company, BLT 3/5, 31st MEU, aboard the USS Peleliu, in support of the annual fall patrol of the Asia-Pacific region.
Written Oct. 24, 2014 By: Marine Corps Staff Sgt. Joseph Digirolamo 31st Marine Expeditionary Unit
Republished and redistributed by permission of DoD. ***SOT***