Goodyear Tires launches Charity Auction to benefit Support Our Troops
The Charity auction will be part of the sixth annual "Goodyear Gives Back" campaign, focused on supporting America's troops.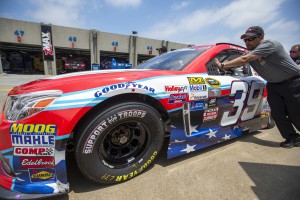 Goodyear once again transforms its NASCAR race tires, replacing the sidewall design with "Support Our Troops" on all tires used during Memorial Day weekend to support the U.S. Military. Thursday, May, 21, 2015 in Concord, N.C.This Memorial Day Weekend, you might notice something different on the tires of your favorite Nascar drivers' cars. For six straight years, The Goodyear Tire & Rubber Company has been rallying NASCAR fans to support members of the U.S. Armed Forces through its "Goodyear Gives Back" charitable program, benefitting Support Our Troops®. This weekend at Charlotte Motor Speedway, all race tires will be emblazoned with a stately "Support Our Troops" logo in red, white and blue.
The weekend festivities coincide with the launch of the
auction
itself, which features autographed NASCAR memorabilia, VIP race experiences and rides on the Goodyear Blimp. It really is a chance for the fans to give back to the troops, and potentially win some great items.
Support Our Troops® Chairman Martin Boire said he's excited for the endeavor and the help it can bring to our men and women in the armed forces. "For the past six years Goodyear has supported this organization through their "Goodyear Gives Back" campaign, and that has stood as a shining symbol of Americans' support to the troops," Martin said. "The efforts of that great American company have contributed significantly to Support Our Troops' ability to have delivered over $30 million dollars in goods and services to the troops and their families worldwide in 2014. " Martin wants to make sure everyone has a chance to get in on the bidding, and the festivities.
"We encourage everyone to get in on the action at
goodyear.com/gives
back by bidding on great NASCAR number memorabilia."
About Support Our Troops
Support Our Troops is America's Military Charity. We bolster the morale & well-being of the troops and their families worldwide. Our programs provide millions of dollars' worth of care goods and services including family assistance, kid's camp assistance, positive public support and more at hundreds of locations around the globe. If they're there, we're with them®.