Meet Your Military: Soldier Earns Olympic Berth at Pan American Games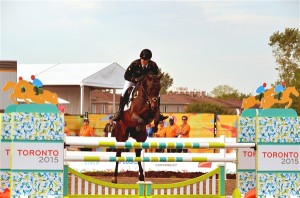 Army Spc. Nathan Schrimsher of the U.S. Army World Class Athlete Program rides a horse named Taboo, en route to earning a berth for the 2016 Olympic Games with a third-place finish in men's Modern Pentathlon at the 2015 Pan American Games in Toronto, July 19, 2015. U.S. Army photo by Tim HippsTORONTO: Army Spc. Nathan Schrimsher earned an automatic berth into the 2016 Rio Olympic Games with a third-place finish July 19 in men's Modern Pentathlon at the 2015 Pan American Games here.
Schrimsher, 23, a soldier in the U.S. Army World Class Athlete Program, or WCAP, from Roswell, New Mexico, took the bronze medal in the five-sports-in-one-day event with 1,421 points. "I'm ecstatic," Schrimsher said. "Yes, sir, it's awesome." WCAP Sgt. Dennis Bowsher, 32, a 2012 Olympian from Dallas, finished 10th with 1,348 points in the event, which includes fencing, swimming, equestrian show jumping and combines cross-country running and laser pistol shooting -- all in one day. "I think my day was OK," Bowsher said. "I'm definitely feeling my age. The whole goal today was for one of us to get an Olympic quota spot, so mission accomplished." Charles Fernandez of Guatemala won the gold with 1,444 points, followed by silver medalist Ismael Hernandez Uscanga of Mexico with 1,439 points. Fourth- and fifth-place finishers Jose Figueroa (1,415) of Cuba and Emmanuel Zapata (1,413) of Argentina also punched tickets to Rio de Janeiro by virtue of by-name Olympic berths awarded to the top five.
Tough Competition The 800-meter cross-country running course consisted of rain-soaked turf atop loose sod, which offered little stability for the runners, who stopped four times to hit a target five times from 10 meters with laser pistols. The competitor who amassed the most points in the first three events -- fencing, swimming and horseback riding -- started first, followed by the rest of the field that faced a one-second handicap for each pentathlon point by which they trailed the leader. Therefore, the first competitor to cross the finish line was the gold medalist, followed in order by the remainder of the field. "I was very, very happy about Nathan, especially because he had a lot of pressure from the best [combined run-and-shooters] in the world," said Janusz Peciak, head coach of the U.S. Modern Pentathlon squad. "But he really ran very smart. "This running course was not designed for him because he is big and it was raining and soaked, very wet," Pesiak continued. "But he did a fantastic job, and he shot very well. His shooting was the key." Schrimsher knew what was required to accomplish the mission.
'I Just Ran My Race' "Running is probably where I struggle in the pentathlon, and the ground was wet," he said. "I was sinking to up over my ankles in a few spots. I knew I really had to focus on shooting, and I shot well. The shooting was what got it. Running, I just ran my race. If somebody got past me, I knew [Uscanga] would, I didn't let it bother me." The first thunderstorm came shortly before Bowsher was scheduled to enter the riding course aboard a horse named Donaghan. "It just started pouring, so they pulled me off," Bowsher said. "Then I got to be the first one to experiment with that muddy field." Bowsher experienced firsthand how the waiting can be the hardest part. "You just don't know when you're going," he said. "You're warming up. You're getting your adrenaline up and getting ready to ride, then have to come down, but then you don't know when to bring it back up again because you don't know when you're going. But it was fun." Bowsher outsprinted Canadian Josh Riker-Fox to the line for a top-10 finish.
Close Finish "I could hear the crowd, and I thought: 'Oh, great, he must be right behind me,'" Bowsher said. "Then I glanced [back], and sure enough, he was like two feet right behind me. I just put my head down and was able to hold him off -- a small bit of satisfaction not hearing the roar as the Canadian passes me. I was able to quiet them a little bit." Bowsher, a three-time Pan American Games competitor, who is scheduled next month to attend the Army's Advanced Leadership Course on Fort Lee, Virginia, said he's proud of Schrimsher's accomplishment. "He's been in the Army for a couple of years, and I've been showing him the ropes, both within the military and I think in pentathlon, as well," Bowsher said of Schrimsher. "I'm glad I've been able to help and see him improve. It's just a wonderful thing for him."
Written July 22, 2015 By: Tim Hipps Army Installation Management Command
Republished and redistributed by SOT by permission of DOD