U.S. Military helicopter crashes near Okinawa, soldiers injured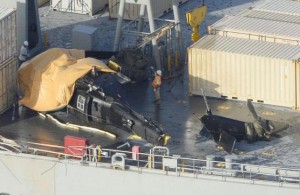 A damaged U.S. Army helicopter rests on the desk of the USNS Red Cloud off Okinawa island, southern Japan, in this photo taken by Kyodo August 12, 2015. REUTERS/KyodoTOKYO, Wednesday - Our troops and soldiers do a dangerous job, but an important one. They work to protect our freedoms and way of life. Here at Support Our Troops® we sometimes get the honor and privilege of sharing stories from deployed military members. Recently, we shared some messages from Okinawa.
Unfortunately, it isn't always good news. Early Wednesday morning, according to an NBC news report, a helicopter crash landed near Okinawa on Wednesday, injuring seven people. It was a UH-60 Black Hawk aircraft, performing a "hard-deck landing" on the USNS Red Cloud. Footage showed the chopper with part of its tail broken off.
There were 17 people on board, and the incident happened at 1:46 p.m. local time (around 12 a.m. eastern). The helicopter was conducting a training mission at the time.It's a stark reminder of the inherent difficulties our military faces when deployed overseas.
Want to learn more about how to help the troops? Click here to donate and show your support for the brave men and women soldiers serving our country. Please consider reaching out to us.
About Support Our Troops
Support Our Troops® is America's Military Charity. We enhance the morale & well-being of the troops and their families worldwide. Our programs provide millions of dollars' worth of care goods and services including family assistance, kid's camp assistance, positive public support and more at hundreds of locations around the globe.