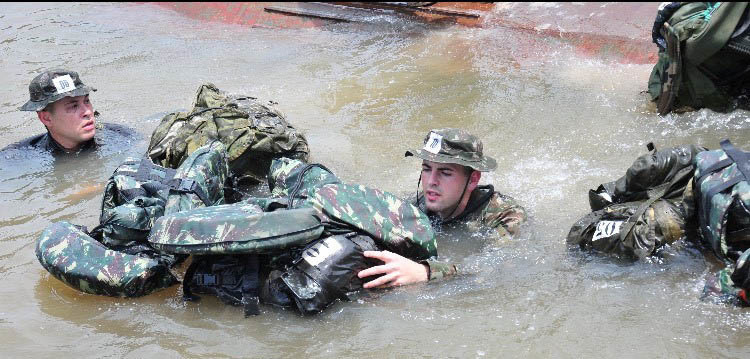 New York Air National Guard Senior Airman Caleb Lapinel trains on tactical swimming in a Brazilian river in October 2020 while attending the international course conducted annually by the Brazil Jungle Warfare Center, known as CIGS for its Portugese initials. Lapinel was the only American in the class of ten.( Courtesy Photo)
MANAUS, Brazil – When Senior Airman Caleb Lapinel showed up at Brazil's Jungle Warfare Training School in September, he met special forces soldiers from Spain, Egypt and Indonesia; paratroopers from Paraguay; amphibious infantrymen from Nigeria, and a Kaibil special operator from Guatemala whose motto is: " If I advance follow me, if I stop urge me on, if I retreat, kill me."
"I was worried about that in the beginning," Lapinel said.
"I said, 'Wow. I am surrounded by this bunch of paratroopers and special forces; the best of the best from their countries," he recalled.
He, on the other hand, is an intelligence analyst for the New York Air National Guard's 109th Airlift Wing, which specializes in flying to Antarctica and Greenland.
He was also at least five years younger than the rest of the class.