Details

Hits: 42
SOUTH CHINA SEA (Jan. 13, 2023) In this photo by Petty Officer 3rd Class Joseph Calabrese, an F/A-18E Super Hornet from the Kestrels of Strike Fighter Squadron 137 launches from the flight deck of the aircraft carrier USS Nimitz during flight operations in the South China Sea. The F/A-18 Super Hornet is the newest highly capable, affordable, and available tactical aircraft and is the backbone in U.S. Navy inventory.
Manufactured by McDonnel Douglas and Boeing Defense, the F/A-18 is one of America's most powerful weapons to achieve air superiority over an enemy. The combat-proven Super Hornet employs next-generation technology to launch day and night strikes with precision-guided weapons against maritime targets and to suppress enemy air defenses. The Super Hornet also provides close air support to troops on the ground and also acts as fighter escort to larger air groups. Able to reach speeds up to 1,190 miles per hour, the Super Hornet sports twin engines that cruise at 777 mph and this bird has a range of over 2,000 miles. Currently, there are 19 Pacific fleet squadrons flying the F/A-18.
The armament on these aircraft is impressive.
Read more: Screaming Off The Deck… F/A18 SUPER HORNET REALLY STINGS
Details

Hits: 62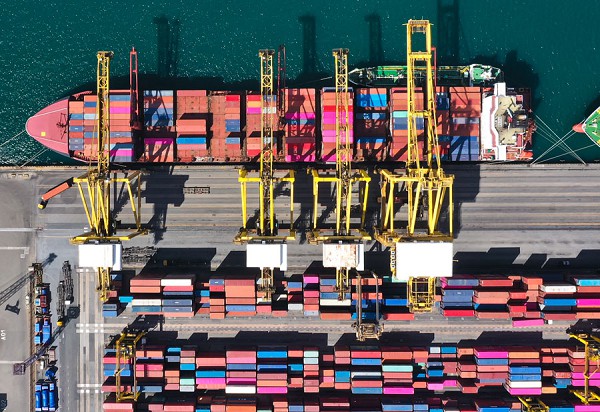 U.S., January 17, 2023 - America has quite a few service members stationed in Jordan efforting matters in that general geographic area, including Syria. Good morale bolsters a good mission, and SupportOurTroops.org runs a substantial MWR (morale, well being, and recreation) program to help assure that. An interesting project has been underway for some time, and on the 17th it left port on a freighter headed their way. Keep your eyes out for a series we're producing that will be covering this really interesting project demonstrating Americans' goodwill toward their military service members.
Details

Hits: 64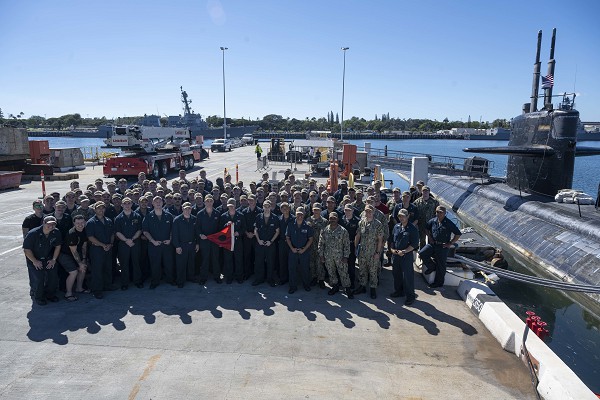 Pearl Harbor, Hawaii. (January 8, 2023): In this photo by MC1 Scott Barnes, the crew of the Los Angeles-class attack submarine USS Chicago poses with the Battle Efficiency, or Battle "E" pennant that recognizes crews for their high levels of sustained proficiency and readiness. The Battle "E" Pennant is awarded after a yearlong evaluation of a submarine crew in an operational environment, and they must measure up to exacting standards.
The Los Angeles-class submarine is the backbone of the U.S. Navy's submarine force with 41 ships now on active duty, accounting for more than half of the U.S. Navy's fast attack submarines. Equipped with 12 vertical launch tubes for firing Tomahawk cruise missiles, the Los Angeles-Class is an awesome war machine silently patrolling the world's oceans.
Details

Hits: 79
WORKING TOGETHER TO DEFEND OPEN SEAS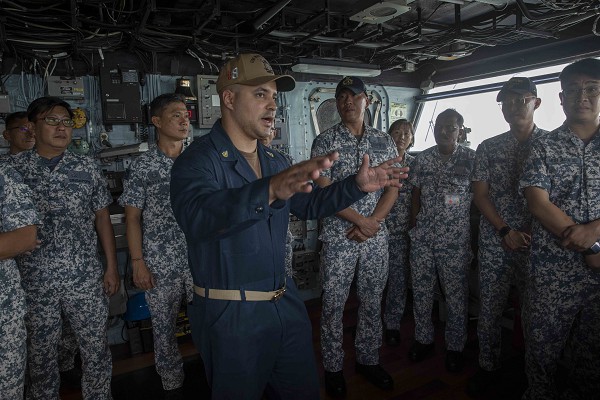 SINGAPORE (January 9, 2023): In this photo by MC2 Nadia Lund, Senior Chief Quartermaster Luis Torres gives a tour of the bridge of the amphibious assault ship USS Makin Island to senior enlisted leaders of the Republic of Singapore Navy.
The Sailors are participating in the annual Cooperation Afloat Readiness and Training (CARAT) Marine Exercises, a bilateral maneuver between Singapore and the United States designed to promote regional security cooperation and to maintain and strengthen maritime partnerships.
In its 28th year, the CARAT series is comprised of multinational exercises designed to enhance U.S. and partner forces' abilities to operate together in response to maritime security challenges. The Makin Island Task Force is made up of the amphibious transport dock USS Anchorage and USS John P. Murtha operating in the U.S. 7th Fleet area of operations. The muscle of the task force is the 13th Marine Expeditionary Unit.
Details

Hits: 70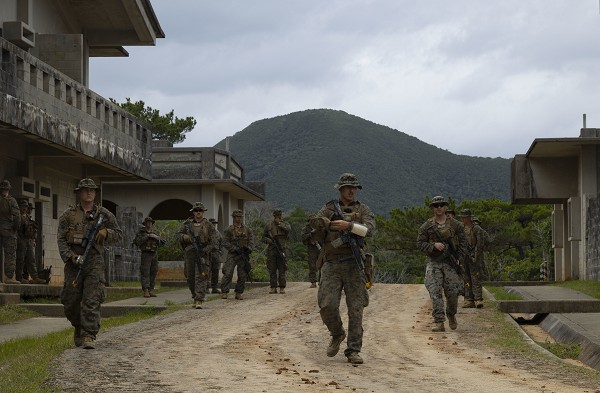 Okinawa, Japan. (January 9, 2023): In this photo by Corporal Davin Tenbusch, U.S. Marines with 3rd Battalion, 4th Marines patrol an urban training area during Stand-In-Force Exercises on Okinawa, Japan. The exercise involves all elements of the Marine Air-Ground Task Force acting as a Stand-In-Force to rehearse rapidly projecting combat power in defense of our allies in the region.
The 3rd Battalion, 4th Marines (3/4), nicknamed the "Thundering Third", is based at the Marine Corps Air Ground Combat Center, Twentynine Palms, California. Consisting of approximately 1,000 Marines, the 3/4th currently falls under the command of the 7th Marine Regiment, 1st Marine Division, but — along with its two sister battalions — is hosted by the 3rd Marine Division at Camp Schwab, Okinawa, Japan, when training in jungle warfare.
Details

Hits: 50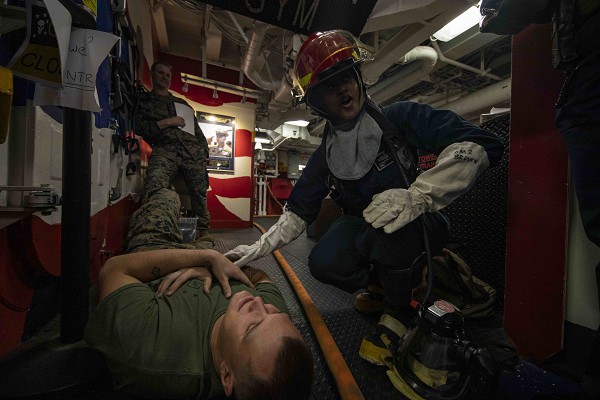 SOUTH CHINA SEA (January 6, 2023): In this photo by MC3 Kendra Helmbrecht, Boatswain's Mate 2nd Class Ashley Brown assists a simulated casualty during a general quarters exercise aboard the amphibious assault ship USS Makin Island in the South China Sea. Damage control drills are used both in port and underway to ensure that Sailors have the proper training to handle any emergencies that may arise.
The life of a typical Boatswain Mate aboard an American warship is as challenging as advertised. Their job involves supervising the maintenance of the ship in addition to a diverse roster of other responsibilities, from standing watch to repairing, maintaining, and stowing equipment. Besides these duties, all crewmembers participate in combat and damage control drills which can be initiated at any time at sea or in port.
Picture a life of constant training, in one form or another, around the clock, seven days a week, week after week for months. While these drills may seem monotonous to the crew, history has taught the value of practice damage control until each sailor does their jobs perfectly.
Subcategories