Details

Hits: 65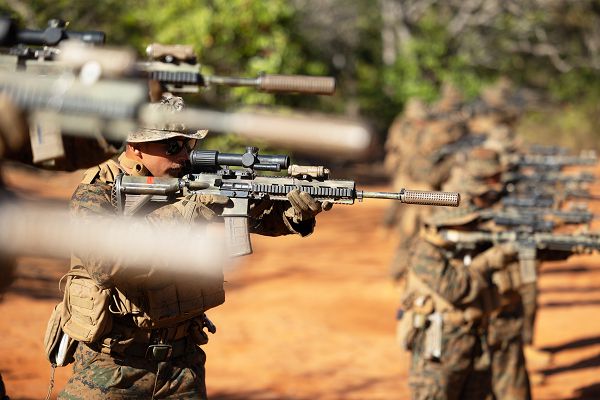 Formosa, Brazil. (August 29, 2023): In this photo by Gunnery Sergeant Daniel Wetzel, Corporal Justin Goupil with Echo Company, 2nd Battalion, 5th Marine Regiment leads reloading drills with Brazilian Marines during Exercise Formosa held here this week. The Brazilian Marines, or in Portuguese Corpo de Fuzileiros Navais, joined the Americans in jungle warfare training, expert subject matter exchanges, and shared valuable insights on tactics and strategy. The Formosa event was held at Brazil's premier expeditionary military training facilities and included participants from Germany, South Africa, and France.
The goal of the training was to improve interoperability between forces and to hone combat skills by operating in various terrains and scenarios. Brazil is a massive country of over 3.2 million square miles with 4,600 miles of coastline. The terrain can vary from the steamy jungles of the Amazon to freezing mountain tops which presents unique challenges for infantry units. The Marines participated in realistic combat maneuvers including live firing their M240G medium machine guns and practicing amphibious assaults with their Brazilian comrades. The Americans were also treated to a new multi-part cognitive course designed by the Brazilian Marine Corps.
Details

Hits: 90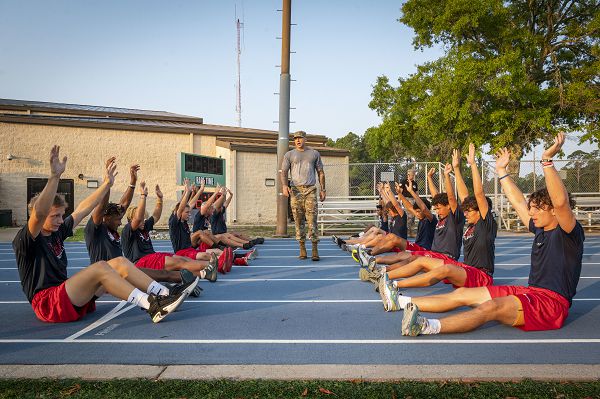 Fort Walton Beach, Florida. (August 31, 2023): Every football team thinks it is tough, but how would they fare working out with real life air commandos? The Fort Walton Beach High School Vikings football team found out this week just how difficult military training can be while learning more about Air Force special operations forces. In this photo by Staff Sergeant Miranda Mahoney, Air Force Master Sergeant Bradley Sheppard, assigned to the 36th Electronic Warfare Squadron at nearby Hurlburt Field, leads military physical fitness training at the three-day Air Commando Youth Athletic Camp. Vikings football players trained alongside Special Operations Airmen in Basic Training military drills, completed a circuit workout including pushups, tire flips, and a 5-mile run, and participated in tent building projects to build confidence. At the end of camp, the players were treated to inspirational words from active-duty troopers and were awarded Special Operations Wing patches as a keepsake.
Details

Hits: 73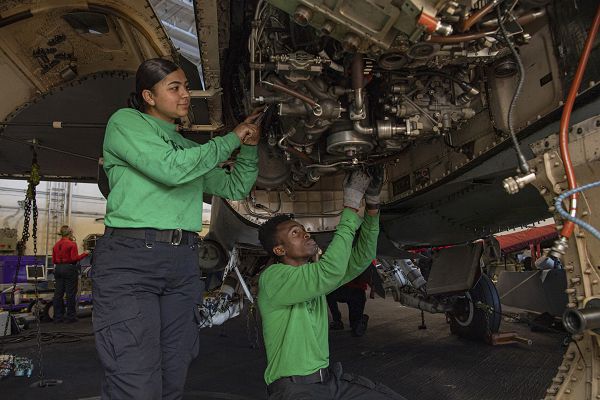 Pacific Ocean. (August 31, 2023): In this photo by Seaman Tomas Valdes, Aviation Machinist's Mate 2nd Class Ashley Miranda, left, from Cocoa Beach, Florida, and Aviation Machinist's Mate Airman Jan Michael Simmonds, from Baltimore, Maryland, remove an engine from an F/A-18F Super Hornet aboard the aircraft carrier USS Nimitz.
Navy machinists are the unsung heroes of America's mighty carriers. Their skill and perseverance keep the aircraft wings flying. These engine mechanics inspect, adjust, test and repair aircraft engines and propellers under brutal, around the clock operations matching the tempo of the air wings. They also install, maintain, and service aircraft engines of many types including their unique gear boxes and related fuel and lubrication systems. They evaluate engines for degradation using various test equipment and repair propellers and other types of damage in real time.
Details

Hits: 65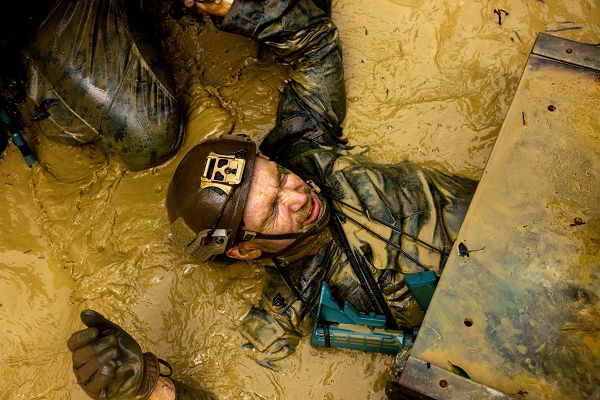 Okinawa, Japan. (August 31, 2023): In this photo by Corporal Michael Taggart, Marine Corps Sergeant Zachary Thacker negotiates an obstacle as part of the endurance portion of Jungle Leaders training at the Jungle Warfare Center at Camp Gonsalves, Okinawa. The course is designed to assess both the physical and psychological resilience of Marine leaders in a harsh jungle environment. Thacker, from Paducah, Kentucky, is a rifleman with the 2nd Battalion, 7th Marines.
As the nation's focus has shifted away from Middle Eastern deserts to jungle-based operations, the Marines have taken steps to cope with maneuvering in dense jungles with high overhead canopies that make reconnaissance extremely challenging.
The Jungle Warfare Training Center Camp is one of two jungle warfare training centers in the Department of Defense. Here the Marines learn to navigate through the dense jungle, repel down steep cliffs, and improve their ability to patrol through dense vegetation and steep jungle terrain. Marines learned to thrive in harsh, tropical environments while practicing basic jungle survival skills including jungle medicine, land navigation, observation techniques. Following the classes, the Marines conducted practical application of what they learned through different mission sets and in particular the art of "Stalking" their prey. Stalking someone may be frowned upon in civilian life but is a highly prized skill for Marine reconnaissance and sniper teams.
Marines worked in teams to approach, observe, and evade potential targets that were constantly changing as they would in a real-life situation. For all the fancy innovative technologies that have emerged for reconnaissance, it is still well-trained Marines with their boots in the mud that provide the best intelligence on the enemy in the jungle.
Details

Hits: 66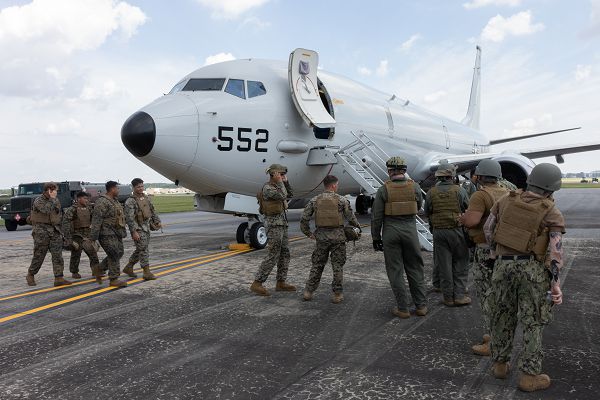 Seymour Johnson Air Force Base, North Carolina. (September 1, 2023): In this photo by Lance Corporal Anakin Smith, Marines with Marine Wing Support Squadron 272 and Sailors assigned to Navy Cargo Handling Battalion 1 conduct forward refueling-point familiarization with a U.S. Navy P-8A Poseidon reconnaissance aircraft during Large Scale Exercise 2023. This annual event is designed to refine how we synchronize maritime operations across multiple fleets when operating as a joint force at sea. The training is based on a progression of scenarios to assess and refine modern warfare tactics and concepts. Marine Wing Support Squadron 272, based at Marine Corps Air Station New River, provides all manner of aviation ground support for air wings on land and at sea. Nicknamed the "Untouchables," the 272nd does ground refueling, aircraft recovery, expeditionary airfield services, and even does its own weather forecasting. In addition, the wing provides engineering, mess facilities, airfield communications, and security for remote airfields or temporary locations ashore.
The Sailors assigned to Navy Cargo Handling Battalion 1 are experts at expeditionary logistics for Marine Air Wings much as they did during World War II as "stevedores" or special construction battalions.
These units are taking part in an enormous experiment of sorts involving multiple aircraft carriers and amphibious readiness groups battling it out in both the real and virtual worlds. For years, Navy doctrine centered on keeping carrier and amphibious strike groups in tight formations as they needed to be in close proximity to be effective. The advent of drone technology and the need to operate at greater distances has caused naval leaders to evaluate new operational theories to adapt to this new reality.
Large Scale Exercise 2023 is a part real, part virtual training event involving 25,000 Sailors and Marines from the U.S. Pacific Fleet and Naval Forces Europe-Africa. The exercise pitted twenty-five live and fifty virtual ships against each other in various realistic scenarios that simulate how they will fight the next war. To add to the realism, no advanced notice was given to crews who found themselves "fighting with what they have" as they would in an actual war. The Marine's tested their ability to put forces ashore to defend maritime choke points and novel tactics were developed like deploying anti-ship missiles ashore to attack ships at sea.
Details

Hits: 119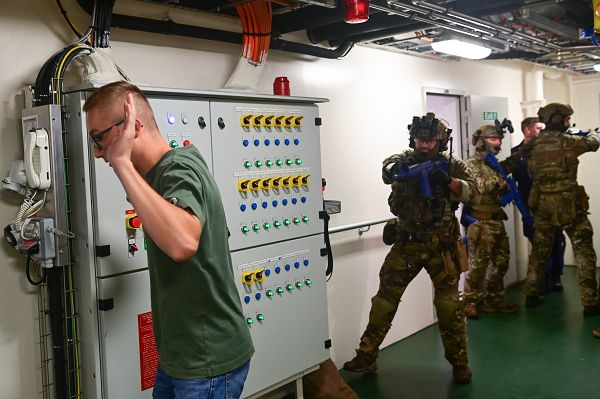 Atlantic Ocean. (August 22, 2023): To most Americans, the Coast Guard is famous for dramatic rescues at sea but the service has another branch that is every bit as elite as any special forces in the U.S. military. Called Tactical Law Enforcement Teams or TACLETS, these highly specialized units conduct high-risk law enforcement and counter-narcotic operations at sea. In this photo by Petty Officer 3rd Class Mikaela McGee, a Tactical Law Enforcement Team conducts a mock boarding with active role-players from the crew of the BSAM Garonne, a French navy support vessel. The team practiced its boarding tactics while participating in Operation Nanook, an annual Canadian-led exercise to advance shared maritime objectives.
TACLET operators perform some of the most difficult, and dangerous, missions in the military. Besides interdicting drug smugglers, Coast Guard TACLETs are tasked with preventing terrorist attacks on U.S. forces in foreign ports. The 1989 National Defense Authorization Act designated the Coast Guard as the lead agency for the detection and monitoring of aerial and maritime trafficking of illegal drugs into the United States. The act authorizes the Guard to interdict and apprehend suspected drug traffickers and makes ships available to carry out these responsibilities.
Today, there are TACLET personnel assigned to Navy vessels around the world to investigate suspicious contacts and to conduct boardings of "ships of opportunity" transiting areas frequently used by smugglers. Although famous for saving wayward skippers at sea, the Coast Guard is also the premier maritime law enforcement agency for the U.S. military.
Subcategories