Details

Hits: 2970

US, June 17, 2019 – Between June 17 and July 4th 2019, Energy Professionals will donate 10% of its proceeds to SupportOurTroops.Org to strengthen the morale and well-being of America's current military service members and their families who have dedicated their lives to protecting America. "Statements like this make a world of difference for America's soldiers," said Bruce Jonas, SOT V.P. "It lets them know Americans are behind them, and pays to ship them and their families the extra things they need. Isn't It great to be an American?"
Remember, that today through July 4th !
About Energy Professionals
Energy Professionals is one of Americas leading Energy Advisors, helping commercial companies nationwide not only reduce energy costs but helping them gain full control of their energy budget. From direct savings on electricity and natural gas, to managing environmentally friendly and energy efficiency projects, including LED lighting, HVAC and Solar. At Energy Professionals, we're dedicated to educating businesses and operations so that they can make the best decisions for all their energy needs. But if helping companies become environmentally friendly and helping them save on energy wasn't enough, we've now partners with Support Our Troops to give back to those that protect our great nation. To find out more about this program or how we can help you cut on energy costs, visit us at www.energyprofessionals.com or call 844 674 5465.
Details

Hits: 1222
Camp Humphreys, South Korea, May 20, 2019 - Support Our Troops® just delivered a 40 foot container to Busan Port South Korea which moved from there by rail to Camp Humphreys with $500,000 of free morale and well-being gifts from Americans for the soldiers stationed there.
If they're there, we're with them®
Your service members are stationed there to protect the peace and keep Americans safe here at home. In return Americans send shipments like this to support and thank them. High morale produces high mission effectiveness. And when you're overseas and stuff shows up from home, it makes you smile. Isn't it great to be an American?
Details

Hits: 1840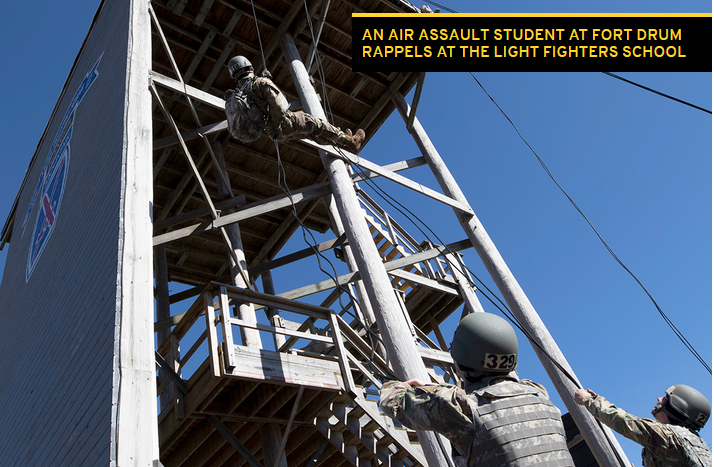 U.S., May 5, 2019 -
Support Our Troops® was privileged to supply service members at Ft. Drum, NY, with 12,156 tubes of Biofreeze 3 oz Professional Gel Roll-ons. This product was donated to SOT by the great American Company Performance Health, the manufacturer and supplier of Biofreeze and other health products.
Home of the 10th Mountain Division, Fort Drum consists of 107,265 acres and its mission includes commanding active component units assigned to the installation, providing administrative and logical support to tenant units, providing support to tenant units, providing support to active and reserve units from all services in training at Fort Drum, and planning and providing support for mobilization and training of almost 80,000 troops annually
Approved by military use the Biofreeze National Stocking Number is #6505-01-599-0068.
SOT supplies all military units, branches, domestic and abroad.
The total value of these MWR care goods shipments was $63,576.
The supply of these requested goods was made possible by the great people who make Biofreeze – a great muscle balm and a terrific alternative to opioids for pain relief. Learn more about managing pain relief here.
Learn more about how doctors, therapists and patients are shifting toward topical analgesics like Biofreeze and away from systemic pain relievers at www.Biofreeze.com.
Details

Hits: 1574

U.S., April 2, 2019.
10,656 pairs Dr. Scholl's insoles are heading to Iraq and Afghanistan via our NC Distribution Hub. A value of $115,937 in tangible support.
An army travels on its feet, especially in desert and mountain terrain, and requested items like this enhance morale and mission effectiveness.
It was made possible by Bayer Pharmaceuticals which ran a nationwide buy one GIVE one campaign in which Americans buying Dr. Scholl's insoles caused a pair to be donated to Support Our Troops.
A big thank you to Dr. Scholl's, Bayer Healthcare, and all the great Americans who stepped up for their troops!
Details

Hits: 3248
Five years after an improvised explosive device in Iraq put him in a coma for 11 days, Capt. Fred Babauta heads the Army World Class Athlete Program. U.S. Army photo by Tim Hipps.[/caption] FORT CARSON, Colo. The Fourth of July is especially significant to Army Capt. Fred Babauta, as this Independence Day marks the fifth anniversary of his awakening from an 11-day coma following an improvised explosive device attack in Ramadi, Iraq.
Babauta, now commander of the U.S. Army World Class Athlete Program, was rushed to Balad Air Base in Iraq and transported via Landstuhl, Germany, to Andrews Air Force Base, Md., and Brooke Army Medical Center in San Antonio, Texas, before he realized that he was alive. Army officials ensured that his wife arrived from Guam, and his parents from the state of Washington, in time to see their Soldier awaken."They all met me in San Antonio when I arrived," Babauta recalled. "Of course, I didn't know they were there because I was in a coma, but the Army took care of my family." Babauta remembers his last battle mission as if it happened yesterday. In June 2005, he was deployed to Ramadi with the 1st Battalion of the 503rd Infantry Brigade.
"We were the brigade of [2nd Infantry Division] that deployed from Korea to Iraq," he said. "About two weeks out from us leaving country, I was walking by an IED and it went off. I was probably about 10 feet away." Babauta had served in Iraq for nearly a year before taking the one step that burned his entire face, stole the vision from his right eye and nearly took his life. "After the explosion went off, they got me into a courtyard and called [a] quick-reaction force to come pick us up," Babauta said.
"I was out with a sniper team, and there were only five of us. QRF picked us up. They started out with five vehicles to pick us up, and they ended up only with two." The other three encountered more IEDs. "The two vehicles finally picked us up," Babauta continued. "We piled in the back, and they drove us back to our outpost. The doctor gave me a shot of morphine, packaged me up, the bird landed right outside our outpost, and they loaded me up." At that point, Babauta thought he was headed to Al Taqaddum Air Base. The severity of his injuries, however, called for treatment at Balad Air Base. "I remember them unloading me off the helicopter in Balad," he said. "It sounded like they pulled me into a hangar. I was on a stretcher and they put me on a bed. Doc said, 'Hey, I'm Doc so-and-so, I'm going to put this over your face,' which I guess was an oxygen mask, 'and you're going to feel a real quick pinch in your arm.' I guess he gave me a shot, sort of put me under, and I woke up 11 days later in Brooke Army Medical Center in Fort Sam Houston. Eleven days later was July 4th of 2005. The rest of the trip is a blur to Babauta. "I think they repaired my jugular in Balad," he said.
"From what I understand, it didn't rupture until I got to Balad. I guess it was just probably hanging on by a string, but luckily the timing was great." An avid Detroit Pistons fan, Babauta went on patrol earlier that day with visions of watching a replay of his beloved team taking on the San Antonio Spurs in Game 7 of the NBA Finals upon return to camp. "This is what I was thinking," he recalled. "I was going to go out for 24 hours. Game 7 was going to already happen. Someone was going to record it so I could come back and watch the game. I don't know if you remember that series, but the Pistons were killing the Spurs, and the Spurs came back and it was tied up, 3-3. So I was thinking I was going to come back and watch Game 7. It was in San Antonio. So the Pistons ended up losing, and guess where I wake up? San Antonio. "That was the worst." In the long run, however, Babauta counts his lucky stars to be alive. On the night he came around, folks were launching rockets not only in Texas but across the nation. "It was amazing," he said. "The nurse asked me if I saw the fireworks outside my window. I didn't see any fireworks, but I guess there was a fireworks celebration that night when I woke up." Born in Okinawa, Japan, Babauta was an Army brat who spent most of his childhood in Guam. He also lived on Fort Lewis, Wash., Fort Davis, Panama, and Fort Stewart, Ga. At age 22, he left the University of Guam, got married and reported to the 1st Ranger Battalion in Savannah, Ga. All of the men in Babauta's family served in the Army. His younger brother, Danny, 32, is deployed. His two older brothers both served four years before becoming policemen. Babauta, 38, is the proud father of three daughters. "In my house, my girls, they have to play a sport," he said. "They've got to do something. My oldest grew up playing soccer, and she's actually on a soccer scholarship to Winthrop University. She just finished her freshman year. The other two play volleyball." Instead of leading troops on the battlefield, Babauta now leads Soldiers to international and national-level athletic events while commanding the U.S. Army World Class Athlete Program. "It might be in a different context," he said, "but I think the principle is the same, as far as getting ready to go. They're going to war. They're going to meet someone on the mat that wants to beat them. So they've got to do everything now to be ready for that match in Council Bluffs. I would imagine everyone here can use that comparison. It's not as life-threatening as deploying to Afghanistan or Iraq, but I think there are a lot of similarities. Babauta takes great pride in the AWCAP, working constantly to increase awareness of the program. "Everyone knows a Ranger," he said. We're trying to push hard so that everyone knows the World Class Athlete Program. We're making good strides. We just need to continue." July 04, 2010: Written by Tim Hipps, U.S. Army Family and Morale, Welfare and Recreation Command
Â
Details

Hits: 2909
For the first time in eight years, fighter jets flew from the decks of a British aircraft carrier.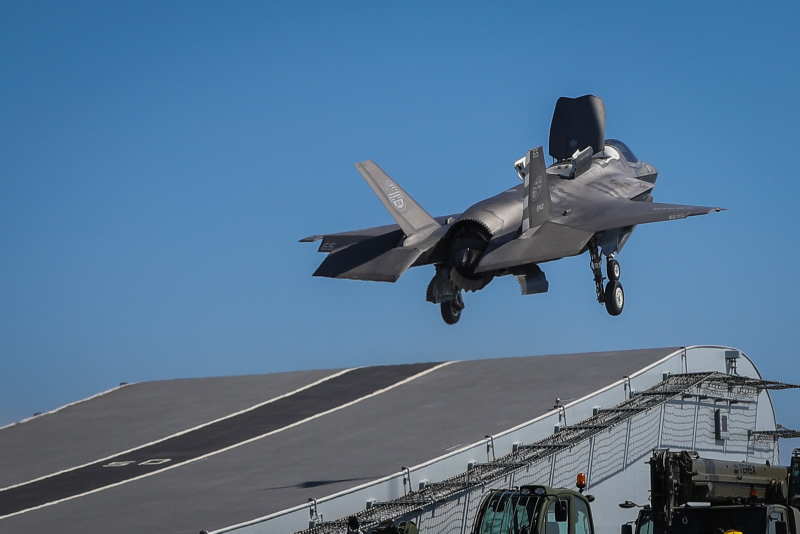 Royal Navy Cdr. Nathan Gray, 41, makes the first-ever F-35B Lightning II jet take off from HMS Queen Elizabeth.
Photo: Lt. Cdr. Lindsey Waudby, Royal Navy
For 11 weeks, Marine Corps Maj. Michael Lippert, an F-35B test pilot, and three British pilots will test the performance of the F-35B Lightning II on the deck of the HMS Queen Elizabeth, the United Kingdom's newest and largest aircraft carrier. Lippert was selected to be a part of this mission based off his position as the Marine Corps' F-35B ship suitability project officer and his previous shipboard operational experience as a Harrier pilot.
Read more: U.S. Marine Pilot Becomes a Part of Aviation History
Subcategories