Details

Hits: 26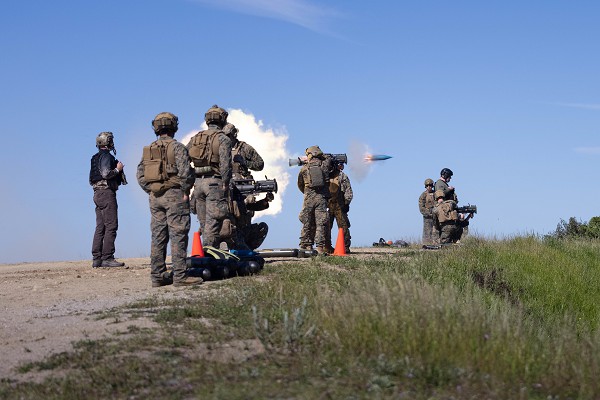 Camp Pendleton, California. (March 22, 2023): In this photo by Lance Corporal Juan Torres, Marines fire the M3E1 Multipurpose Anti-Armor/Personnel Weapon System (MAAWS) while training to locate and destroy tanks and other armored vehicles in combat. The MAAWS is best described as a two-person artillery piece with enough firepower to destroy enemy tanks at long distances.
The MAAWS is a portable and reusable breech loading recoilless rifle that can fire an 84mm round capable of destroying enemy vehicles at over 500 yards. The M3E1 rifle weighs just 14.8 pounds and features an electronic control system that automatically provides ballistic solutions for static and moving targets at the touch of a button.
Today's M3E1 is named after Carl Gustaf, a Swedish scientist that developed a man-portable, shoulder-fired recoilless rifle for the Royal Swedish Army during the second half of World War II. Since then, there have been many different version of this light weight, close range anti-tank weapon on battlefields across the world.
Currently, U.S. Special Operations Command troops such as the Army Rangers, Army Special Forces, Marine Raiders, Navy SEALS, and JSOC operators use the M3 in combat.
Details

Hits: 15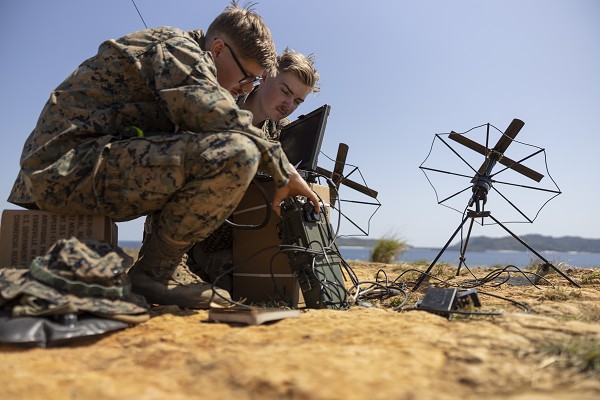 Okinawa, Japan. (March 17, 2023): Your unit is under fire and the enemy is closing in and, without an aircraft strike, you and your comrades are about to be overrun. Thankfully, our nation's warfighters can depend on the skills and daring of a Marine Corps Tactical Air Control Party (TACP) to come to the rescue. In this photo by Corporal Bridgette Rodriquez, Marines from the 31st Marine Expeditionary Unit program a radio for use in ground communications during exercises with Japanese Defense Forces. The Marines and their Japanese counterparts practiced locating and tracking maritime targets under various strike scenarios.
Details

Hits: 39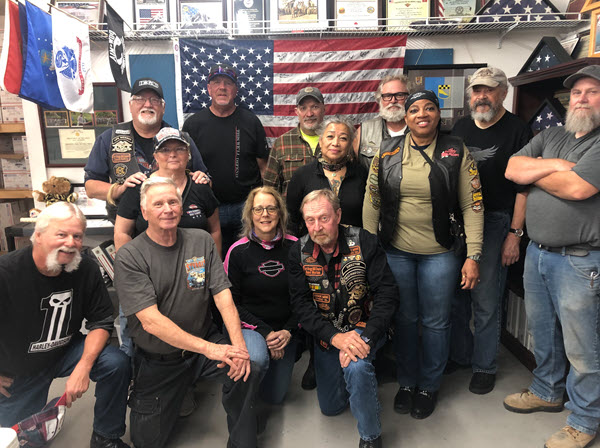 North Carolina, March 2023 - The HOG Chapter of Cumberland County, North Carolina, stopped by SOT's Regional Distribution Center in NC and packed over 350 snack bags, talking all the time about what they would have liked in the bag, salty or sweet! Known as sticky-chewies in military parlance, they're one of the most appreciated things you can get!
Details

Hits: 68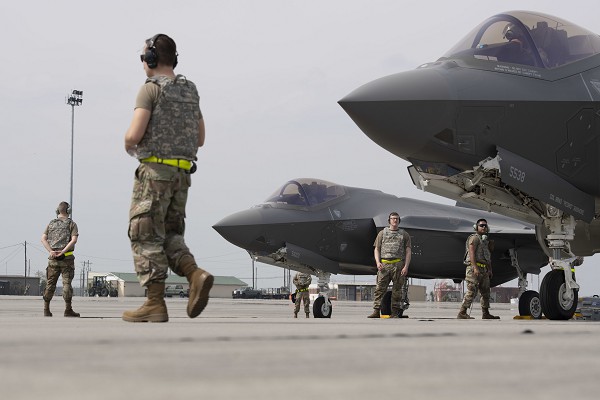 Savannah, Georgia. (March 1, 2023): In this photo by Tech. Sgt. Joshua Edwards, Airmen from the 388th Fighter Wing prepare for two F-35A Lightning IIs for takeoff during Agile Flag 23-1 at the Air Dominance Center in Savannah, Georgia. Agile Flag is Air Combat Command's certifying event for its Lead Wings throughout the Air Force. The nine-day bi-annual exercise involved 10 Airforce units working between the Air Dominance Center and nearby Hunter Army Airfield.

The training was led by the 366th Fighter Wing and included the 4th Fighter Generation Squadron which brought six F35As, the Air Force's latest fifth-generation fighter, to the task. The F-35 replaces the Air Force's aging fleet of F-16 Fighting Falcons and A-10 Thunderbolt II's which have been the primary fighter aircraft for more than 20 years. The conventional takeoff and landing F-35A has the power to dominate the skies – anytime, anywhere. It is an agile, versatile, high-performance, multirole fighter that combines stealth and unprecedented situational awareness.
During Agile Flag, the F-35s used six difference airfields in a scheme of maneuvers designed to test their flexibility and agility in combat. Exercise players simulated physical oppositional forces with well-developed intelligence, surveillance, and reconnaissance capability. Pilots had to contend with constantly changing threats while ground crews adapted their logistics while executing a dispersed base defense. Each unit was challenged by contested logistics, disrupted command control, and interruptions to communications.
Details

Hits: 86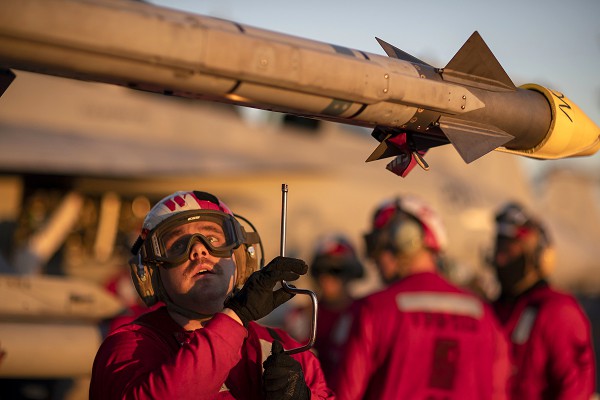 Atlantic Ocean. (March 11, 2023): Easy does it, one slip and that is it. In this photo by MC3 Manvir Gill, Aviation Ordnance man 2nd Class Benjamin Tepe, assigned to the "Black Lions" of Strike Fighter Squadron 213, mounts a missile to an F/A-18F Super Hornet on the flight deck of the aircraft carrier USS Gerald R. Ford. One of the more unique jobs in the Navy, Aviation Ordnance specialists risk their lives daily loading the latest explosives onto America's elite combat aircraft.
Navy Aviation Ordnance specialists are weapons experts charged with managing all types of ammunition carried on Navy aircraft. They inspect, maintain, and repair mechanical and electrical ordnance systems on a variety of aircraft in real time operations. The F/A-18F Super Hornet carries up to 13,700 pounds of explosives on two outboard wing stations including Sidewinder air-to-air missiles and ground attack weapons. The Hornet also has a M61 Vulcan 6-barrel rotary cannon that fires 20mm ammunition mounted on the plane's nose. Every pilot depends upon the skill and bravery of these ammo specialists to ensure their payload is ready to go in combat.
Details

Hits: 75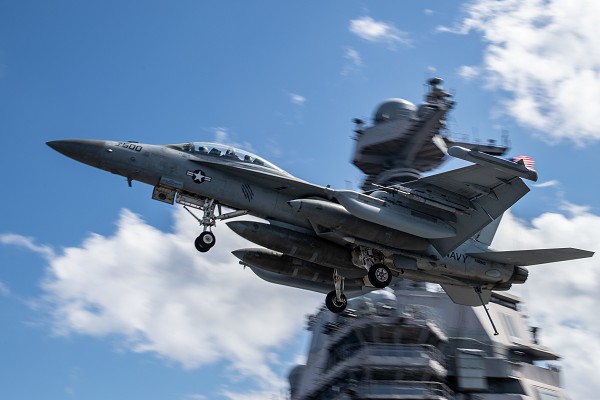 Atlantic Ocean. (March 11, 2023): In this photo by MC2 Jennifer A. Newsome, an E/A-18G Growler, attached to the "Gray Wolves" of Electronic Attack Squadron 142, flies by the first-in-class aircraft carrier USS Gerald R. Ford underway in the Atlantic Ocean. The Ford and her crew are conducting intense, multi-week exercises to fully integrate its carrier strike group into a cohesive, multi-mission fighting force. These exercises will test the ability of the strike group to carry out sustained combat operations at sea.
The first new class of aircraft carrier in 40 years, the Ford represents a generational leap in the U.S. Navy's capacity to project power around the world. The Ford honors the 38th president of the United States, who served from 1974-1977, and pays tribute to his lifetime of service in the Navy and the nation. During World War II, future President Ford attained the rank of lieutenant commander and served on the light carrier USS Monterey.
Today, the Ford has a new nuclear power plant capable of generating nearly three times more electrical power along with modern arresting gear and electromagnetic aircraft launch systems. This new configuration replaces the traditional steam catapult and expands the range of manned aircraft.
Subcategories