Details

Hits: 22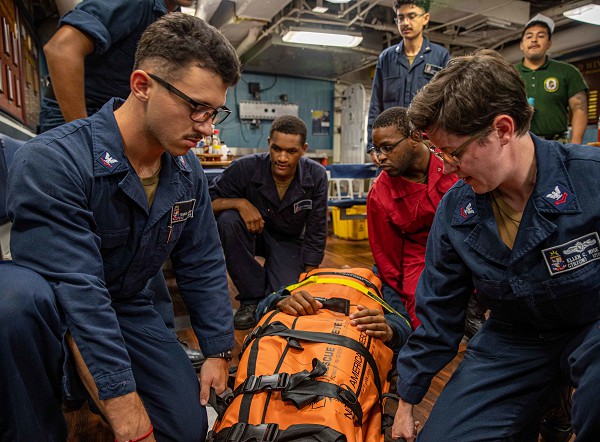 Aboard the USS Chancellorsville, South China Sea. (July 28, 2022): In this photo by Petty Officer 2nd Class Justin Stack, sailors conduct stretcher bearer training for a mass casualty event in the event of an emergency. A sailor's life is filled constant training, long hours, and plenty of stresses and frustrations.
Only a tiny fraction of Americans will ever know what it is like to live aboard a warship, be it an aircraft carrier, a destroyer, or an amphibious assault vessel. A sailor's life is often filled with stress, monotony, boredom, homesickness, frustration, and fatigue while experiencing new cultures and visiting exotic locales around the world. Life aboard "the Boat" as sailors say, is anything but ordinary.
Each day begins with reveille at zero dark thirty followed by the daily announcements blaring over the ship's communications. You wait in line for breakfast, stuffed into cramped spaces, for what seems like an hour. Next, you begin your 12-hour (often more) shift that includes constant training, spot checks, team meetings, and examinations on ship maintenance. The ship will often go into "Alert Mode" where sailors face simulated attacks, practice fire control and evacuation procedures, and train for medical emergencies.
Read more: LIFE ABOARD THE "BOAT" A SAILORS LIFE DEFENDING AMERICA
Details

Hits: 22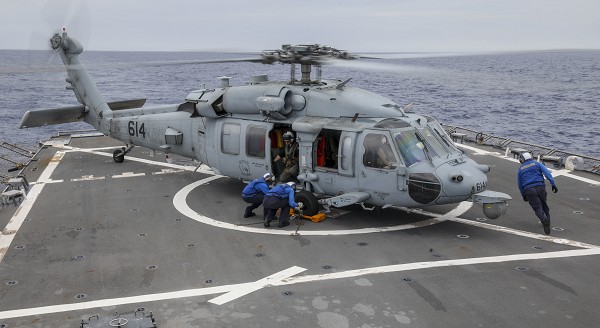 Philippine Sea (July 28, 2022): In this photo by Petty Officer 2nd Class Arthur Rosen, sailors aboard the Arleigh Burke class guided missile destroyer USS Benfold remove chocks and chains from an MH-60D Sea Hawk helicopter assigned to the famed "Golden Falcons" combat squadron. In 1951, the United States signed a Mutual Defense Pact with the Philippines guaranteeing American military intervention should any of her armed forces be attacked in contested waters.
Philippine Sea (July 28, 2022): It is true. Everyone hates a bully. For the Philippines, one of our longest and most faithful allies, that bully is China and its aggressive actions in the South China Sea. As China flexes its muscles in the waters off the Philippines, Viet Nam, and Malaysia, the American military must reassure its allies in the region that we have their back.
China (wrongly) lays claim to virtually the entire South China Sea, based on historical grounds, and has attempted to assert control over international navigation in violation of international law. Filipino fishermen, for example, have clashed with Chinese rivals who routinely violate their territorial waters while tacitly protected by the Chinese Navy. China has transformed seven barely submerged atolls, dubbed the Spratly Islands, into military bases directly in the path of international shipping lanes. Now established, China has used these islands to encroach upon its neighbors and to illegally challenge the right of vessels to navigate in the South China Sea. Both the Philippines and Viet Nam have also claimed ownership of these islands.
Read more: PHILIPPINES FACING DOWN A BULLY… AMERICA'S CLOSE ALLY NERVOUSLY WATCHES CHINA
Details

Hits: 40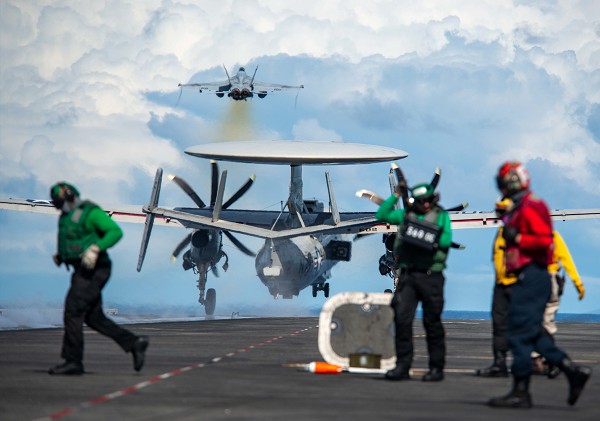 South China Sea (July 28, 2022): In this photo by Petty Officer 3rd Class Gray Gibson, an American F/A-18E Super Hornet jet attached to the "Royal Maces" Strike Fighter Squadron and an E-2D Hawkeye reconnaissance aircraft assigned to the Tiger Tails Squadron, launch from the deck of the USS Ronald Reagan aircraft carrier. The Ronald Reagan is the Navy's only forward-deployed aircraft carrier that conducts tactical early warning missions against hostile actors in the Indo-Pacific region.
Aboard The USS Ronald Reagan, South China Sea (July 28, 2022): In addition to rising tensions over Taiwan, America and China continually battle for control over strategic economic and military "maritime choke points" in the world's oceans.
Much of the world's maritime traffic occurs at four choke points: The Malacca Strait, between the Indian and Pacific Oceans, the Bab al-Mandeb Straits, which are the gateway between the Indian Ocean and the Red Sea, and the Suez and Panama Canals. The U.S. military is increasingly alarmed at increased Chinese naval activity near these choke points that may give them the ability to interfere with both military and commercial traffic. Of particular concern is China's only overseas military installation located near the Bab al-Mandeb Straits which can threaten access to the Red Sea and the Suez Canal.
In April, a large commercial vessel got stuck in the Suez Canal which disrupted world trade and serves as a reminder that even brief interruptions at these choke points can be disastrous.
Details

Hits: 77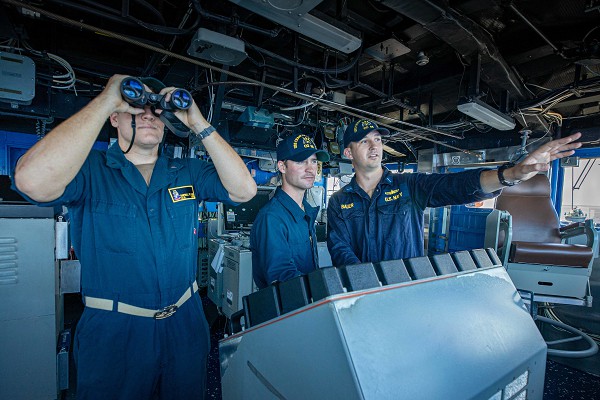 South China Sea (July 25, 2022): In this photo by Navy Mass Communications Specialist 2 Justin Stack, sailors aboard the Ticonderoga-class guided missile cruiser USS Chancellorsville stand watch for Chinese military vessels as they conduct "freedom of navigation" exercises in the Taiwan strait. America routinely confronts challenges by the Chinese Navy to the safe passage of vessels in international waters.
South China Sea (July 25, 2022): A dramatic increase in Chinese military activity surrounding Taiwan (formerly known as Formosa) has American military commanders concerned an invasion of the island is imminent. Taiwanese authorities have reported "large incursions" by Chinese military forces into their territorial waters and airspace in recent months. In April, China flew the largest number of military jets into Taiwan airspace this year. This hyper-aggressive activity has led U.S. Admiral John Aquilino, the Pentagon's Commander for the Indo Pacific region, to conclude that "a Chinese invasion of Taiwan is "closer than most think."
America and her allies have pledged to defend the people of Taiwan in such an invasion, including a massive air and naval response. Given these realities, it is important to understand "how we got here" historically and what commitments the world has made to defend the free people of Taiwan.
After the allied victory in World War II, the Japanese relinquished control of China including the island of Taiwan located some 90 miles off the coast of the mainland. After a few years, however, civil war broke out between the Nationalist Chinese under Chiang Kai-shek and the Communists led by Mao Zedong over control of post war China. The Communists were victorious, and the Nationalist Chinese forces fled with their supporters to Taiwan in 1949. Unlike their communist neighbor, Taiwan developed a democratic, free market-based government that has been an economic miracle in Asia.
Read more: WILL CHINA INVADE TAIWAN? SURGING MILITARY ACTIVITY WARRANTS CONCERN
Details

Hits: 51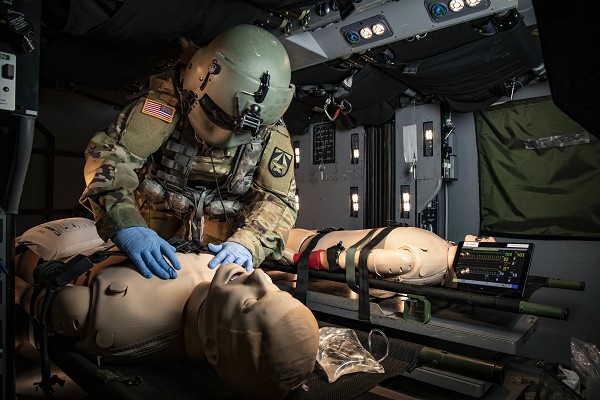 In this U.S. Army photo by Scott C. Childress, a Aeromedical Research Laboratory paramedic tests new items in a space utilization study at the Army's School of Aviation Medicine's DUSTOFF Training Complex, Ft. Rucker, Alabama. Here America's military personnel train to become flight surgeons, critical care flight paramedics, and aviation nurse practitioners.
Ft. Rucker, AL. (July 27, 2022): One hour or less. That is not a guaranteed pizza delivery time, it is the time it takes for a wounded servicemember to arrive at an advanced medical facility via "Dust Off" medical evacuation.
The term "Dust Off" refers to the radio call sign given to the first aeromedical helicopter evacuation unit, the 57th Medical Detachment, in Viet Nam in 1962. This marked the birth of Medevac, the concept of using helicopters with highly trained medical crews to evacuate wounded directly from the battlefield to military surgical facilities. The goal is to dispatch, evacuate and deliver battlefield casualties within one hour no matter where the injuries occurred. This was dangerous business for pilots in Viet Nam as they were three times more likely to be shot down compared to other types of helicopter missions. Since then, highly trained air crews accompanied by medical teams achieved a 90.6 casualty survival rate in the wars in Iraq and Afghanistan.
Responsibility for training aviators and aeromedical teams falls to the School of Army Aviation Medicine at Fort Rucker, Alabama. Here military personnel train to become flight surgeons, critical care flight paramedics, and aviation nurse practitioners learning aviation medicine orientation, altitude physiology, toxicology, and how to use advanced protective equipment. The school teaches 160 unique courses and graduates upwards of 2,500 soldiers each year.
Details

Hits: 43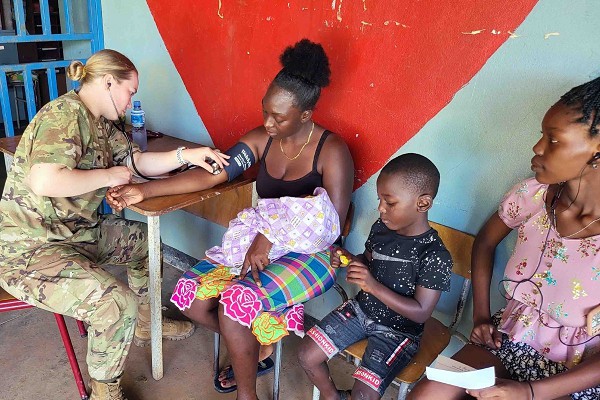 A South Dakota Army National Guard Medic tests the blood pressure of a villager in the South American country of Suriname. Some thirty soldiers from the South Dakota National Guard travelled to this South American country to provide medical and dental services as part of America's international partnerships for mutual aid. (U.S. Army photo courtesy of the North Dakota National Guard).
Paramaribo, Suriname. (July 20, 2022): When we think of military medicine, images of wounded soldiers treated by medics while under fire come immediately to mind. What you may not realize is how powerful a diplomatic tool routine medical care can be.
A good example is the partnership between the South Dakota National Guard and the Surname Army. Sponsored by the U.S. Southern Command, medics from the South Dakota travelled to Paramaribo, Suriname each year to host medical clinics in remote villages to establish cooperation and lasting friendships.
Subcategories