Details

Hits: 470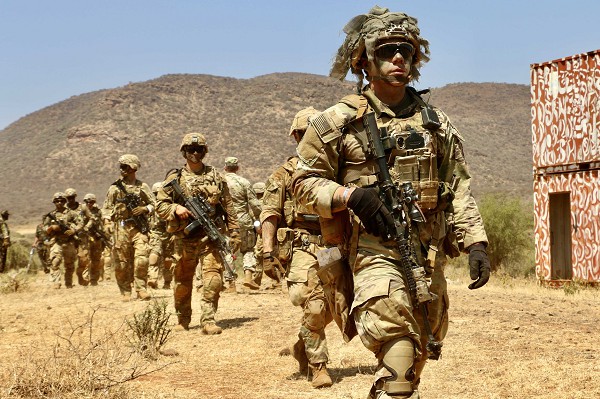 U.S., March 17, 2022 - The Chinese are activity seeking a military naval base in Africa on the Atlantic coast, which would threaten U.S. national security, Army Gen. Stephen J. Townsend, commander of U.S. Africa Command said. The photo shows U.S. soldiers from 1st Battalion, 503rd Infantry Regiment, 173rd Airborne Brigade, gather on the objective site after executing a bilateral exercise with Kenyan soldiers in Kenya during Exercise Justified Accord, March 14, 2022. Photo by Army Capt. Abigail Hammock. Townsend and other Defense Department officials testified today at a House Armed Services Committee hearing on national security challenges and U.S. military activities in the Middle East and Africa. "The thing I think I'm most worried about is this military base on the Atlantic coast, and where they have the most traction for that today is in Equatorial Guinea," Townsend said. They've also been seeking other ports on the West Africa coastline, but they've made the most progress in Equatorial Guinea, he said. In response, the U.S. has recently sent an interagency delegation to that country to discuss U.S. security concerns, he said. "As a first priority, we need to prevent or deter a Chinese space on the Atlantic coast of Africa," he said, mentioning that he would discuss with lawmakers more details of those national security concerns in closed session.
Details

Hits: 306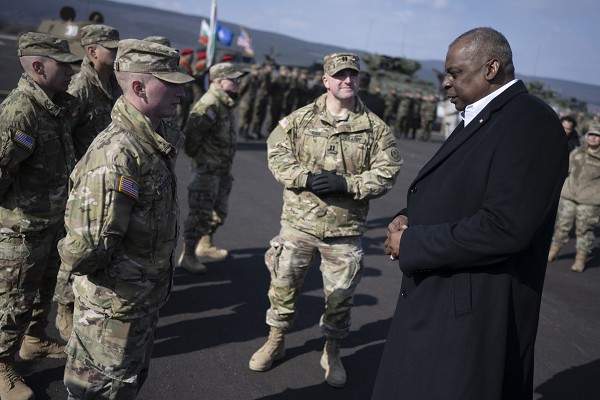 Bulgaria, March 19, 2022 – Bulgaria has established and is now leading a NATO multinational battle group. It's an important step in the face of nearby Russian aggression in Ukraine and the United States fully supports it, said Secretary of Defense Lloyd J. Austin III. Austin and Bulgarian Prime Minister Kiril Petkov held a joint press conference today in Bulgaria. U.S. and Bulgarian forces are training together, and Bulgaria is also working on important defense modernization efforts as outlined in a bilateral 10-year roadmap for defense cooperation, the secretary said. The photo shows the secretary speaking to soldiers assigned to 2nd Cavalry Regiment in Bulgaria, March 18, 2022. "Your commitment is a model for other allies to follow. Improving Bulgaria's military readiness and NATO interoperability is even more vital today," he said. The secretary also thanked the prime minister for Bulgaria taking in more than 80,000 refugees as a result of Russia's aggression against Ukraine.
Details

Hits: 501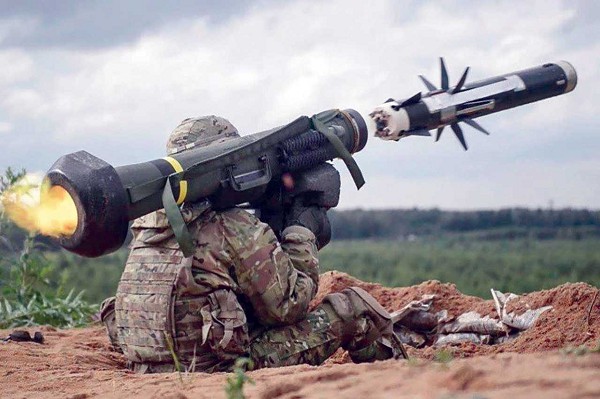 U.S. March 22, 2022 – The U.S. has just delivered 2,000 Javelin anti-tank missile systems to Ukraine.
Description - The Javelin Close Combat Missile System – Medium (CCMS-M) is a man-portable, medium-range tactical missile system that provides the U.S. Army and Marine Corps with precision direct-fire effects to defeat main battle tanks and other armored vehicles as well as personnel and equipment in fortifications or in the open. Javelin is highly effective against a variety of targets at extended ranges during day or night operations, and under battlefield obscurants, adverse weather and multiple countermeasure conditions.
Read more: WEAPONOLOGY: THE JAVELIN CLOSE COMBAT MISSILE SYSTEM
Details

Hits: 481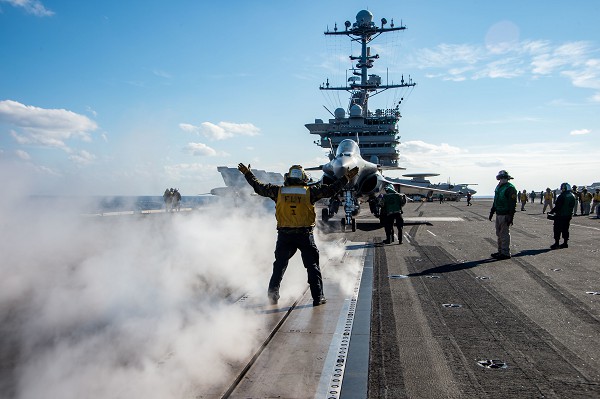 IONIAN SEA, March 11, 2022 - Aviation Boatswain's Mate (Handling) 2nd Class John Gandy, from Waco, Texas, directs the pilot of a French Rafale F-3R on the flight deck of the Nimitz-class aircraft carrier USS Harry S. Truman (CVN 75), Mar. 11, 2022. The Harry S. Truman Carrier Strike Group is on a scheduled deployment in the U.S. Sixth Fleet area of operations in support of U.S., allied and partner interests in Europe and Africa. Photo by Specialist 2nd Class Kelsey Trinh.
Details

Hits: 451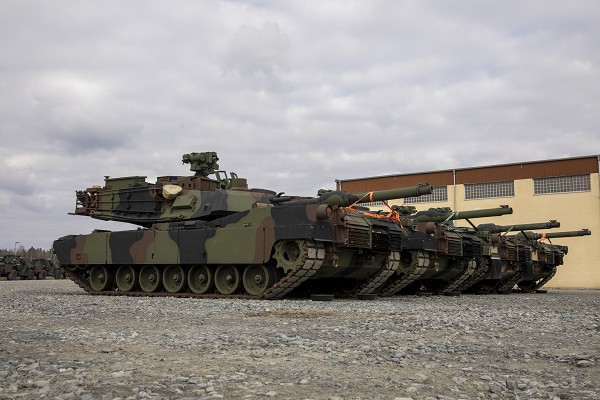 GRAFENWOEHR, GERMANY, March 10, 2022 - Army Prepositioned Stock-2 delivered to Grafenwoehr Training Area, Germany, March 6, 2022. At the direction of the Commander, U.S. European Command, U.S. Army Europe and Africa is drawing APS-2 from Coleman worksite in Mannheim, Germany in preparation to support 1st Armored Brigade Combat Team, 3rd Infantry Division arrival to Germany. Photo by Sgt. Caleb Minor.
Details

Hits: 517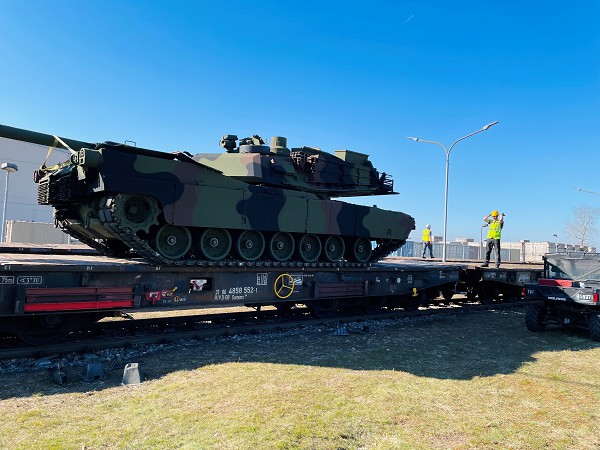 MANNHEIM, GERMANY, March 14, 2022 – An M1A2 Abrams main battle tank is loaded onto a German rail car at Coleman worksite in Mannheim, Germany. The 405th Army Field Support Brigade recently began augmenting its line-haul heavy equipment transporter deliveries of an entire armored brigade combat team's worth of Army Prepositioned Stocks-2 equipment with rail. More than two dozen armored vehicles and equipment pieces – ranging from tanks to Paladin self-propelled howitzers to Bradley fighting vehicles and more – were shipped from Coleman to Grafenwoehr Training Area via Deutsche Bahn, or German railway, March 10. This was the first of many rail movements to come over the next few weeks. The APS-2 is being issued to the 1st Armored Brigade Combat Team, 3rd Infantry Division, deployed to Germany from the U.S. This combined U.S.-German mission shows great solidarity and mutual cooperation, and demonstrates a combined strong and unremitting commitment to NATO Allies and partners. Photo by Maj. Allan Laggui / Cameron Porter.
Subcategories