Details

Hits: 910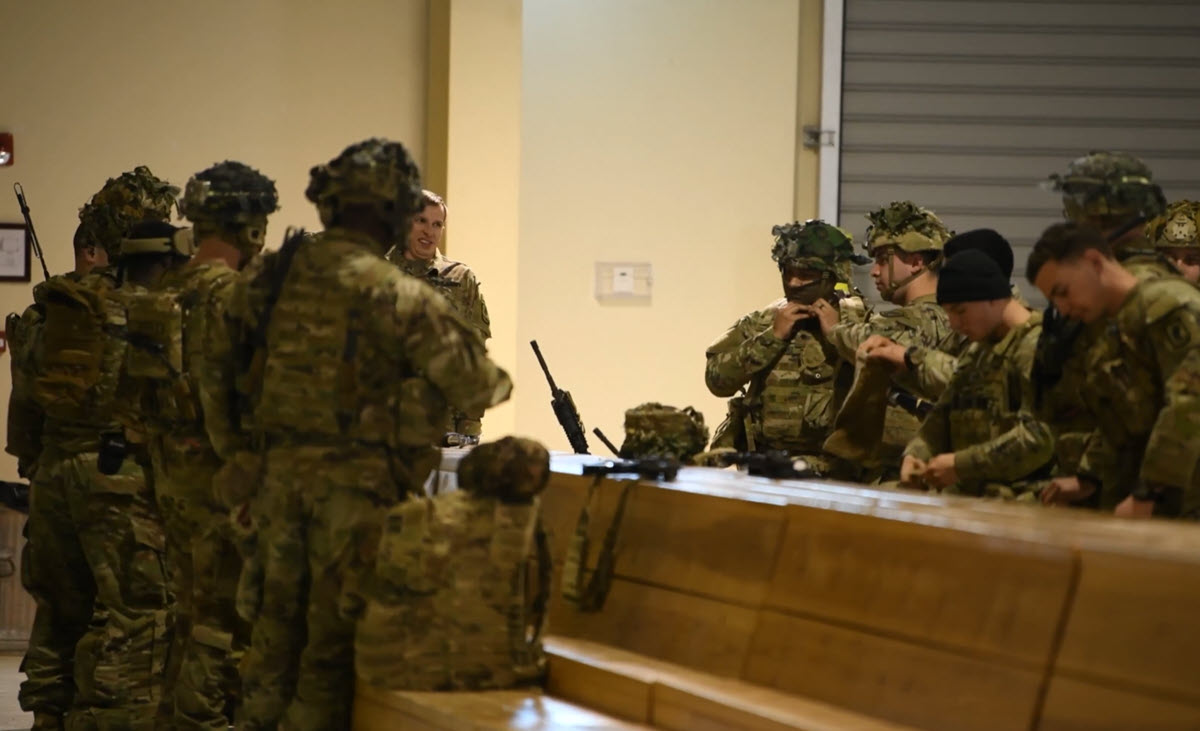 AVIANO AIR BASE, ITALY, Feb. 24, 2022 - Paratroopers from 2nd Battalion, 503rd Parachute Infantry Regiment, 173rd Airborne Brigade deploy from Aviano Air Base, Italy to Latvia as a United States' commitment to our NATO Allies and bolstered defense efforts within the European theater. Photo by SrA Taryn Onyon. From SOT: Russia's war on Ukraine will give it better access to the Mediterranean and southward. Latvia, Lithuania, and Estonia are between Russia and the Baltic, were occupied by the Soviets until 1990, and making war on them and absorbing them again would give Russia better access to the North Sea and westward.
Details

Hits: 383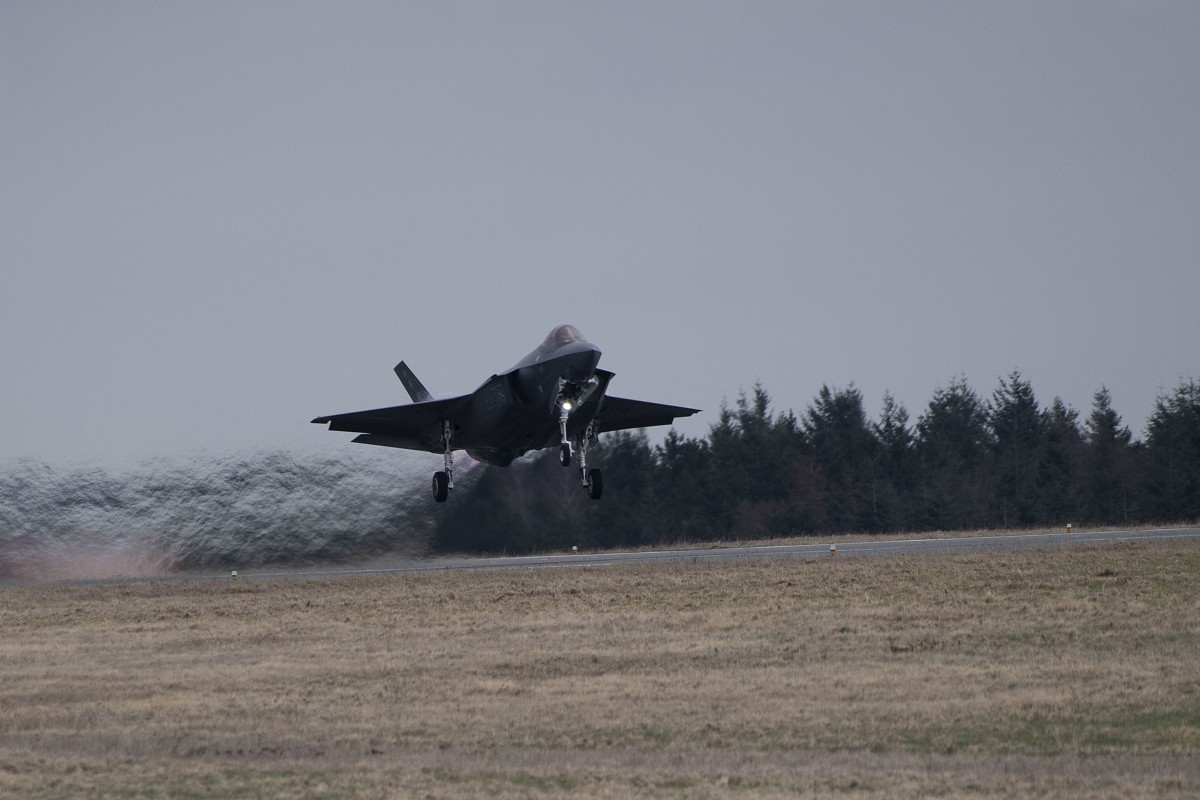 SPANGDAHLEM AIR BASE, RP, GERMANY, Feb 24, 2022 - A U.S. Air Force F-35A Lightning II assigned to 34th Fighter Squadron, Hill Air Force Base, Utah, takes off at Spangdahlem Air Base, Germany, Feb. 24, 2022 and moves to respond to the current security environment and reinforce the deterrent and defensive posture on NATO's eastern flank. They will ensure the robust defense of NATO Allies. Photo by Staff Sgt. Melody W. Howley. From SOT: Right now, $25 cash cards are the most important thing Americans can push to SOT as the Russia government's threat to attack on Ukrainian unfolds. It is the fastest way for SOT to deliver support to our American troops deployed worldwide, particularly their ability to communicate back home when in a large number of instances they are not allowed to possess personal cell phones during such events. If they're there, we're with them® Your donations for yellow ribbon care package troop support boosts the morale of active duty deployed service members like these worldwide.
Details

Hits: 628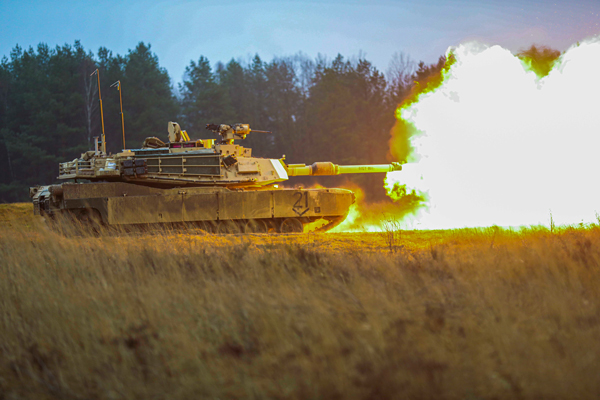 Vilnius, Lithuania, Feb. 19, 2022 - Secretary of Defense Lloyd J. Austin III, visiting with the leaders of the frontline NATO states in Vilnius, Lithuania, said that Russia has been building its capabilities in and around Ukraine and in Belarus for months. Those forces "are uncoiling and are now poised to strike," he said.
He noted that the United States has deployed a 4,000-soldier infantry brigade combat team from the 82nd Airborne Division to Poland. A Stryker squadron from the 2nd Cavalry has taken 1,000 U.S. soldiers to Romania. Another Stryker company is moving to Bulgaria and still another is deploying to Hungary.
On top of this, 8,500 U.S. service members are on heightened alert, should the North Atlantic Council activate the NATO Rapid Response Force.
And the United States is not alone. The NATO allies are solidly united against Russia's actions. "Rather than sowing divisions among allies — which we know Mr. Putin would like to see — NATO has shored up its defense and deterrence posture," Austin said. "Mr. Putin says he doesn't want to see a strong NATO on his western flank. That's exactly what he's getting."
Read more: Russian Forces 'Uncoiling,' Poised to Strike Ukraine
Details

Hits: 455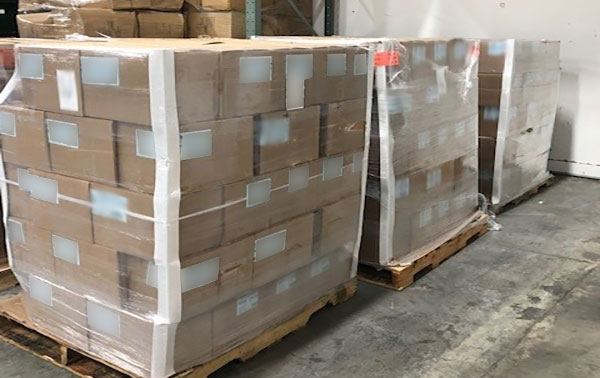 U.S., March 14, 2022 - Your SOT Team was privileged to supply five pallets of care goods for U.S. troops rapidly deploying to Europe to bulwark against the threat of Putin's war. They'll be there for months if not years to come, and continuing support will be important to their morale and well-being.
Details

Hits: 515
Feb 12, 2022 - Another 3,000 troops from the 82nd Airborne Division are moving to Europe. "As we've said before, we are in the window when an invasion could begin at any time should [Russian President] Vladimir Putin decide to order it," the national security advisor said. Sullivan said this new invasion of Ukraine — Russia invaded the country in 2014 and illegally annexed Crimea — could come at any time." Sullivan said the United States is ready no matter which decision Putin makes. The United States will negotiate if the Russian leader so chooses, or "we are also ready to respond decisively, alongside those allies and partners, should Russia choose to take military action," he said. Photo by Staff Sgt. Jeremiah Meaney.
From SOT: Your donations for yellow ribbon care package troop support boosts the morale of active duty deployed service members like these worldwide.
Details

Hits: 628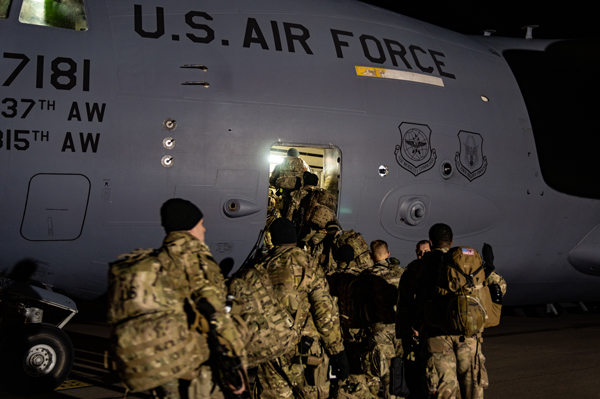 FORT BRAGG, NC, Feb 6, 2022 - U.S. Paratroopers assigned to the 82nd Airborne Division prepare to depart Ft. Bragg for the U.S. European Command area of responsibility at Pope Army Airfield, N.C. Feb. 06, 2022. The 82nd Airborne Division is deploying in support of U.S. European Command to assure our Allies and Partners in the region and deter any future aggression. Photo by Sgt. Hunter Garcia. Events in Ukraine and Russia demonstrate the importance of your donations for yellow ribbon care package troop support which boosts the morale of active duty deployed service members like these worldwide.
Subcategories