Details

Hits: 11544
They fought the battle there.
This time you fought the battle here.
Both times for America.
They're not here to enjoy it with us.
But today they're in our hearts.
We are Americans. You. Me. All of us. An awesome national family.
We can do anything. Overcome anything. Succeed like no others. Always have. Always will.
Make this Memorial Day your new beginning. Show them you are worthy of the sacrifices made.
Dedicate yourself to the proposition of making America free and independent, and of being excellent to each other.
Show the world what Americans are made of.
~~ The SOT Team, May 25, 2020
Details

Hits: 949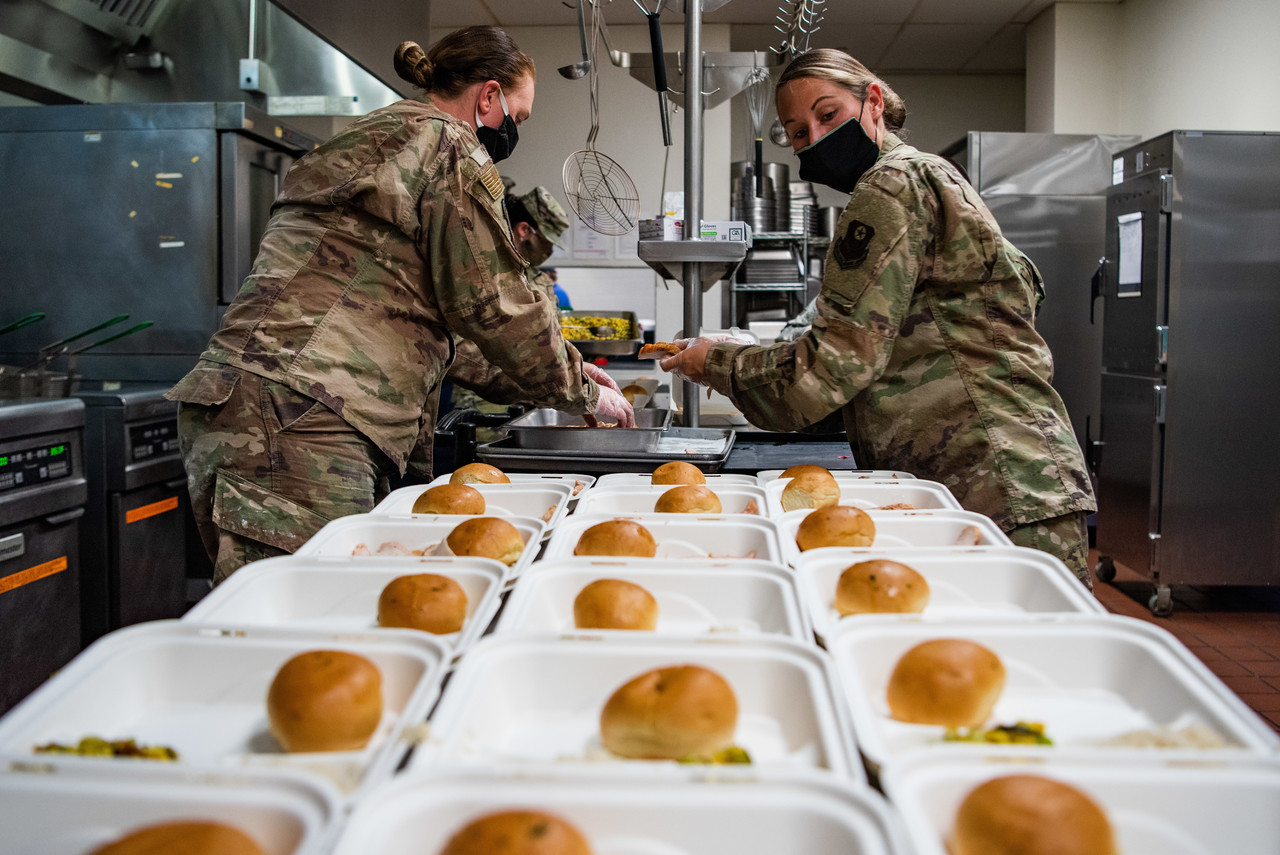 Senior Airman Margaret Dziamba, left, a fitness services specialist assigned to the 27th Special Operations Force Support Squadron, and Staff Sgt. Jordan Sexton, a food services specialist assigned to the 27 SOFSS, prepares meal containers for quarantined Airmen at the Pecos Trail Dining Facility on Cannon Air Force Base, N.M., May 15, 2020. The 27 SOFSS is responsible for preparing three hot meals a day, as well as snacks and drinks, for over 140 Airmen quarantined on Cannon. (U.S. Air Force photo by Senior Airman Maxwell Daigle)
Inside the kitchen of the Pecos Trail dining facility on Cannon Air Force Base, New Mexico, long rows of white styrofoam food containers are surrounded by a swarm of airmen. They quickly move around the crowded, narrow space, emptying large bowls and trays of hot food into the containers. The meals are then shuffled into insulated boxes, counted and then pushed to the loading dock for delivery.
Read more: Cannon AFB Provides Food on the Front Lines of COVID-19
Details

Hits: 669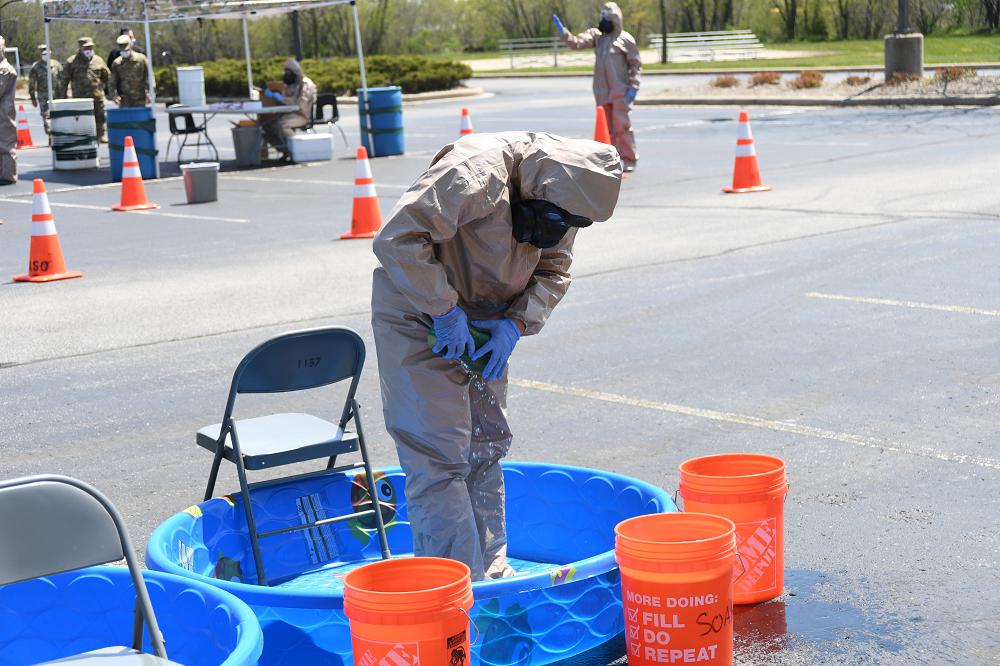 Citizen-Soldiers and Citizen-Airmen from the Wisconsin National Guard collect specimens for COVID-19 testing May 13, 2020, at Burlington High School in Burlington, Wisconsin. The Wisconsin National Guard has 25 specimen collection teams operating throughout the state.
MADISON, Wis. – Twenty-five specimen collection teams from the Wisconsin National Guard continue to help increase the state's COVID-19 testing capacity. Four teams collected specimens Sunday and 19 were collecting them May 18.
The 600 Citizen-Soldiers and -Airmen on the teams established mobile testing sites at correctional facilities and health clinics, private businesses, and drive-thru locations. After collecting the specimens at each site, Wisconsin National Guard troops send the test kits to a state lab for analysis. Results are shared with people via a phone call from their local health department or a state call center in three to five days.
Read more: National Guard expanding COVID-19 testing across Wisconsin
Details

Hits: 1127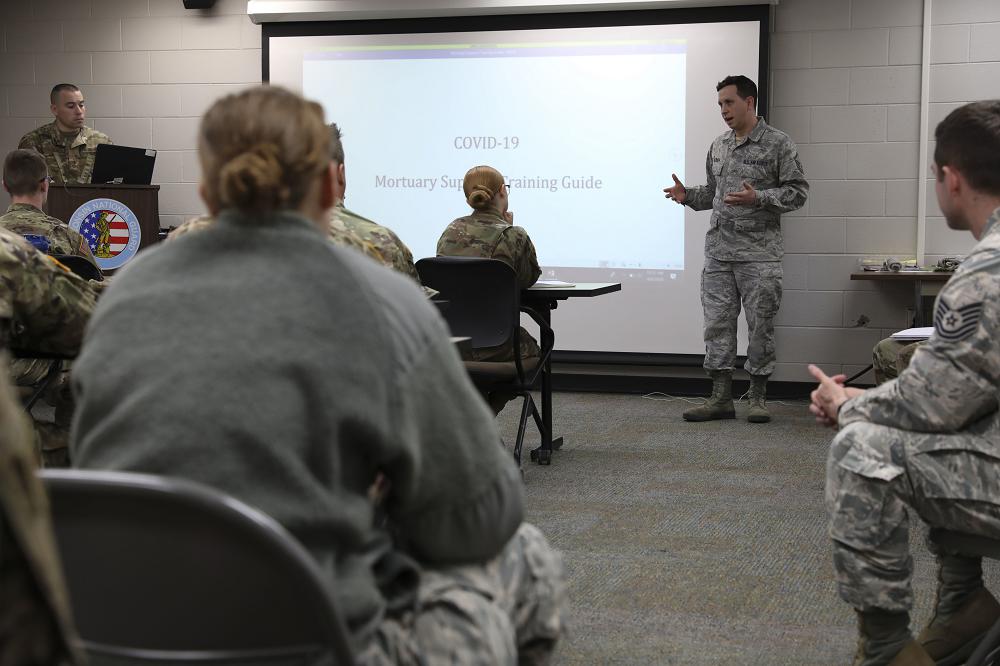 Master Sgt. Steven Ulrich instructs Wisconsin National Guard Soldiers and Airmen on mortuary affairs support in Whitewater, Wisconsin, April 8, 2020. Approximately 20 members of the Wisconsin National Guard Soldiers were trained to assist civilian mortuaries in response to COVID-19. (Photo by Spc. Anya Hanson)
MADISON, Wis. – Members of the Wisconsin Air National Guard's 115th Fighter Wing Fatality Search and Recovery Team (FSRT) mobilized last month to assist the state's medical examiners with mortuary operations in the COVID-19 response.
The team's primary task is to assist the medical examiner and coroner with the dignified removal of remains from residences, transportation and cleaning and decontamination.
Read more: 115th Fighter Wing team assists with mortuary operations
Details

Hits: 852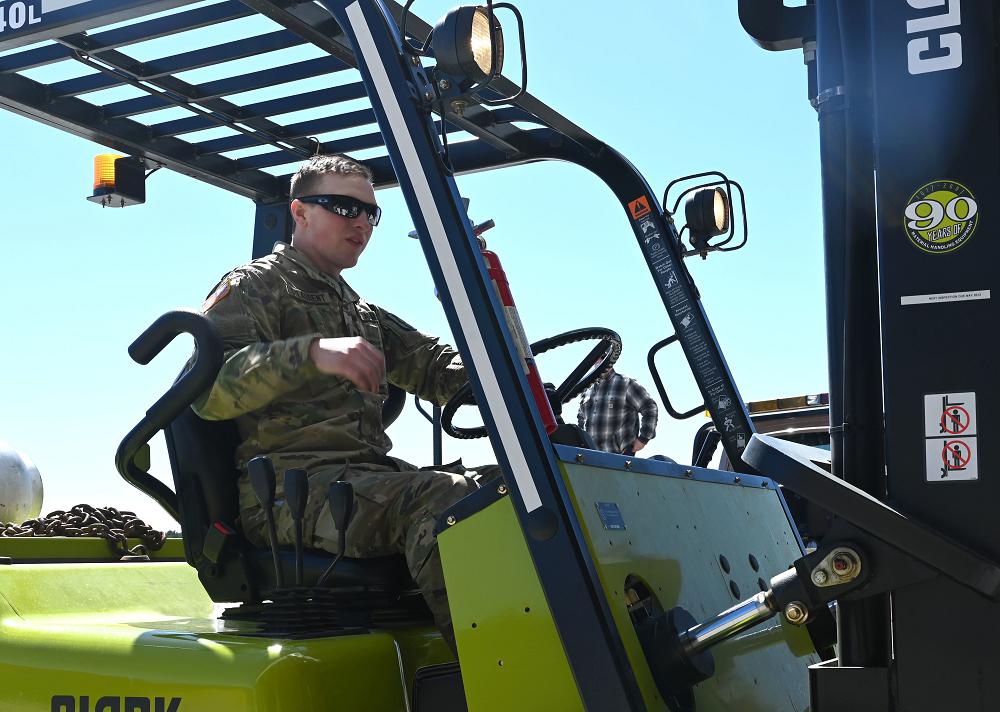 Spc. Andre St. Laurent, Headquarters and Service Company, 3643d Brigade Support Battalion, New Hampshire Army National Guard, loads freight in Concord, April 24, 2020. St. Laurent is one of 15 Guard members supporting COVID-19 relief efforts at a warehouse distribution center for the state's cache of personal protective equipment. (Photo by Staff Sgt. Charles Johnston)
CONCORD, N.H. – As the COVID-19 pandemic continues to drive demand for personal protective equipment, astute management of New Hampshire's cache of masks, face shields, gowns and gloves is paramount.
The endeavor requires a full-time commitment of manpower and muscle to sort, store, secure and deliver a steady stream of PPE to first responders and healthcare professionals across the state.
Enter a dedicated team of New Hampshire Army National Guard Citizen-Soldiers.
Read more: New Hampshire Guard supports massive warehouse mission
Details

Hits: 861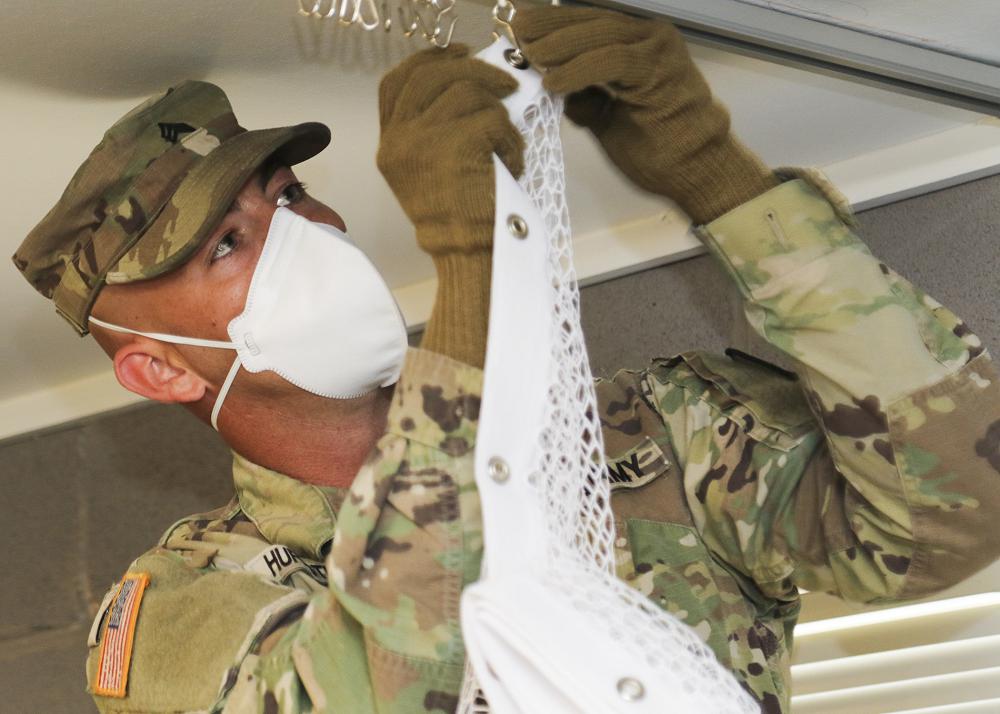 Texas Army Sgt. Keith Huffstuttler, a team leader with Task Force 176's 840th Engineering Mobility Augmentation Company, installs curtains to separate beds in Camp Swift barracks to adapt them into medical isolation support facilities in Bastrop, Texas, April 17, 2020. The isolation facility is for Soldiers, Airmen and State Guardsmen suspected of having COVID-19. (Photo by Staff Sgt. Michael Giles)
CAMP MABRY, Texas – Texas Army National Guard combat engineers converted Camp Swift barracks in Bastrop into medical isolation support facilities.
The 840th Engineer Mobility Augmentation Company, which operates within the Texas Military Department's Task Force 176, mobilized in response to the COVID-19 pandemic to enhance medical infrastructure in Texas.
Read more: Texas Guard converts barracks into isolation facilities
Subcategories