An inside look at the 72nd Medical Detachment - Veterinary work
Recently, Afghanistan - Here at SupportOurTroops.org, we have a simple mission - to support our men and women now serving in the Armed Forces. We're proud and privileged to help those who need it. In this position, we often get an inside look at some of the important work these soldiers do on a daily basis. The 72nd Medical Detachment is a veterinary service support unit currently deployed in Afghanistan.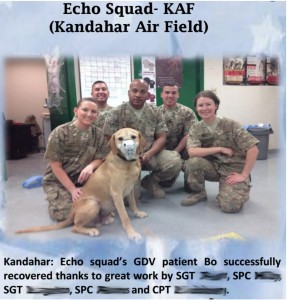 A group of soldiers in Afghanistan pose with a working military dog, post veterinary treatment.In a typical month, they can see over one hundred patients and perform 13 surgeries. Most of the patients are Military Working Dogs, known as MWDs. Recently, the 72nd redeployed 6 MWDs to their home stations. They performed five yearly exams, four dentals and even extracted some broken teeth. They also do X-rays and CT scans on the dogs, which helped to diagnose on working dog with a slipped disc, and another with a tumor. One common ailment of MWDs is Gastric Dilatation Volvulus (GDV), a non-combat related cause of death for working dogs. When this happens, the stomach bloats and rotates, and can only be corrected with surgery. Click here to donate and show your support for the brave men and women serving our country.