OKINAWA, Japan, Aug. 6, 2015 – Kadena Air Base is home to an array of aircraft designed to perform a variety of missions -- from cargo transportation to air superiority -- but none of those missions are accomplished without the support of ground crew.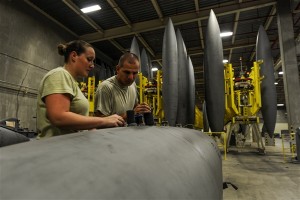 Air Force Staff Sgt. Thomas Lewellen, an aircraft fuel systems craftsman with 18th Component Maintenance Squadron, and Air Force Senior Airman Elizabeth Melton, a fuel systems journeyman with 18th CMS, inspect an external fuel tank at Kadena Air Base, Japan, Aug. 4, 2015. Lewellen is Melton's supervisor. U.S. Air Force photo by Airman 1st Class Lynette Rolen
That support includes airmen from the 18th Component Maintenance Squadron, like Air Force Staff Sgt. Thomas Lewellen. He and his fellow fuel systems experts help ensure the jets take to the sky. "To work on an aircraft, especially an aircraft that you know is going to do a mission … and then see a pilot instantly step into it and take off -- to make the mission happen, that is absolutely the best," Lewellen said.
Fast Learner Lewellen has worked on aircraft throughout his nine years in the Air Force -- mostly F-15 Eagles, but plenty of others, too. When new aircraft were added to his shop, his superiors noticed how quickly Lewellen adapted. "Within one day of a training course, he was already out on a KC-135 [Stratotanker] and was troubleshooting," said Tech. Sgt. Daniel Little, an assistant section chief at the 18th CMS aircraft fuel systems repair facility, who said he has known Lewellen for just over one year. "He's the tip of the spear." Noncommissioned officers, though, aren't just charged with mastering their technical jobs. As leaders, it's imperative they impart their knowledge to the next generation. That's a skill in which Lewellen takes pride. "I'm a firm believer in actually leading, showing them how to do it, leading them through it, and then letting them show you what they have done the next time the task needs to happen," Lewellen said. "Just telling them to do something would be supervising or managing -- not leading."