June 10, 2014, Horn of Africa - Dear Generous Americans,
On behalf of the Troops, I want to express our heartfelt gratitude for your generosity. Your care packages mean so much to so many. Every act of kindness is magnified for us when we are so far from home. The simplest gesture brings us joy, and inspires us to persevere and reminds us that what we do here is truly appreciated by our fellow citizens. When we are deployed so far from home it is gifts like yours that help to make the days more pleasant and the time pass quickly. While packages are filled with tangible items, they are valued more because they are a reminder that while we are far from home, we are not forgotten. Once again, on behalf of all of us, I assure you of our prayers, best wishes, and heartfelt gratitude
. ~ Chaplain John ____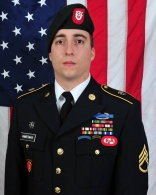 Ammerman, killed December 3rd, 2014Afghanistan, December 5, 2014: We honor Staff Sgt. Matthew Ammerman, killed December 3rd, 2014. Ammerman was a member of 3rd Battalion, 7th Special Forces Group (Airborne) when he was killed in combat operations in Afghanistan. Good Americans will never forget their fallen heroes. "Staff Sgt. Matthew Ammerman was an exceptional Soldier in all regards.
He showed himself to be a standout shortly after arrival in the unit and his efforts have made an impact on his unit and our mission. We, as a nation, are fortunate to have men like Matt," said Lt. Col. Tommy Stoner, Commander of the 7th SFG(A)'s 3rd Battalion. "He not only represented what we should all aspire to be, but he lived it. His loss is a great blow and he will be missed and mourned by this unit. Our focus will be supporting his family in any way possible and ensuring that they are taken care of during this difficult process." Our prayers are with his family, friends and fellow soldiers.