JOINT BASE LANGLEY-EUSTIS, Va.– Army Sgt. Maj. Jose Velazquez, U.S. Army Training and Doctrine Command public affairs sergeant major, is one of the more than 158,000 Hispanic Americans serving in the military today. Reflecting on National Hispanic Heritage Month, which began Sept. 15 and runs through Oct. 15, he recalled what joining the Army meant to him and how it changed his life.

Velazquez said he grew up in the lawless Essex Street Projects of Lawrence, Massachusetts, with his mother, who had moved from Puerto Rico to the United States. "My mother worked in factories to help provide and raise me," he said. "Her hopes for me were to not become another statistic of the city, with working in a factory or ending up dead on a street corner." After graduating from high school, Velazquez said, he tried his hand at community college, but fell short. "At the time, I was [still] struggling to not be a statistic, but in many ways I already was," he explained. "By 1990, I had already failed out of college and had been hired by a clothing factory, working in what was known as the 'sweat shop.'" Velazquez said he knew this was not the life he wanted to live, but was not sure about how to survive otherwise. 'I knew I couldn't stay there' "I still remember like it was yesterday," he said. "What I remember the most is the blank stares of the good, decent men and women who worked there. It felt like their hopes and dreams had died amongst those mill walls. I knew I couldn't stay there. I knew I had to find a way out."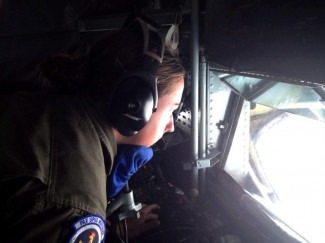 PHOTO: Air Force Senior Airman Danielle Repp performs an aerial refueling operation in a KC-135 Stratotanker. Photo courtesy of Daniel Repp ROYAL AIR FORCE MILDENHALL, England – Some families have a history of military service, whether it be in different branches or the same one. Less common however, is for two consecutive generations not only serve in the same service branch, but also to pursue the same career field. This is the case with Air Force Senior Airman Danielle Repp, a 351st Air Refueling Squadron boom operator from Spokane, Washington, and her father, retired Air Force Chief Master Sgt. Daniel Repp. Both Repps chose to be boom operators, with Danielle entering the Air Force in 2012. Her father enlisted in 1981. Danielle said her desire to become a boom operator stemmed from her father's career, which she got to observe first-hand growing up. "Boom operator was definitely No. 1 on my list," she said. Her first exposure to the boom operator world was all it took to peak her interest in the career field, she said. "I got to fly space-available once on a flight from Fairchild Air Force Base, Washington, to Hawaii, and I got to watch [my dad] during [a [refueling operation]," she recalled. "Seeing pictures and hearing how much he likes the job made me think, 'You know, I don't want to sit at a desk all day. I want to be out there doing something.'"