SALISBURY, Md. – The Marines at Recruiting Sub-Station Salisbury here work over 60 hours every week to recruit highly qualified men and women into the Marine Corps. When they are not out canvassing the local community looking for future Marines, they are in the office making phone calls, interviewing applicants and processing paperwork. Their office frequently receives visitors who do not want to join the Marine Corps -- they just want to talk about it. These are former Marines, most of whom served before the recruiters were even born, who stop by the office to talk about their Marine Corps experiences. The recruiters will turn away from their computer screens and listen to stories about the "Old Corps." Many of these Marine veterans even bring in books and keepsakes from their time in the service and initiate impromptu show and tell sessions in the recruiting office. Once they are finished sharing their fond memories of being one of the few and the proud, they thank the recruiters for their time, shout "OO-RAH!" or "Semper Fi!" as they leave, usually to return with a new story to share. One of these storytellers is Robert Thomas.

Recently, the 73-year-old Salisbury native came by the recruiting office with his dress blues jacket from when he served many years ago. He was not there to show off his uniform, but he had a favor to ask of the Marines. It was a favor that turned out to be a story 50 years in the making. Thomas was born and raised in the rural farmlands of Cambridge, Maryland. While he was a senior in high school, he decided to join the Marines, much to the chagrin of his mother. "I knew at the time when I graduated I did not want anything to do with college," Thomas said. "I was not ready for it and would probably have been a disaster if I had gone."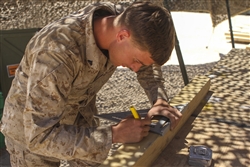 PHOTO: Marine Corps Cpl. Tanner Lechner measures wood for a "gear tree" during Large Scale Exercise 2014 at Marine Corps Air Ground Combat Center Twentynine Palms, Calif., Aug. 4, 2014. MARINE CORPS AIR GROUND COMBAT CENTER TWENTYNINE PALMS, Calif., Aug. 11, 2014 – On an uncomfortably hot day in the Mojave Desert, many service members participating in Large Scale Exercise 2014 were preparing for the day to end.A gear tree is for storing body armor and a helmet. The bilateral training is building U.S. and Canadian forces' joint capabilities. U.S. Marine Corps photo by Lance Cpl. Angel Serna But one Marine decided it was the perfect weather to bring out his tools and some spare wood to create something from scraps of nothing. Cpl. Tanner Lechner, a combat engineer with Combat Service Support Company, 1st Brigade Headquarters Group, 1st Marine Expeditionary Brigade, said he enjoys his time out in the field regardless of the weather, because he gets to practice and improve his construction and creativity skills. Before he joined the Marine Corps, Lechner lived in Topeka, Kansas, up to his early adulthood. After high school, he said, he wanted to take charge of his life and do something he enjoys.
His life-changing decision was inspired by his grandfather, who retired as a captain from the Marine Corps, Lechner said. His grandfather's stories of his career motivated him to the point that he decided to join the Marine Corps in 2011, he added. "I picked combat engineer as my [specialty] when I joined," the 21-year-old Marine said. "It wasn't my first choice, but I couldn't do reconnaissance, because I was color blind. My recruiter mentioned to me, 'As a combat engineer, you'll get to build things and blow stuff up,' so I said, 'Yeah! Put me there.'" After graduating from recruit training and his specialty school, Lechner said, he moved on to the operational forces, which gave him the opportunity to deploy and conduct his job. "We made what [we] would call a 'triple-nickel 40' out of cratering charges on a partially dry lake bed in the Philippines," he said. "When this thing went off, it made this massive crater, and all of the water that was underground came rushing in. It instantly filled with water, and we were like, 'Hey, we made a big pond.'"