KNOXVILLE, Tenn. – First-time deployments for new airmen can be intimidating, even terrifying for the introvert who isn't used to being a part of the team atmosphere that comes with being in the military. Teamwork is highly emphasized in the military and service members are encouraged to work together to get tasks completed efficiently. U.S. Air National Guard photo by Air Force Staff Sgt. Ben Mellon, 134th Air Refueling Wing Public Affairs The feelings of nervousness, fear or even embarrassment come easily in this situation.

This leads you to wonder if you're going to be accepted into a tight-knit group of people who already are familiar with each other, if you're going to do a good job, or just end up making a fool out of yourself because you don't have a good grasp on what is expected of you. Being prepared and having the right perspective can allow for a more enjoyable first duty deployment experience. "I'm not going to lie, I was nervous," said Air Force Airman 1st Class Michael Loy, a heavy equipment operator with the 134th Civil Engineer Squadron. "I came into this not knowing anything about it and it was kind of a shock like, 'Uh oh, what have I got myself into? I wonder how these people are going to treat me?' Honestly, I was shaking in my boots." Being nervous is normal The good news is, this is a perfectly normal reaction and the important thing to remember is most everyone in the military has had the same feelings at one point or another in their career. Although everyone's experience may be different, everyone understands the feeling of nervousness. However, it is possible to prepare yourself ahead of time to avoid allowing those feelings to dictate whether or not you have a good time on a first deployment. "Honestly, within the first hour of being here and getting to work I started to feel comfortable," Loy said. "We started laying blocks and I started moving around and talking to people learning about their different jobs and it was a big stress reliever. Once I opened up and started talking to people I realized that everyone wanted to meet me and everyone accepted me with open arms and I started meeting new people and it was just great."

There are a few different things airmen can do to prepare themselves ahead of time for a more enjoyable experience on a first TDY. The first thing they need to do is have an open mind. Be outgoing, meet people "Be open-minded," Loy said. "Try to focus on going out and helping and learning as much as you can. It's all about who you're talking to and about getting to know your fellow airmen. Meet new people and just have fun with it because if you're too serious you're not going to learn as much as you could. Just have fun with it."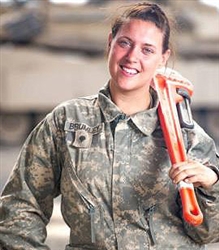 PHOTO: Army Spc. Samantha Brumley, a tank mechanic with Company F, 145th Brigade Support Battalion, Oregon National Guard, poses for a photo in front of an Abrams M1A2 System Enhanced Package tank while training at the Orchard Training Center near Boise, Idaho, Aug. 20, 2014. U.S. Army photo by Maj. Wayne
BOISE, Idaho, August 26, 2014 — Speckled with engine oil and coated with a layer of dust, 23-year-old Army Spc. Samantha Brumley rummages through a larger-than-life toolbox to begin work with her fellow tank mechanics on servicing an Abrams M1A2 System Enhancement Package Tank in the high desert area southeast from here.
Her team is at the Orchard Training Center conducting annual training in support of the 3rd Battalion, 116th Heavy Brigade Combat Team. While the service to the tank's nuclear, biological and chemical filter system is routine, Brumley's hands-on support is not. Brumley is the first woman to officially become a tank mechanic in the Oregon Army National Guard.
Switching military jobs
"I wanted to be a nurse. I actually wanted to be a medic when I got in, but that didn't happen," said Brumley, who joined the Army at age 17 as a communications specialist. She later switched jobs to become an armament repairer where she maintained and fixed weapon systems. But she wanted more.
A 2013 decision by the Pentagon opened up combat roles to women. This decision provided an opportunity to Brumley. After working near Company F tank mechanics, Brumley, who hails from La Grande, Oregon, was asked if she would like to go to school to become a tank mechanic, a role that traditionally had been held only by men.
Her response was short and direct.
"I'm not a desk-type person. I like getting hands-on. I like getting dirty. So I was like 'Yeah, I wanna go,'" Brumley reflected.
In the spring of 2014, Brumley was on her way to a military career transition course at the Regional Training Institute in Umatilla, Oregon. "I never thought I would join the National Guard and be a tank mechanic," Brumley said. "I certainly never thought I'd be the first woman."