Details

Hits: 4887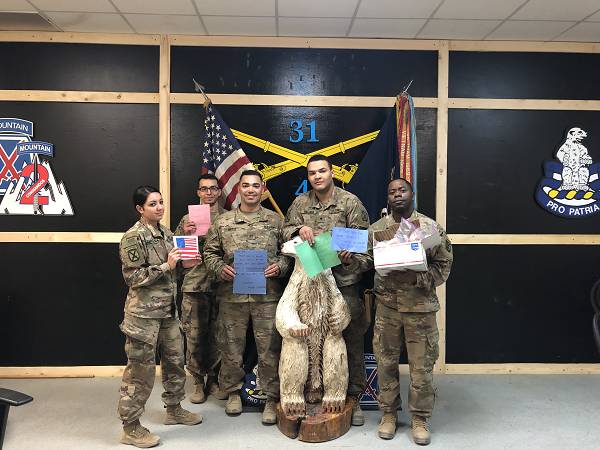 SW Asia, December 2018 - On behalf of my S-1 Shop we would like to say: Thank You for the Care Packages!!!
~~ Kenny [ ]
Did You Know?
The 2nd Brigade Combat Team (2nd BCT), 10th Mountain Division (Light Infantry) rapidly deploys trained, combat-ready forces globally in order to fight and win in combat.
Details

Hits: 4161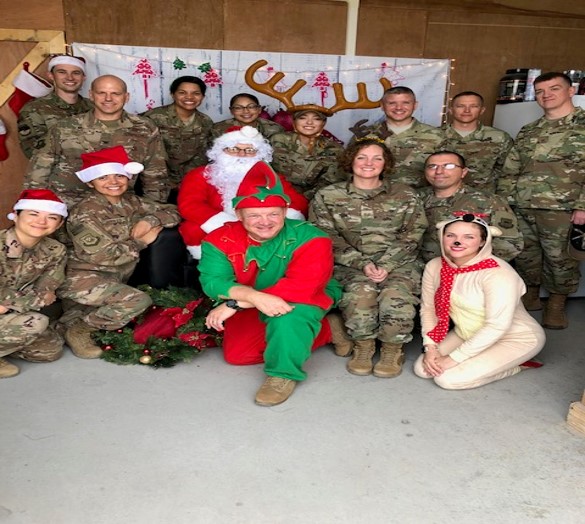 I am a deployed service member currently serving a 6 month tour at an undisclosed location in Southwest Asia.
Recently I received an AMAZING care package from your organization. I would like to say Thank You for your support. All the items in the package were either used by me or given to another service member.
The most popular items were the delicious snacks. I shared them with all my Airmen and loved to see the smile it brought to their faces. Its small things like your heartfelt care package that remind us that people back home are thinking of us.
Thank you and Happy Holidays!
v/r Heidi [ ]
Details

Hits: 5282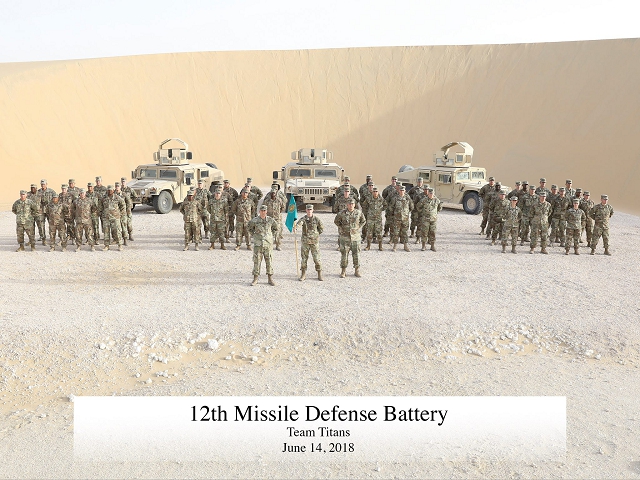 Location Undisclosed, August 25, 2018: Good Day or Night, I would like to take a few minutes of your time to let you know that we appreciate your support from home. We enjoy every care package that arrives to us. It is like Christmas when we open your packages and see the goodies that we at times do not have the privilege to buy/get in our area operation. In the upcoming days we will try our best to upload/send pictures of us receiving, opening, and enjoying your packages. Keep them coming please!
Thank You. SSG Edgar [ ], 12th Missile Defense Battery
Details

Hits: 1578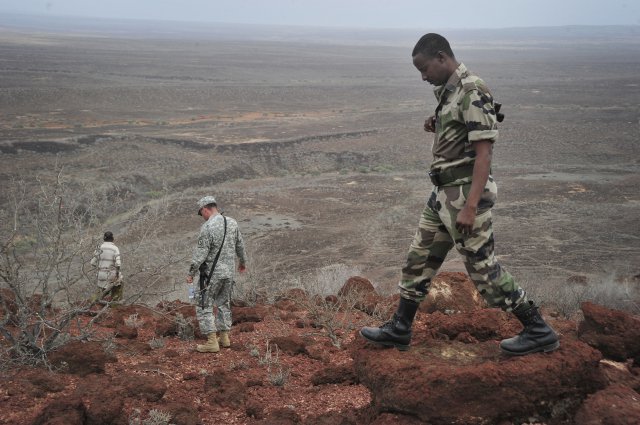 East Africa – December 18, 2018 - Just wanted to tell Americans thank you! We received several boxes of packages from you guys and will get the majority of them delivered to the small out stations across Africa. Thanks again!
~~ Jason [ ]
Photo Credit Master Sgt Hector Garcia

Details

Hits: 5520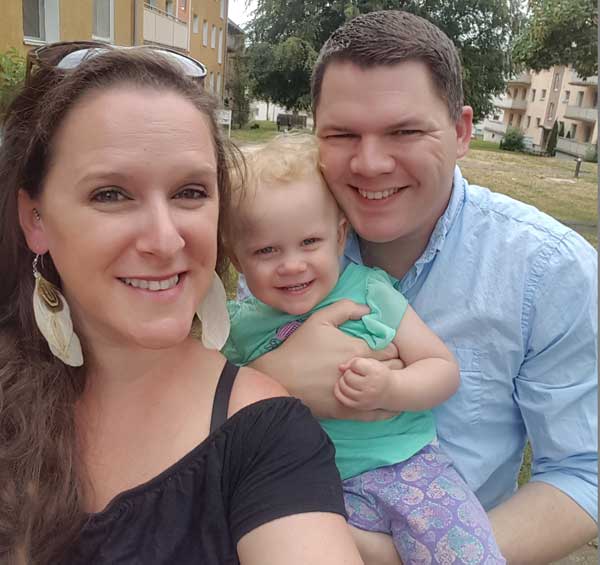 Wiesbaden, Germany July 12, 2018 – I wanted to write and say thank you to your organization for clipping and sending coupons! My family is stationed in Wiesbaden, Germany- and we are able to use them to save at least $40 per grocery trip. Due to the language barrier, I am unable to work... and every penny counts. All of your clipping is very much appreciated! Thank you for the effort- it makes a big difference to my family and I!
~~ Sincerely, Marie -----
Details

Hits: 4163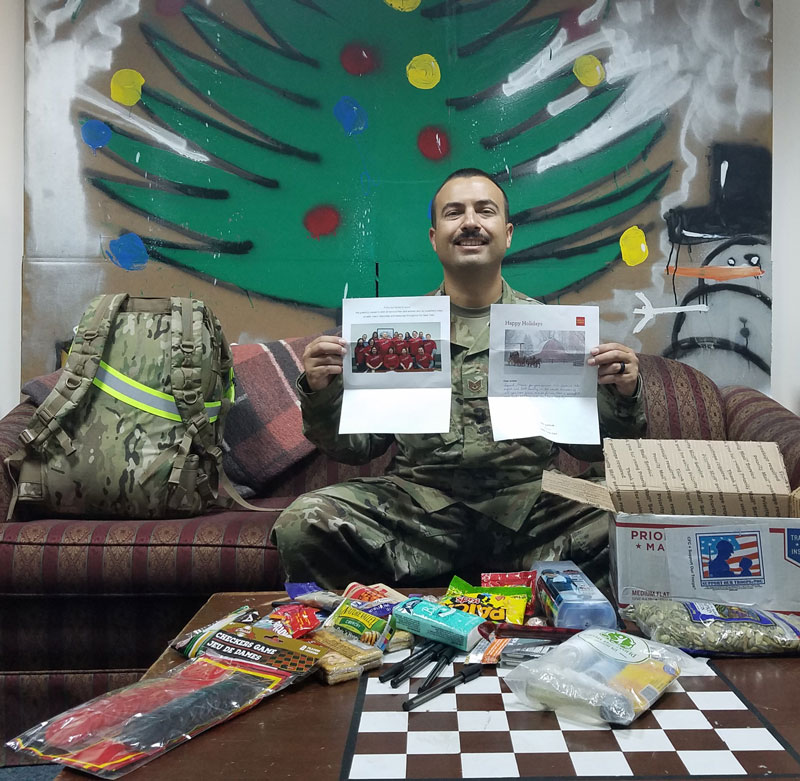 Incirlink AB, Turkey, December 13, 2018 - Good afternoon, Thank you for sending the care package. It was greatly appreciated, especially the Chill‐its, pocket flags and pumpkin seeds. Pens and shavers are always in need. The snacks are always the first to go when the guys/girls see them on the table. Once again, everything will be eaten or used. Happy Holidays, I have attached a picture, I hope you don't mind our makeshift Christmas Tree in the background.
Thank you, Raul [], TSgt, USAF Sheet Metal Mechanic
Details

Hits: 2975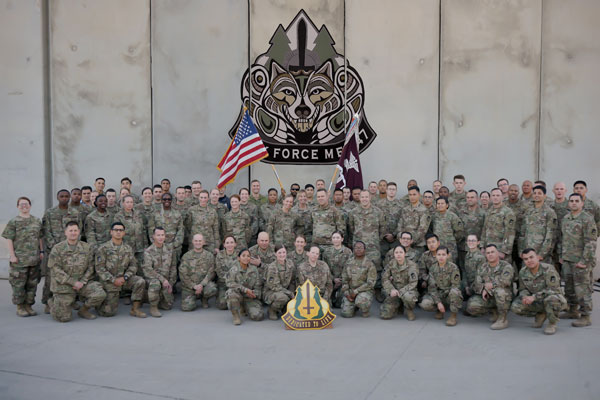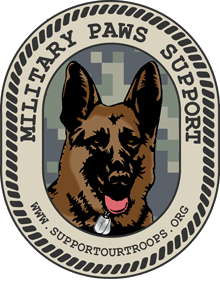 Bagdad, May 5, 2018 - Thank you so much for your kind letter and amazing K-9 Warrior care package! The dogs will sure be happy with these goodies! I will disperse to the special forces dogs on the base in Baghdad and veterinarians who travel to other bases to treat special forces dogs in remote places. Receiving mail is always a morale booster on this 9 month deployment.
We only have 6 weeks left till we can head back to Fort Lewis, WA. I sure do miss the mountains, lakes, and trees! I am an Emergency/Trauma Nurse and belong to a Combat Support Hospital. We have not had a lot of trauma patients lately so hopefully it stays that way. The Iraqi election is May 12 and we are staying vigilant in preparation for potential patients. Thank you for keeping us in your thoughts! Bagdad, May 5, 2018 - Thank you so much for your kind letter and amazing K-9 Warrior care package! The dogs will sure be happy with these goodies! I will disperse to the special forces dogs on the base in Baghdad and veterinarians who travel to other bases to treat special forces dogs in remote places. Receiving mail is always a morale booster on this 9 month deployment. We only have 6 weeks left till we can head back to Fort Lewis, WA. I sure do miss the mountains, lakes, and trees! I am an Emergency/Trauma Nurse and belong to a Combat Support Hospital. We have not had a lot of trauma patients lately so hopefully it stays that way. The Iraqi election is May 12 and we are staying vigilant in preparation for potential patients. Thank you for keeping us in your thoughts!
~~ Respectfully, CPT Morgan ------, Operation Inherent Resolve