Details

Hits: 226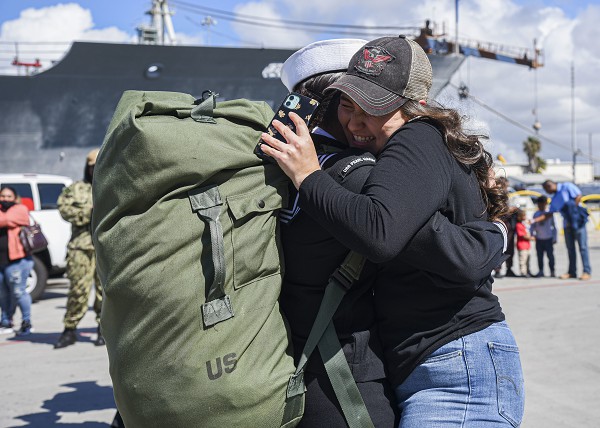 San Diego, CA. (August 14, 2022): In this photo by Specialist 3rd Class Melvin Fatimehin, a sailor hugs a family member after completing a seven-month deployment aboard the Harpers Ferry-Class Dock Landing Ship USS Pearl Harbor. Based at Naval Base San Diego, the Pearl Harbor just returned from operations in the Indo-Pacific region in support of America's 3rd, 5th, and 7th Fleets. With a crew of 24 officers and 328 enlisted, the Pearl Harbor's mission is to transport and launch amphibious craft and their crews to conduct assault landings.
San Diego, CA. (August 14, 2022): Homecomings are some of the most memorable moments for our active duty servicemembers and their families. While always a joyous occasion, coming home can be source of hidden stress after many months of separation.
For military families, the toll of repeated deployments is often invisible but very real, especially to the children. When a spouse is deployed, the rest of the family must take on duties and responsibilities, from mowing the lawn to buying groceries, far above their pay grade. After a couple of months, a certain sense of rugged independence takes hold as they learn to conquer adult tasks on their own.
Read more: HAPPY HOMECOMINGS, HIDDEN PAIN ADJUSTING TO "NORMAL" TAKES EFFORT
Details

Hits: 351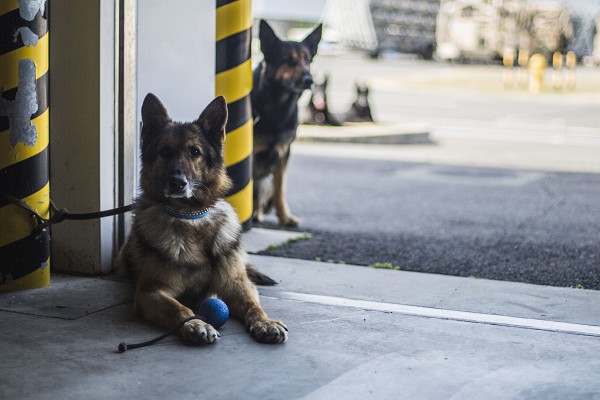 Marine Corps Air Station Iwakuni, Japan. (August 12, 2022). In this photo by Corporal Andrew Jones, Japanese working dogs wait their turn to perform a search at Marine Corps Air Station Iwakuni, Japan. Their K-9 handlers are from the Japan Maritime Self-Defense Force who depend on German Shepherds for perimeter defense and bomb/drug detections.
Marine Corps Air Station Iwakuni, Japan. (August 12, 2022): We are familiar with the veritable German Shepherd as an essential part of police and military operations for centuries. Shepherds are the most popular choice due to their intelligence, loyalty, agility, and ability to remain calm in hostile environments. Horses, donkeys, mules, and camels have all served as pack animals transporting men and medical supplies to the front. Even birds got into the act with carrier pigeons delivering messages and the unfortunate canary used to detect poisonous gas.
Throughout history, man has attempted to use animals in some surprisingly strange ways.
Author Graham Land in his recent article, 10 Animals Used For Military Purposes, describes some of the odd ways military planners hoped to use our animal friends.
The Elephant Mountain Division
Eat your heart out 10th Mountain Division! Perhaps the most famous non-human weapon of war is the giant and durable elephant. In 218 B.C., Hannibal famously led 400 elephants and an army of over 100,000 men across the Alps to defeat a much superior Italian army. Having never seen elephants before, the Roman Calvary panicked resulting in a surprise victory for Hannibal and forever installed the noble elephant as a "heavy weight" on the battlefield.
Read more: BELIEVE IT OR NOT… STRANGE PLANS FOR MILITARY ANIMALS
Details

Hits: 267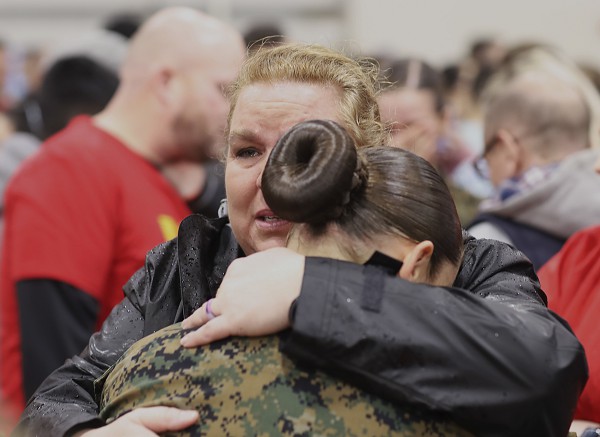 Paris Island, S.C. (August 8, 2022): In this photo by Corporal Samuel Fletcher, Marines embrace loved ones during Family Day at Marine Corps Recruit Depot, Parris Island, South Carolina. The event allows newly minted Marines the chance to reconnect with their families before graduation day. This Marine went through several intense phases of physical and emotional training to earn the right to wear the eagle, globe, and anchor of the U.S.M.C.
Paris Island, S.C. (August 8, 2022): For the Marines, it is the first time they set their feet on "yellow feet" painted on the tarmac on day one. For soldiers, it is a swarm of angry drill sergeants descending on a bus full of terrified recruits. Air Force trainees remember the rather rude greeting they received at Lackland entering the B.E.A.S.T. (training regimen). It seems every service has its "shock and awe" methods to welcome volunteers to the rigors of military life.
While terrifying at the time, most veterans agree their baptism during basic training taught many valuable lessons that have lasted a lifetime. In the photo above, a newly "made" Marine hugs her loved one after enduring some of the most arduous and challenging infantry training in the world.
Regardless of service, there are certain informal "phases" one goes through before earning the right to wear the uniform.
Phase one involves emotional shock, unfamiliar surroundings, and angry drill instructors. Here you learn respect for authority, to instantly obey orders, why the chain of command is so important and, through countless surprise inspections, attention to detail. Each day seems like a fight for survival, to respond appropriately and, above all, don't stick out.
During the second phase, recruits develop the drive to win, to take the initiative and overcome adversity, and to learn how to work as a team. No matter where you are from, you learn quickly to respect ethnic or cultural differences and to treat fellow recruits with respect. There are no "individualists" in the ranks as each needs the other to survive.
Read more: LESSONS THAT LAST A LIFETIME… BASIC TRAINING IS THE ULTIMATE "SCHOOL OF HARD KNOCKS"
Details

Hits: 240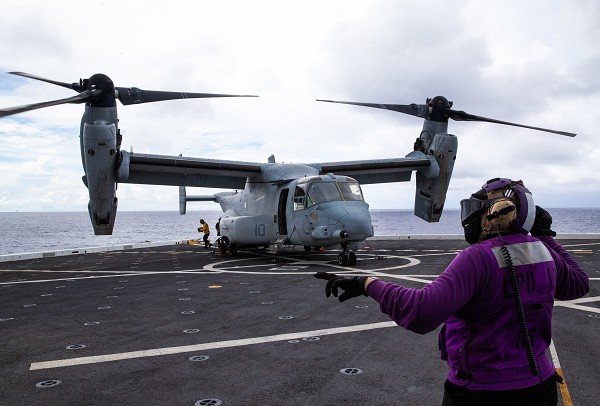 Philippine Sea (July 28, 2022): In this photo by Lance Corporal Yvonne Iwae, U.S. Navy Sailors assigned to the USS New Orleans transport supplies off an Osprey tilt-rotor aircraft in support of the Marine Corps 31st Marine Expeditionary Unit. The 31st MEU is the only continuously deployed quick reaction force available for any combat or humanitarian crisis in the Indo-Pacific
Philippine Sea. (July 28, 2022): By throwing a temper tantrum off the coast of Taiwan, China may have unwittingly given western intelligence officers a bonanza of up-to-date information on their military capability. In the past week, China has conducted live fire exercises and repeatedly violated Taiwan air space, all under the watchful eye of America's 7th Fleet.

American intelligence operatives are viewing, in real time, Chinese naval and air tactics, operating procedures, and the number and types of ships and aircraft they are likely to employ in an invasion of Taiwan.
Why is China doing this?
Read more: CHINA UPDATE… TEMPER TANTRUM CREATES A "GOLD MINE" FOR AMERICAN INTELLIGENCE
Details

Hits: 254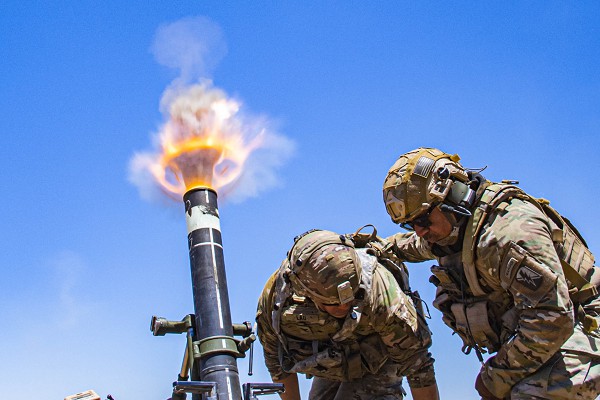 Camp Roberts, CA. (August 4, 2022): In this photo by Staff Sergeant Walter Lowell, Army Colonel Randy Lau fires a 120mm Mortar during live fire exercises at Camp Roberts, California. Mortars are the squads' "Artillery" and these skilled crews save many lives in combat.
Camp Roberts, CA. (August 4, 2022): In modern science, the word "Artillery" means big guns firing massive shells to devastate the enemy. A far more basic form of "Arty" for an infantry squad is the humble, but highly effective, Mortar.
The earliest record of Mortars in combat was by the Ottomans in 1453 who constructed large contraptions, some weighing as much as 5 tons, capable of firing projectiles weighing over 200 pounds. Modern Mortars are tiny by comparison but provide a major league wallop on the battlefield.
Read more: INDIRECT FIRE SPECIALISTS BRING SQUAD LEVEL "ARTILLERY"
Details

Hits: 1126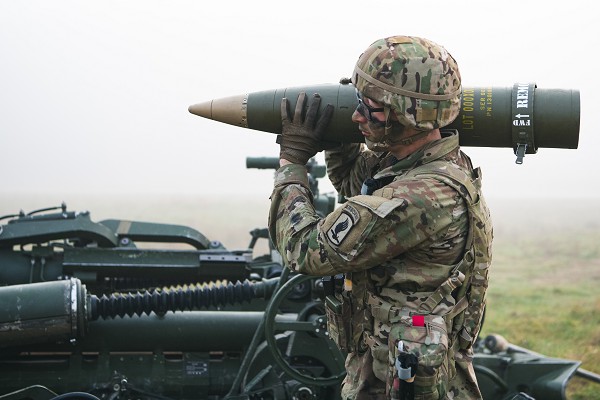 In this photo by Staff Sergeant John Yountz, a U.S. Army paratrooper assigned to 4th Battalion, 319th Field Artillery Regiment (Airborne) shoulders a round for the M777 Howitzer for an artillery capabilities fire demonstration during a leadership validation exercise at the U.S. Army Joint Multinational Readiness Center at Hohenfels, Germany. American Cannoneers provide close fire support for infantry units when lives are on the line.
Ft. Sill, Oklahoma. (July 31, 2022): These are the most chilling words a soldier can hear crackle over the radio; "We are being overrun!" A squad is pinned down with multiple wounded, unable to move as the enemy closes in. Their survival depends on the skill and bravery of U.S. Artillery Cannon Crewmembers.
For over two centuries, American artillerymen have delivered close fire support for infantry units like these saving countless lives and deciding many battles. U.S. artillery came of age in the 1830's when smaller, lighter cannon with longer range were produced, the most famous being the Model 1841 Mountain Howitzer. The term Howitzer comes the German word "Haubitze" or basket and refers to a cannon with a shortened barrel and a breach shaped like a funnel increasing accuracy and portability.
Today, Army Cannon Crewmembers (MOS 13 Bravo) are responsible for firing howitzers in support of infantry and tank units during combat. These troops load and fire howitzers, set fuses and charges on multiple munitions, and must make split second decisions, often while under fire themselves.
Read more: AMERICAN CANNONEERS… THIRTEEN BRAVO'S ARE LIFESAVERS
Subcategories