Details

Hits: 385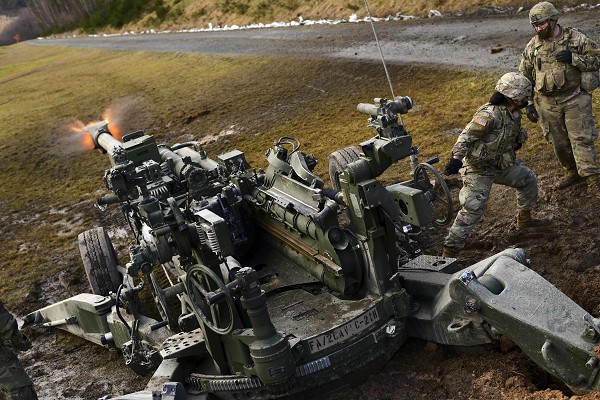 In this U.S. Army photo by Kevin Payne, 1st Lieutenant Nancy Gomez fires an M777 Howitzer during direct fire exercises at Grafenwoehr Training Area, Germany. The "Triple Seven" uses Excalibur rounds; a 155mm extended range shell that uses a jam-resistant internal GPS receiver to guide it to its target and is accurate to within 30 feet.
Grafenwoehr Training Area, Germany. (August 2, 2022): First you see a flash. Then comes a rumbling beneath your feet until the thunderous explosion rattles your entire body. Ears ringing, gun smoke fills the air as the next round heads down range with similar ferocity. The first thought that comes to mind is "Dear God, it must be awful to be on the receiving end of that."
Anyone who has witnessed American artillery can attest to its awesome, almost life altering, power. When the Russians invaded, little did they realize their troops would be on the "receiving end" of American might, wielded by a brave and determined Ukraine.
Read more: THE EXCALIBUR IS THE SWORD… THE "TRIPLE SEVEN" PACKS THE PUNCH
Details

Hits: 528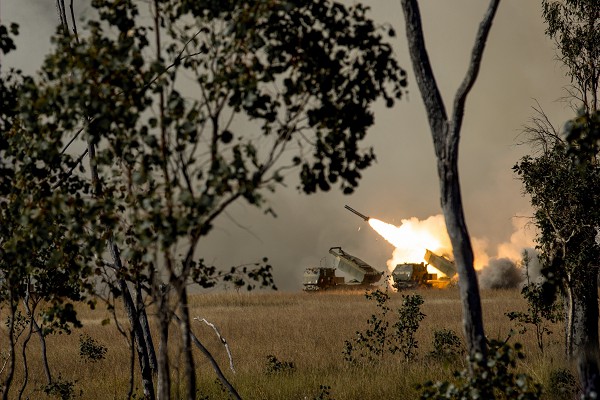 Queensland, Australia. (August 2, 2022): In this photo by Lance Corporal Alyssa Chuluda, a U.S. Army High Mobility Artillery Rocket System (HIMARS) with Alpha Battery, 1st Battalion, 94th Field Artillery Regiment, 12th Field Artillery Brigade and a United States Marine Corps HIMARS with 3rd Battalion, 3rd Marines, fire rockets during Exercise Talisman Sabre on Shoalwater Bay Training Area in Queensland, Australia. These Army and Marine sister units jointly train on the deadly HIMARS system that is turning the tide in Ukraine.
Queensland, Australia. (August 2, 2022): Merriam Webster's dictionary defines Terror as " a state of intense, overwhelming fear", which is probably an accurate description of Russia's soldiers in Ukraine right now. The Russians are getting to know HIMARS, an acronym they won't soon forget.
The U.S. Army's High Mobility Artillery Rocket System (HIMARS) has arrived in numbers on the battlefields of Ukraine to devastating effect on the invaders. In a recent article in Newsweek, author Jason Lemon describes HIMARS as a 'game changer" in the Ukraine War quoting retired U.S. Army General Mark Hertling, the former Commander for U.S. Army Europe and 7th Army, as saying HIMARS delivers "greater range, precision accuracy with fewer rounds" than anything on the battlefield.
America has delivered upwards of 16 HIMARS units so far and intelligence experts say the Ukrainians have used them to successfully target enemy airfields, ammunition dumps, and command headquarters deep into Russian occupied territory. In fact, HIMARS is so effective that the Russian Army has lost 14 Generals in Ukraine, an unheard loss of senior officers not seen since World War II.
So, what is this HIMARS, and what makes it so effective in this conflict?
Read more: HIMARS A "GAME CHANGER" IN UKRAINE AMERICAN TECHNOLOGY IS TERRORIZING RUSSIANS
Details

Hits: 285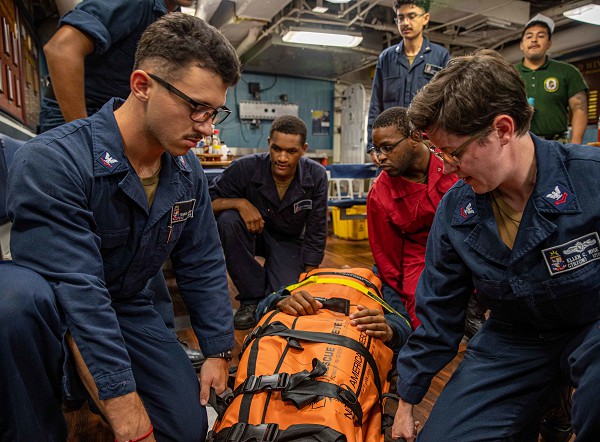 Aboard the USS Chancellorsville, South China Sea. (July 28, 2022): In this photo by Petty Officer 2nd Class Justin Stack, sailors conduct stretcher bearer training for a mass casualty event in the event of an emergency. A sailor's life is filled constant training, long hours, and plenty of stresses and frustrations.
Only a tiny fraction of Americans will ever know what it is like to live aboard a warship, be it an aircraft carrier, a destroyer, or an amphibious assault vessel. A sailor's life is often filled with stress, monotony, boredom, homesickness, frustration, and fatigue while experiencing new cultures and visiting exotic locales around the world. Life aboard "the Boat" as sailors say, is anything but ordinary.
Each day begins with reveille at zero dark thirty followed by the daily announcements blaring over the ship's communications. You wait in line for breakfast, stuffed into cramped spaces, for what seems like an hour. Next, you begin your 12-hour (often more) shift that includes constant training, spot checks, team meetings, and examinations on ship maintenance. The ship will often go into "Alert Mode" where sailors face simulated attacks, practice fire control and evacuation procedures, and train for medical emergencies.
Read more: LIFE ABOARD THE "BOAT" A SAILORS LIFE DEFENDING AMERICA
Details

Hits: 305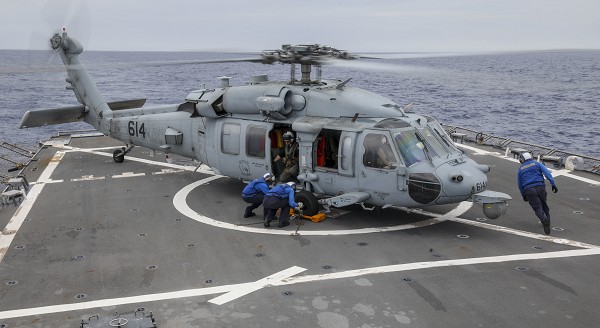 Philippine Sea (July 28, 2022): In this photo by Petty Officer 2nd Class Arthur Rosen, sailors aboard the Arleigh Burke class guided missile destroyer USS Benfold remove chocks and chains from an MH-60D Sea Hawk helicopter assigned to the famed "Golden Falcons" combat squadron. In 1951, the United States signed a Mutual Defense Pact with the Philippines guaranteeing American military intervention should any of her armed forces be attacked in contested waters.
Philippine Sea (July 28, 2022): It is true. Everyone hates a bully. For the Philippines, one of our longest and most faithful allies, that bully is China and its aggressive actions in the South China Sea. As China flexes its muscles in the waters off the Philippines, Viet Nam, and Malaysia, the American military must reassure its allies in the region that we have their back.
China (wrongly) lays claim to virtually the entire South China Sea, based on historical grounds, and has attempted to assert control over international navigation in violation of international law. Filipino fishermen, for example, have clashed with Chinese rivals who routinely violate their territorial waters while tacitly protected by the Chinese Navy. China has transformed seven barely submerged atolls, dubbed the Spratly Islands, into military bases directly in the path of international shipping lanes. Now established, China has used these islands to encroach upon its neighbors and to illegally challenge the right of vessels to navigate in the South China Sea. Both the Philippines and Viet Nam have also claimed ownership of these islands.
Read more: PHILIPPINES FACING DOWN A BULLY… AMERICA'S CLOSE ALLY NERVOUSLY WATCHES CHINA
Details

Hits: 419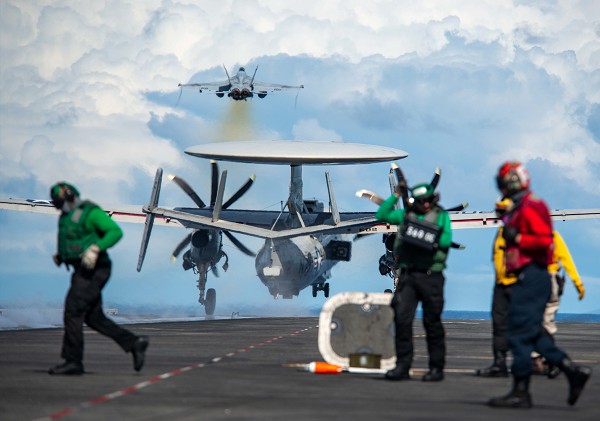 South China Sea (July 28, 2022): In this photo by Petty Officer 3rd Class Gray Gibson, an American F/A-18E Super Hornet jet attached to the "Royal Maces" Strike Fighter Squadron and an E-2D Hawkeye reconnaissance aircraft assigned to the Tiger Tails Squadron, launch from the deck of the USS Ronald Reagan aircraft carrier. The Ronald Reagan is the Navy's only forward-deployed aircraft carrier that conducts tactical early warning missions against hostile actors in the Indo-Pacific region.
Aboard The USS Ronald Reagan, South China Sea (July 28, 2022): In addition to rising tensions over Taiwan, America and China continually battle for control over strategic economic and military "maritime choke points" in the world's oceans.
Much of the world's maritime traffic occurs at four choke points: The Malacca Strait, between the Indian and Pacific Oceans, the Bab al-Mandeb Straits, which are the gateway between the Indian Ocean and the Red Sea, and the Suez and Panama Canals. The U.S. military is increasingly alarmed at increased Chinese naval activity near these choke points that may give them the ability to interfere with both military and commercial traffic. Of particular concern is China's only overseas military installation located near the Bab al-Mandeb Straits which can threaten access to the Red Sea and the Suez Canal.
In April, a large commercial vessel got stuck in the Suez Canal which disrupted world trade and serves as a reminder that even brief interruptions at these choke points can be disastrous.
Details

Hits: 432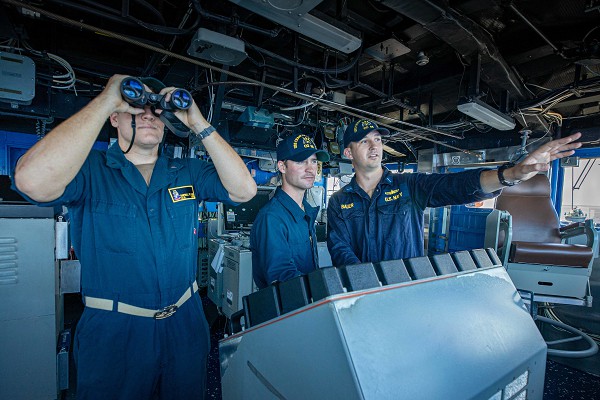 South China Sea (July 25, 2022): In this photo by Navy Mass Communications Specialist 2 Justin Stack, sailors aboard the Ticonderoga-class guided missile cruiser USS Chancellorsville stand watch for Chinese military vessels as they conduct "freedom of navigation" exercises in the Taiwan strait. America routinely confronts challenges by the Chinese Navy to the safe passage of vessels in international waters.
South China Sea (July 25, 2022): A dramatic increase in Chinese military activity surrounding Taiwan (formerly known as Formosa) has American military commanders concerned an invasion of the island is imminent. Taiwanese authorities have reported "large incursions" by Chinese military forces into their territorial waters and airspace in recent months. In April, China flew the largest number of military jets into Taiwan airspace this year. This hyper-aggressive activity has led U.S. Admiral John Aquilino, the Pentagon's Commander for the Indo Pacific region, to conclude that "a Chinese invasion of Taiwan is "closer than most think."
America and her allies have pledged to defend the people of Taiwan in such an invasion, including a massive air and naval response. Given these realities, it is important to understand "how we got here" historically and what commitments the world has made to defend the free people of Taiwan.
After the allied victory in World War II, the Japanese relinquished control of China including the island of Taiwan located some 90 miles off the coast of the mainland. After a few years, however, civil war broke out between the Nationalist Chinese under Chiang Kai-shek and the Communists led by Mao Zedong over control of post war China. The Communists were victorious, and the Nationalist Chinese forces fled with their supporters to Taiwan in 1949. Unlike their communist neighbor, Taiwan developed a democratic, free market-based government that has been an economic miracle in Asia.
Read more: WILL CHINA INVADE TAIWAN? SURGING MILITARY ACTIVITY WARRANTS CONCERN
Subcategories