Details

Hits: 241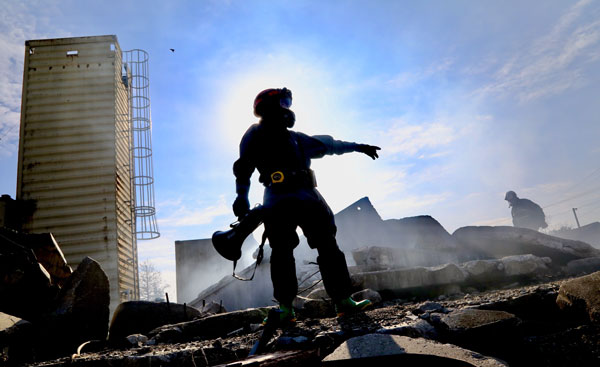 MUSCATATUCK URBAN TRAINING CENTER (MUTC), Butlerville, Indiana - MAY 3, 2022 - A building has collapsed. Smoke from burning debris adds to the chaotic scene as rescuers race to find survivors.

This was no earthquake or terrorist attack, but a simulated disaster in a replicated urban environment where no one lives. Welcome to Muscatatuck Urban Training Center (MUTC), Indiana, a fabricated city with over 1,000 acres containing 190 brick and mortar buildings, 1.8 miles of subterranean tunnels and more than nine miles of roads.

In this photo by Sergeant 1st Class Brent C. Powell, a soldier from the 409th Engineer Company, based in Aurora, Colorado, stands on a pile of rubble while directing fellow soldiers where to look for "survivors" in a simulated building collapse.
Read more: MUTC SIMULATED URBAN ENVIRONMENT OFFERS INCREDIBLE REALISM
Details

Hits: 259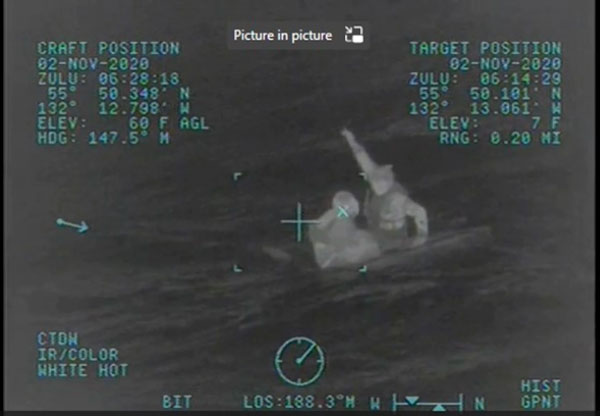 SITKA, ALASKA - APRIL 29, 2022 - Is there anything more terrifying than being caught in a violent storm at sea, tossed by angry waves as your vessel is slowly sinking? Fortunately for American mariners, there is always someone to turn to in such a predicament, the United States Coast Guard.

Officially designated "Aviation Survival Technicians or AST's," these "Rescue Swimmers" undergo the most grueling training imaginable, and their graduation rate hovers around 50 percent. The most elite unit in the Coast Guard, AST's must pass a rigorous 18 weeks of relentless conditioning and psychological training to accomplish daring sea extractions under horrendous weather conditions.

A typical day for recruits starts on land with endurance training, push-ups, rope climbing, kettle bell workouts and long runs to increase stamina followed by water-based drills including 2000-yard laps, swimming with weights and treading water exercises.

Next comes "water confidence" drills ranging from practice saving downed pilots to instructors playing victims thrashing madly against their rescuers. Only the calmest, most focused AST's are capable of saving frightened, drowning people in the maelstrom of a violent storm.
Read more: "DOES ANYONE KNOW WHERE THE LOVE OF GOD GOES, WHEN THE WAVES TURN THE MINUTES TO HOURS?"
Details

Hits: 365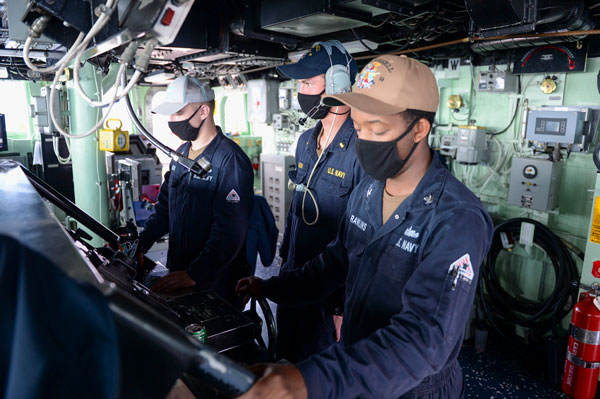 SOUTH CHINA SEA - MAY 2, 2022 - Deep in the heart of the South China Sea lies a series of tiny atoll, dubbed the "Spratly Islands", that are claimed by China, and to a lesser extent, Vietnam and Taiwan who are mostly concerned about fishing rights in the area. It is China, however, that has decided to militarize these islets by constructing naval bases and airfields and demanding their exclusive use in violation of international law.

Under the 1982 Law of the Sea Convention, the Spratly Islands and their vicinity are "International Waters", open to all nations, including their warships, and they enjoy the right to "innocent" passage through these territorial waters unmolested. Unfortunately, some nations assert bogus maritime claims to these waters, even attempting to impose "restrictions" on navigators such as requiring "permission" to pass through the straits.

While these tactics may be intimidating to local anglers, not so to the United States Navy.
Read more: FOR THE AMERICAN NAVY, SOMETIMES JUST "BEING THERE" SAYS IT ALL.
Details

Hits: 353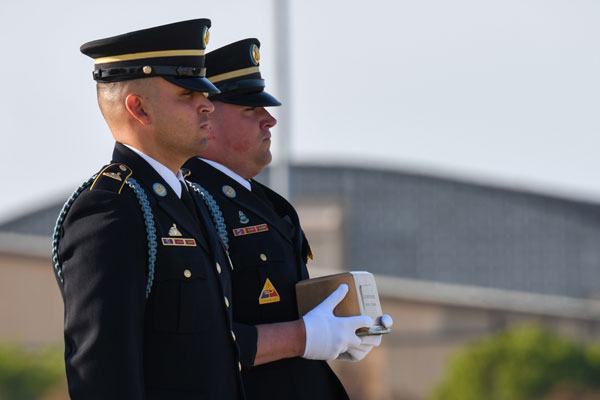 FT. HAMILTON, N.Y. - MAY 4, 2022 - My last active-duty station was Ft. Hamilton, a tiny, mostly ceremonial base in the heart of New York City. This obscure post was the "face" of the Army to millions in the Big Apple, staffed mostly by administrative types. Which is why I found it surprising to spot highly decorated infantry soldiers, even a few sporting Ranger tabs, milling about the chow hall.

What were these elite combat soldiers doing at sleepy Ft. Hamilton?

I soon learned they were part of the base "Ceremonial Platoon", whose job it was to bury people, sometimes conducting a dozen funerals a day, rendering final honors to fallen or retired military. I watched them at their work, all spit and polish, displaying total professionalism and compassion to each grieving family as they convey this sad message, "On behalf of the President of the United States, and a grateful nation, please accept this flag as a symbol of our appreciation for your loved one's honorable and faithful service." Every funeral was, of course, heartbreaking, emotions gushing from tearful relatives in anguish at the loss of their loved one.

"What a terrible emotional toll this must take," I thought, "on these young Color Guards as they render final honors to those who served."
Details

Hits: 223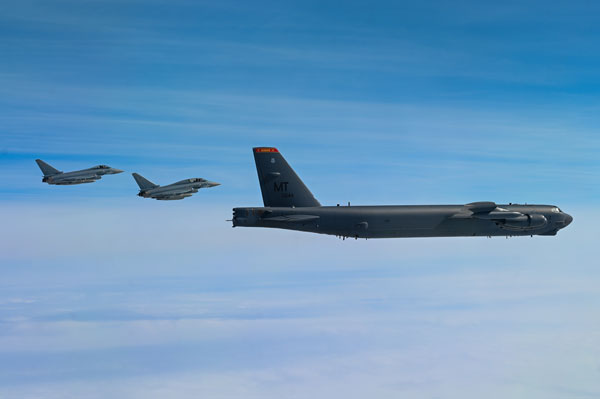 Mediterranean, April 5, 2022 – Two German Air Force Eurofighters escort a United States Air Force B-52H Stratofortress assigned to the 69th Expeditionary Bomb Squadron at RAF Fairford, England April 5, 2022. The German Air Force escorted the 69th EBS on their way to the Mediterranean region to integrate with Allies as part of pre-planned Bomber Task Force Europe series of missions. Photo by Airman 1st Class Zachary Wright.
Details

Hits: 928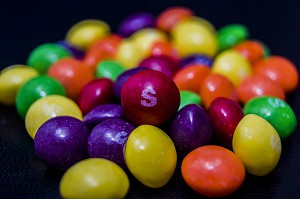 As young soldiers deployed to Saudi Arabia in Desert Storm, we were justifiably concerned about being sent hundreds of miles into an unforgiving desert with only what we could carry. As we set up camp near a tiny little town called Hafr al Batin in the western desert, the first supply trucks arrived and just in the nick of time. As we unloaded, I came across an enormous box of Skittles candy, neatly packaged in platoon sized pallets. Right then I knew we would win the war.

Honestly, what other nation on earth can go so far as to provision a troop's favorite candy? That, my friends, is logistical excellence. It's an American specialty.
The historical facts bear this out. Led by the brilliant Lieutenant General "Gus" Pagonis, Americas fighting forces had more than enough for a quick victory. This was one of the largest mobilizations in history, involving 500,000 troops, seven million tons of supplies and over 12,500 aircraft.
Flash forward to today, and America's airlift might is being put to the test yet again as the latest round of military and humanitarian assistance to Ukraine, some $800 million dollars, including 105 Howitzers, 40,000 artillery rounds and armored personnel carriers. To date, America has shipped $2 Billion in direct assistance in less than two months.

These are devastating weapons, but they are only as valuable as the quality of their ammunition. This is where the Army's Munitions Quality Assurance experts step in. Based in ordnance units around the world, they are part of the over 100,000 American service personnel on the ground in Eastern Europe.

Logistics win wars. Ask Mr. Putin. He's apparently having trouble delivering cans of gas across his own border.

Jim, The SOT Team (SSG Rt'd)
Subcategories