Details

Hits: 1938
National, November 25, 2012: The Goodyear Tire & Rubber Company is recognized by SupportOurTroops.Org for its support during the 2012 "Goodyear Gives Back" campaign—a fund-raising effort designed to generate awareness and support for members of the U.S. Armed Forces and their families. Over the course of this year's program, which ran through July and August, Goodyear raised more than $310,000 for Support Our Troops. "For the past three years, Goodyear has played an integral role in our efforts to raise awareness and has generated more than $700,000 in donations to help impact the lives of U.S. Armed Forces and their families," said Martin C. Boire, executive director of Support Our Troops®. "We appreciate all that Goodyear has done to show its support for our service men and women." Goodyear, the largest producer of military tires in the U.S., has a longstanding history with the U.S. Armed Forces, with more than 100 years of commitment to building innovative and reliable equipment to support and protect our troops. Goodyear's commitment extends beyond products and charitable donations; priding itself on hosting events at U.S. military bases throughout the year, hiring qualified veterans as part of its workforce, and bringing service men and women a chance to interact with race drivers and take rides on the Goodyear Blimp. As a further reflection of its decades of military support, The Goodyear Tire & Rubber Company has been recognized for its dedication to the men and women of the U.S. Armed Forces through its veteran hiring and support initiatives, and extensive fund-raising efforts.
Read more: Goodyear Gives Back Program Announces more than $310,000 Raised for Support Our Troops
Details

Hits: 2361
From the 1960s through the present American culture has gradually rebuilt itself around the me generation. Hence the necessity for President Kennedy's admonition to "ask not what your country can do for you, ask what you can do for your country." This is totally lost on today's society and most of my fellow citizens. But through it all has continued a bright spot. America's veterans.
The ones who stepped up to protect and defend others. The ones who gave the best years of their lives not living the good life at the mall or raking in the benefits from others, but raising families on meager military salaries in hard circumstances not of their own making, in order to protect others. An example to all. They were always therefore America. Keeping the wolves at bay, pushing the bad guys back when they needed a push. Today our nation is uncertain, the character of many in flux. But a constant through it all is the character of America's veterans, servicemen, and servicewomen. They sign up to do good for others. And when they muster out they are often later found continuing their selfless service to others. They just can't help but do good for others. Their hand is not out, except to help you up. To do good. To build up. To better. To improve. To make. You can be sheepish. You don't even have to be brave enough to offer your hand. But when you're standing in line somewhere and see someone wearing something that shows you they are a veteran, you can quite easily look at them and say "thank you for protecting me and my family." It's the right thing to do. A step in the right direction. To acknowledge their hard work on your behalf. To show them you were worthy of their efforts.
Details

Hits: 1201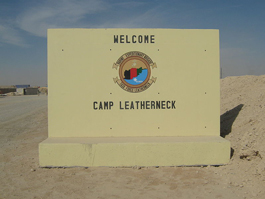 September 30, 2012, Camp Leatherneck, Afghanistan - Thanks to our Patriotic Partner, the Goodyear Tire & Rubber Company, the Marines at Camp Leatherneck in Afghanistan are receiving a series of care goods air shipments. No small feat. As part of the third annual Goodyear Gives Back campaign this project packaged 5,000 care bags for the troops, each valued at about $25 and having a range of needed core products. Pallets of sunblock, lip balm, muscle balm, microwave popcorn, hand wipes, oral hygiene kits, mini hand wipes, print materials, toothpaste packets, and the like have at the request of the Marines been staged at one location in Afghanistan and are being brought in on demand to Camp leatherneck We appreciate your support -- we'll make sure these packages make it into the hands of the Marines! ~ Chap. Stallinga
Details

Hits: 1690
Daytona Beach, FL, September 7, 2012 Floridians now can make a donation to our nation's military men and women when they apply for or renew their driver's license or vehicle registration, either online or in person. Option to Check the Box and Help the Troops becama available July 1, 2012 !!! By simply checking a box and indicating the amount they wish to donate, state residents can be part of the nationwide Support Our Troops®
campaign to enhance the well-being and morale of military members and their families. Representatives of SupportOurTroops.Org expect the voluntary donation check box to generate more than $60,000 annually for care packages, food treats and other support programs that the organization provides for the troops and their families. The new option was made possible in great part by a donation from Melbourne-based Harris Corporation, which contributed $10,000 to pay the fee charged by the Florida Department of Motor Vehicles for computer programming costs to add the service. Harris is an international communications and information technology company serving government and commercial markets in more than 150 countries. "We asked hundreds of Florida companies to donate this fee," said Martin C. Boire, chairman of Support Our Troops, Inc. "It was the Harris Corporation that stepped up. Our troops don't say 'no' when they are asked to deploy and risk their lives for us and for our families. And Harris said 'yes!' to the troops.
Read more: New License and Tag Check Box Option Offers Floridians Opportunity to Support Troops and Their...
Details

Hits: 1226
Michigan, August 16, 2012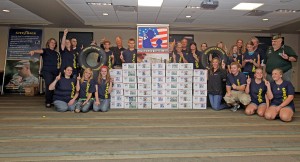 The Michigan care package pack-out sponsored by Goodyear Tire & Rubber Co. went great! Organized by Goodyear for SupportOurTroops.Org, it was conducted at the Michigan International Speedway in Brooklyn, Michigan as part of Goodyear's Give-Back program, now in his third year with Support Our Troops®. It was a great opportunity for local troop-support groups to connect. Julie Watrous, now with Operation Cuppa Joe organize it locally and was there to help package the care boxes, something she is well experienced in. And the good folks from Faith Baptist Chapel in Napoleon Michigan which have a very good care package program led by Teri Behnke, participated with over 20 volunteer members. Half of these were adults, and half were high school students. With folks like these America is in for a very bright future!
Details

Hits: 2203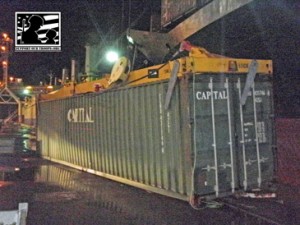 July 28, 2012 - As you read this a 40 foot metal cargo container of care goods has passed through Tallin, Estonia, and is now gradually moving down through Russia towards the US troops in Afghanistan. This is not an easy trip, with many border crossings along the way. We shipped to Tallin by ocean freighter. It contains $143,446 worth of care goods for the troops. It is making its way to Bagram Air Base from which the USFOR-Afghanistan MWR Director will distribute it out to US forces. We'll keep you posted on this shipment.
Subcategories