Details

Hits: 297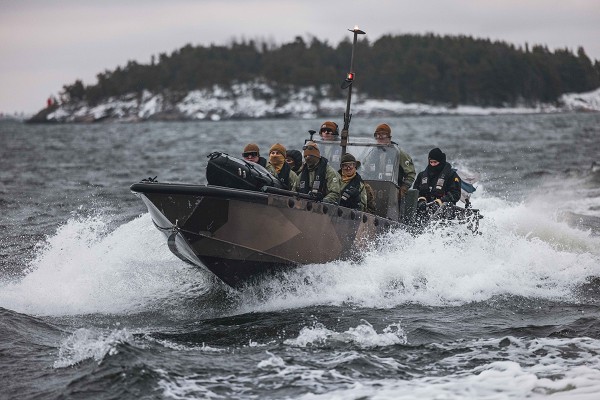 Baltic Sea. (November 25, 2022): In this photo by Corporal Jackson Kirkiewicz, U. S. Marines with Combat Logistical Battalion, 2nd Marines Logistics Group drive a Finnish G-Class landing craft while operating the "Amy", an unmanned surface vehicle on the Baltic Sea off the coast of Finland.
Baltic Sea. (November 25, 2022): It's true, Marines tend to stick near water. While other service branches may see lakes and oceans as obstacles, Marines see a highway they can use to assault the enemy. How the Marines "get to work" has changed dramatically over the years, from the old Higgins boat landing craft in World War II to the modern landing vehicles of today, the Marines nevertheless are at home in their waterborne profession.
In the photo above, the 2nd Marines Logistics Group, composed of approximately 8,000 Marines and Sailors, is training with its Finnish counterparts in the shallow waters of the Baltic Sea. These Marines are expert at combat logistics, the key to supporting effective field operations and to ensure warfighting effectiveness. Based in Camp Lejeune, North Carolina, the 2nd provides general logistical support for the entire Marine Air-Ground Task Force (MAGTF), a complicated and difficult undertaking. Here they are practicing landing operations in a G-Class landing craft manufactured by Finland's Marine Alutech Watercat. It is primarily used for amphibious landings by, and transportation of, Marines. It has a very low draft (less than 8 inches) and travels at a high speed of 35 mph making it ideal for amphibious assault. The G-Boat can carry up to 8 men or up to one metric ton.
Details

Hits: 318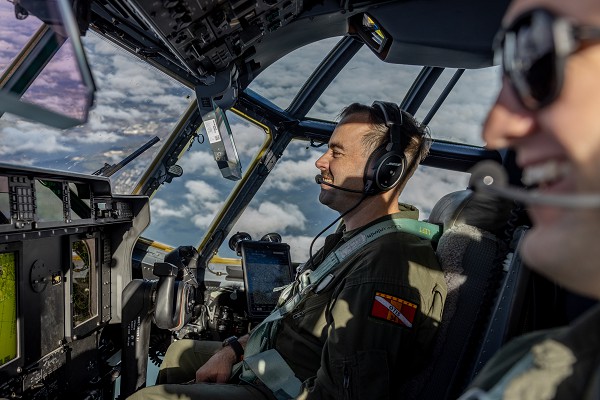 Naval Air Station Oceana, VA. (December 5, 2022): In this photo by Corporal Caleb Stelter, U.S. Marine Corps Major Richard Webb, a pilot with Marine Aerial Refueler Transport Squadron flies a KC130J Hercules near Naval Air Station Oceana, Virginia.
Naval Air Station Oceana, VA. (December 5, 2022): Ok, here's the deal. After you earn your pilot wings, we want you to learn to fly a giant airplane full of highly flammable jet fuel and then connect with not one, but two, aircraft in midair, filling them up like a flying gas pump. Oh, did we mention, this also makes you a highly desirable enemy target in combat.
Getting to work is not a problem for these daring pilots who provide a fuel lifeline to jet pilots and helicopters alike and they do it in all weather and around the clock. For the pilots and crew of the Marine Corps Aerial Refueler Transport Squadron (VMGR) 252, it is all in a day's work. The VMGR 252 provides assault support to the Navy's Special Warfare Group 2, whose responsibility includes the Atlantic, Europe and the Southern Command.
Read more: AN OFFICE WITH A VIEW; PILOTING A "FLYING GAS STATION"
Details

Hits: 186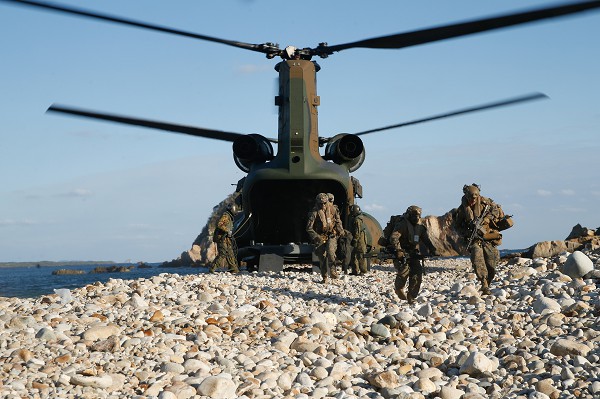 Tsutara, Japan. (November 16, 2022): In this photo by Corporal Scott Aubuchon, U.S. Marines with the 1st Battalion, 2nd Marines and members of the Japan Self Defense Forces Amphibious Rapid Deployment Brigade offload a CH-47 Chinook helicopter during Keen Sword exercises at Tsutara, Japan. Keen Sword exercises are a biannual affair that tests the combined lethality of the U.S. 3rd Marine Division's 3rd Marine Expeditionary Force and Japan's Self Defense Forces. The goal is to ensure interoperability among forces while increasing readiness of the U.S./Japanese Alliance.
Tsutara, Japan. (November 16, 2022): Sadly, most Americans avoid carpooling for a variety of reasons; too cramped, it's no fun riding with strangers, and the dreaded inconvenience of waiting for others. How about a commute with 48 comrades while loaded down with 100 plus pounds of equipment and your first task of the day is to close with and destroy the enemy?
That is the reality for the 1st Battalion, 2nd Marines as they train with Japan's Self Defense Forces at Tsutara Island, Japan (see above). One of America's most storied units, the 2nd Marines were activated in 1933 and participated in the bloodiest island fighting in the Pacific War. The 2nd Marines fought at the battle for Guadalcanal, Tarawa, Saipan, Tinian, and Okinawa suffering 25,000 killed and over 68,000 wounded. They have earned three Presidential Unit Citations for valor in World War II, Battle for Guadalcanal, and Iraq).

Here the Marines are taking part in the biannual Keen Sword exercises with Japan's 210,000-member Self Defense Force. After World War II, Article 9 of Japan's postwar constitution renounced war and the Japanese pledged never to maintain land, sea, or air forces in the future. Political and military reality, however, have caused the Japanese to bolster its forces even to the point of deploying troops alongside allies around the world. Should Japan be attacked, America is sworn to come to her defense. Today, Japan's Self Defense includes its Ground and Air Self-Defense Forces, and a Navy that is the envy of the world.
Details

Hits: 303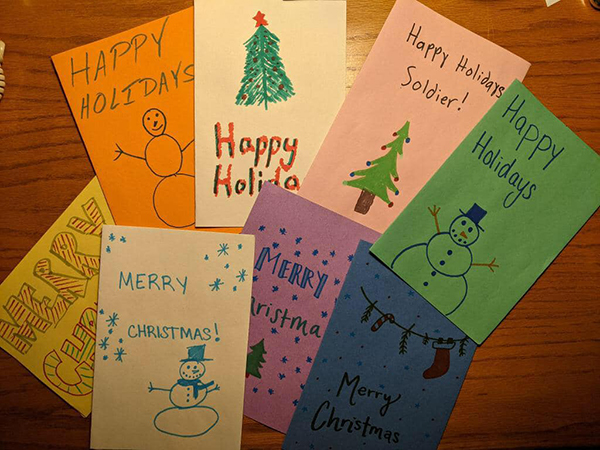 U.S., December 13, 2022—A few of the beautiful Christmas cards to the troops from kids and adults all across this great big beautiful nation of ours. All of the care packages being shipped out include several of these cards to keep and share and post. One of their best Christmases ever!
Details

Hits: 228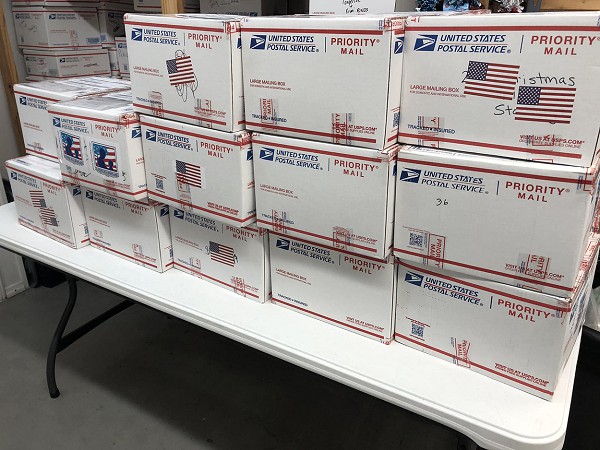 U.S., December 13, 2022—A few of the thousands of care packages heading out to the troops overseas. All thanks to the good Americans back at home.
Is this a great country or what?
Details

Hits: 532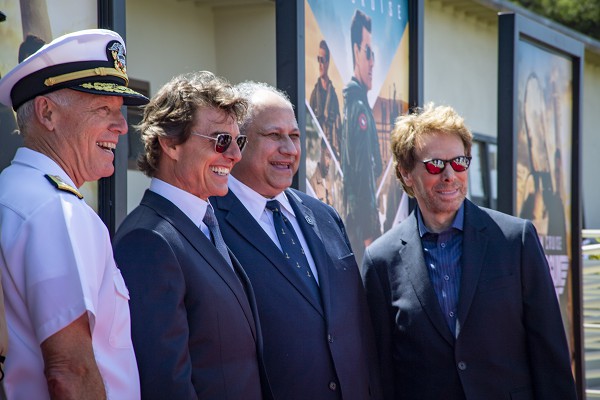 NAVAL AIR STATION NORTH ISLAND, Calif. (May 4, 2022): In this photo by MC2 Christina Ross, Vice Admiral Kenneth Whitesell, actor Tom Cruise, Secretary of the Navy Carlos Del Toro, and producer Jerry Bruckheimer meet on the red carpet for the advance premiere of Top Gun: Maverick on Naval Air Station North Island. Top Gun: Maverick features U.S. Navy and U.S. Marine Corps pilots and was shot on multiple ships and facilities including Naval Air Station Whidbey Island and the aircraft carriers USS Abraham Lincoln and USS Theodore Roosevelt.
NAVAL AIR STATION NORTH ISLAND, Calif. (May 4, 2022): "Revvin' up your engine, listen to her howlin' roar… Metal under tension begging' you to touch and go… Highway to the Danger Zone,
Take a ride into the Danger Zone. These lyrics by singer Kenny Loggins are forever memorialized in the 1989 smash hit movie Top Gun starring Tom Cruise that proved to be a fabulous recruiting tool for the Navy.
Thirty-six years later, Top Gun: Maverick hit the screens to immense audiences around the world and will likely eclipse its impact on today's Navy recruiting. Once again starring actor Tom Cruise, Top Gun: Maverick was filmed at the Navy's Fighter Weapons School headquartered at Naval Air Station Fallon, Nevada.
Like the 1986 version, those are not actors flying the F-18 jets soaring over the desert landscape but active-duty aviators representing the "best of the best" of naval aviation. Unlike movie portrayals of cock fighter pilots bending the rules, today's Top Gun pilots are the most disciplined professionals in the world.
Read more: 36 YEARS LATER, TOP GUN CONTINUES TO THRILL NAVY RECRUITERS
Subcategories