Details

Hits: 382
CAMP ARIFJAN, Kuwait (November 18, 2022): Specialist Cesar Rodriquez, a diver with the 7th Engineer Diver Detachment, receives instructions from a diving supervisor before leaving the surface during an annual salvage diver training exercise at Kuwait Naval Base.
CAMP ARIFJAN, Kuwait (November 18, 2022): When one thinks of military divers, images of Navy or Coast Guard ships come immediately to mind. What most American's don't realize is that the U.S. Army has divers too, and for unique reasons.
The U.S. Army Special Forces Underwater Operations School, run by the 1st Special Warfare Training Group (Airborne), trains more than 300 servicemembers a year and offers three separate courses: Combat Dive Qualification, Combat Diving Supervisor, and Diving Medical Technician. The School prepares elite Army Green Berets for insertion missions into and out of enemy territory that includes exiting submarines. The basic certification course is a rigorous six-week program that tests the physical and mental capability of candidates to maximum.
Unlike Navy salvage divers, these Green Berets view combat dives as a means to insert themselves undetected into threat areas rather than conducting routine maintenance. Army Combat divers are often called upon to work with Ranger battalions during high risk missions behind enemy lines making them the cream of America's Special Forces.
Details

Hits: 453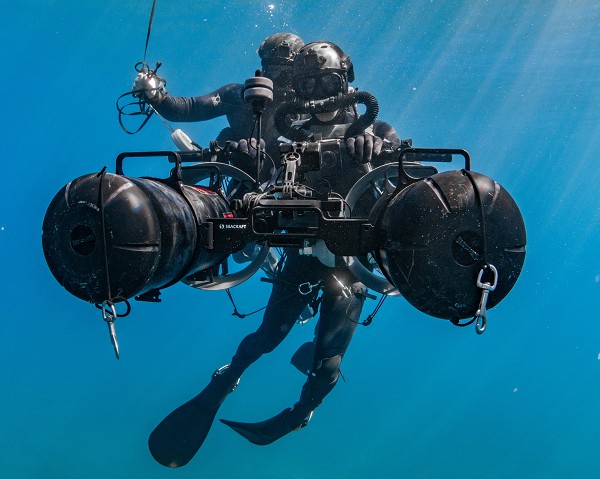 NORTHERN CALIFORNIA (Sept. 5, 2022) In this photo by MC2 Alex Perlman, Sailors assigned to various Naval Special Warfare (NSW) commands operate a Diver Propulsion Device (DPD) during high-altitude dive training. These devices allow combat divers to travel faster, and farther, underwater making them less fatigued when reaching their destination. The DPD greatly expands the speed and range of Navy divers during special operations missions.
NORTHERN CALIFORNIA (Sept. 5, 2022): If you have ever gone swimming with fins on your feet, you know how difficult and tiring travelling underwater can be. For Navy divers on a combat mission, the ability to move quickly and travel long distances is essential. Luckily, our nations combat divers have Diver Propulsion Devices (DPD's) that allow them to travel faster and farther than when moving under their own power.
Depending on the mission or environmental conditions, Navy divers have several choices in terms of range, speed, and payload capacity with today's NDPs. Often called "underwater scooters", these battery-operated units have dual thrusters and, depending upon the model, can transport two or more divers great distances while carrying various payloads.
A prime tool for Navy SEALs, USMC, Force Recon and Army Special Forces SCUBA teams, the DPS is employed as an insertion platform for combat divers to travel long distances while remaining undetected by the enemy. Manufactured by STIDD Systems, Inc., these devices feature hard coat hulls made from marine grade aluminum making them light and highly portable once on land. These DPDs can operate down to 100 feet below the surface and have a range of up to 7 miles traveling at an average speed of 1.2 knots.
Details

Hits: 484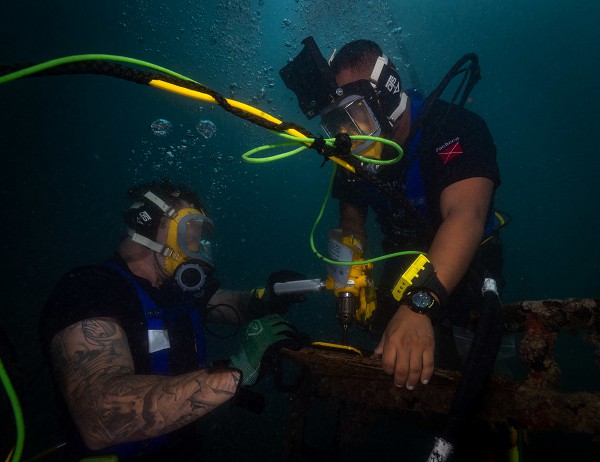 Pearl Harbor, HI. (July 21, 2022): In this photo by Navy Chief Eric Chan, a U.S. Navy diver and a Mexican navy diver participate in underwater construction activities as part Rim of the Pacific exercises involving 26 nations which is the largest maritime training event held each year. The Navy's Mobile Diving Salvage Unit 2, which normally operates in warm, deep-water environments, is training for underwater missions in the frozen Arctic.
Camp Ripley, MN. (November 22, 2022): As our adversaries expand their activities in the frozen north, America's armed forces are refocusing efforts at training to fight, and win, in Arctic conditions. Normally deep-sea divers, America's Mobile Diving Salvage Unit 2 (MDSU2) are learning to survive and thrive in the icy waters of Minnesota while testing themselves, and their equipment, in some of the most hostile environments known to man.
Camp Ripley is located near Little Falls, Minnesota on a 53,000-acre training center that is now home to Coast Guard and Navy divers training to operate both above and below the ice of its many frozen deep-water lakes. The ice diving training is part of the Navy's Strategic Blueprint for the Artic as America builds a more cold weather capable force. For the past 20 years, most MDSU2 missions have been in the warm waters of the Middle East or Pacific but world events have underscored the need for divers to operate successfully in Arctic conditions.
Read more: UNDERWATER ARCTIC WARRIORS CALL FROZEN LAKES HOME
Details

Hits: 344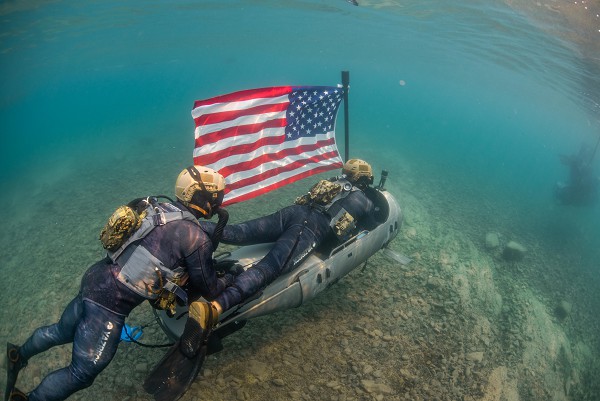 NORTHERN CALIFORNIA (Sept. 9, 2022): In this photo by MC2 Alex Perlman, Sailors assigned to Naval Special Warfare command operate a diver propulsion device while training at high altitude. The Navy's dive program has a long and colorful history which began in WWII with the Normandy Invasion and continues today as a vital component of U.S. special operations around the world.
NORTHERN CALIFORNIA (Sept. 9, 2022): As the allies were developing plans for the Normandy Invasion, it was clear that an unconventional force was needed to conduct beach reconnaissance of the potential landing zones prior to sending thousands of men ashore. In 1942, a group of Army and Navy personnel were assembled to identify and reconnoiter beach landing sites and to guide the assault waves as they landed on the French coast. Called Scouts and Raiders, these early "frog men" would go on to support landings on beaches in North Africa and in Sicily, Salerno, and Anzio on the Italian coast.

The first group of these unconventional warriors was led by Phil H. Bucklew, the "Father of Naval Special Warfare", who is credited with consolidating the Navy's special operations units, including the SEALS, under one umbrella. Beginning with the Normandy landings where he evaded German patrols to scout Omaha Beach, Bucklew's military career continued through Korea and Vietnam, and he was awarded the two Navy Crosses and a Silver Star for his service.
Today's Naval Warfare School, based at the Naval Amphibious Base, Coronado, California, trains the Navy SEALS in underwater demolition, covert insertion, and reconnaissance. These superbly trained warriors go ashore with assault boats, erect markers for incoming craft, blow up beach obstacles and maintain communications with the troops ashore.
Read more: NAVAL WARFARE SCHOOL; THE HEART OF SPECIAL OPERATIONS TRAINING
Details

Hits: 367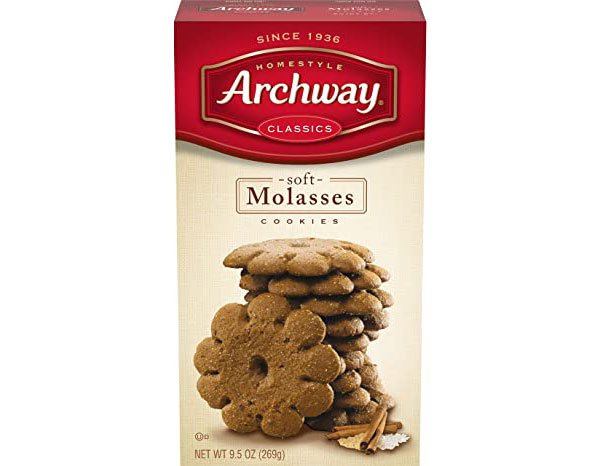 National, 11-29-2022 - A big shout-out to the great American snack food company Snyder-Lance for their generous donation of seven pallets of Archway Molasses Cookies to the deployed troops! With yellow ribbon care package goods like this the troops are well on their way to their best Christmas ever! Care package shipments are furious! Thousands of troops are on the move, and they are being well supplied with love from the folks at home thank to people and companies like Snyder-Lance. Good job America!

T'was a month before Christmas and all through the land
American's were whirring, not one of them groused
To the troops they were sending goods both big and goods small
Making sure that this Christmas the troops would stand tall.
Details

Hits: 300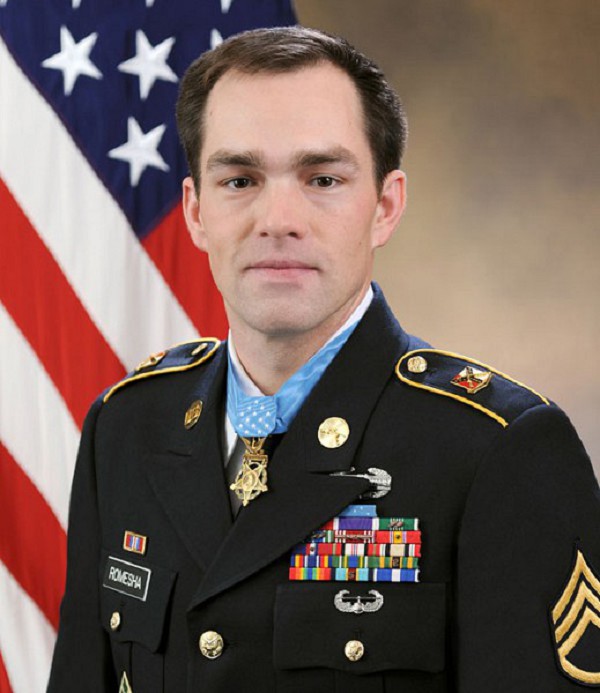 Arlington, VA. (November 14, 2022): In this photo by Monica King, U.S. Army Staff Sergeant Clinton L. Romesha poses for an official portrait as a Medal of Honor recipient at the Army Portrait Studio at the Pentagon, Arlington, Virginia. SSgt. Romesha was awarded the Medal of Honor for actions while serving as a section leader with Bravo Troop, 3rd Squadron, 61st Cavalry Regiment, 4th Brigade Combat Team, 4th Infantry Division, during combat operations against an armed enemy at Combat Post Keating, Kamdesh District, Nuristan Province, Afghanistan.
Arlington, VA. (November 14, 2022): Isn't it surprising that heroic deeds are often done by ordinary people, regular Americans who suddenly find themselves in life threatening situations. It would seem a natural thing to panic, run away, or take cover to protect yourself. Some folks simply do the opposite, as if by instinct, calmly, and with iron determination. They seem to totally disregard their own safety while committing incredible acts of gallantry. Extraordinary.

SSgt. Clinton Romesha (pronounced Row-ma-shay) was one such individual. Born in Lake City, California, he joined the Army as an M1 Abrams Armor Crewman and trained at the "Home of Armor", Fort Knox, Kentucky. Upon graduation, he rose quickly through the ranks to become a Section Leader while serving stints in Korea and two deployments to Iraq and Afghanistan.
On the day in question, Combat Outpost Keating came under attack by enemy forces estimated at 300 Taliban fighters occupying the high ground above his position on all sides. The enemy attacked with concentrated rounds from B10 recoilless rifles, rocket propelled grenades, heavy machine guns, and mortar fire.
Subcategories