Details

Hits: 461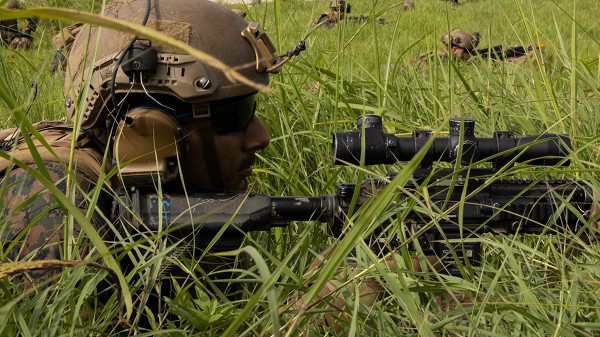 Okinawa, Japan. (August 10, 2022): In this photo by Corporal Christopher Lape, U.S. Marine Corps Lance Corporal Cristobal Denaoseguera, an infantry Marine with Battalion Landing Team 2/5, 31st Marine Expeditionary Unit, holds a defensive position during a helicopter raid exercise on le Shima, Okinawa. During these exercises, Marines train with Japanese Defense Forces to secure an objective and to create forward arming and refueling points. The 31st MEU operates aboard the USS Tripoli Amphibious Ready Group of the U.S. 7th Fleet.
Okinawa, Japan. (August 10, 2022): The Marines have landed… in Japan. That's right, Japan. What many Americans may not realize it that the U.S. still maintains a massive military presence on the Japanese islands that are strategically vital to the defense of the Indo-Pacific. In fact, Japan hosts over 50,000 American servicemembers and their families at 23 bases, most located on the island of Okinawa. The troops serve under a bilateral defense agreement with the Japanese Defense Forces to defend against neighborhood bullies like Russia and China.
For its part, the Japanese Defense Force boasts more than 900 warplanes, 48 destroyers, and 20 submarines as part of a recent arms buildup that includes the purchase of 147 F-35 Stealth fighters. This purchase gives Japan a larger stealth fighter fleet than Britain, Germany, and Italy. To further underscore their commitment to the alliance, Japan is now retrofitting two aircraft carriers, the Izumo and Kaga, which will be their first new flat tops since the end of World War II.
Details

Hits: 330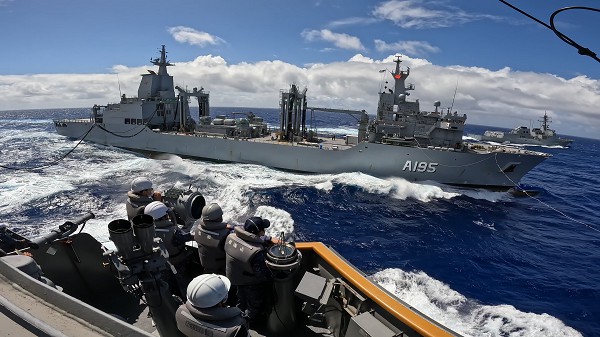 Pacific Ocean (July 26, 2022): In this photo by Petty Officer 1st Class Miura Naoto, the Japan Maritime Self-Defense Force Destroyer JS Takanami conducts replenishment-at-sea with the Royal Australian Navy oiler ship HMAS Supply during Rim of the Pacific Exercises (RIMPAC), 2022.
Pacific Ocean (July 26, 2022): What they do is not flashy. They are not the headliners in their navies, and there are no aircraft screaming off their decks. Yet what they do, replenishment at sea, is arguably the most important function in naval warfare.
That is not an exaggeration.
Pictured above are supply ships from two of twenty-six nations participating in the recent Rim of the Pacific (RIMPAC) exercises, the world's largest maritime training event to counter aggressive moves by China, North Korea, and Russia in the Indo-Pacific.
These vessels carry enough fuel, water, dry goods, ammunition, and equipment to sustain enormous combat ships at sea far from home. The JS Takanami, a 500-foot vessel with a crew of 175, has a dual mission to both resupply allied ships at sea and to conduct humanitarian relief when needed.
She is well armed, boasting the MK-41 Multiple Rocket Launching System to defend against attacking aircraft and Sea Sparrow anti-ship missiles for surface battles. Her Royal Australian Navy sister ship, the HMAS Supply, also participated in RIMPAC which this year involved 38 ships, 170 aircraft, and some 25,000 personnel. These exercises test each navy's ability to resupply their forces while protecting themselves from enemy attack.
Read more: UNSUNG HEROES; NAVAL SUPPLY SHIPS CRITICAL TO VICTORY
Details

Hits: 301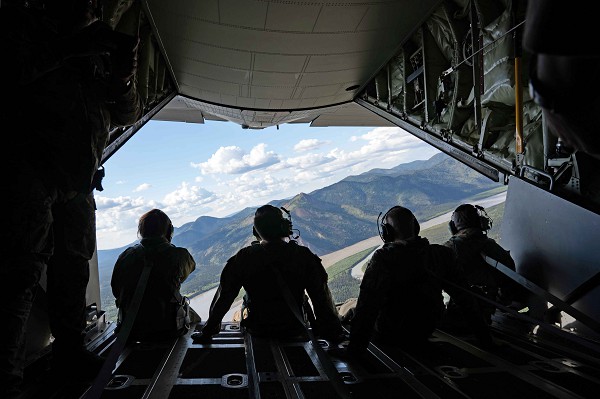 Kadena Air Base, Japan. (August 22, 2022): In this photo by Airman 1st Class Julia Lebens, U.S. Air Force Airmen enjoy the view as they sit on the ramp of a MC-130J Commando II aircraft assigned to the 1st Special Operations Squadron during Red Flag exercises held here recently. Red Flag is designed to give realistic training while testing interoperability between U.S. and Japanese forces in a simulated combat environment.
Kadena Air Base, Japan. (August 22, 2022): Put yourself in their shoes. Living on a chain of islands surrounded by traditional enemies, Japan tries to maintain a credible defense while hamstrung by a pacifist constitution that abhors militarism in all forms. Today, Japan is confronting an assertive China, a belligerent North Korea, and a Russian leader determined to expand its territory at her expense
As the fifth largest military in the world, Japan's Self Defense Force's firepower was recently on display (see above photo) in joint special operations exercises with the U.S. and allied militaries during recent Red Flag exercises on Japanese soil
America's 1st Special Operations Squadron, based at Hurlbut Field, Florida, and is garrisoned at Kedena Air Base, Japan, is one of the Air Force's most elite air wings that can deliver highly trained special warfare fighters anywhere in the Indo-Pacific. During Red Flag, Japanese and allied forces practice combat insertions, re-supply missions, and emergency extractions while testing interoperability among its member nations
Read more: DEFENDING THE INDO-PACIFIC… U.S. AIR FORCE SPECIAL OPERATORS TRAINING IN JAPAN
Details

Hits: 257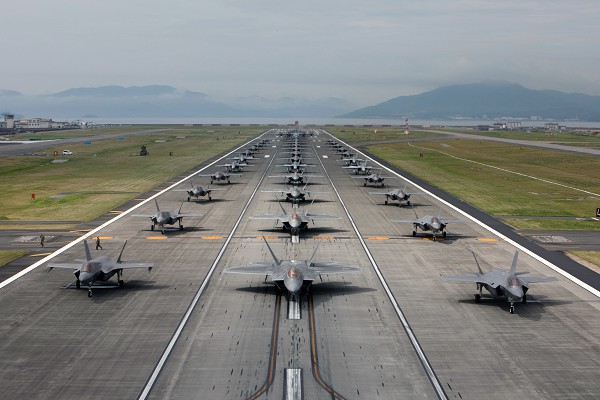 Marine Corps Air Station, Iwakuni, Japan. (August 23, 2022): In this photo by Staff Sergeant Jessika Braden, the U.S. Air Force 354th Air Expeditionary Wing and the U.S.M.C. Aircraft Group 12 demonstrate their capabilities during a readiness exercise here this week. The demonstration included five Marine Corps F/A-18 Hornets, eight F-35B Lightning II's, a KC120J Super Hercules, ten Air Force Raptors and ten F-35A Lightning II's showcasing their high level of readiness to respond to any crisis that threatens a free and open Indo-Pacific.
Marine Corps Air Station, Iwakuni, Japan. (August 23, 2022): At the end of World War II, the defeated Japanese nation adopted a "pacifist" constitution forbidding the raising of large armies so that future generations would not succumb to the militarism that had destroyed their country. Ever since, there has been a strong public sentiment in Japan against any military expenditures above what is absolutely necessary for home defense. Founded in 1954, the Japanese Self Defense Force even refuses to call its troops "military" due to such sensitivities.
What is surprising, therefore, is that the Japanese Defense Force is currently ranked fifth globally in overall military power after the United States, China, Russia, and India. Japan has a defense budget ranked sixth in the world according to Global Firepower.com, a site that publishes yearly military assessments of some 142 nations. Today, Japan is probably the world's most underestimated military power whose forces, in several categories, rival that of Britain and France. In recent years, Japan has acquired the best equipment and weapons it can buy, and its military buildup seems far from abating.
As a result, the Japanese Defense Force has grown to be a major player in joint exercises with U.S., Australia, Canada, Britain and France and other European and Southeast Asian nations.
Details

Hits: 258
U.S. July 2022 — SOT spreads a wide variety of goods far and wide within the military community both at home and abroad. Your SOT team was recently privileged to deliver two pallets of goods to the military community in Montana—$34,000 of Honey Stinger Performance Chews that support higher intensity, longer duration workouts with convenient chews that contain caffeine and electrolytes to power through. This yellow ribbon troop support boosts the morale of the military community worldwide! Thank you Honey Stinger, another great American company!
Details

Hits: 406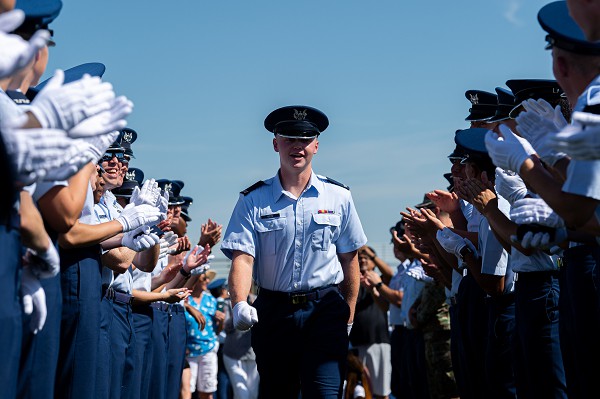 Colorado Springs, CO. (August 8, 2022): In this photo by Trevor Cokley, U.S. Air Force Academy cadets form a congratulatory line during Acceptance Day ceremonies at Stillman Field. Here cadets receive their fourth-class shoulder boards recognizing their completion of basic training and signifying their acceptance into the Cadet Wing or freshman class at the Air Force Academy. This is only the first step in a four-year college journey followed by at least five years of active-duty service as an officer in America's armed forces.
Colorado Springs, CO. (August 8, 2022): There are few accomplishments in life that match graduating from basic military training, and it shows on the faces of sheer joy as these young cadets begin their journey in the Air Force.
Acceptance Day for Air Force Academy recruits comes after 6 weeks of grueling basic training, where their physical and mental courage was tested, and where they learned to perform as a team.
The Air Force became a separate service in 1947 and the Academy was established in 1954 with a class of 306 men training at Lowry Air Force Base, Colorado. Women were finally allowed into the Academy by President Gerald Ford in 1975 and the Air Force graduated its first officers class including women in July 1980. Interestingly, one of the graduates from this very class became the Academy's first female superintendent, Lieutenant General Michelle Johnson.
Read more: YOU'VE ONLY JUST BEGUN… CADETS CLIMB THEIR FIRST MOUNTAIN
Subcategories