Details

Hits: 357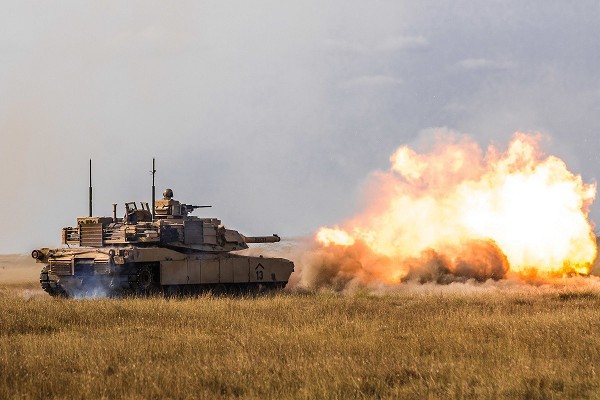 Smardan, Romania. (November 16, 2022): In this photo by Sergeant Dommnique Washington, an American M1 Abrams main battle tank participates in live fire exercises with NATO ally Romania outside the town of Smardan. Since the illegal invasion of Ukraine, allied armored forces have poured into Romania, Poland, and Bulgaria along with thousands of servicemembers who will spending this holiday away from home.
Smardan, Romania. (November 16, 2022): They are the flower of America. Young, idealistic, dedicated, and willing to give of themselves so that others may be safe. They readily accept hardship, loneliness, and separation from their families while they perform dangerous and exhausting jobs to defend our country.
In the photo above, U.S. troops train with the NATO ally Romania to prepare to defend Europe, and the world, against Russian aggression. Right now, a 1,000 member Army Stryker squadron is joining roughly 900 U.S. servicemembers already in country and, according to the Pentagon, more are to follow in the coming months.
In Poland, America has over 10,000 American servicemembers serving in armor brigades with over 800 Abrams main battle tanks, combat aviation units, and dozens of support functions at bases across the country. For many, this is their first overseas deployment away from home.
In addition to ground forces, U.S. Navy and Marine units regularly patrol the Baltic Sea. The Navy now has 28 U.S. warships deployed to Europe including the amphibious warships USS Kearsarge, USS Gunston Hall, and the USS Gravely along with elements of the 22nd Marine Expeditionary Unit already in the Baltic. Plans call for an even greater U.S. naval presence soon, just in time for the holidays. The Air Force likewise is sending thousands of airmen to deploy America's 5th generation fighters to support NATO.
Details

Hits: 1158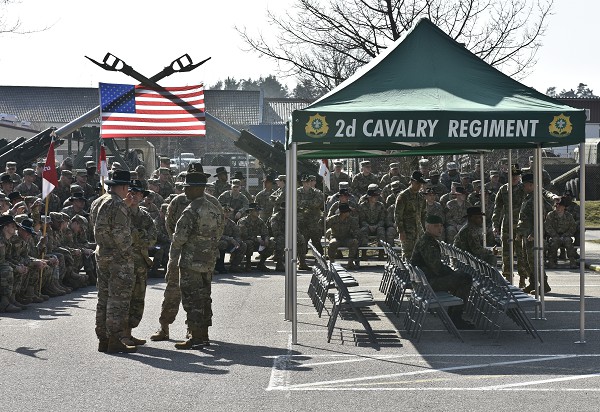 Vilseck, Germany. (November 15, 2022): Operation Desert Storm, the war ordered by President H.W. Bush to oust invading Iraqi forces from Kuwait, had begun in earnest.
On the night of February 23, 1991, American General Norman Schwarzkopf executed his ground assault against entrenched Iraqi Divisions by sending the U.S. VII Corps sweeping into Iraq in a wide hooking maneuver. Later described by Schwarzkopf as a "Hail Mary", the lead U.S. unit in the battle would be the 2nd Armored Cavalry Regiment, a 4,500 soldier armor and reconnaissance team whose mission was to locate and fix enemy positions ahead of the Army's 1st Infantry Division.
American forces were equipped with the world's most advanced tank, the M1A1 Abrams, backed up by the powerful Bradley Fighting Vehicle. Despite being equipped with a much smaller 25mm "Bushmaster" cannon, the Bradley was outfitted with tube-launched, optically tracked, wire-guided (TOW) missiles capable of destroying armor.
The Iraqi Republican Guard and its Tawakalna Division were dug in, taking defensive positions near grid coordinate "73 easting ", a GPS line used as a location as there are no geographic landmarks in the desert. These were Saddam Hussein's crack troops equipped with aging Soviet T-72s and T-62s and they were ready for a fight.
Read more: BATTLE OF 73 EASTING THE BIGGEST TANK BATTLE SINCE WWII
Details

Hits: 469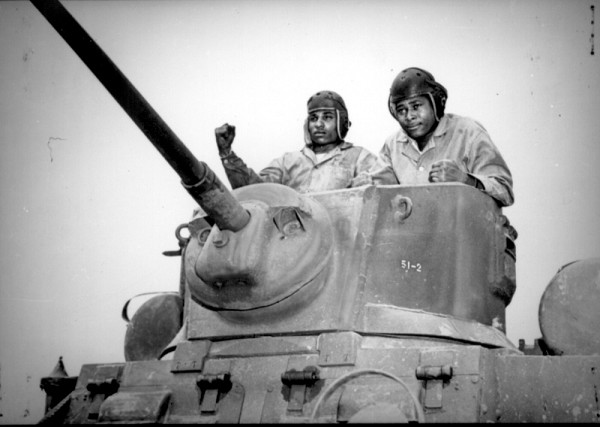 Fort Hood, TX. (November 19, 2022): In this photo from the National Archives, two African American soldiers with the 761st Tank Battalion, better known as the Black Panthers, train for combat in Europe aboard the M5 Stuart light tank. The Black Panthers would endure a record 183 days in combat and would liberate 30 towns on their campaign through Germany in World War II.
Fort Hood, TX.. (November 19, 2022): They were not welcome to eat at restaurants in their hometown. They would train separately from their white comrades and their leaders were hesitant to give them a chance in combat. They were the U.S. Army's 761st Tank Battalion, better known as the "Black Panthers", and they plowed through prejudice and segregation to play a major role in turning back the Germans at the Battle of the Bulge.
Their story begins with an executive order issued by President Franklin D. Roosevelt giving African Americans the chance to volunteer for military service. The 761st was formed in 1942 and would train at Fort Hood, Texas on the M4 Sherman, and M5 Stuart light tanks. They trained for over two years, mostly because Army commanders were not willing to give these soldiers a chance to prove their worth in combat. When they finally landed in Normandy, the Black Panthers were eager to show they were as good, or better, than their white comrades.
The 761st was assigned to General George Patton's Third Army and would be the first African American tankers to see combat in U.S. history. The Black Panthers would participate in four campaigns in six countries before playing a major role in the relief of the 101st Airborne Division at Bastogne during the Battle of the Bulge. The Black Panthers would go on to be one of the first U.S. battalions to meet up with Soviet Forces, thereby splitting the remnants of the German Army and hastening the end of the war.
Read more: ARMY "BLACK PANTHERS" CHARGED ACROSS EUROPE IN WW II
Details

Hits: 405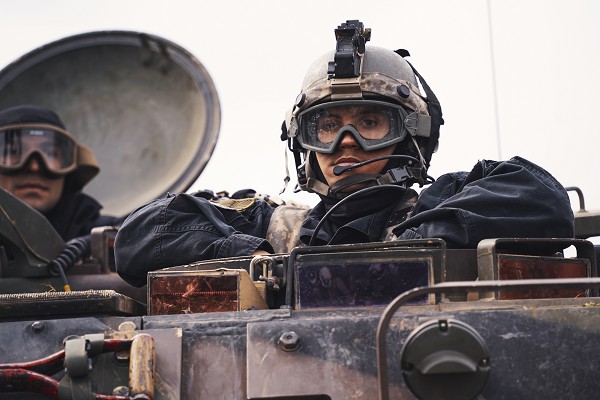 Hohenfels Training Area, Germany. (November 15, 2022): In this photo by Sergeant LaShic Patterson, U.S. soldiers assigned to the Joint Multinational Readiness Center play the opposing force during Dragoon Exercises conducted by the 7th Army Training Command.
Hohenfels Training Area, Germany. (November 15, 2022): Help Wanted. Candidate must be young, in top physical condition, be willing to travel, and not afraid of cramped spaces.
Oh, and did we mention, you'll be riding America's premier war machine?
That is the life of a U.S. Army Armor crewmember manning the M1A2 Abrams main battle tank in combat. It's a job that requires physical courage, stamina, and the ability to make split second decisions under extreme stress.
It's not a job for just anyone.
Today's Armor crews consist of a driver, a loader, a gunner, and a tank commander all working together like a symphony orchestra to locate and destroy the enemy. Unlike those who came before them, today's tankers must not only be physically strong but also technically proficient as they deal with some of the most sophisticated equipment in the Army.
Prospective Armor Crewmembers begin their careers at the home of the infantry, Ft. Benning, Georgia, where they receive 22 weeks of both basic and advanced training. Here they learn the basics; map reading and land navigation, communications, scouting, and how to execute military battle plans. In the field, candidates learn to load and fire the Abram's massive 120 mm main gun while practicing offensive and defensive maneuvers under simulated combat conditions. The duties of a four-person tank crew are as follows:

The Loader

This is the lowest ranking job on a tank crew but arguably the most critical to the performance, and survival, of the entire team. It is tough, physical work requiring a strong back and nimble hands to quickly load a variety of munitions under the extreme pressure of combat.
The Driver
The driver compartment is a cramped space in front of the tank's hull, directly under the main gun, in a form fitting bucket seat that tank drivers say it is like riding in a very comfortable recliner. They drive the tank using motorcycle style handlebars using a twist grip throttle to accelerate or decelerate and the brake pedals are on the floor just like a car. The "dashboard" consists of an integrated display with three periscopes (called vision blocks) and it includes highly sophisticated night vision sensors. The Driver responds to commands from the Tank Commander riding above him who has a better view of the battlefield.
Details

Hits: 405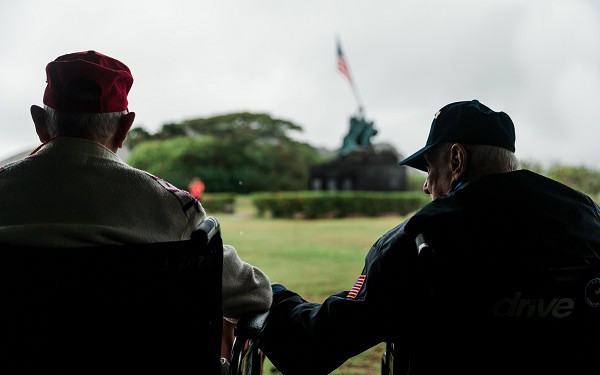 Marine Corps Base Hawaii. (November 10, 2022): U.S. World War II veterans sit together at the Iwo Jima Memorial, Hawaii, as Marines with the 3rd Battalion, 3rd Marines gather to express their gratitude to the more than 63 Iwo Jima veterans on the 80th anniversary of the attack on Pearl Harbor.
Marine Corps Base Hawaii. (November 10, 2022): It has been 80 years since they stormed the beaches of Iwo Jima in one of the bloodiest battles in Marine Corps history. Over 70,000 Marines took on approximately 18,000 Japanese soldiers in the thirty-six-day battle in which 7,000 Marines were killed and another 20,000 wounded.
The Marines captured just 216 Japanese; the rest were killed in action.
Above are Marine survivors of the battle being honored by today's Marines as they gaze at a monument to their courage and sacrifice. As the years pass, there will be fewer and fewer of these precious veterans to honor but their memory will live forever.
At Support Our Troops, our mission is to sustain our current crop of heroes, particularly servicemembers who are deployed overseas. We are issuing a national call to all good Americans to show their love and support for our deployed troops this holiday season by joining Support Our Troops' efforts to ship Yellow Ribbon Thanksgiving and Christmas Care Packages to our troops overseas.
Read more: Salute To WWII Vets… MARINES WHO FOUGHT AT IWO JIMA HONORED IN HAWAII
Details

Hits: 317
"Where water is, Sailors will go.
Admiral Horacio Rivero, USN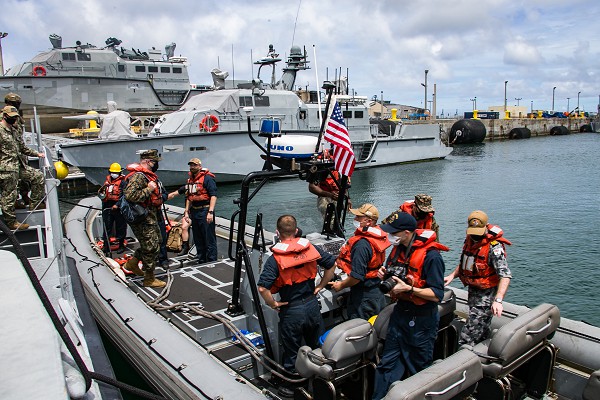 Naval Base Guam (November 2, 2020): In 1968, American forces in Vietnam were confronted with an indigenous guerrilla force that blended into and enjoyed the support of the local population. Of particular concern was Viet Cong activity in the vast Mekong Delta, a hot, humid, low-lying area filled with a maze of waterways that acted as interstate highways for the enemy. Taken together, the Mekong Delta was an extraordinary riverine challenge for the Americans.
The U.S. Navy responded with the largest riverine force since World War II involving hundreds of patrol boats plying the canals and lagoons of the Delta in search of the thousands of Viet Cong guerrillas. The Delta comprised about one fourth of the land mass in Vietnam and was home to over 4 million Vietnamese. Until the Delta was secured, little progress could be made on land.
Read more: MEKONG DELTA A TRUE TEST OF AMERICAN RIVER TACTICS
Subcategories