Details

Hits: 575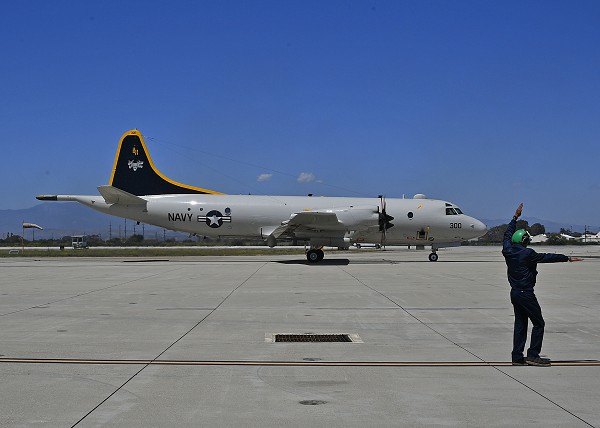 POINT MUGU, Calif. (May 11, 2022). In this photo by Ensign Drew Verbis, a P-3 Orion maritime patrol aircraft assigned to Air Test and Evaluation Squadron 30 completes its landing during the final flight of Cmdr. Jason Saglimbene, commanding officer onboard Naval Base Ventura County. Cmdr. Saglimbene, a native of Wyckoff, New Jersey, graduated from the United States Naval Academy in May 2002 and earned his Naval Aviator wings in August 2003.
POINT MUGU, Calif. (May 11, 2022): They lurk beneath the waves carrying a deadly cargo, including nuclear missiles that could end civilization. Their mission is to approach by stealth, remain undetected, and then launch their missiles to devastating effect. They are enemy submarines, and they pose the ultimate threat to American civilians and military alike.
Part of America's response to this threat is the PC-3 Orion, a four-engine turboprop aircraft used by the U.S. Navy to locate and track enemy submarines. Originally deployed in the late 1960s, the P-3C Orion has undergone a series of system upgrades to improve its ability to detect modern threats undersea and on land. Just like the famous B-52 bomber, the P-3 Orion was in service long before their pilots and crews were born.
The Orion is a large aircraft, 120 feet long with a one-hundred-foot wingspan, It has four turboprop engines that can keep it aloft for up to 14 hours and has a range of 2,380 nautical miles. It has a crew complement of eleven, including three pilots, two naval flight officers, two flight engineers, three sensor operators, and one in-flight technician. This bird is designed for large payloads, capable of carrying up to 15,000 pounds, and cruises at speeds of four hundred knots and altitudes up to 28,000 feet. But what is most impressive about the P-3 Orion is the variety of missions it performs, both as a flying listening device and as an attack platform.
Details

Hits: 272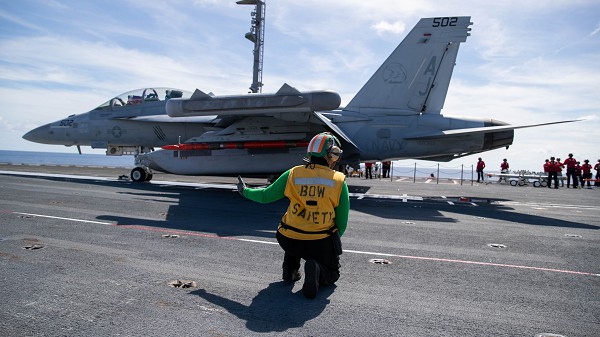 ATLANTIC OCEAN (Oct. 11, 2022): In this photo by MC3 Grant Gorzocoski, Aviation Boatswain's Mate (Equipment) 2nd Class Lacarsha Mitchell, from Jacksonville, Fla., assigned to the first-in-class aircraft carrier USS Gerald R. Ford's air department, signals safe to launch for an E/A-18G Growler, attached to the "Gray Wolves" of Electronic Attack Squadron142. The Gerald R. Ford Carrier Strike Group (GRFCSG) is deployed in the Atlantic Ocean, conducting training and operations alongside NATO Allies and partners.
ATLANTIC OCEAN (Oct. 11, 2022): Most times, the enemy never sees them coming.
They are the "Gray Wolves" of Electronic Attack Squadron 142 flying the EA-18G Growler, the Navy's first newly designed electronic warfare aircraft in more than 35 years. Call sign "Grim," the Gray Wolves are based at Naval Air Station Whidbey Island, Oak Harbor, Washington, and they perform carrier-based missions around the world.
Flying a derivative of the combat-proven two-seat F/A-18 Hornet, the Grey Wolves' primary mission is to electronically attack and suppress enemy air defenses before fighter aircraft arrive. Built by Boeing Aircraft, the Growler integrates the latest electronic attack technology, including the latest jamming pods, communication countermeasures, and satellite communications. Launched from aircraft carriers, this $67 million plane sports two General Electric turbofan engines that produce 22,000 pounds of thrust powering the jet up to speeds of Mach 1.8 (14,000 mph) and it has a range of up to 850 nautical miles.
Read more: NAVY GROWLERS BLIND ENEMY DEFENSES FOR FIGHTER PILOTS
Details

Hits: 354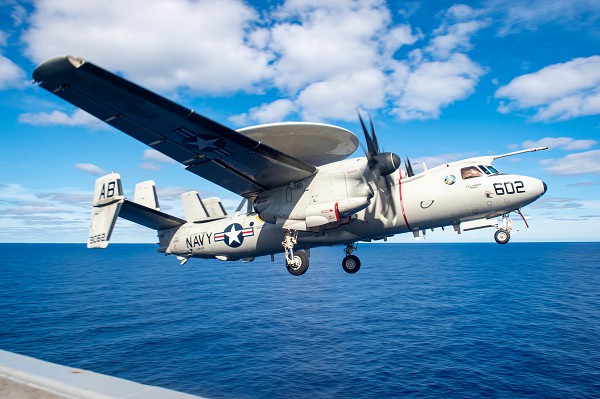 ATLANTIC OCEAN (Sept. 5, 2022): In this photo by MC3 Jack Hoppe, an E-2D Hawkeye, attached to the "Seahawks" of Airborne Command and Control Squadron, launches from the flight deck of the Nimitz-class aircraft carrier USS Harry S. Truman, during a Carrier Air Wing flyoff. While they may have an ungainly appearance, unlike the slick planes seen in the Top Gun movies, the E-2 Hawkeye is literally the "eyes in the skies" for naval aviators.
ATLANTIC OCEAN (Sept. 5, 2022): They fly strange looking birds, these Seahawks, with their turboprop engines with what looks like a giant satellite disc on top. But to Navy fighter pilots, they are the difference between life or death.
Officially dubbed the Airborne Command and Control Squadron, the Seahawks are assigned to the Harry S. Truman, a Nimitz class aircraft carrier named after America's 33rd president famous for the slogan, "give 'em hell". The Truman is a floating city of over 5,200 Sailors and Marines that is twenty-four stories high and over a thousand feet long. These servicemembers spend nine months of their lives at sea, away from home and loved one.
Read more: NAVY "SEAHAWKS" ARE EYES IN THE SKIES FOR FIGHTER PILOTS
Details

Hits: 399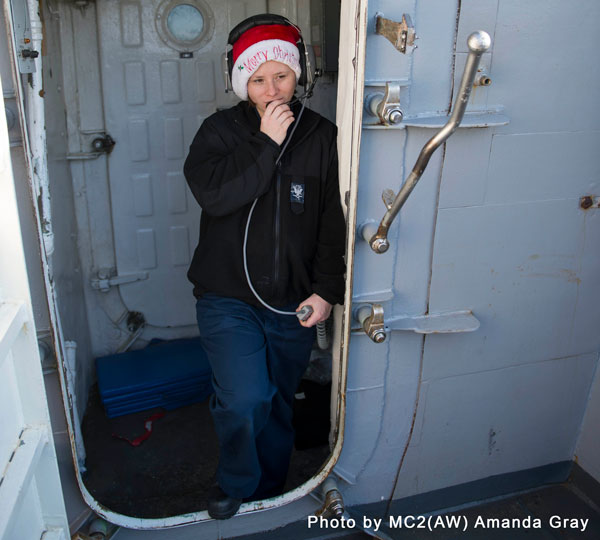 OCONUS, December 6, 2022 - Good Afternoon, I am the BN S4 NCO for [ ]. I would like to sign my unit up to receive care packages. Many of the amenities and activities that soldier had during the earlier years to improve soldiers quality of life and Morale have seized to exist. Anything that you can provide would be appreciated.
~~ Christopher [ ]

My guys are deployed to a foreign country for Christmas - anything to make it feel more like home :-) Thank you so much for your support! Anything for the holidays will help.
~~ John [ ], Army

I am the new incoming CJTF-OIR Religious Affairs Specialist, I am reaching out to see if I can get support in bringing these thousands of service members a morale boost during the holiday season. Thank you for all you do for the service members and this great country. God Bless Pro Deo Et Patria FOR GOD AND COUNTRY.
~~ John
Details

Hits: 903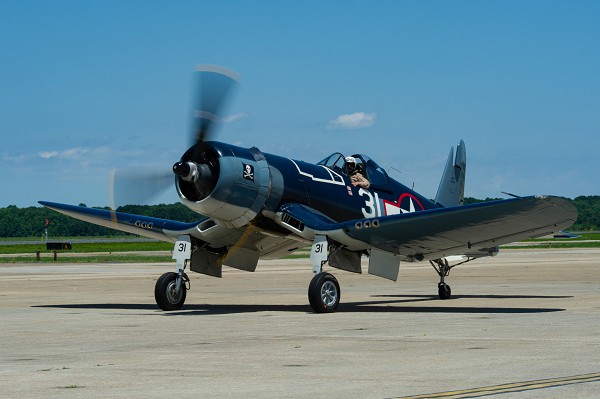 Virginia Beach, VA. (November 30, 2022): In this photo by MC3 Megan Wollam, an FG-1D Corsair, flown by Mike Spalding, Chief Pilot at the Military Aviation Museum, taxis after a heritage flight with Strike Fighter Squadron 103 onboard Naval Air Station Oceana. The Corsair was once assigned to the famous "Jolly Rogers" Fighter Squadron VF-17 in 1943 and shares the same call sign. These flying buccaneers downed 154 Japanese airplanes in just 76 days of combat earning them the grudging respect of their enemy who called them "Whispering Death".
Virginia Beach, VA. (November 30, 2022): Their symbol was the pirate's skull and crossbones, and Japanese pilots called them "Whispering Death. The Navy's Jolly Rogers squadron terrorized the enemy during World War II and continues to intimidate America's adversaries to this day.The story of the Jolly Rogers begins in 1943 as the Navy adopted the Vought F4U Corsair fighter as a trainer for new pilots preparing for combat in World War II. While an excellent airplane for training, the Corsair was difficult to fly, particularly off an aircraft carrier. The Navy decided to deploy the Corsair in land-based squadrons in the Pacific Solomon Islands and, as they say, the rest is history.
Led by Commander Tom Blackburn, the pilots of Navy Squadron VF-17 wanted an emblem to paint on their fuselages that matched their name, Corsair or pirate, hence the adoption of the famous white skull and crossbones on a black background as the squadron's symbol. Their name, Jolly Rogers completed the pirate theme.
Commander Blackburn, unlike many stodgy Navy leaders of the time, did not discourage the somewhat unruly behavior of his pilots as he wanted men who were fearless for the job at hand.

Like their swashbuckling namesake, the Jolly Rogers scored the highest number of enemy kills of any such Navy unit during the war, even exceeding the better-known Marines "Black Sheep" squadron commanded by "Pappy Boyington" whose exploits were later celebrated in a popular T.V. show. In all, Navy Squadron VF-17 downed 154 Japanese airplanes in just 76 days of combat earning them the grudging respect of their enemy who called them "Whispering Death".
The Jolly Rogers live on as Strike Fighter Squadron 103 located onboard Naval Air Station Oceana in Virginia Beach, Virginia and they are flying the Navy's newest strike fighter the F/A-18 Super Hornet. The squadron's call sign is "Victory," and they remain an intimidating force for America's enemies.
It takes great skill and courage to pilot high performance aircraft in combat and we at Support Our Troops salute these brave aviators. Our mission is to provide these servicemembers with "what they need, where they need it" through our Yellow Ribbon Care Packages and the recreational opportunities we provide for deployed troops. You can do your part by contributing to our Patriots Brigade to help send comfort items to boost their spirits during the holidays? Please visit our secure website https://supportourtroops.org/donate to donate to America's finest today!
Details

Hits: 326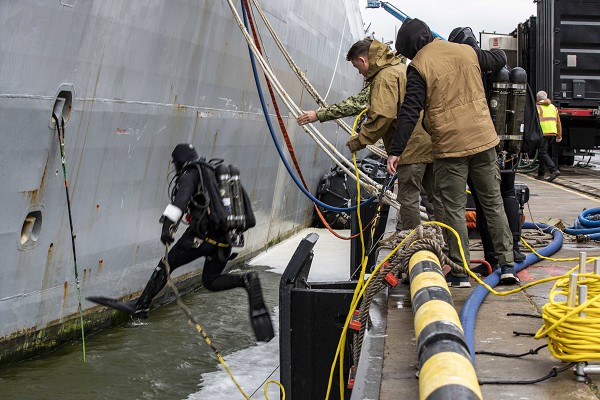 Klaipeda, Lithuania (November 19, 2022): In this photo by MC1 John Bellino, U.S. Navy Diver 1st Class William Crampton, left, assigned to Forward Deployed Regional Maintenance Center, Bahrain, enters the water to conduct underwater maintenance on the San Antonio-class amphibious transport dock ship USS Arlington during a scheduled port visit. The Arlington is part of the Kearsarge Amphibious Ready Group and 22nd Marine Expeditionary Unit, under the command and control of Task Force 61/2, is on a scheduled deployment in the U.S. Naval Forces Europe area of operations, employed by U.S. Sixth Fleet to defend U.S., allied and partner interests.
Klaipeda, Lithuania (November 19, 2022): A Navy warship has hit a mine and is limping towards port as the crew struggles to keep the vessel and crew afloat. Waiting for them are some of the world's most experienced and skillful divers in the world ready to tackle any type of underwater repair needed to save the ship and crew.
These scuba divers are called upon to handle wartime situations like these and many more.
Navy divers perform their duties in port and in the open ocean using all manner of underwater breathing devices, from the traditional SCUBA to mixed gas breathing apparatus for deep water dives. Their primary role is salvage operations in waters up to 300 feet deep and their duties range from recovering entire ships to retrieving debris spread over miles of ocean floor. In dealing with battle damage, these professionals perform highly complex underwater repairs to surface ships and submarines that are essential to keeping the fleet operational. They wear state of the art diving equipment to perform underwater cutting and welding tasks using hydraulic tool systems requiring skill and accuracy to operate. From constructing watertight enclosures to prevent flooding to replacing 80-ton ships anchors, if it is under the water line, Navy divers can handle it.
Read more: IF ITS BELOW THE WATER LINE… NAVY DIVERS CAN HANDLE IT
Subcategories