Details

Hits: 279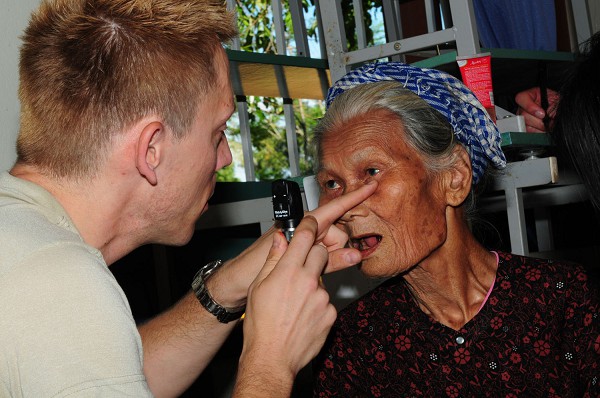 Quang Tri Province, Vietnam. (October 21, 2019): In this photo by Tech. Sgt. Kerry Jackson, Major (Doctor) Steven Tittl, an optometrist assigned to the 439th Aerospace Medical Squadron at Westover Air Reserve Base, Massachusetts examines a Vietnamese woman during Operation Pacific Angel exercises. Dr. Tittl and other U.S. Military servicemembers provided medical services and other humanitarian assistance to Quang Tri Province residents.
Hickam Air Force Base, Hawaii. (October 23, 2022): It was the scene of some of the bloodiest fighting during the Vietnam War and a famous stand by South Vietnamese and American troops against overwhelming enemy strength. The Battle for Quang Tri Province was a four-and-a-half-month battle that cost the Vietnamese Army 977 killed and scores wounded before they retook the city. It is ironic that Quang Tri Province, Vietnam would serve as host for Pacific Angel exercises with the goal of saving, not taking, lives.
Led by the U.S. 13th Air Force based at Hickam Field, Hawaii, the Pacific Angel exercises began in 2007 with a simple mission… use our vast military resources to promote life and health, even among our former foes. Since then, Pacific Angel has had a positive impact on tens of thousands of lives by providing both health services and civil engineering expertise to developing countries in the Pacific region.
Details

Hits: 307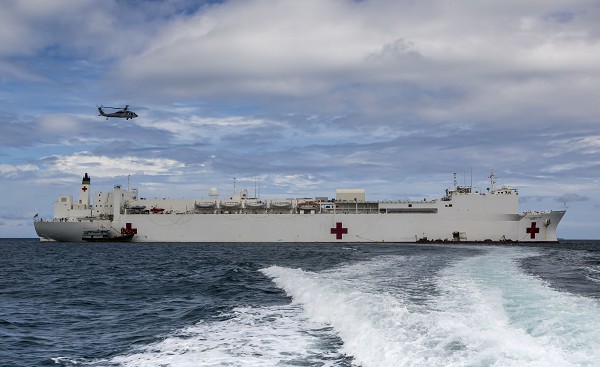 Padang, Indonesia. (October 19, 2020): In this photo by Royal Australian Air Force Corporal David Cotton, the Hospital Ship USNS Mercy sits anchored off the coast of Padang, Indonesia during Pacific Partnership exercises. The Mercy helps partner nations prepare for disasters by providing medical subject matter experts to help improve the capacity of local governments, civilian agencies, and partner militaries to collectively respond to crises.
Padang, Indonesia. (October 19, 2020): Few images demonstrate the compassion of the American people like that of the Hospital Ship USNS Mercy. Resting peacefully at her berth, the Mercy is ready to deliver surgical services to needy patients no matter where they live in the world.
Commissioned in 1986, the Mercy is one of two American hospital ships (USNS Comfort is the other) that lead the annual Pacific Partnership exercises designed to improve the capacity of local partner nations to respond to a humanitarian crisis. Based in San Diego, California, the Mercy is a floating 1,000-bed fully equipped hospital complete with acute surgical facilities staffed by highly trained medical professionals and crewed by eight officers and 53 enlisted personnel.
Pacific Partnership is the largest annual multinational humanitarian assistance and disaster preparedness exercise held in the Indo-Pacific region. Host nations include Viet Nam, Palau, the Philippines, and the Solomon Islands and partner nations include Australia, Chile, Japan, South Korea, and the United Kingdom.
Details

Hits: 423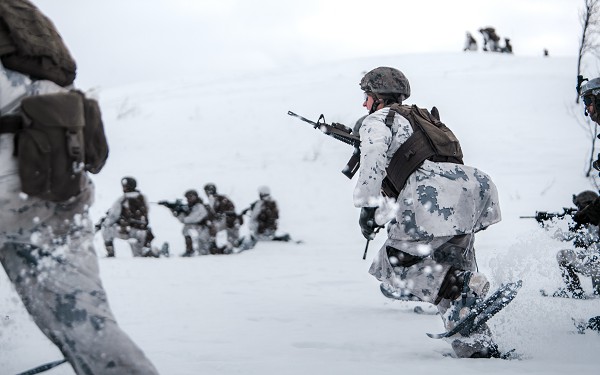 Blatind, Norway. (October 15, 2022): In this photo by Corporal Patrick King, U.S. Marines with Marine Rotational Force Europe buddy rush down range during a company live fire attack as part of Exercise Arctic Littoral Strike. These exercises focus on regional engagements in arctic and mountain warfare as America prepares to defend Europe against Russian aggression.
Blatind, Norway. (October 15, 2022): Since 1825, America and Norway have enjoyed a close and mutually beneficial relationship that continues today. The two nations fought together in World War II and the Norwegians are co-founders of both the United Nations and NATO. Norwegian troops deployed trainers to Iraq to support America in Operation Inherent Resolve and they provided training and advice alongside American troops in Afghanistan.
Since 2017, Norway has hosted annual rotations of U.S. Marines to train in extreme cold and in mountainous terrain with the Norwegian Armed Forces. This arrangement has become even more vital as NATO confronts potential aggression from the Russians after their invasion of Ukraine. American military planners have pre-positioned armored vehicles, ammunition, and basic supplies in Norway to facilitate the rapid deployment of Marines in an emergency.
Read more: RUSSIAN INVASION STRENGTHENS U.S. NORWAY DEFENSE PACT
Details

Hits: 427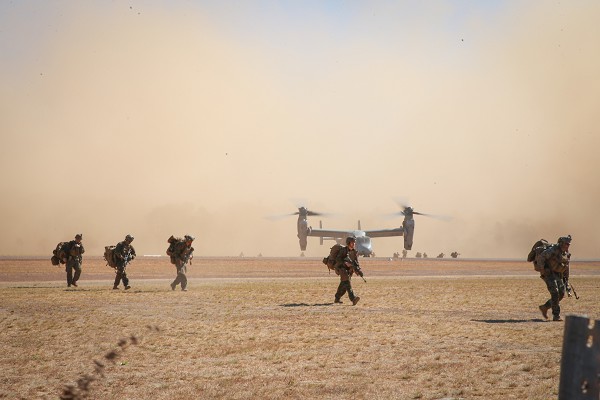 South Goulburn Island, Australia. (October 10, 2022): In this photo by Corporal Emeline Mola, U.S. Marines with India Company, 3rd Battalion, 7th Marines arrive in Australia ferried by Tiltrotor Squadron 268 Reinforced MV-22 Osprey aircraft. The Marines are participating in Expeditionary Base Operations exercises as part of Marine Rotational Force Darwin 22, a 25-year defense pact with one of America's oldest friends.
South Goulburn Island, Australia. (October 10, 2022): Never doubt, the Aussies have always had America's back. Australian servicemembers have fought alongside U.S. troops in both World Wars, Korea, Viet Nam, Iraq, and Afghanistan shedding their blood for the cause of freedom. In these tense times, the Americans want Australians to know that we will be a reliable ally should they need us.
This is why the U.S. 7th Marine Regiment routinely deploys to Australia's Outback from Kaneohe, Hawaii on a rotating basis to train with Aussie Marines. Dubbed the "Magnificent 7th , this Marine regiment defended Australia from invading Japanese forces in World War II. In 1942, the regiment landed on the Solomon Islands to fight the Battle for Guadalcanal, a four-month slug fest fending off fanatical Japanese defenders, repulsing their Banzai charges and suicidal attacks. It was during these battles that Lewis Burwell "Chesty" Puller, probably the most famous Marine in history, won the first of five Navy Crosses. He would retire a Lieutenant General after a thirty-seven-year career and remains the most decorated Marine of all time.
By January 1943, the majority of Marines from the Magnificent 7th suffered from malaria, wounds, and just plain fatigue. The regiment arrived in Australia to rest and retrain, not for a liberty call, yet a grateful Australian population gave the regiment a hero's welcome. The seventh went on to fight at New Guinea, New Britain, Peleliu, and the Island of Okinawa, Japan.
America is fortunate to have a reliable ally like Australia as we confront threats from China in the Indo Pacific. American servicemembers are lucky to have patriots, like you, to support them while they are deployed overseas. Please take a moment, right now, to show your support for America's finest by contributing funds to Support Our Troops' Patriot Brigade®. Here you will join thousands of Americans who make monthly donations to pay for comfort items and recreational programs for our military deployed overseas. Please go to our secure website https://supportourtroops.org/donate to contribute to America's finest today!
Details

Hits: 385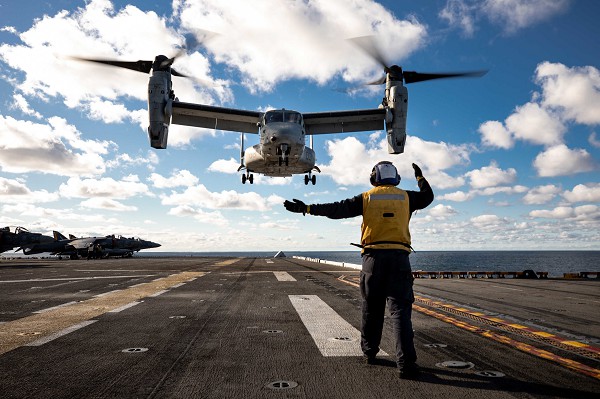 Baltic Sea. (October 12, 2022): In this photo by Corporal Yvonna Guyette, a U.S. Marine Corps MV-22 Osprey assigned to the 22nd Marine Expeditionary Unit (MEU) approaches the flight deck during flight operations aboard the Wasp-Class amphibious assault ship USS Kearsarge. The 22nd MEU is on a scheduled deployment to U.S. Naval Forces Europe to support the Sixth Fleet defending American and allied partners in the Baltic Sea.
Baltic Sea. (October 12, 2022): Since Russian President Vladimir Putin ordered the illegal and immoral invasion of Ukraine, NATO forces have poured into the European theater. The American response to any escalation by the Russians will be spearheaded by the 22nd Marine Expeditionary Unit (MEU), an air/ground task force of over 2,200 Marines and Navy personnel.
Details

Hits: 533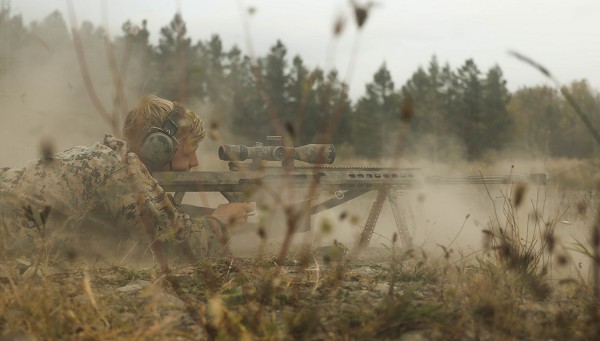 Hokkaido, Japan. (October 3, 2022): In this photo by Sergeant Kallahan Morris, Marine Corps Sgt. Ryan Lauritsen, a scout sniper with the 3rd Battalion, 3rd Marines, fires a M107 Special Application Scoped Rifle during Exercise Resolute Dragon 22. The maneuvers are central to the U.S./Japan Alliance which stands ready to counter aggression in the South China Sea. In addition to marksmanship, Marine Scout Snipers train in land navigation, surveillance, and mission planning at Quantico, Virginia.
Hokkaido, Japan. (October 3, 2022): Their presence sends chills down the spines of enemy soldiers. They are a hidden threat, stealthy and deadly accurate "hunters of gunmen." But there is much more to becoming a Marine Scout Sniper than excellent marksmanship.
Working in teams, Scout Snipers deliver long range precision fire on targets from concealed positions and are often the most dreaded combatants on the field. These highly skilled Marines can stalk a specific target or provide overwatch for maneuvering units while collecting vital information that often turns the tide of battle.
American Marine Scout Snipers are trained at Quantico, Virginia in an 80-day course that tests their physical and mental abilities to the maximum. To qualify, a candidate must have completed Marine Basic and Advanced Infantry training, be extremely physically fit, and must volunteer for the duty. Sniper Schools candidates are unofficially referred to as "PIGs" (Professionally Instructed Gunmen) until they pass the rigorous course where the earn the moniker "HOGs" (Hunters of Gunmen).
Read more: THE "HUNTERS OF GUNMEN"... MARINE SCOUT SNIPERS COMBINE STEALTH, ACCURACY
Subcategories