Details

Hits: 323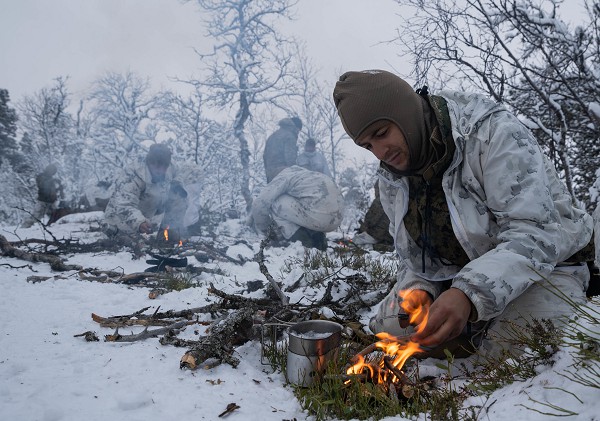 Tolga, Norway. (October 5, 2022): In this photo by Marine Sergeant Robin Lewis, U.S. Marines with the 2nd Marine Expeditionary Force boil snow for drinking water while participating in training to increase familiarity with and proficiency operating in Arctic conditions alongside our allies and partners. Throughout history, weather has proven to be both friend and foe to military forces, often determining the outcome of the battle.
Tolga, Norway. (October 5, 2022): Sometimes the weather can be your friend, a sudden ally that appears just in time to save you and your unit from disaster. Other times, old man weather brings calamity, death, and destruction on a biblical scale.
Twice, the Mongol leader Kublai Khan (the son of Genghis Khan) attempted to expand his empire by invading the island of Japan, and twice his massive fleets of ships ended up on the bottom of the ocean. The Khan's plan was to attack the Japanese city of Kyushu from the sea, and he had assembled the largest armada the world had ever seen, staffed by over 140,000 sailors. Both times his invasion plans were dashed by sudden, typhoon strength winds that destroyed his ships, ending his plans to expand his empire. Legend has it that the Japanese Emperor, himself a "living god" to his people, summoned these "divine winds" or Kamikaze to destroy the Mongol enemy. Unfortunately, American pilots would later encounter fanatical Japanese pilots willing to commit suicide in the name of their Emperor… called Kamikazes.
Details

Hits: 261

$40 million of tangible support was delivered into the hands of America's military servicemembers worldwide last year! The 2021 financials demonstrate organizational efficiency combining with highly effective programs to yield great impact — 97% average to program goods and services to the troops, their spouses, and their kids CY2019 - CY2021. The final numbers and finally in, and the support of the American people and patriotic American companies for their military was again clearly evident last year. Support Our Troops delivered over 97% percent of its resources to program goods and services for the troops, their spouses, and their kids. What a great country we have!
Details

Hits: 341
"NO ONE IS CONCERNED ABOUT THEMSELVES."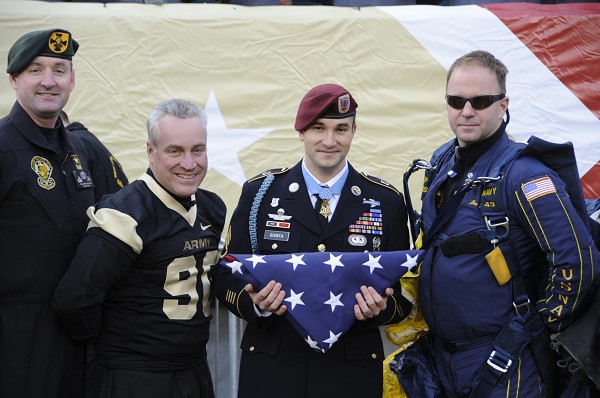 Lincoln Financial Center, PA. (December 11, 2010): Army Staff Sergeant Salvatore "Sal" Giunta is presented the U.S. flag by Navy Parachutist Jim Wood (Right) assisted by members of the famous Army Golden Knights parachute team. SSgt. Giunta was awarded the Medal of Honor for distinguishing himself by acts of gallantry at the risk of his life above and beyond the call of duty in combat operations against enemy forces in Afghanistan.
Lincoln Financial Center, PA. (December 11, 2010): Surrounded by fellow parachutists, Staff Sergeant Salvatore "Sal" Giunta basked in the glory and admiration of a grateful nation recently when he was presented the American flag at the 111th Army-Navy game, SSgt. Giunta became the only living servicemember to receive the Medal of Honor in 40 years.
He's that lucky.
Assigned to B Company, 2nd Battalion, 503rd Airborne Infantry Regiment, 173rd Airborne Brigade Combat Team, SSgt. Giunta was on his second deployment to Afghanistan when he and his comrades were ambushed by enemy forces in the rugged Korengal Valley, Afghanistan on October 25, 2007.
Details

Hits: 256
SPECIAL FORCES SOLDIER VOLUNTARILY RISKS HIS LIFE TO SAVE OTHERS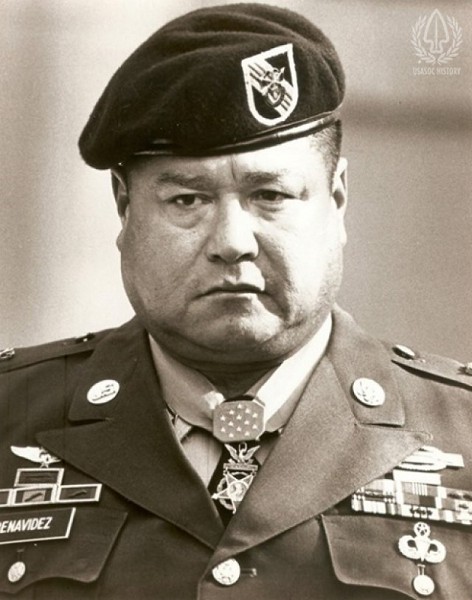 MSgt. Roy P. Benavidez of the Army's 5th Special Forces Group was awarded the Medal of Honor for voluntarily risking his life to save his fellow soldiers during the Viet Nam War. He was presented the Medal of Honor by President Ronald Reagan in 1981. The U.S. Navy commissioned a ship in his honor, the USNS Benavidez, in 2003.
"Greater love hath no man than this, that a man lay down his life for his friends."
John 15:13 King James Bible.
It was just past dawn on May 2, 1968, during the height of the Viet Nam War when a 12-man Special Forces Team was inserted by helicopter into dense jungle to gather intelligence on enemy activity. It was a day that would change the life of Army Master Sergeant (Staff Sergeant at the time) Roy P. Benavidez forever and earn him the Medal of Honor.
After a short period on the ground, the Special Forces Team ran into heavy enemy resistance, taking numerous casualties and requesting extraction by helicopter. Three choppers attempted to rescue the men but were unsuccessful due to intense small arms and anti-aircraft fire.
SSgt. Benavidez, assigned to the 5th Special Forces Group (Airborne), was monitoring the situation by radio when one of the helicopters landed to off-load their wounded. SSgt. Benavidez voluntarily boarded a returning aircraft to assist in yet another rescue attempt totally disregarding the danger to himself.
Details

Hits: 379
A BATTLE WON BY THE "CHOSEN FEW"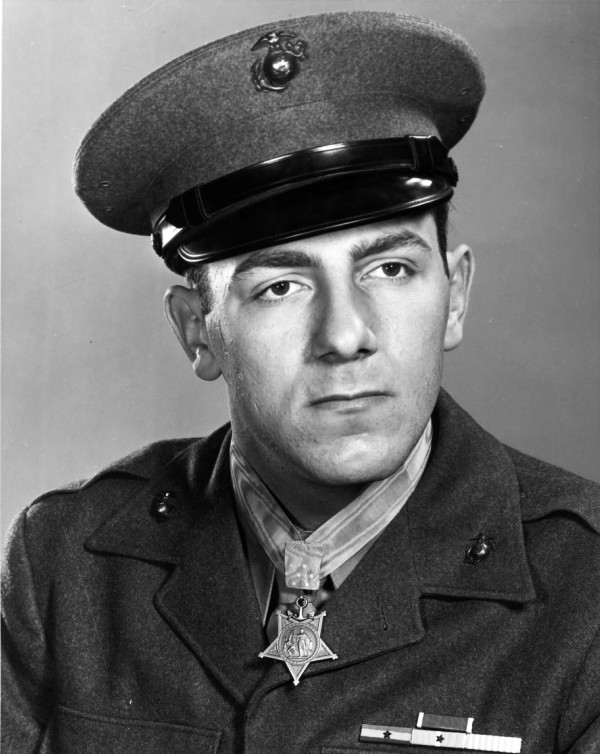 Marine Corps Base Quantico, VA. (September 29, 2022): Private First-Class Hector A. Cafferata, Jr. was laid to rest at the Quantico National Cemetery at Marine Corps Base Quantico, Virginia, April 22, 2016. Cafferata received the Medal of Honor for his actions during the Chosin Reservoir campaign of 1950 for single-handedly holding off an enemy regiment during the Korean War and safeguarding his comrades from a live grenade until he was felled by a sniper's bullet. He went on to live to the ripe old age of 86.
Marine Corps Base Quantico, VA. (September 29, 2022): It was the defining moment of the Korean War, a bloody battle between 30,000 Marine, Army, and South Koreans against approximately 120,000 Chinese regulars resulting in over 10,000 allied battle casualties. Thirteen Medals of Honor were awarded to participants in the Battle of the Chosin Reservoir, among them was 21-year-old Marine Private First-Class Hector A. Cafferata Jr.
Outwardly, there was nothing special about Hector Cafferata. He was born in Queens, New York and was raised in New Jersey enlisting in the Marines when he was 19. He graduated from Boonton High School and worked for the Sun Dial Corporation until his nation called up men for the Korean conflict. He was assigned as a rifleman to Company F, Second Battalion, Seventh Marines of the First Marine Division and shipped off to Korea.
Details

Hits: 333
LAST SURVIVING WWII MEDAL OF HONOR WINNER CELEBRATED BY FELLOW MARINES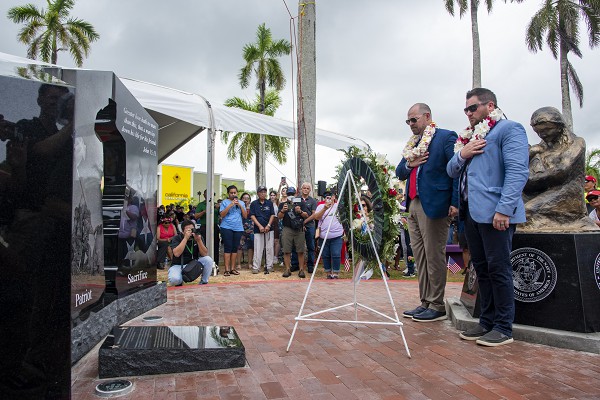 HAGATNA, Guam (July 25, 2022): In this photo by Shaina Marie O'Neal, family members of the late Hershel "Woody" Williams lay a wreath at the new Gold Star Families Memorial Monument during an unveiling ceremony. Williams was the last remaining Medal of Honor recipient from World War II and founder of the Woody Williams Foundation, which honors Gold Star families and servicemembers who lost their lives in the line of duty.
HAGATNA, Guam (July 25, 2022): World War II was carnage on a scale that is unimaginable today, resulting in between 35 and 60 million deaths worldwide. According to the National World War II Museum, fifteen million soldiers were killed and another 25 million wounded and there were an estimated 45 million civilian deaths.
Into this maelstrom stepped Hershel "Woody" Williams, a country boy born on a dairy farm in in rural West Virginia in 1923. The youngest of eleven children, Woody tried to join the United State Marine Corps after the attack on Pearl Harbor and was told he was too short to enlist (he was an imposing 5'6" tall).Woody became a Marine a year later after the height requirement was lowered and he trained as a demolition man and flamethrower operator before shipping out to the Pacific.
After stints at Guadalcanal and Guam, Corporal Williams found himself on the island of Iwo Jima and in the center of one of the bloodiest battles of the Pacific war. Assigned to the 21st Marine Regiment, Williams landed on the beach on February 21, 1945, to take part in a battle that cost 7,000 fellow Marines their lives and, of the 21,000 Japanese defenders, only 200 survived.
Subcategories