Details

Hits: 339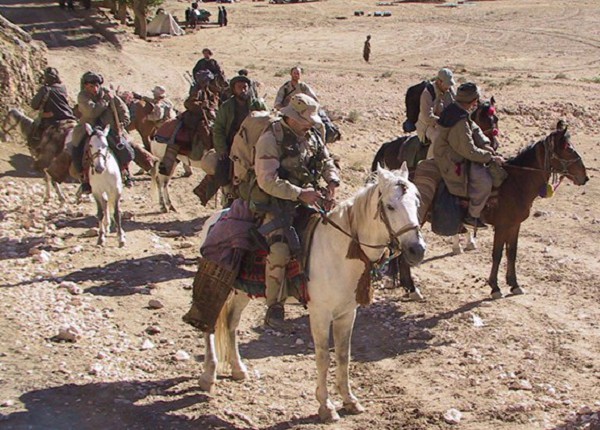 Sho-I-Khot Valley, Afghanistan. (October 21, 2001): In one of the most iconic photos of the Afghan War, members of the U.S. 5th Special Forces (Airborne) Green Berets ride horseback into battle with seasoned Afghan horsemen to locate and kill Taliban fighters as they threw the first punch from a righteously angry America.
As images of the towers falling in New York appeared on televisions around the world, an angry America's demand for justice fell squarely on the U.S. Military who would soon rain hell down upon the murderous terrorists and those that harbored and supported them.
Within hours, U.S. Special Forces planners launched Task Force Dagger to strike at the very heart of the Taliban regime through very unconventional means. The famous Green Berets of the 5th Special Forces (Airborne) would be the tip of the spear by inserting into Afghanistan to link up with local war lords and resistance fighters called the Northern Alliance.
First, these special operators had to be flown into mountainous Afghanistan by the famed 160th Special Operations Regiment (Airborne), an elite group of courageous pilots who would later fly our warriors into Pakistan to kill or capture Osama Bin Laden. Flying at altitudes above 20,000 feet in blinding weather, the 160th departed from neighboring Uzbekistan over the imposing Hindu Kush Mountains to land Green Berets literally back in time. Waiting to receive them were various ethnic groups, many of whom were traditional enemies, who had been individually fighting the Taliban regime.
The 5th Special Forces' mission was to unite, train and equip Northern Alliance fighters, despite ethnic and language barriers, with 21st century technology and tactics in the most primitive conditions. The Green Berets found themselves in a place with dirt roads, impassible mountains, and no modern modes of transportation where it was often impossible to distinguish between friend from foe.
Read more: STEPPING BACK IN TIME… AMERICAN SPECIAL FORCES UNITE WARLORDS TO FIGHT THE TALIBAN
Details

Hits: 419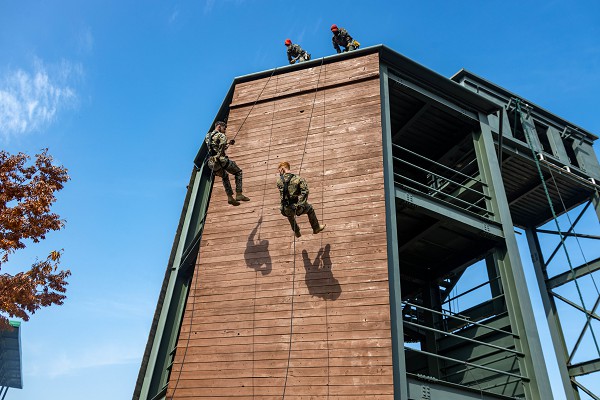 Pohang, South Korea. (September 1, 2022): In this photo by Marine Lance Corporal Alpha Hernandez, U.S. Marines with the 2nd Battalion, 3rd Marine Division rappel down an obstacle as part of a joint training program with Republic of Korea (ROK) Marines. U.S. and ROK Marines are a highly lethal combination who are clearly the world's most dangerous seaborne infantry.
Pohang, South Korea. (September 1, 2022): Among brothers, there is no language or cultural barriers… only a common desire to win.
America's commitment to the defense of South Korea is anchored by the presence of the world's most lethal seaborne infantry, the U.S. Marines. While the Marines motto is Semper Fidelis (always faithful), the ROK Marine philosophy is to be prepared to "fight tonight". With over 6,000 North Korean artillery pieces trained on their capital, ROK Marines know there will be little time to respond, and that they must be ready to battle on a moments' notice.
Although one of the poorest countries in the world, North Korea nevertheless spends nearly one quarter of its Gross Domestic Product on its military according to the U.S. State Department. Its army is large with 1.3 million on active duty, nearly 5 percent of its total population, and another 600,000 in reserves. Although many analysts believe North Korea's military is in decline, comprised of decades old aircraft of Soviet or Chinese origin and tanks dating to the Korean conflict, their sheer numbers are a major concern.
Read more: BAND OF BROTHERS… U.S. & REPUBLIC OF KOREA MARINES TRAIN TO WIN
Details

Hits: 362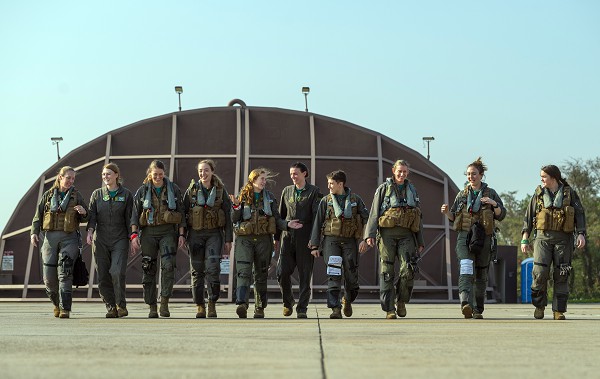 Osan Air Base, S. Korea. (September 5, 2022): In this photo by Air Force Technical Sergeant Vernon Young, Jr., pilots assigned to the 36th and 25th Fighter Squadrons fly an historic all-female mission over the skies of South Korea. The formation included eight flying the A-10 Thunderbolt II, and two flying F-16 Fighting Falcons, a first in American aviation.
Osan Air Base, S. Korea. (September 5, 2022): Move over Amelia Earhart, America's female fighter pilots now dominate the skies. By now, the fact that women routinely fly combat missions for America's armed forces is commonly accepted. Still, the image of a formation of the world's most lethal fighter jets, flying in formation with all-female crews remains an historic moment in U.S. military aviation.
Amelia Earhart was a pioneer who was the first female pilot to fly solo across the Atlantic in 1932. Eighty years later, female pilots are not only a common sight, but play a vital role in America's defense. The road to parity with male pilots however, especially in the armed forces, was anything but easy.
Ironically, the world's first female fighter pilot was not an American. The adopted daughter of Turkish President Mustafa Ataturk, Sabiha Gokcen logged over 8,000 hours flying both fighters and bomber aircraft in 32 military operations for the Turkish Air Force, all at the tender age of twenty-three. During World War I, a few female pilots volunteered, including Helene Dutrieu who joined France's Air Patrol in 1914 making flights from Paris to track the location of German troops.
Read more: MOVE OVER AMELIA EARHART… ALL FEMALE HISTORIC FLIGHT OVER KOREAN SKIES
Details

Hits: 2578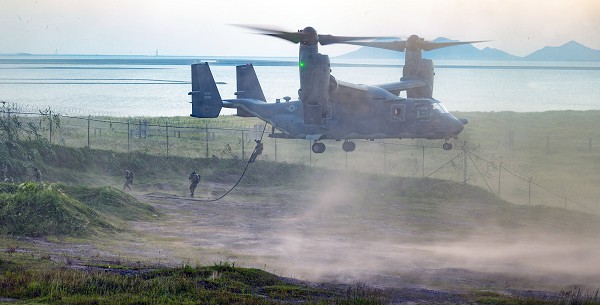 Kunsan Air Base, South Korea. (September 2, 2022): In this photo by Air Force Staff Sergeant Steven Adkins, Special Tactics Airmen fast rope down from a CV-22 Osprey tilt-rotor aircraft during joint training with the South Korean Air Force. Based at Kadena Air Base, Japan, these highly trained war fighters routinely deploy to assist their Republic of Korea comrades to confront North Korean aggression.
Kunsan Air Base, South Korea. (September 2, 2022): They may not be as flashy as the Navy SEALS, nor as famous as the Army's Green Berets, but the Air Force's Special Tactics Airmen are among the deadliest warriors in the world.
Based at the at Hurlbut Field, Florida, the 24th Special Operations Wing are routinely deployed to South Korea as part of America's mutual defense pact. In the photo above, Special Tactics Airmen are seen training with their Republic of Korea comrades to conduct combat insertions from the air. These special forces carry out some of the most heroic, and dangerous, missions in the military. From seizing enemy airfields to mounting daring rescues of personnel in some of the world's most remote locations, this Air Force Special Tactics Squadron is part of America's most elite, and clandestine services.
Read more: SPECIAL TACTICS: AIR FORCE ELITE FIGHTERS TRAIN IN S. KOREA
Details

Hits: 369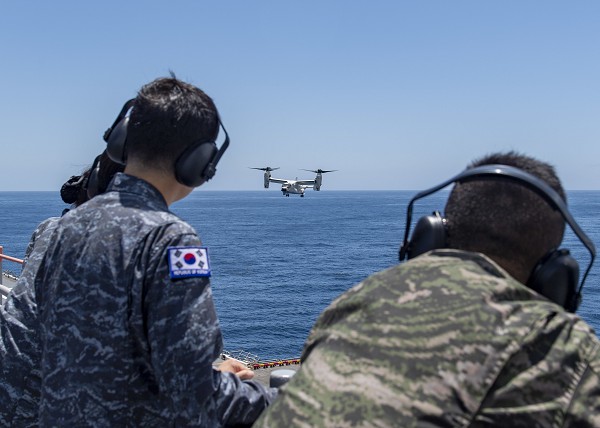 Pacific Ocean. (August 31, 2022): In this photo by Communications Specialist 2nd Class Brett McMinoway, U.S. Navy Sailors join members of the Republic of Korea Navy as they observe a CMV-22 Osprey tilt-rotor aircraft landing on the amphibious assault ship USS Essex. Assigned to the U.S. 3rd Fleet, the Essex and her crew routinely operate with their South Korean counterparts conducting flight operations to counter potential aggression from North Korea.
Pacific Ocean (August 31, 2022): "They that go down to the sea in ships, that do business in great waters." Psalm 107-33, King James Bible.
For centuries, sailors have answered the call to conduct "business in great waters" to both explore strange lands and to defend their nation from attack. Today, the U.S. Navy operates in great waters with their South Korean counterparts to counteract hostility from North Korean Dictator Kim Jong Un.

Despite its bravado, North Korea's navy is dwarfed by South Korea which has 160 ships including 12 Destroyers, 18 Frigates, and 22 submarines making her the third largest surface fleet in Asia. The Republic of Korea deploys some 70,000 sailors and features another 29,000 ROK Marines, some of the toughest war fighters in the world.
Joining this armada is the veritable USS Essex (pictured above), an 850-foot Wasp Class Amphibious Assault ship assigned to the U.S. 11th Marine Expeditionary Unit. The Essex has a crew of 73 officers and 1009 enlisted sailors who together ferry some 1,900 combat Marines into battle. With a 140-foot flight deck and a helicopter landing dock, the Essex fields over 30 aircraft including some of America's most advanced fighters. Well-armed, the Essex sports two NATO Sea Sparrow missile launchers, two 20mm Phalanx anti-aircraft batteries, and eight MK-22 50 caliber machine guns.
Read more: U.S. AND R.O.K. NAVIES CONFRONT BELLIGERENT NORTH KOREA
Details

Hits: 338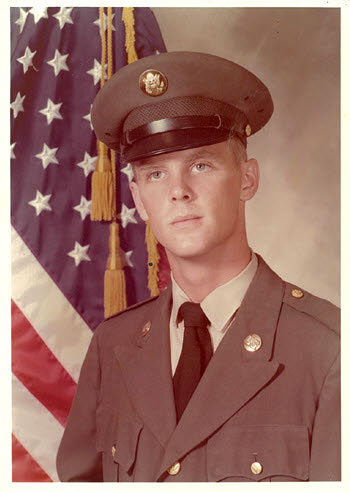 Tallahassee, FL. (September 6, 2022): I turn 64 next week and, at this age, memories begin to fade. One memory that has stuck with me, as clear today as it was in 1977, was stepping off a transport plane at Ramstein Air Force Base, Germany as an 18-year-old soldier deployed overseas for the first time.
I remember being consumed with emotion, fear of landing in a foreign land with new people speaking strange languages, pride in being an American representing our great country, and bursting with optimism for what lay ahead.
The enthusiasm began to fade, however, after a very short time. Birthdays and anniversaries came and went, holidays now were spent among strangers, and life's celebrations seem to go on just fine without me. Even to this day the feeling is hard to describe, a dark, cold sense of feeling disregarded somehow, that the hardships we were enduring went unnoticed, and that the American public had all but forgotten us.
That is why I joined Support Our Troops, an organization dedicated to never allowing a single troop to experience such feelings while they are deployed overseas, away from the familiar and longing for home. Back then, there were no "care packages" sent by ordinary Americans to the troops, the only thing a G.I. looked forward to was the daily mail call and the slow trickle of correspondence from home. Today, we have an international charity like SOT which sends their famous Yellow Ribbon Care Packages to remote bases around the world, boosting the morale of thousands of lonely troops like me.
Nowadays, people often thank me for my service, and I am humbled and grateful for their support. The one thing I encourage all Americans to do is to take a moment, right now, to show your support for our deployed overseas servicemembers by contributing funds to Support Our Troops' Patriot Brigade®. Here you will join thousands of patriots who make monthly donations to pay for comfort items and recreational programs for our military deployed overseas. Please go to our secure website https://supportourtroops.org/donate to contribute to America's finest today!
Let them know they are not forgotten.
Jim Spearing, SSG, (Ret.)
Subcategories