Details

Hits: 421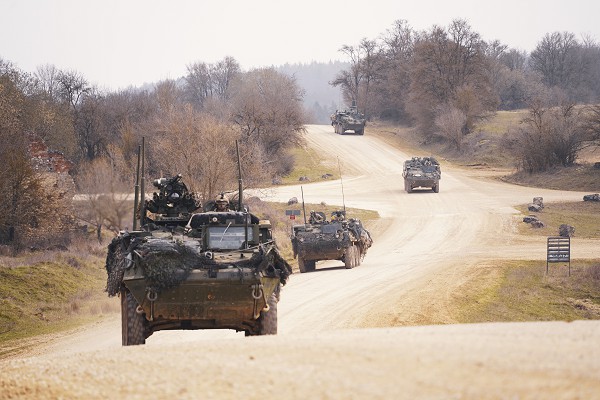 Vilseck, Germany. (September 10, 2022): In this photo by Sergeant LaShic Patterson, U.S. Army Stryker vehicle variants, assigned to the 2nd Cavalry Regiment, maneuver downhill during Dragoon Ready exercises at Hohenfels Training Area, Germany. The 2nd Cavalry has the distinction of being the longest active serving Cavalry Regiment in the Army.
Vilseck, Germany. (September 10, 2022): When Americans face military aggression anywhere in the world, we call out the U.S. Cavalry. Today, Support Our Troops, a U.S. based charity dedicated to improving the lives of active duty deployed servicemembers, was awarded an Army Certificate of Achievement by the 1st Squadron, 2nd Cavalry Regiment for their charitable efforts to boost troop morale.
The 2d Cavalry Regiment (Dragoons) are a U.S. Army brigade combat team, headquartered at Rose Barracks in Vilseck, Germany which has the distinction of being the longest active serving Cavalry Regiment in the Army. The unit is a modern, rapidly deployable force of over 5,000 Dragoons (soldiers). They are currently assigned to rapid deployment to Poland as part of NATO's reinforcements countering Russian aggression in Ukraine.
Read more: SUPPORT OUR TROOPS HONORED BY 2ND CAVALRY REGIMENT FOR BOOSTING MORALE
Details

Hits: 361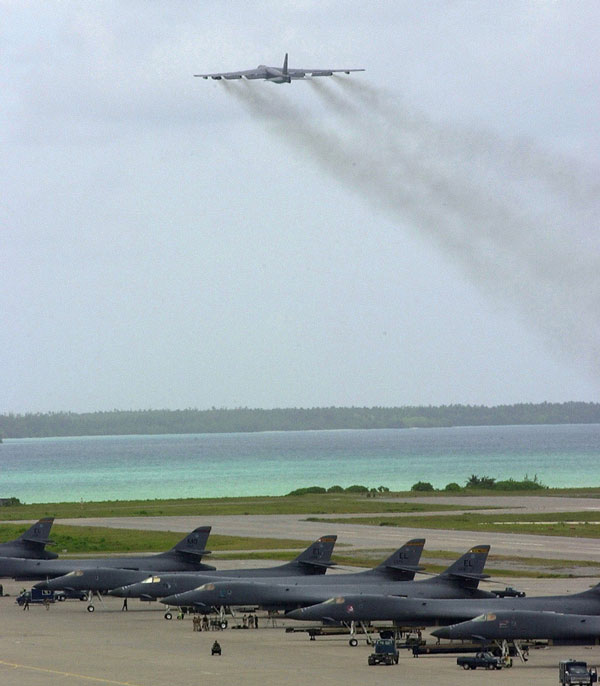 Diego Garcia, Indian Ocean. (Oct. 22, 2001): In this photo by Staff Sergeant Shane Cuomo, an Air Force B-52 bomber from the 28th Expeditionary Wing takes off from Diego Garcia for a combat mission in support of Operation Enduring Freedom. American B-52s, B-1, and B-2 bombers expended more than 80 percent of the tonnage dropped during 600 sorties over Afghanistan. B-52 bombers also provided close air support to Army and Marine ground forces, a first since the Viet Nam War.
"I remember watching the B-52s with their fighter escorts as they flew over our camp. Minutes later, we could hear the thunder as the ground literally shook under our feet. My only thought was "It must be a living hell to be on the receiving end of that!"
SSG Jim Spearing (Ret)
Operation Desert Storm
Diego Garcia, Indian Ocean. (Oct. 22, 2001): Their pilots are younger than the aircraft they fly, by decades. Capable of delivering tons of high explosives from as far as 8,800 miles away, the veritable B-52 bomber is the ultimate symbol of American dominance and firepower… something the Al Qaeda and Taliban terrorists were soon to learn.
The legendary U.S. Army's 1st of the 87th Infantry, 10th Mountain Division was moving into positions along a valley near Marzak , Afghanistan when they began taking sporadic fire from Taliban and Al Qaeda fighters from caves and well-fortified positions in the ridges above them. The enemy was clearly familiar with the terrain and had carefully targeted the area with their mortars. As the 10th Mountain infantry arrived, the enemy began pouring highly accurate fire onto their positions. As casualties began to mount, the call went out for air support. Within five minutes, a B-52 bomber flying above the battlefield scored a direct hit on the enemy ending all movement and relieving the beleaguered soldiers. These dauntless warriors would join the thousands of American servicemembers rescued by the devastating firepower of the lethal B-52 bomber.
Read more: AN AIR WAR LIKE NO OTHER… AMERICAN B-52S RAIN "LIVING HELL" ON AL QAEDA
Details

Hits: 357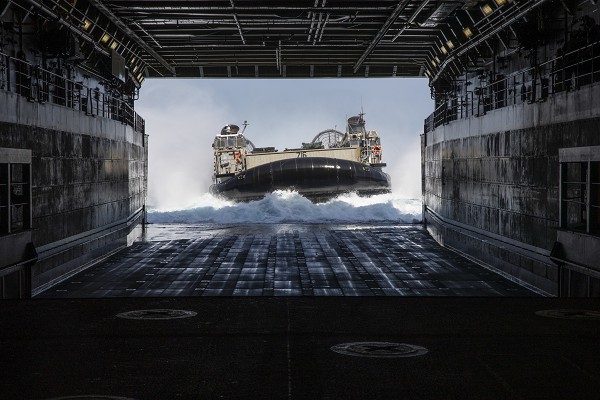 Camp Pendleton, CA. (May 22, 2022): In this photo by Marine Corporal Garrett Kiger, U.S. Navy Landing Craft attached to Assault Craft Unit 5 prepare to enter the well of the amphibious transport dock USS Portland after transporting personnel and equipment from the famed 15th Marine Expeditionary Unit.
Camp Pendleton, CA. (September 10, 2022): Most military experts said that what the Marines proposed simply could not be done.
While debris from the cowardly terrorist attacks on 9/11 were still smoldering, President George Bush expressed the anger of the American people by summoning the U.S. Military's shock troops, the Marines. Military specialists, however, doubted whether the Corps could mount an invasion of a land locked country in one of the most remote and hostile locations in the world without access to forward land bases. Attacking Al Qaeda and Taliban fighters would require a long-range strike capability as the battlefield would be over 400 miles from the sea. The experts were confident it couldn't be done and that the Marines would be unable to play a meaningful role.
Someone forgot to "tell it to the Marines."
Read more: THE EXPERTS DOUBTED THEM… MARINES LAUNCH HISTORIC AMPHIBIOUS ASSAULT AFTER 911
Details

Hits: 318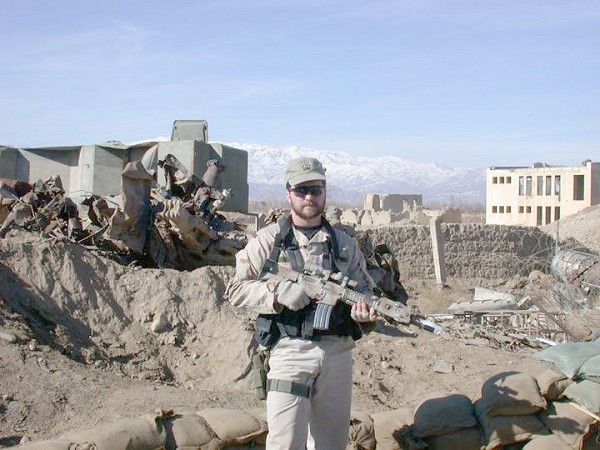 Washington, D.C. (August 22, 2018): President Donald Trump posthumously awarded the Medal of Honor to the family of Tech. Sgt. John A. Chapman, U.S. Air Force Special Tactics Combat Controller, during a ceremony recognizing his extraordinary heroism while deployed to Afghanistan. Tech Sgt. Chapman was recognized "for conspicuous gallantry and tepidity at the risk of life above and beyond the call of duty."
Washington, D.C. (August 22, 2018): Greater love has no one than this: to lay down one's life for one's friends. John 15:13It was 1 a.m. when a reconnaissance team boarded a U.S. Army helicopter bound for the 10,000-foot Mountain Takur Ghar, Afghanistan, part of a massive assault dubbed Operation Anaconda.
In what would become known as the "Battle of Roberts Ridge", the recon team included Air Force Combat Controller Tech Sergeant John A. Chapman along with Navy SEALs whose were to establish observation posts to direct U.S. air power against enemy targets.
Unaware they were landing in an enemy stronghold, the U.S. chopper was hit with rocket propelled grenades and ground fire, causing Navy Seal Neil Roberts to fall from the helicopter into enemy hands. Heavily damaged, the Army MH-47E helicopter made an emergency landing three miles away. Tech Sgt. Chapman immediately organized a rescue effort to retrieve his friend Roberts. Another helicopter picked the team up and they returned to the mountain peak where Roberts had fallen, determined to deliver their comrade from the clutches of the enemy.
Read more: ALL GAVE SOME… SOME GAVE ALL. THE BATTLE OF TAKUR GHAR AFGHANISTAN
Details

Hits: 357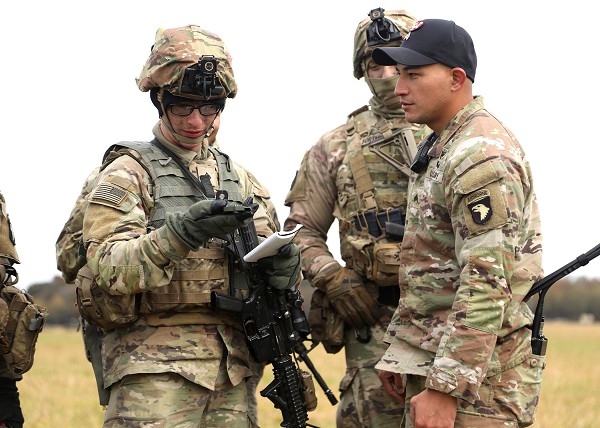 Fort Campbell, KY. (September 9, 2022): In the photo by Staff Sergeant Joshua Tverberg, Private First Class Tanner Chaney, an infantryman with A Company, 1st Battalion, 327th Infantry Regiment, 101st Airborne Division (Air Assault), shoots an azimuth with his compass to determine a landing zone as Sergeant Brandon Quintalla, an instructor with the Sabaluski Air Assault School, supervises during training at Corregidor Drop Zone, Fort Campbell, Kentucky. These are today's version of Screaming Eagles who fought so courageously in Afghanistan and continue to defend our nation to this day.
Fort Campbell, KY. (September 9, 2022): It's not smart to taunt a screaming eagle. This is a lesson learned by Al-Qaeda fighters while holed up in caves under attack by elements of the 101st Airborne Division's Screaming Eagles. While certainly not a decisive battle in America's response to 911, it nevertheless is emblematic of the cleverness and tenacity of America's fighting forces.
The encounter was part of a huge, allied attack dubbed Operation Anaconda involving some 2,000 troops including 1,100 American Airborne and Special Forces units in the early days after the attack on the World Trade Center. The 101st Airborne, 3rd Brigade Combat team had deployed to Afghanistan in November 2001 and by March was positioned in the mountains above the Shoh-I-Khot Valley, a major Taliban and Al Qaeda stronghold.
Read more: AFTER 911… SCREAMING EAGLES SOAR INTO AFGHANISTAN
Details

Hits: 338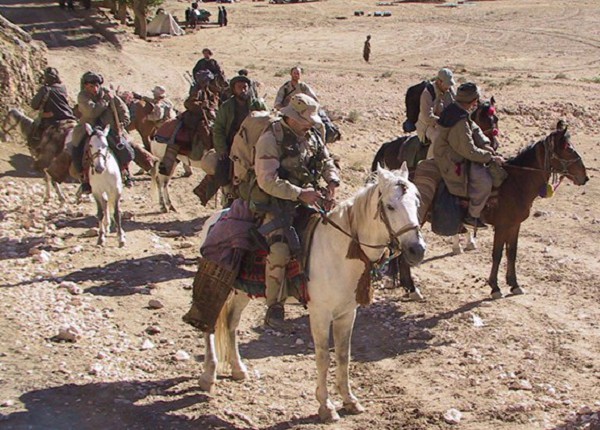 Sho-I-Khot Valley, Afghanistan. (October 21, 2001): In one of the most iconic photos of the Afghan War, members of the U.S. 5th Special Forces (Airborne) Green Berets ride horseback into battle with seasoned Afghan horsemen to locate and kill Taliban fighters as they threw the first punch from a righteously angry America.
As images of the towers falling in New York appeared on televisions around the world, an angry America's demand for justice fell squarely on the U.S. Military who would soon rain hell down upon the murderous terrorists and those that harbored and supported them.
Within hours, U.S. Special Forces planners launched Task Force Dagger to strike at the very heart of the Taliban regime through very unconventional means. The famous Green Berets of the 5th Special Forces (Airborne) would be the tip of the spear by inserting into Afghanistan to link up with local war lords and resistance fighters called the Northern Alliance.
First, these special operators had to be flown into mountainous Afghanistan by the famed 160th Special Operations Regiment (Airborne), an elite group of courageous pilots who would later fly our warriors into Pakistan to kill or capture Osama Bin Laden. Flying at altitudes above 20,000 feet in blinding weather, the 160th departed from neighboring Uzbekistan over the imposing Hindu Kush Mountains to land Green Berets literally back in time. Waiting to receive them were various ethnic groups, many of whom were traditional enemies, who had been individually fighting the Taliban regime.
The 5th Special Forces' mission was to unite, train and equip Northern Alliance fighters, despite ethnic and language barriers, with 21st century technology and tactics in the most primitive conditions. The Green Berets found themselves in a place with dirt roads, impassible mountains, and no modern modes of transportation where it was often impossible to distinguish between friend from foe.
Read more: STEPPING BACK IN TIME… AMERICAN SPECIAL FORCES UNITE WARLORDS TO FIGHT THE TALIBAN
Subcategories