Details

Hits: 429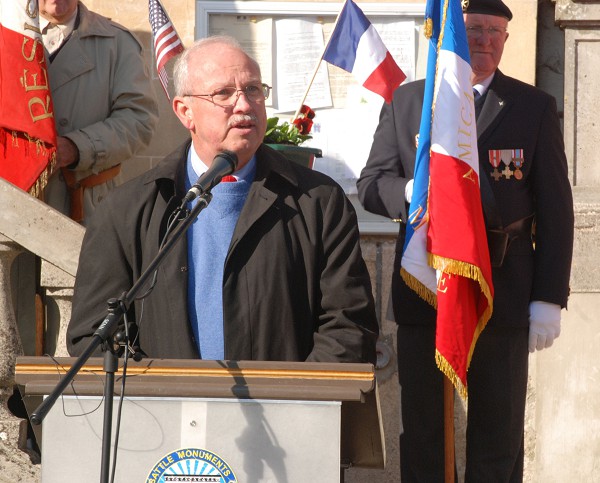 Chatel, France. (September 28, 2022): In this photo by Dave Melancon, more than 600 soldiers, family members, and history enthusiasts gather with the French Military to celebrate one of the U.S. Army's most famous World War I warriors… Sergeant Alvin York.
CHATEL, France. (September 28, 2022): It is hard to believe that one of our nation's greatest heroes during World War I started out as a conscientious objector, refusing to fight as a matter of moral principle. Yet Sergeant Alvin York of the 82nd Infantry Division initially objected to serving in the Army, yet he would become one of the most famous American soldiers in history, and the subject of books and movies still celebrated today.

Known as the "All American" Division, York was part of the American Expeditionary Forces sent to fight against the German Imperial Army in the Meuse-Argonne Offensive, France during World War I. Sgt. York (Corporal at the time) was assigned to G Company, 328th Infantry Regiment of what would later become the 82nd Airborne Division and was on patrol with his battalion on October 8, 1918, when they ran into a German unit. After a brief firefight, York and his comrades captured the 5 enemy soldiers but not before they called out for help. An enemy machine gun mowed down nine Americans , including all the sergeants.
Corporal York took command.
As the survivors returned fire, York took on the machine gun singlehandedly. A hunter back home, York worked his way towards the machine gun nest but before he could reach it he was rushed by a group of German soldiers. York defeated his attackers and eliminated the machine gun nest. The German commander decided to surrender rather than lose more men and York and his band bagged 132 German prisoners that day making it safely back to the American line.

York's bravery shattered the Germans, triggering a retreat from the Argonne Forest that saved his battalion from defeat.
Read more: Sgt. Alvin York… FROM CONSCIENTIOUS OBJECTOR TO WORLD WAR I HERO
Details

Hits: 212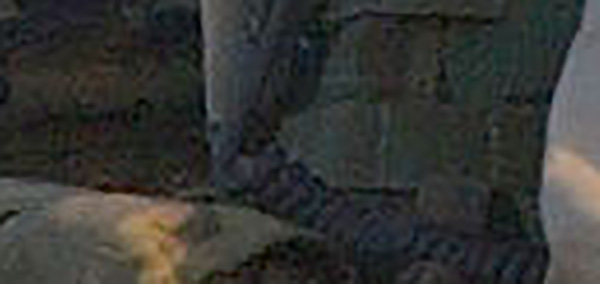 October 2022 - As discussed in a previous e-mail SOT fulfills various specialty equipment requests. One such recently made its way to its destination and your SOT Team received the following thank you to Americans for having their six: "I was in the field when the shipment arrived and inspected it when I returned a couple of days later. It had the [ ] we needed. Thank you so much for your high quality specialty support".
SSg [ ]
Details

Hits: 315
FROM WWI TO IRAQ
AMERICA HONORS ITS FLYERS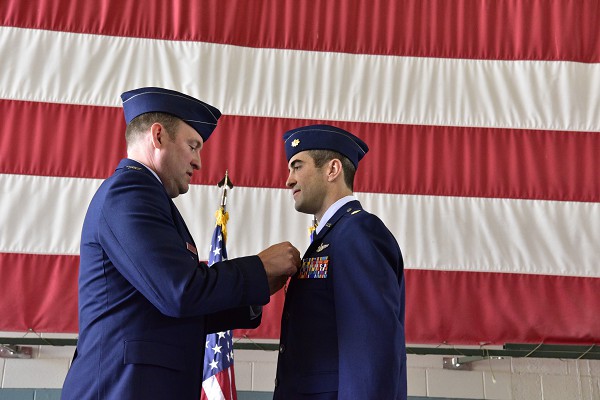 Kirkland Air Force Base, N.M. (September 21, 2022): It is an honor dating to the birth of military aviation, to the World War I ace who dueled above the skies of Europe, and the countless acts of heroism that were common in the "Great War". Since that time, the military has bestowed the Distinguished Flying Cross to over 4,000 American flyers, the first given to none other than Charles A. Lindbergh. "Lucky Lindy" received the award for his historic solo flight across the Atlantic in May 1927 in his single engine plane the Spirit of St. Louis.
Established by an act of Congress and signed into law by President Calvin Coolidge, the Distinguished Flying Cross is the second highest honor given to servicemembers in the U.S. Military. The honor is granted to servicemembers who distinguish themselves for heroism while "participating in aerial flight involving action in the face of danger well above the actions of others in similar circumstances. This extraordinary achievement must be so exceptional that is clearly sets the recipient apart from their colleagues."
A shining example is the derring-do of then Captain Michael Tolzien of the Air Force's 58th Special Operations Wing for his actions while deployed to Afghanistan. Responding to Special Operations units who were isolated and under heavy enemy fire, Captain Tolzien air dropped over 1,600 pounds of combat-critical supplies to the beleaguered special forces who, without this support, would be overrun. Flying as low as eight hundred feet and after his aircraft suffered multiple hits, Captain Tolzien's delivered ammunition and vital medical supplies within fifty meters of his target. His quick decision making and courage under fire saved lives (tragically, Sergeant 1st Class Matthew McClintock of the Washington National Guard was the only casualty of the attack that day).
Details

Hits: 298
AWARD RECOGNIZES MARINE HERO AFTER 70 YEARS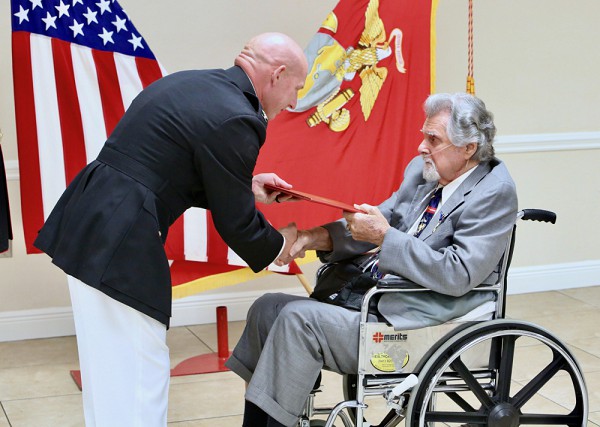 Sarasota, FL. (September 17, 2021): In this photo by Gunnery Sergeant Eric Alabiso, U.S. Marine Corps Chief of Staff Colonel John Polidoro pins the Silver Star upon Corporal Salvatore Naimo, seventy years after his heroic actions in the Korean War. Due to a series of tragic mishaps, Corporal Naimo was never formally recognized for risking his life to save fellow Marines (details below).
Sarasota, FL. (September 17, 2021): It was September 14, 1951, when Corporal Salvatore Naimo and his Marine comrades huddled together in foxholes just north of the 38th Parallel in Korea waiting for another charge from their Chinese enemy. Assigned to H Company, 5th Marines, Cpl. Naimo was 19 years old and already a hardened veteran of the brutal fighting that defined the Korean War. On this day, the Chinese attacked with mortars and cannons followed by waves of infantry. As rifle fire and grenades bombarded his position, two fellow Marines were gravely wounded. Ignoring his own safety, Cpl. Naimo dragged the first wounded Marine to the company corpsman in the rear, suffering his own wounds from artillery fire along the way.
Stopping just long enough to have his wounds patched up, Cpl. Naimo raced back to the fighting, rescued the second wounded Marine, and later single handedly fought off an enemy attack. So impressed was his platoon lieutenant that he pledged to recommend Naimo for the Navy Cross, the nation's second highest award for gallantry in battle. Tragically, the platoon lieutenant was killed two days later and the award for Cpl. Naimo's actions never materialized.
Until now.
Seventy years after his courageous actions, the U.S. Marine Corps awarded him the Silver Star Medal, our nation's third highest award for "acts of gallantry against enemies of the United States". Created by an act of Congress during World War I, the Silver Star got its name from 3/6th inch star emblazoned in the center of the medal.
The first Silver Star was awarded seven times to General Douglas MacArthur in 1932 but his was not the most ever received. Army Colonel David Hackworth received ten Silver Stars for his deeds during the Korean and Viet Nam Wars. Other famous recipients include Army General George Marshall and former Lieutenant Colonel Oliver North. To date, over 100,000 awards have been made to military and civilians recognizing their selfless service.
Please consider showing your support for today's heroes by contributing funds to Support Our Troops' Patriot Brigade®.Here you will join thousands of patriots who make monthly donations to pay for comfort items and recreational programs for our military deployed overseas. Please go to our secure website https://supportourtroops.org/donate to contribute to America's finest today!
Details

Hits: 332
AN AWARD WHERE THE "V" MAKES ALL THE DIFFERENCE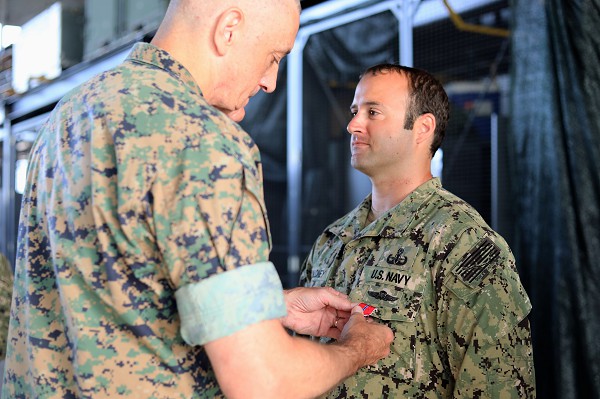 Naval Station Rota, Spain. (September 22, 2022): In this photo by Seaman Julleos Fernandez, Major General David Coffman, Director of Expeditionary Warfare, presents the Bronze Star Medal to Explosive Ordnance Disposal Technician Senior Petty Officer Joseph L. Maloney for service while deployed in support of Operation Inherent Resolve in Iraq. The Bronze Star dates to World War II and is the fourth highest award a servicemember can receive for a heroic and meritorious deed in an armed conflict.
Naval Station Rota, Spain. (September 22, 2022): Army Colonel Russell Reeder was himself an American hero, even Hollywood standards. In 1944, Colonel Reeder commanded the 12th Infantry Regiment, 4th Infantry Division's 3,000-man soldiers on D-Day. His unit was dropped two miles from their landing site forcing Col. Reeder and his regiment to fight off Utah beach and attack inland. Col. Reeder was hit by enemy artillery, injuring his led which was later amputated. He was awarded the Distinguished Service Cross, Silver Star, and the Purple Heart.
His exploits became a book and later the 1955 film The Long Gray Line starring Tyron Power.
What is not common knowledge is the critical role this American hero played in creating the Bronze Star Medal we know today. While working in Washington D.C., Colonel Reeder wanted to develop a new award that small unit commanders could give to reward their servicemembers for extended periods of meritorious service in combat or for common acts of heroism. The Colonel wanted the medals awarded quickly, without lengthy delays and red tape.
Today, the Bronze Star is the military's fourth highest award and thousands have been awarded since its inception. Much rarer are those receiving a V-device for combat gallantry as only one in forty Bronze Stars are conferred for personal courage under fire.
Details

Hits: 299
THE LEAST SOUGHT-AFTER MILITARY HONOR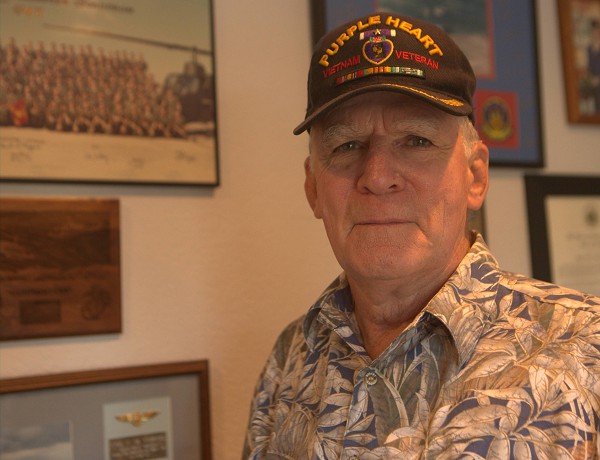 Temple, PA. (September 24, 2022): It is the "medal" no servicemember wants. The Purple Heart medal is awarded to those who have been wounded or killed in combat and, according to the National Purple Heart Hall of Honor, more than 1.8 million Americans have been presented the award.

One such recipient is retired Marine Corps Colonel Skip Curtis (pictured above) who served as a chopper pilot from 1965 to 1996 and earned his second Purple Heart after he and his crew were shot down over Viet Nam. Like millions of servicemembers before him, Colonel Curtis was characteristically humble about his accomplishments saying simply, "It was one of those things that happened that I'll never be able to forget, What did I do that day? Just flew the helicopter."
It was none other than General George Washington who created the forerunner to the Purple Heart in 1782. Originally called the "Badge of Military Merit, the award was the first to be awarded to ordinary servicemembers. Up until then, only officers who won major engagements were awarded medals making the new medal truly by the people and for the people.
The first recipients of the award were Revolutionary War soldiers William Brown and Elijah Churchill in honor of their service in 1781 fighting the British at the Siege of Yorktown and the Battle of St. George at Long Island, respectively. The men were recognized by Washington for their "singularly meritorious action" and its wearer was permitted to pass guards and sentinels without challenge.
Subcategories