Details

Hits: 333
SOMETIMES IT DOESN'T TAKE A HERO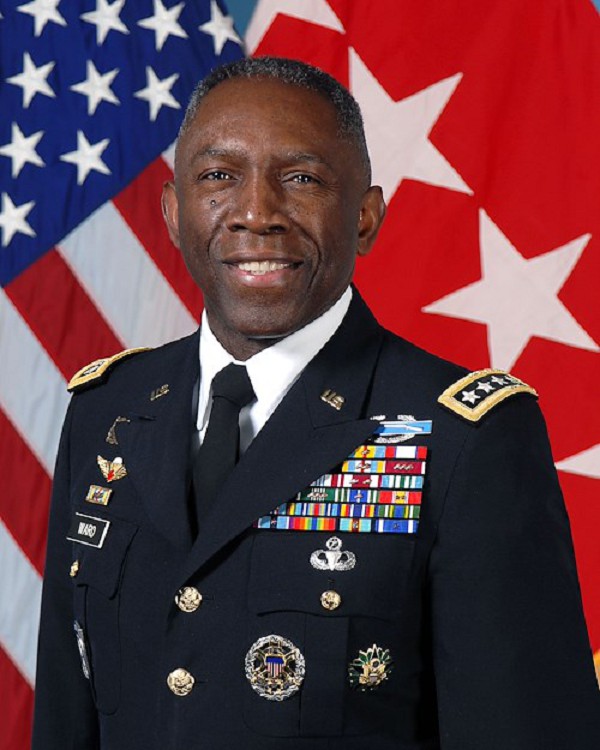 Joint Base Myer-Henderson Hall, VA. (September 26, 2022): Retired General William E. "Kip" Ward is a classic example of recipients of the Distinguished Service Medal granted to "any soldier (or civilian) who distinguishes themselves with exceptionally meritorious service to the United States in a duty of great responsibility". General Ward retired after 40 years' service to our nation in increasingly responsible posts stretching around the globe.
Joint Base Myer-Henderson Hall, VA. (September 26, 2022): While heroic acts of bravery deservedly receive the most notoriety, it is the long and faithful servant that often goes overlooked. The military recognized this dilemma when it created the Distinguished Service Medal, granted to "any soldier (or civilian) who distinguishes themselves with exceptionally meritorious service to the United States in a duty of great responsibility".
Retired General William E. "Kip" Ward provides a classic example.
Over his 40 years of military service, General Ward held increasingly responsible positions of command across the globe. Commissioned in 1971, President George Bush appointed Ward to be the first leader of Africa Command with responsibility for Egypt, Sudan, Eritrea, Ethiopia, Djibouti, Somalia, and Kenya. Prior to this, he headed the European Command with military operations in ninety-six countries ranging from Germany to Saudi Arabia.
Ward also served as commander of the Stabilization Force during Operation Joint Force in Sarajevo, Bosnia; as commander of the 25th Infantry Division and U.S. Army, Hawaii; and as assistant division commander for the 82nd Airborne Division.
Before that, he was commander of the 10th Mountain Division's 2nd Brigade and Operation Restore Hope in Mogadishu, Somalia, and as commander of the 6th Infantry Division's 5th Battalion, 9th Infantry, 2nd Brigade, and the division's logistics staff.
Details

Hits: 383
Wings of Victory For U.S. Army Europe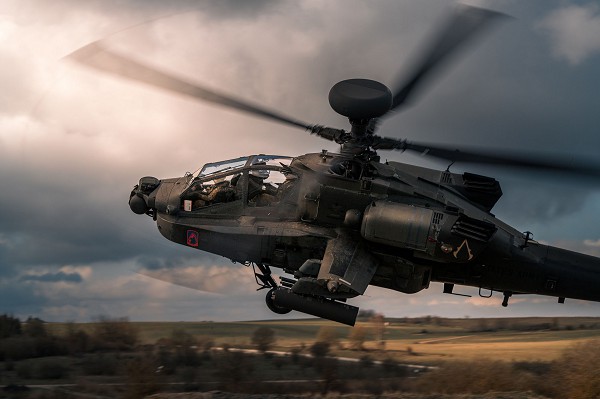 Grafenwohr Training Area, Germany. (September 7, 2022): In this photo by Major Robert Fellingham, Chief Warrant Officers Max Wannelius and Laura Chmielowski, AH-47 pilots assigned to the 12th Combat Aviation Brigade circle their Apache Longbow to re-attack targets during aerial gunnery practice at Grafenwohr Training Area. Produced by McDonnell Douglas's plant at Mesa, Arizona, the Apache was designed to be a tough survivor in combat because of its advanced target acquisition and night vision capabilities.
Katterbach, Germany. (September 7, 2022): Its symbol is a mythological creature called a griffin, a beast with the head and wings of an eagle but the body of a lion. Surrounded by flames, the griffin connotes courage, speed, and vigilance which fits with the motto of the Army's 12th Combat Aviation Brigade, "Wings of Victory".
This storied unit has patrolled the skies defending America for the past 57 years, through four wars and numerous humanitarian missions.
They are just getting started.
From its beginnings at Ft. Benning, Georgia in 1965, the 12th Aviation first served in combat in Viet Nam where they earned a Presidential Unit Citation, a Meritorious Unit Commendation, and a Valorous Unit Award for bravery in combat. The unit next saw action in Operation Desert Storm in 1990-91 and deployed to Iraq and Afghanistan as part of the war on terror. Wartime has not been the only time the 12th Aviation has responded to the call, the unit performed humanitarian missions in Kurdistan, Bosnia Herzegovina, and Kosovo to protect civilians and save lives.
Based at Katterbach, Germany, the unit consists of the 1-3 Attack Reconnaissance Battalion flying the Apache (pictured above), the 1st General Support Aviation Battalion manning Chinooks, and the 4-3 Assault Helicopter Battalion flying the UH-60 Black Hawk.
Today, the 12th Combat Aviation Brigade is the largest aviation unit for all U.S. Army Europe, and it trains pilots and crews in support of the European Command and NATO.
Details

Hits: 280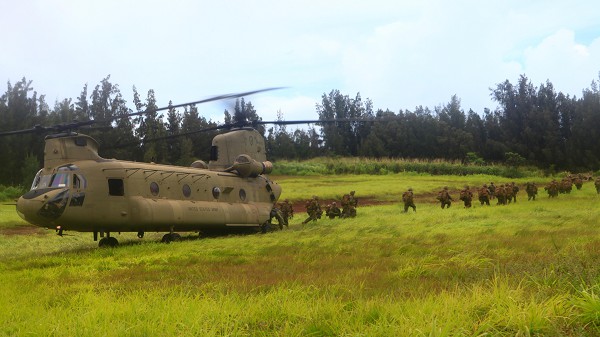 Training Area Kahukus, Hawaii. (September 13, 2022): In this photo by Corporal Alex Kouns, Marines assigned to Lima Company, 3rd Battalion, 3rd Marine Regiment, 3rd Marine Division exit a CH-47 Chinook helicopter. The Chinook is celebrating 50 years in the air and the Army plans to keep them flying for another 50 years. What a remarkable bird!
Training Area Kahukus, Hawaii. (September 3, 2022): To the Native Americans who lived along the Columbia River, the Chinook was the "Snow Eater", a great south wind that arrived each year that often-made life all but impossible. To the U.S. Army, the Chinook has proven a reliable workhorse in the sky delivering troops, food, and supplies for the past half century.

The Army is planning to fly the Chinook Helicopter for another 50 years.

That's right, through a series of technological upgrades to this flying platform, the military believes it can keep the newest version, the CH-47F Chinook, in the air for nearly a century. First produced in the 1960s, the Army plans to continuously upgrade the Chinook until at least 2060. This is good news for the pilots and crews that fly them, but even better for the troops who will be safely ferried into combat riding the "great south wind".
Read more: THE CHOPPER OF THE CENTURY… ARMY CHINOOK TO FLY 100 YEARS
Details

Hits: 349
"The helicopter approaches closer than any other (vehicle) to fulfillment of mankind's ancient dream of the flying horse and the magic carpet."
Igor Sikorsky, founder of Sikorsky Aircraft Company.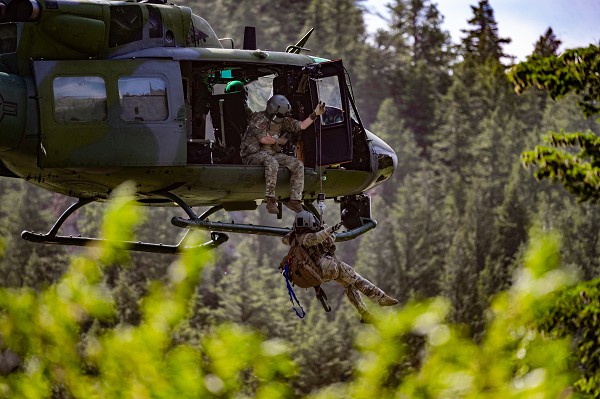 Sluice Boxes State Park, Montana. (September 10, 2022): In this photo by Airman 1st Class Mary Bowers, Tech. Sergeant Alex Landers, a flight engineer with the 40th Helicopter Squadron, lowers 341st Medical Group flight doctor Major Joyanne Tesei during search and rescue missions at Sluice Boxes State Park, Montana. The "Old Reliable" UH-1H Huey helicopter, which was the Army's mainstay during the Viet Nam War, is still in service rescuing downed pilots today.
Sluice Boxes State Park, Montana. (September 10, 2022): It was during the Korean War that helicopters began making medical evacuations immortalized by television shows like MASH in the 1980s. Today, our servicemembers can take for granted that, should they be injured or need to be evacuated, military helicopters will always answer the call.
In the photo above, a fully trained physician is lowered to the ground from the legendary UH-1H "Huey" helicopter as part of search and rescue training. The 40th Helicopter Squadron is part of the 37th Air Rescue and Recovery Squadron under the Military Airlift Command at Malmstrom Air Force Base, Montana. The 37th was activated during the Korean War when helicopters were first used for medical evacuation and the unit carried out numerous search and rescue operations throughout Southeast Asia during the Viet Nam War.
Read more: FROM VIET NAM TO AFGHANISTAN… UH-1H "HUEY" HELICOPTERS STILL THE WORKHORSE OF ARMY AVIATION
Details

Hits: 348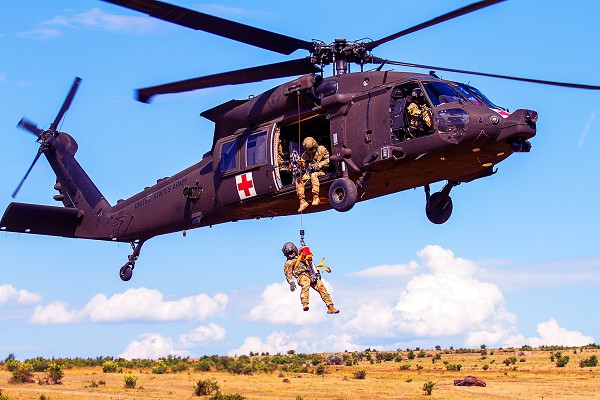 Babadag Training Area, Romania. (September 12, 2022): In this photo by Captain Taylor Chriswell, an HH-60 Medevac helicopter and crew assigned to C Company, 2-227 General Support Aviation Battalion hoist a simulated casualty during personnel recovery training with the United Kingdom in Romania. U.S. troops are relocating to Romania from bases in Germany to shore up NATO's eastern flank against attacks by the Russians who illegally invaded nearby Ukraine.
Babadag Training Area, Romania. (September 18, 2022): Imagine you are a soldier deep behind enemy lines, wounded, and desperate for someone to rescue you before the enemy closes in. Suddenly you hear the familiar sound of rotor blades cutting the air as the Army's HH-60 Black Hawk descends like an angel from the sky, lifting you to safety.
First flown in 2017, the UH-60 version of the Black Hawk is outfitted specifically for personnel recovery/medical evacuation duty. The Black Hawk sports twin General Electric Aviation built T700 engines designed for inclement weather and even has a special inlet which spits out dirt, sand, and dust in desert conditions. This baby cruises at speeds up to 170 mph and can transport an entire 11 person fully equipped infantry squad in all weather conditions day or night. The craft is flown by two pilots assisted by two crew chiefs and is armed with two 7.82 mm machine guns for protection.
The Army has greatly improved passenger safety as each Black Hawk's critical systems are armored and the fuselage is designed to crush progressively on impact in a crash. Black Hawk pilots undergo 13 weeks of intensive training at the 212th Aviation Regiment at Fort Rucker, Alabama where they learn pre-flight, basic flight maneuvers, emergency procedures, and to fly at night under hazardous conditions.
Details

Hits: 308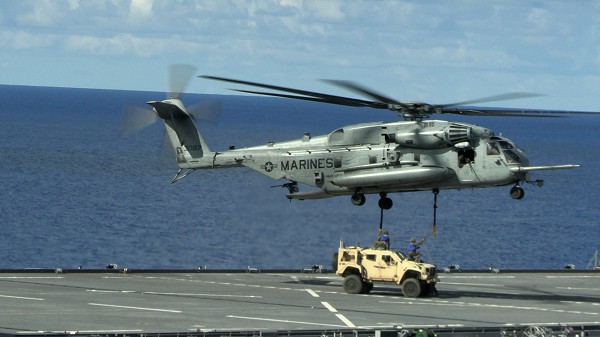 Philippine Sea. (September 9, 2022): In this photo by Lance Corporal Christopher England, a U.S. Marine CH-53S Super Stallion , with the Marine Medium Tiltrotor Squadron 262, 31st Marine Expeditionary Unit, is attached to a joint light tactical vehicle by Marines from Combat Logistics Battalion 31 aboard the USS Miguel Keith in the Philippine Sea. This exercise proves the Marines can bring heavy equipment into the most remote areas while operating aboard ships from the Tripoli Amphibious Ready Group.
Philippine Sea. (September 9, 2022): It is an age-old problem. How do militaries move their heaviest equipment, tools often critical to the outcome of a battle, into remote locations where they are most needed?
In 218 BC, Hannibal (age 28) and his soldiers solved their heavy lift problem by using 37 African elephants to transport supplies into battle. Instead of following the coastline, Hannibal marched his elephant borne infantry from Spain over the Alps to Italy to the total surprise of the Roman Army.
In 1812, Napoleon failed to conquer Russia. in part because the wooden wheeled carts he used to move his artillery pieces sank into the snow and mud before making it to the battlefield.
Read more: SPECIAL DELIVERY… MARINES SUPER STALLION DOES THE HEAVY LIFTING
Subcategories