Details

Hits: 106
"No man stands so tall as when he stoops to help a child."
--Abraham Lincoln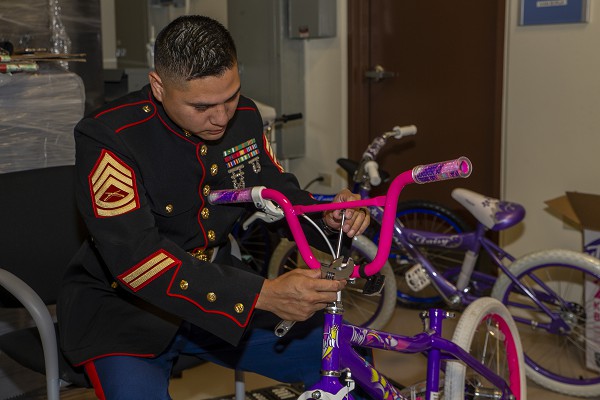 Andersen Air Force Base, Guam. (December 14, 2021): In this photo by Corporal Andrew King, Gunnery Sergeant Rubin Tan, the Marine Corps Base Camp Blaz Communications and Operations Chief, assembles a donated bike as part of the Marine's Toys for Tots campaign to bring the joy of Christmas to underprivileged children. Ironically, Marines like Gunny Tan and thousands like him will be far from home this holiday season.
Andersen Air Force Base, Guam. (December 14, 2021): Big, tough U.S. Marines giving of their time and energy to provide Christmas gifts to the less fortunate children of Guam is truly a touching image. The irony here is that this Marine, along with thousands of servicemembers like him, will be away from their home and loved ones this year.
As Americans celebrate Veterans Day this week, it is important to keep in mind our active duty deployed servicemembers, like those on Guam, who stand ready to defend our nation.
America has maintained a continuous Marine presence on the island of Guam since 1899 where they fired the first shots in World War I. During WWII, Guam was occupied by the Japanese until the Marines III Amphibious Corps landed to retake the island, suffering over 8,000 casualties. Guam went on to become a staging and refueling hub for U.S. Forces moving to invade Iwo Jima and Okinawa. Today, Guam is the forward edge of the U.S./Japan alliance in the Indo-Pacific.
Details

Hits: 171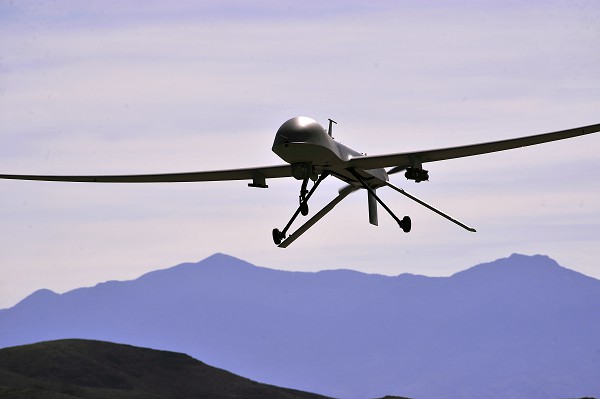 Creech Air Force Base, Indian Springs, NV. (October 18, 2022). In this photo by Senior Master Sergeant Paul Holcomb, an MQ-1B Predator remotely piloted aircraft passes over the airfield during a recent training mission. Part of the 432nd Air Expeditionary Wing, Predators conduct surveillance, reconnaissance, and close air support for America's warfighters around the world.
Creech Air Force Base, Indian Springs, NV. (October 18, 2022). Some say the American fighter pilot will soon be replaced by unmanned aerial vehicles (UAVs), pilotless warplanes operated from air-conditioned bunkers thousands of miles from the enemy. No offense to fans of Top Gun, but to servicemembers fighting on the ground, these UAVs offer protection and attack capability that is truly inhuman.
The MQ-1B Predator is an armed, multi-mission, medium-altitude, long-endurance remotely piloted aircraft that is employed primarily as an intelligence-collection asset and secondarily as an attack aircraft against long range targets. Manufactured by General Atomics Aeronautical Systems Inc., the Predator affords ground commanders the luxury of armed reconnaissance of the battlefield with the ability to identity and target enemy positions with two laser guided AGM-114 Hellfire missiles. This baby flies up to 135 mph, has a range of 770 miles, and is flown by a qualified pilot and a sensor operator to monitor imaging and targeting. The Predator is deployed and recovered on a standard 5,000-foot runway and has a maximum take off weight of over two thousand pounds (fuel and armament).
The chief advantage of the Predator, in addition to advanced optics, is its ability to "loiter" above a given target for up to 14 hours, something that is simply impossible with existing attack fighters and crews. Typically, the Predator is loaded unassembled into a C-130 transport aircraft and shipped to within range of the battle accompanied by a small operations crew to reassemble and launch it. Once airborne, pilots and tactical controllers in the United States take over the mission.
Read more: FOR AMERICAN TROOPS, THE PREDATOR IS ALWAYS WATCHING
Details

Hits: 1259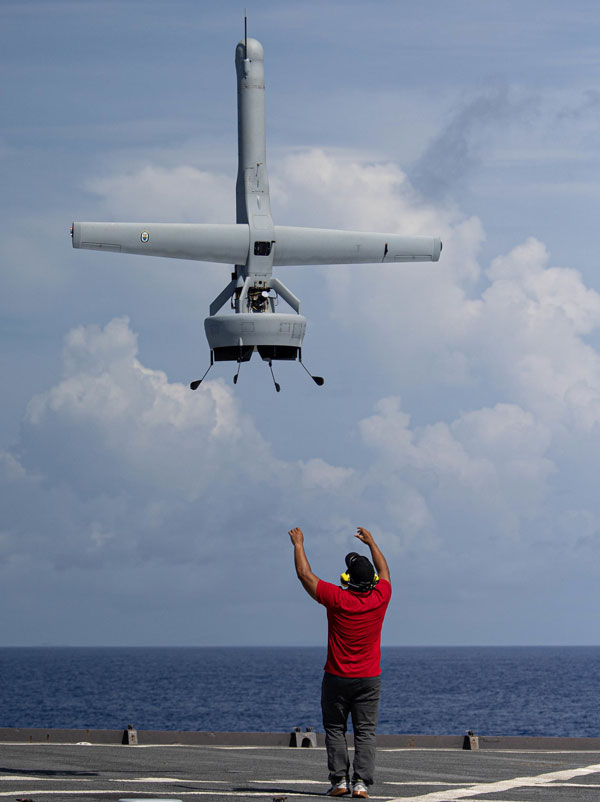 Aboard the USS Rushmore, Philippines Sea. (October 19, 2022): It looks like a flying saucer from outer space. To the Sailors and Marines aboard American warships, it is an omnipotent creature, able to see and report over great distances gathering vital information that saves lives.
The V-BAT Drone, manufactured by the advanced aviation technology company Martin UAV, is a platform for intelligence gathering, surveillance, and reconnaissance that requires no launch equipment, making the system ideal for expeditionary operations. The unmanned aerial vehicle (UAV) takes off and lands vertically and has both military and commercial applications. In the civilian world, the V-BAT is used for monitoring border security, firefighting, disaster response, and even oil and gas exploration.
Details

Hits: 131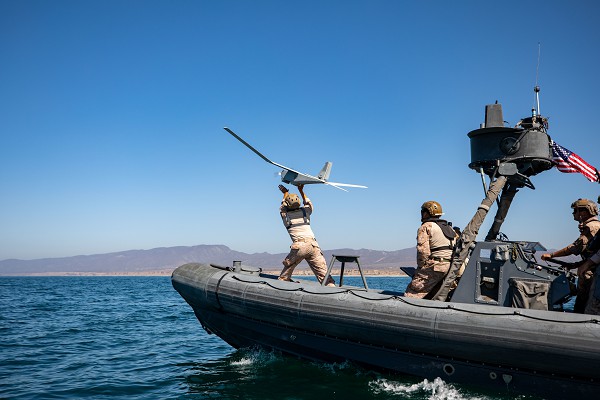 Camp Pendleton, CA. (October 22, 2022): In this photo by Staff Sergeant Connor Hancock, U.S. Marine Corps Corporal Thomas Rexrode launches an RQ-20B PUMA Small Unmanned Aircraft system from a rigid-hulled inflatable boat to test offshore reconnaissance capabilities. Corporal Hancock is a Recon Marine assigned to A Company, 1st Recon Battalion, 1st Marine Division.
Camp Pendleton, CA. (October 22, 2022): During WWII, allied forces landed on the beaches of Normandy with very little idea of what they would face when they reached the beach. Intelligence was scarce, save for a few French resistance reports, and assessments of enemy troop positions was sketchy, at best. The Allies were going in blind.
In today's technological age, American servicemembers no longer depend upon luck and local informants to assess enemy strength before an invasion, they have the PUMA on their side.
Officially named the Pointer Upgraded Mission Ability (PUMA), this unmanned arial vehicle resembles the hand launched balsa wood toys of our youth and it can be deployed from Navy ships or even small inflatables (See photo above) to scout landing sites for trouble. Developed by AeroVironment, the PUMA gathers tactical intelligence, conduct surveillance and reconnaissance, identify targets, maritime patrol, search and rescue, and counter-illicit trafficking missions. The PUMA features a light airframe weighing only fourteen pounds and has a 3-foot wingspan that can easily be assembled and launched by two people.
Read more: RELEASE THE "PUMA"… MARINES LAUNCH "EYES & EARS" TO SCOUT BEACH LANDINGS
Details

Hits: 118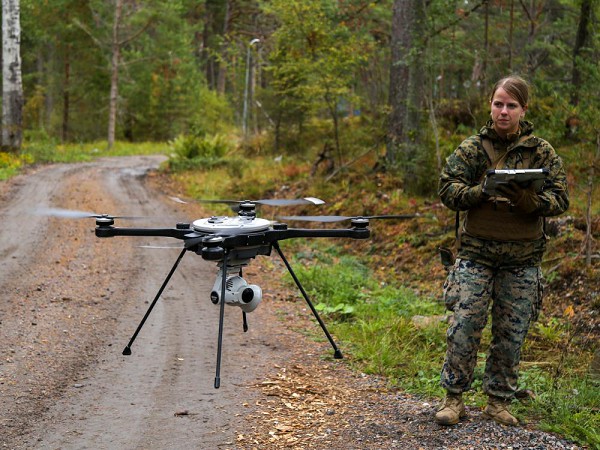 Berga Naval Base, Sweden. (October 28, 202): In this photo by 1st Lieutenant William Reckley, U.S. Marine Corps Sergeant Danielle Grimshaw, an intelligence analyst with the Littoral Engineer Reconnaissance Team, 8th Engineer Support Battalion, deploys a R80D Skyraider unmanned aerial system during Exercise Archipelago Endeavor 22.
Berga Naval Base, Sweden. (October 28, 2022): For over two hundred years, Sweden has maintained a strict neutrality in military conflicts by adopting a foreign policy promoting international peace.
Until now.
Sweden abandoned its neutrality in response to the illegal invasion of Ukraine and has applied for NATO membership, a sea change in attitude thanks to Russian Dictator Vladimir Putin. The move has widespread support among the Swedish people with recent surveys indicating 58 percent now support joining the alliance in the face of hostile threats from neighboring Russia.
The last time the Swedes chose sides in times of war stretches back to 1812, when a young America declared war on the British and Napoleon made the unwise decision to invade Russia. Today, American and Swedish Marines train together in exercise Archipelago Endeavor, a series of field maneuvers ranging from water survival techniques to vessel-borne raids and patrols along Sweden's eastern shore.
Located on the Baltic Sea, Sweden has tens of thousands of mostly uninhabited islands, an ideal playground for U.S. Marines as they practice assault landings with the Swedish Navy. This year, Archipelago Endeavor 22 has united elements of the U.S. 1st Battalion, 6th Marine Regiment, 2nd Marine Division and the Swedish Marines from the 204th Rifle Company, 2nd Marine Battalion, 1st Marine Regiment. These joint forces practice mission planning, sniper tradecraft, machine gun tactics, patrolling, amphibious raid tactics, and the employment of unmanned aerial surveillance systems such as the R80D Skyraider.
The Skyraider is a state-of-the-art unmanned aerial system that U.S. and Swedish forces will deploy in any future conflict with the Russians. The Skyraider is ideal for gathering intelligence on enemy positions, surveillance, reconnaissance, and clandestine operations. The system requires only one operator and carries a variety of payloads up to five pounds. Although classified, the Skyraider is reputed to be powered by the latest in artificial intelligence.
In the event of war with Russia, Sweden would join NATO allies Estonia, Latvia, Lithuania, Poland, Germany, Denmark, and Finland to defend the Baltic Sea region.
As our forces deploy to confront Russian aggression, we need to do everything possible to ease their burden. Please consider donating to Support Our Troops' Patriot Brigade®, joining thousands of Americans who make monthly donations to pay for comfort items and recreational programs for our military deployed overseas. Go to our secure website https://supportourtroops.org/donate to contribute to America's finest today!
Details

Hits: 98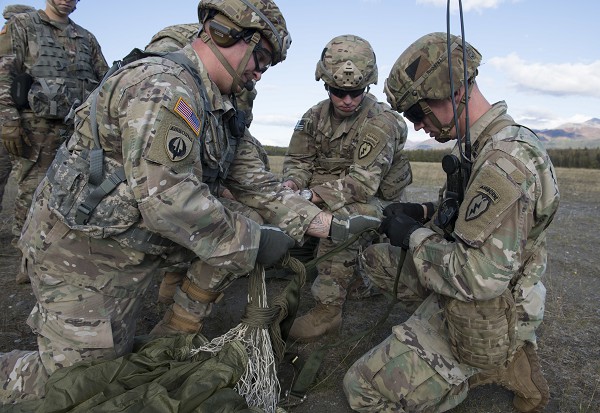 Joint Base Elmendorf-Richardson Alaska.(October 27, 2022): In this photo by Alejandro Pena, soldiers with the 4th Infantry Brigade Combat Team (Airborne), 25th Infantry Division recover a parachute during the sling load training portion of the U.S. Army's Pathfinder qualifications course hosted by Joint Base Elmendorf-Richardson Alaska. The Army's Pathfinder School, based at Ft. Benning, Georgia, sends instructors to various units around the world to conduct a three-week intensive course for soldiers who want to be "Always First."
Joint Base Elmendorf-Richardson Alaska. (October 27, 2022): They drop from the skies ahead of the main force, deep behind enemy lines, risking their lives so their Airborne comrades land where they are supposed to ready to fight. Their motto is "Semper Primus"… Always First, history knows them as the Pathfinders.
The U.S. Army created the Pathfinders at the beginning of World War II after a series of erratic airborne landings in North Africa and Sicily Italy that dropped soldiers over fifty miles from their intended targets. The Army realized it needed highly specialized soldiers to land in enemy territory before main force units to set up drop zones and to guide invading aircraft to their targets.
To accomplish this, the U.S. Army established its first Pathfinder school in England whose graduates were among the first to land in France in the Normandy Invasion. The Pathfinders landed far inland to mark drop zones for their fellow paratroopers and glider borne infantry while the landings took place all along the Normandy coast.
Read more: ESTABLISHING DROP ZONES… MILITARY PATHFINDERS ARE "ALWAYS FIRST" INTO BATTLE
Subcategories