Details

Hits: 157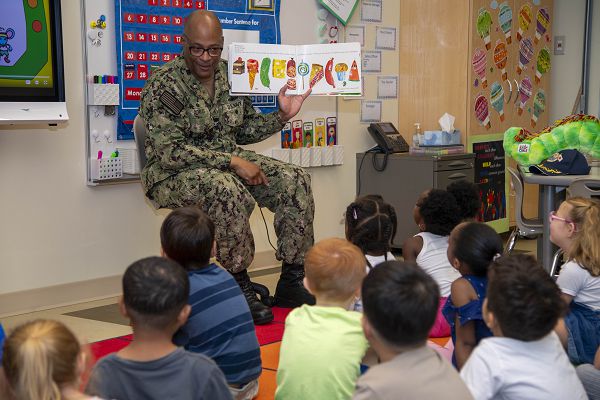 Sasebo, Japan (September 5, 2023): Shortly after the end of World War II, the U.S. military found itself with bases all over the world that would need to be staffed by thousands of troops and their families for the near future. This led to the establishment of a federal school system for the children of servicemembers stationed in Europe and the Pacific. Schools for children of military members stationed at various bases in the United States were already well-established.
In this photo by MC1 Jeremy Graham, Captain David Adams, commander of Fleet Activities Sasebo, reads to children at Sasebo Elementary School. The elementary school is part of the Department of Defense Education Activity Pacific East District and serves students from Sure Start to fifth grade. Schools like this are run by the Department of Defense Education Activity (DoDEA), headquartered in Alexandria, Virginia, which is responsible for planning, directing, coordinating, and managing prekindergarten through 12th grade educational programs for the Department of Defense (DoD).
DoDEA operates 163 accredited schools in eight districts located in eleven foreign countries, seven states, Guam, and Puerto Rico. The school system has 15,000 employees serving over 71,000 military kids of active-duty military and civilians worldwide.
Currently 100% of DoDEA schools are accredited and in good standing with their regional accrediting agency and its students consistently achieve high scores in the National Assessment of Educational Progress. They score above the national average on standardized assessments and minority students have been especially successful, scoring at or near the highest in the United States in mathematics.
In 2001, the Government Accountability Office (GAO) reported that the academic achievement of DOD students, as measured by their performance on standardized tests, generally exceeds that of civilian elementary and secondary students nationwide. On college admission tests, DOD students score at or near national averages.
Thanks to the diligent professionals of the DoDEA, Americans can be assured the children of our nation's servicemembers receive the highest quality education possible. (Note: It helps when the unit commander pitches in as well!)
Details

Hits: 165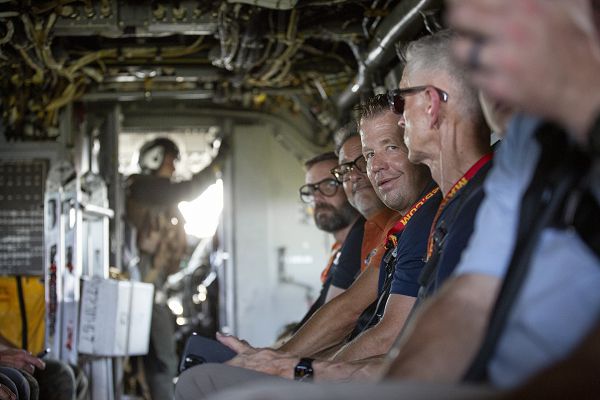 Washington, D.C. (September 2, 2023): If you are not one of the few, the proud, it is natural to wonder what life is like for a U.S. Marine. Moreover, many Americans thirst for a deeper understanding of the Corps, its missions and capabilities, and what future programs are planned to keep America free. That is why the Commandant of the Marine Corps created the Marine Corps Executive Forum (MCEF), a day long program to provide civilian leaders and business executives an opportunity to explore the immense capabilities of America's premier infantry force. In this photo by Sergeant Karis Mattingly, MCEF participants take a ride on an MV-22 Osprey aircraft operated by the Marine Executive Flight Detachment based at Quantico, Virginia, one of a dozen activities designed to familiarize civilians with the Marine Corps world. Business leaders got the chance to immerse themselves in the daily life of a Marine and to learn more about their key issues and priorities.
The forum included a tour of the Pentagon, a live-fire exercise, and a visit to the National Museum of the Marine Corps. Participants also learned about the history, culture, and lifestyle of the Marines and their core values.
The goal is to strengthen ties between the Marines and civilian leaders from business, academia, sports, and community-based organizations throughout the country. Members of the MCEF quickly learn that the Corps is made up of ordinary Americans willing to risk their lives to be part of something bigger than themselves. Although the MCEF has concluded for the 2023 season, interested individuals are encouraged to apply for next year's forum slated to begin in May 2024.(Note: This exclusive program is limited to twenty participants per forum with four events planned for next year.)
Details

Hits: 152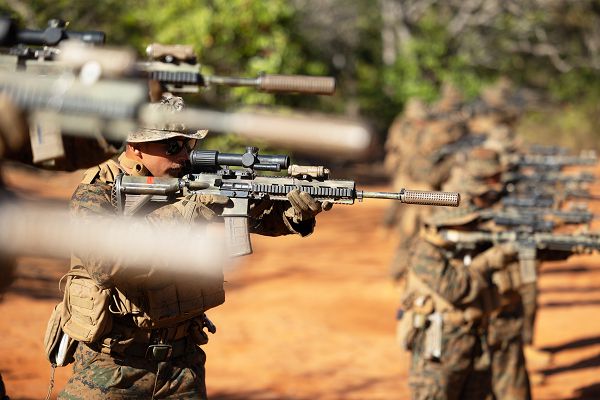 Formosa, Brazil. (August 29, 2023): In this photo by Gunnery Sergeant Daniel Wetzel, Corporal Justin Goupil with Echo Company, 2nd Battalion, 5th Marine Regiment leads reloading drills with Brazilian Marines during Exercise Formosa held here this week. The Brazilian Marines, or in Portuguese Corpo de Fuzileiros Navais, joined the Americans in jungle warfare training, expert subject matter exchanges, and shared valuable insights on tactics and strategy. The Formosa event was held at Brazil's premier expeditionary military training facilities and included participants from Germany, South Africa, and France.
The goal of the training was to improve interoperability between forces and to hone combat skills by operating in various terrains and scenarios. Brazil is a massive country of over 3.2 million square miles with 4,600 miles of coastline. The terrain can vary from the steamy jungles of the Amazon to freezing mountain tops which presents unique challenges for infantry units. The Marines participated in realistic combat maneuvers including live firing their M240G medium machine guns and practicing amphibious assaults with their Brazilian comrades. The Americans were also treated to a new multi-part cognitive course designed by the Brazilian Marine Corps.
Details

Hits: 161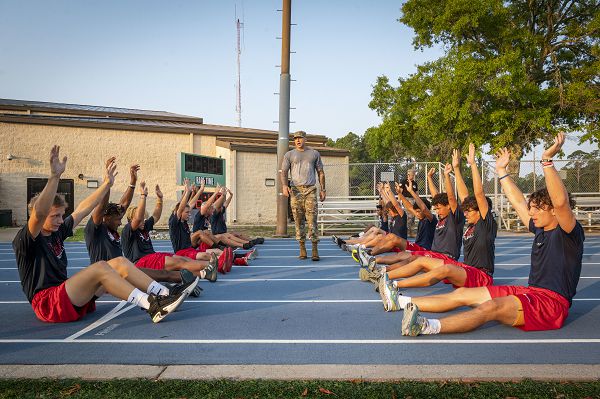 Fort Walton Beach, Florida. (August 31, 2023): Every football team thinks it is tough, but how would they fare working out with real life air commandos? The Fort Walton Beach High School Vikings football team found out this week just how difficult military training can be while learning more about Air Force special operations forces. In this photo by Staff Sergeant Miranda Mahoney, Air Force Master Sergeant Bradley Sheppard, assigned to the 36th Electronic Warfare Squadron at nearby Hurlburt Field, leads military physical fitness training at the three-day Air Commando Youth Athletic Camp. Vikings football players trained alongside Special Operations Airmen in Basic Training military drills, completed a circuit workout including pushups, tire flips, and a 5-mile run, and participated in tent building projects to build confidence. At the end of camp, the players were treated to inspirational words from active-duty troopers and were awarded Special Operations Wing patches as a keepsake.
Details

Hits: 144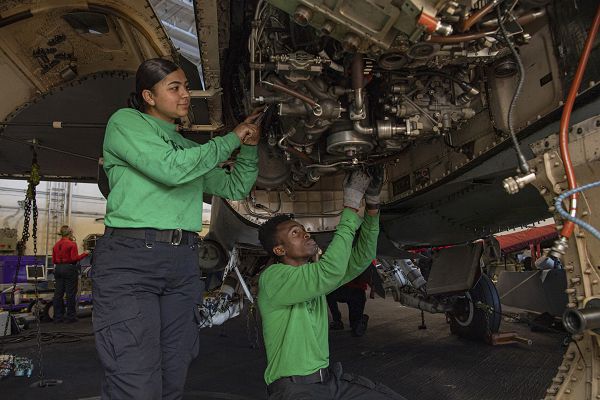 Pacific Ocean. (August 31, 2023): In this photo by Seaman Tomas Valdes, Aviation Machinist's Mate 2nd Class Ashley Miranda, left, from Cocoa Beach, Florida, and Aviation Machinist's Mate Airman Jan Michael Simmonds, from Baltimore, Maryland, remove an engine from an F/A-18F Super Hornet aboard the aircraft carrier USS Nimitz.
Navy machinists are the unsung heroes of America's mighty carriers. Their skill and perseverance keep the aircraft wings flying. These engine mechanics inspect, adjust, test and repair aircraft engines and propellers under brutal, around the clock operations matching the tempo of the air wings. They also install, maintain, and service aircraft engines of many types including their unique gear boxes and related fuel and lubrication systems. They evaluate engines for degradation using various test equipment and repair propellers and other types of damage in real time.
Details

Hits: 137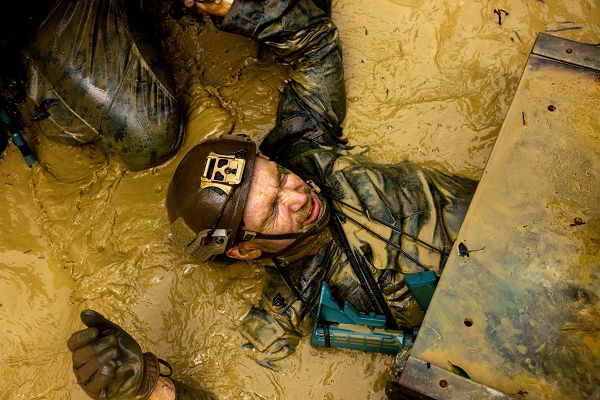 Okinawa, Japan. (August 31, 2023): In this photo by Corporal Michael Taggart, Marine Corps Sergeant Zachary Thacker negotiates an obstacle as part of the endurance portion of Jungle Leaders training at the Jungle Warfare Center at Camp Gonsalves, Okinawa. The course is designed to assess both the physical and psychological resilience of Marine leaders in a harsh jungle environment. Thacker, from Paducah, Kentucky, is a rifleman with the 2nd Battalion, 7th Marines.
As the nation's focus has shifted away from Middle Eastern deserts to jungle-based operations, the Marines have taken steps to cope with maneuvering in dense jungles with high overhead canopies that make reconnaissance extremely challenging.
The Jungle Warfare Training Center Camp is one of two jungle warfare training centers in the Department of Defense. Here the Marines learn to navigate through the dense jungle, repel down steep cliffs, and improve their ability to patrol through dense vegetation and steep jungle terrain. Marines learned to thrive in harsh, tropical environments while practicing basic jungle survival skills including jungle medicine, land navigation, observation techniques. Following the classes, the Marines conducted practical application of what they learned through different mission sets and in particular the art of "Stalking" their prey. Stalking someone may be frowned upon in civilian life but is a highly prized skill for Marine reconnaissance and sniper teams.
Marines worked in teams to approach, observe, and evade potential targets that were constantly changing as they would in a real-life situation. For all the fancy innovative technologies that have emerged for reconnaissance, it is still well-trained Marines with their boots in the mud that provide the best intelligence on the enemy in the jungle.
Subcategories