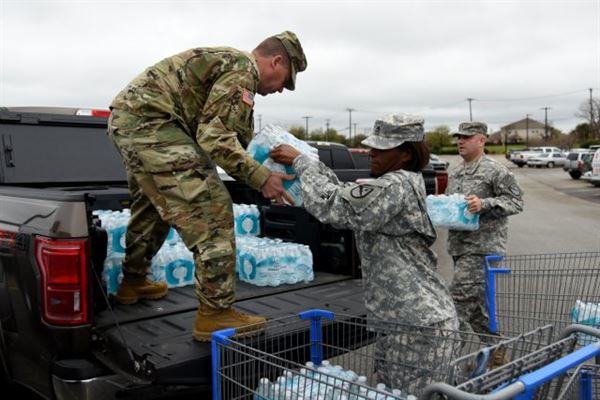 Texas Army National Guard members Maj. George Hurd, left, Staff Sgt. Erdoo Thompson, center, and 1st Lt. Matthew Verdugo, all from the 136th Maneuver Enhancement Brigade, load bottled water in Round Rock, Texas, in preparation for Hurd's convoy to Flint, Michigan, March 10, 2016. Texas Army National Guard photo by Master Sgt. Daniel Griego.ROUND ROCK, Texas, March 23, 2016 — As the Flint water crisis enters its third month, one Texas Army National Guard soldier decided to step up and directly help the people most affected with a road trip to Michigan.
More than two months ago, Michigan Gov. Rick Snyder declared a state of emergency for Flint, Michigan, in response to the ongoing water crisis that has exposed up to 12,000 children to contaminated drinking water. Since then, private donations have poured in to support the community suffering from long-term lead poisoning. For Maj. George Hurd, a Texas guardsman and combat veteran, sitting idly was not an option.
"Part of it comes from my experience overseas in Egypt, Iraq and Afghanistan, where we gave out bottled water to children all across that region," Hurd said. "When I sat back and became more aware of what was going on in Flint and seeing the disaster that's going on up there, I just thought there wasn't enough attention. It affected me to the core and instead of just complaining about it, I decided to do something about it."