Details

Hits: 137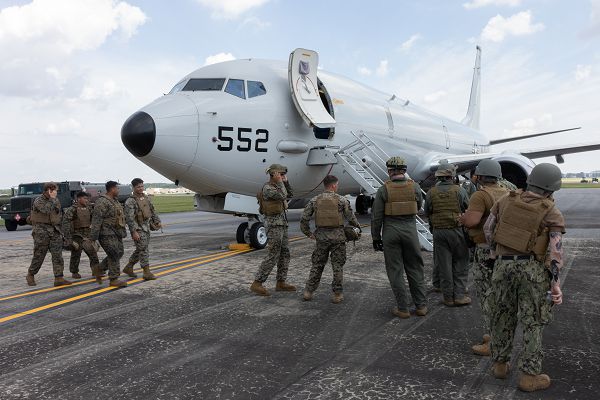 Seymour Johnson Air Force Base, North Carolina. (September 1, 2023): In this photo by Lance Corporal Anakin Smith, Marines with Marine Wing Support Squadron 272 and Sailors assigned to Navy Cargo Handling Battalion 1 conduct forward refueling-point familiarization with a U.S. Navy P-8A Poseidon reconnaissance aircraft during Large Scale Exercise 2023. This annual event is designed to refine how we synchronize maritime operations across multiple fleets when operating as a joint force at sea. The training is based on a progression of scenarios to assess and refine modern warfare tactics and concepts. Marine Wing Support Squadron 272, based at Marine Corps Air Station New River, provides all manner of aviation ground support for air wings on land and at sea. Nicknamed the "Untouchables," the 272nd does ground refueling, aircraft recovery, expeditionary airfield services, and even does its own weather forecasting. In addition, the wing provides engineering, mess facilities, airfield communications, and security for remote airfields or temporary locations ashore.
The Sailors assigned to Navy Cargo Handling Battalion 1 are experts at expeditionary logistics for Marine Air Wings much as they did during World War II as "stevedores" or special construction battalions.
These units are taking part in an enormous experiment of sorts involving multiple aircraft carriers and amphibious readiness groups battling it out in both the real and virtual worlds. For years, Navy doctrine centered on keeping carrier and amphibious strike groups in tight formations as they needed to be in close proximity to be effective. The advent of drone technology and the need to operate at greater distances has caused naval leaders to evaluate new operational theories to adapt to this new reality.
Large Scale Exercise 2023 is a part real, part virtual training event involving 25,000 Sailors and Marines from the U.S. Pacific Fleet and Naval Forces Europe-Africa. The exercise pitted twenty-five live and fifty virtual ships against each other in various realistic scenarios that simulate how they will fight the next war. To add to the realism, no advanced notice was given to crews who found themselves "fighting with what they have" as they would in an actual war. The Marine's tested their ability to put forces ashore to defend maritime choke points and novel tactics were developed like deploying anti-ship missiles ashore to attack ships at sea.
Details

Hits: 248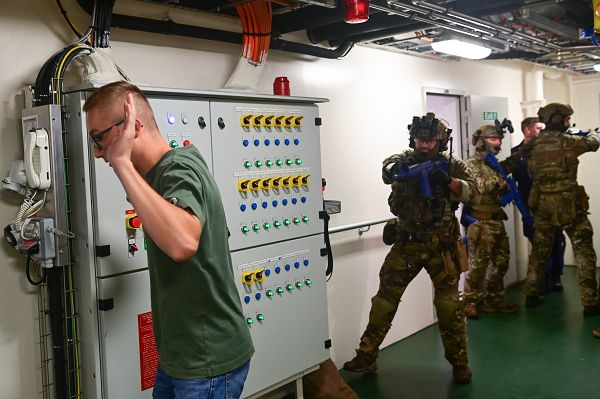 Atlantic Ocean. (August 22, 2023): To most Americans, the Coast Guard is famous for dramatic rescues at sea but the service has another branch that is every bit as elite as any special forces in the U.S. military. Called Tactical Law Enforcement Teams or TACLETS, these highly specialized units conduct high-risk law enforcement and counter-narcotic operations at sea. In this photo by Petty Officer 3rd Class Mikaela McGee, a Tactical Law Enforcement Team conducts a mock boarding with active role-players from the crew of the BSAM Garonne, a French navy support vessel. The team practiced its boarding tactics while participating in Operation Nanook, an annual Canadian-led exercise to advance shared maritime objectives.
TACLET operators perform some of the most difficult, and dangerous, missions in the military. Besides interdicting drug smugglers, Coast Guard TACLETs are tasked with preventing terrorist attacks on U.S. forces in foreign ports. The 1989 National Defense Authorization Act designated the Coast Guard as the lead agency for the detection and monitoring of aerial and maritime trafficking of illegal drugs into the United States. The act authorizes the Guard to interdict and apprehend suspected drug traffickers and makes ships available to carry out these responsibilities.
Today, there are TACLET personnel assigned to Navy vessels around the world to investigate suspicious contacts and to conduct boardings of "ships of opportunity" transiting areas frequently used by smugglers. Although famous for saving wayward skippers at sea, the Coast Guard is also the premier maritime law enforcement agency for the U.S. military.
Details

Hits: 183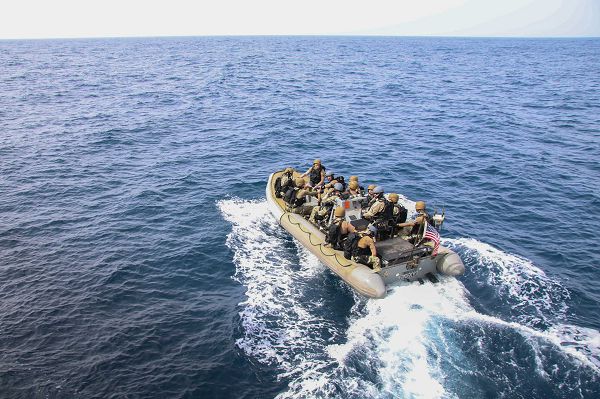 Gulf of Aden. (August 26, 2023) The U.S. Navy is on the hunt for pirates and drug smugglers in some of the most dangerous waters in the world. In this photo by MC2 Kerri Kline, Sailors aboard the guided-missile destroyer USS Thomas Hudner depart the ship in a rigid-hulled inflatable boat during visit, board, search, and seizure operations. The Hudner is underway with the U.S. 5th Fleet Area to ensure maritime security and stability in the Middle East region.
The Gulf of Aden is notorious for attempted hijackings and human/drug smuggling, mostly by pirates coming from nearby Somalia and Yemen. The Gulf of Aden leads to the Red Sea and is part of the vital Suez Canal shipping route used by over 21,000 ships a year that transport approximately eleven percent of the world's oil.
In the late 2000s, the Gulf evolved into a hub for pirate attacks on commercial shipping as well as a highway for drugs and weapons shipments from Iran to its allies in Yemen. In both nations, there are high levels of unemployment, poverty, violence, and corruption that has created a climate where piracy and smuggling has flourished.
The pirates operate very small craft and carry small arms and occasionally rocket propelled grenades to attack civilian ships. Particularly vulnerable are luxury yachts that are tempting targets for opportunistic attacks, hijackings, or armed robbery.
In addition to warding off desperate pirates, the Navy must also confront attempts by Iran to ship military supplies to its Houthis allies in Yemen in violation of international sanctions. Under international law, military cargoes are not permitted to be shipped to the warring parties in Yemen and are subject to seizure. One example of such a seizure came in December 2021 when the USS Tempest and USS Typhoon interdicted a stateless fishing vessel transporting a cache of illicit weapons including 1,400 AK-47 assault rifles and 226,600 rounds of ammunition bound for Yemen.
Details

Hits: 174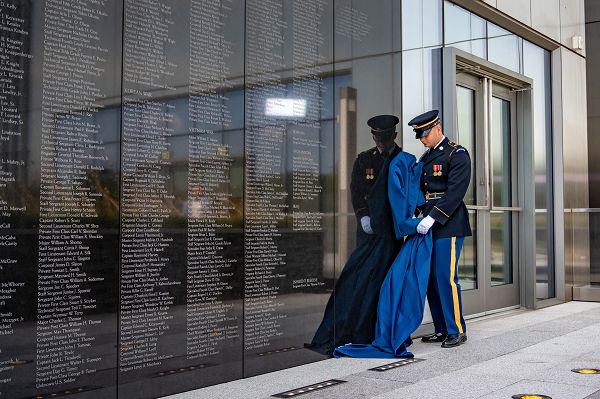 Fort Belvoir, Virginia. (August 24, 2024): In this photo by Bernardo Fuller, Army Specialist David Lashner, assigned to the 3rd U.S. Infantry Regiment, also known as the "old Guard", unveils the engraved name of Medal of Honor recipient retired Army Colonel Paris D. Davis at the National Museum of the U.S. Army. Col. Davis received our nations' highest award for his actions while serving with the 5th Special Forces Group (Airborne) in Vietnam in 1965.
Captain Davis commanded a detachment of the U.S. Army 5th Special Forces Group (Airborne) while serving as an advisor to Republic of Vietnam troops. He led these soldiers on their first combat mission, a daring nighttime raid against a superior Viet Cong force. While returning from the successful raid, Captain Davis and his company were ambushed and sustained many casualties.
Constantly exposing himself to enemy fire, Captain Davis rallied his disorganized troops while expertly calling in artillery to within 90 feet of his own position. Although wounded in the leg, he aided in the evacuation of other wounded men of his unit but refused medical evacuation himself.
He then ignored intense enemy fire to rescue a seriously wounded comrade and, while carrying the man to safety, was wounded a second time. Despite these wounds, Captain Davis again refused medical evacuation, remaining with his troops under fire. After repelling several Viet Cong assaults, Captain Davis went on to save a U.S. advisor under his command who had been wounded during the initial ambush and was presumed dead.
For his selfless and courageous acts on that day, Colonel Davis will live forever in our national memory for going above and beyond the call of duty.
Details

Hits: 129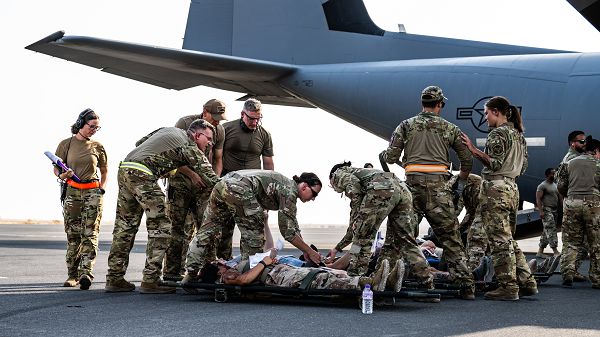 Salem Air Base, Kuwait. (August 19, 2023): American troops are told that, if they are injured in combat, they will receive lifesaving care during the "golden hour", the time it takes to get a warfighter to a proper hospital. In this photo by Staff Sergeant Kevin Long, U.S. Air Force Medical personnel from the 386th Expeditionary Medical Squadron field response team and the 405th Expeditionary Aeromedical Evacuation Squadron prepare to load victims from a simulated attack onto a C-130J Super Hercules. This training to handle a mass-casualty event gave multiple wings and squadrons the chance to put their life-saving medical capabilities to the test.
Medical evacuation teams like these are adapting to the new reality of war against a "near peer" rival like China. In the wars in Iraq and Afghanistan, aeromedical evacuation squadrons were able to provide immediate care and swift evacuations due to American air superiority. These squadrons had the time to get a wounded warfighter off the battlefield and into a proper hospital within one hour of their being injured. Treating these patients quickly greatly improves outcomes.
This "golden hour" standard, however, may not be possible in future wars.
The near total air superiority enjoyed by U.S. units may not be the case against an adversary like China or Russia. Worse, future conflicts are likely to be large-scale operations dispersed around the world thus complicating the task of evacuating casualties quickly.
Based on these realities, American planners realize that the "golden hour" handoff to surgical teams will not be possible. This puts extreme pressure on Special Operations medics and duty corpsmen to master advanced care methods including administering pain medications, long-term pain control, airway management, and nursing skills like changing dressings. Instead of quick evacuations, injured warfighters will need to be treated near the front lines, sometimes for days.
Details

Hits: 218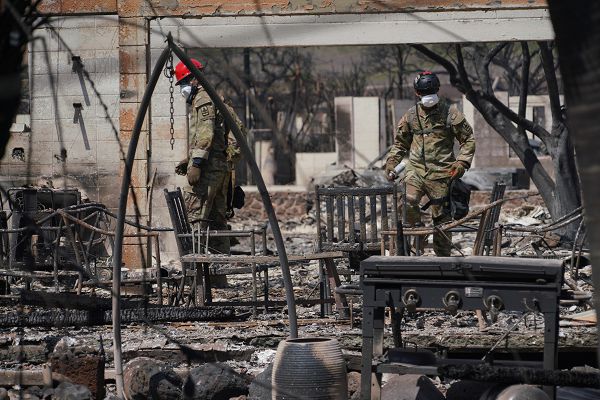 Lahaina, Maui. (August 21, 2023): The servicemembers of the Hawaii National Guard, many of whom are themselves victims of the recent wildfires, have sprung into action to help their neighbors. In this photo by Sergeant Andrew Jackson, search and rescue Soldiers and Airmen assist with recovery efforts as part of the national Lahaina wildfire response. Guardsmen mobilized after the fire to sweep the affected area for dangers before it can be reopened to the public.
Hawaii is unique in having both an Army and Air Force component in their National Guard which has proven especially critical in these types of emergencies. Hawaii's 154th Air Wing, based at Hickam Field, Honolulu, has extensive airlift capability including refueling squadrons and helicopter fleet. The Army component consists of the 29th Infantry Brigade Combat Team, the 103rd Troop Command, and the 298th Regiment Training Institute. Its medical detachment has the highest readiness percentage than any other unit in the Army National Guard. Together, these units conduct multiple exercises each year to be ready for any emergency. The Guard participates in an annual tsunami response exercise along with active-duty troops from across the Pacific.
Despite this training, nothing could prepare these troops for the grim task that lies ahead. Troops will continue to search for hundreds of missing people in the historic coastal port city of Lahaina. As of this writing, the death toll has risen to at least 114, but unfortunately many more are expected.
Officials estimate at least 2,200 structures have been destroyed and another 500 damaged in the blaze at an estimated cost of about $6 billion.
Subcategories