Details

Hits: 122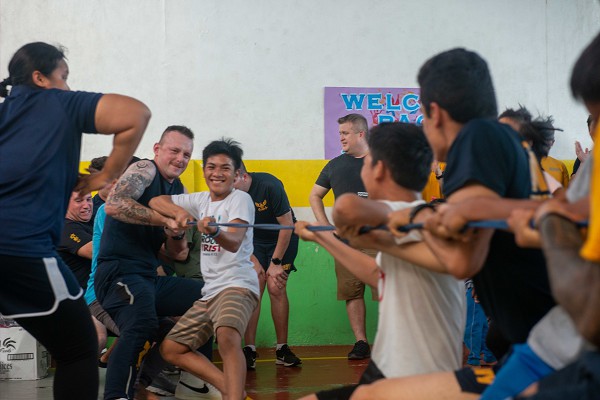 Manila, Philippines. (October 15, 2022): In this photo by Petty Officer 2nd Class Michael Jarmiolowski, Electronics Technician 3rd Class Ian Reynolds, left, from Virginia Beach, Virginia, goes hands on in a tug of war with children at Gentle Hands Orphanage as part of the Navy's community relations effort. Sailors volunteered for the event to play games and create hand-drawn paintings with over 100 children. The Sailors are assigned to the guided-missile cruiser USS Chancellorsville, part of the Ronald Reagan Carrier Group. Young, enthusiastic Sailors like these often make the best ambassadors for our country.
Heilbronn, Germany. (October 1, 1978): It was my first week stationed in Germany as an 18-year-old private assigned to the 237th Combat Engineers in a strange and exciting foreign land. I had barely unpacked when a gruff old sergeant appeared asking for volunteers to help local farmers harvest their crops. Although new to the Army, I realized that any troops hanging around the barracks over a weekend would certainly end up with some unpleasant extra duty.
Around 5 a.m. the next day, about thirty of our number fell out for formation and were sent via deuce and a half truck to the vineyards surrounding Heilbronn. None of us had ever picked grapes before so we thought; "How hard could it be?"
The welcoming German farmers quickly strapped huge plastic barrels to our backs and sent us hiking up the hills between rows of grapes as the sun finally broke the horizon. Our job was to walk back down the hill collecting bunches of grapes from what seemed like hundreds of school age kids, and then climb ladders to dump the contents into huge portable vats. It turned out to be back breaking work and some of the most precious moments we ever spent with our German hosts.
Details

Hits: 136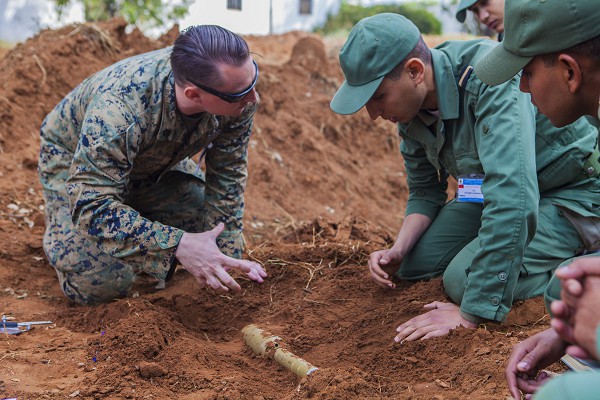 Kenitra, Morocco. (October 20, 2022): In this photo by Captain Clay Groover, a U.S. Marine with Special Purpose Marine Air-Ground Task Force Crisis Response teaches explosive ordnance identification procedures to a member of the Moroccan Royal Armed Forces. As part of its "Humanitarian Diplomacy", the United States assists critical allies with intractable problems, in this case unexploded mines that threaten their civilian population.
Kenitra, Morocco. (October 20, 2022): Morocco was one of the first countries to recognize the fledgling United States in 1777 and has been one of America's closest allies ever since. It has the fifth largest economy in Africa and is an influential member of the Arab League and the African Union, two organizations that are often critical to American diplomatic goals in the region. Most importantly, the Moroccans have proven to be a stabilizing force in the tumultuous conflicts besetting the Maghreb Desert.
Along with economic ties (the U.S. recently signed a free-trade agreement with favorable terms for the desert kingdom), American and Moroccan military forces have developed deep ties over the years. An example of this "Humanitarian Diplomacy" is the presence of U.S. Marines assisting the Moroccan Army in dealing with deadly land mines left over from previous conflicts.
Details

Hits: 143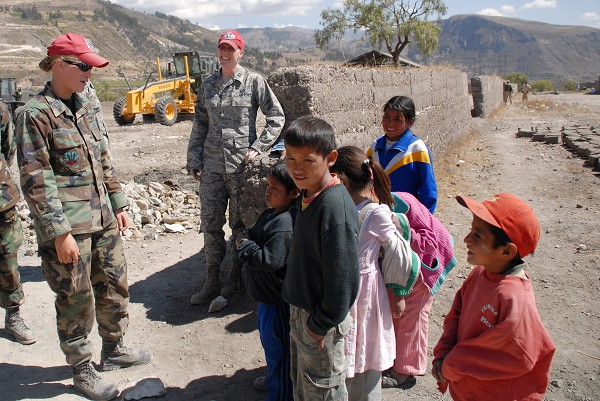 Huamanga, Peru. (October 22, 2022): In this photo by Airmen 1st Class Tracie Forte, Captains Stacy Nimmo and Megan Leitch talk with children during a visit to the construction site for a school being built as part of New Horizons Peru, an event that benefits thousands of Peruvians. Servicemembers from the U.S. Air Force, Army, Marines, and Navy come together to construct schools, clinics, and water wells for Peruvians while building lifelong friendships and comrades. Captains Nimmo and Leitch hail from the 820th RED HORSE Squadron at Nellis Air Force Base, Nevada.
Huamanga, Peru. (October 22, 2022): How can giving humanitarian aid help America win a war?
The very same cooperation and close coordination needed for humanitarian aid projects is vital to success on the battlefield. Coordinating logistics, transportation, and emergency services makes for excellent practice for America's warfighters while using the power of our military to help those less fortunate.
A classic example are efforts to assist underprivileged communities in Peru (pictured above).
Led by the Air Force's 820th RED HORSE Squadron, these humanitarian efforts take advantage of expertise from the Army, Navy, and Marine Corps to tackle numerous civic projects. Under the auspices of the U.S. Southern Command, these multi-service relief efforts create bonds and friendships between the U.S. and its southern neighbors. The 50-year-old Southern Command is responsible for the entire land mass of Latin America, the waters adjacent to Central and South America, and the Caribbean Sea. Southern Command exists to deter aggression but also to rapidly respond to crisis in the hemisphere, a tall task indeed. In addition to humanitarian and military defense, the Southern Command plays a major role in drug interdiction efforts in the Caribbean.
The RED HORSE, or Rapid Engineer Deployable Heavy Operational Repair Squadron Engineers, are unique not just for the distinctive red caps they wear, but also for their incredible operational and training capabilities.
Based at Nellis Air Force Base, Nevada, the 820th is one of four active-duty squadrons whose mission is rapidly responding to emergencies in high-threat environments, including assisting special operations forces in worldwide contingencies. RED HORSE Airmen blend multi-skilled engineering, vehicle maintenance, services, material management, security forces, and medical personnel to provide heavy construction and repair capability to various theater commanders.
The ability of units with complementary missions to coordinate personnel and equipment under hostile conditions is key to America's dominance on the battlefield. Humanitarian efforts help hone these skills during peacetime while helping our friends and neighbors at the same time.
Please consider contributing to Support Our Troops, a national charity that delivered over $40 million of tangible support to America's military servicemembers in the last year with 97 percent of every dollar spent on services. By donating to Support Our Troops' Patriot Brigade®, you will join thousands of Americans who make monthly donations to pay for comfort items and recreational programs for our military deployed overseas. Please go to our secure website https://supportourtroops.org/donate to contribute to America's finest today!
Details

Hits: 125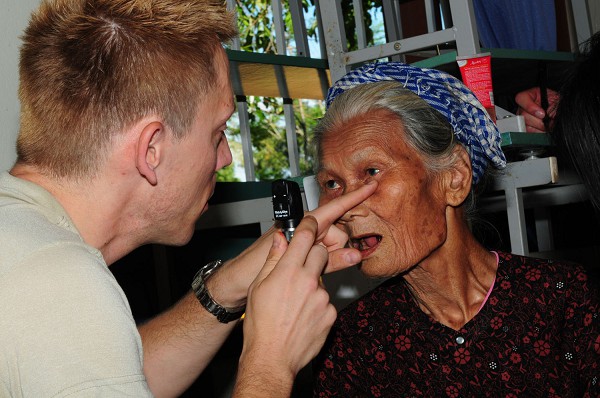 Quang Tri Province, Vietnam. (October 21, 2019): In this photo by Tech. Sgt. Kerry Jackson, Major (Doctor) Steven Tittl, an optometrist assigned to the 439th Aerospace Medical Squadron at Westover Air Reserve Base, Massachusetts examines a Vietnamese woman during Operation Pacific Angel exercises. Dr. Tittl and other U.S. Military servicemembers provided medical services and other humanitarian assistance to Quang Tri Province residents.
Hickam Air Force Base, Hawaii. (October 23, 2022): It was the scene of some of the bloodiest fighting during the Vietnam War and a famous stand by South Vietnamese and American troops against overwhelming enemy strength. The Battle for Quang Tri Province was a four-and-a-half-month battle that cost the Vietnamese Army 977 killed and scores wounded before they retook the city. It is ironic that Quang Tri Province, Vietnam would serve as host for Pacific Angel exercises with the goal of saving, not taking, lives.
Led by the U.S. 13th Air Force based at Hickam Field, Hawaii, the Pacific Angel exercises began in 2007 with a simple mission… use our vast military resources to promote life and health, even among our former foes. Since then, Pacific Angel has had a positive impact on tens of thousands of lives by providing both health services and civil engineering expertise to developing countries in the Pacific region.
Details

Hits: 139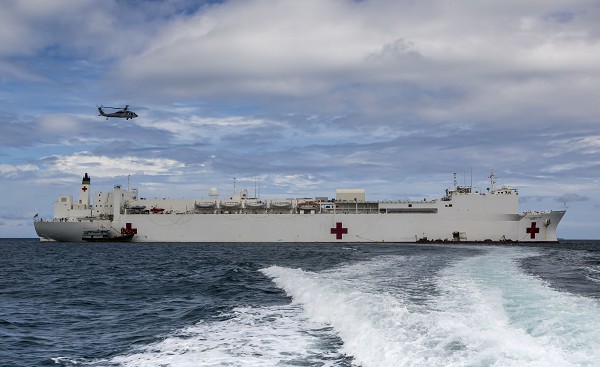 Padang, Indonesia. (October 19, 2020): In this photo by Royal Australian Air Force Corporal David Cotton, the Hospital Ship USNS Mercy sits anchored off the coast of Padang, Indonesia during Pacific Partnership exercises. The Mercy helps partner nations prepare for disasters by providing medical subject matter experts to help improve the capacity of local governments, civilian agencies, and partner militaries to collectively respond to crises.
Padang, Indonesia. (October 19, 2020): Few images demonstrate the compassion of the American people like that of the Hospital Ship USNS Mercy. Resting peacefully at her berth, the Mercy is ready to deliver surgical services to needy patients no matter where they live in the world.
Commissioned in 1986, the Mercy is one of two American hospital ships (USNS Comfort is the other) that lead the annual Pacific Partnership exercises designed to improve the capacity of local partner nations to respond to a humanitarian crisis. Based in San Diego, California, the Mercy is a floating 1,000-bed fully equipped hospital complete with acute surgical facilities staffed by highly trained medical professionals and crewed by eight officers and 53 enlisted personnel.
Pacific Partnership is the largest annual multinational humanitarian assistance and disaster preparedness exercise held in the Indo-Pacific region. Host nations include Viet Nam, Palau, the Philippines, and the Solomon Islands and partner nations include Australia, Chile, Japan, South Korea, and the United Kingdom.
Details

Hits: 271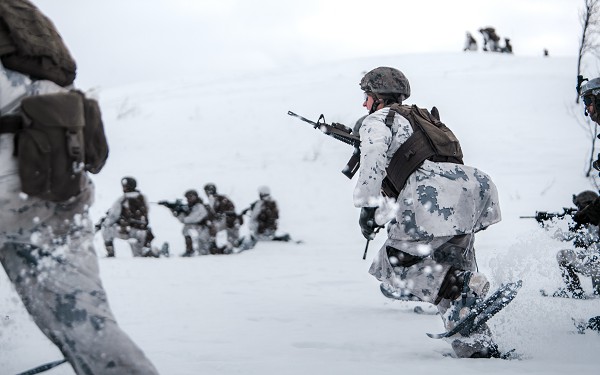 Blatind, Norway. (October 15, 2022): In this photo by Corporal Patrick King, U.S. Marines with Marine Rotational Force Europe buddy rush down range during a company live fire attack as part of Exercise Arctic Littoral Strike. These exercises focus on regional engagements in arctic and mountain warfare as America prepares to defend Europe against Russian aggression.
Blatind, Norway. (October 15, 2022): Since 1825, America and Norway have enjoyed a close and mutually beneficial relationship that continues today. The two nations fought together in World War II and the Norwegians are co-founders of both the United Nations and NATO. Norwegian troops deployed trainers to Iraq to support America in Operation Inherent Resolve and they provided training and advice alongside American troops in Afghanistan.
Since 2017, Norway has hosted annual rotations of U.S. Marines to train in extreme cold and in mountainous terrain with the Norwegian Armed Forces. This arrangement has become even more vital as NATO confronts potential aggression from the Russians after their invasion of Ukraine. American military planners have pre-positioned armored vehicles, ammunition, and basic supplies in Norway to facilitate the rapid deployment of Marines in an emergency.
Read more: RUSSIAN INVASION STRENGTHENS U.S. NORWAY DEFENSE PACT
Subcategories