Details

Hits: 105
Mack Belts™ has stepped up for the troops as a Patriotic Product® team member to support those currently serving. At the foothills of the Rocky Mountains in the little town of Augusta, Montana lies the headquarters of Mack Belts. Founded by a retired Navy SEAL, Mack Belts is 100% veteran owned and operated. Every belt is handmade by veterans in the great state of Montana. Mack Belts is on a mission to support the military community which is why a portion of each sale goes back to those in uniform. If you are looking for a gift this holiday season, support a patriotic brand that prides itself in the American Made promise, visit www.MackBelts.com to gear up today with The Toughest Belts on Earth™.
Details

Hits: 154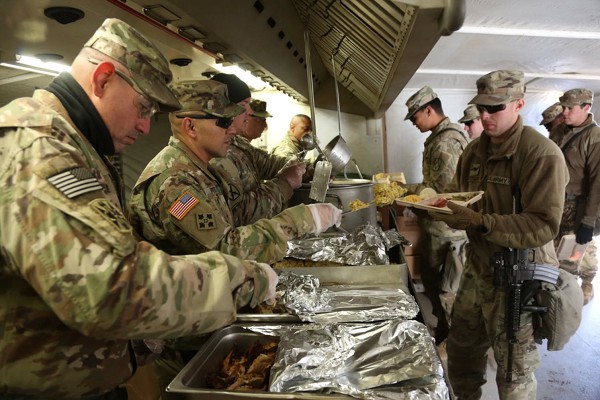 Seoul, South Korea. (November 6, 2022): It is pretty certain that Roman Soldiers complained about one thing above all… the food. Military Cooks have been on the receiving end ever since.
Despite the grumbling, troops everywhere respect the difficult job cooks do and the extra effort they make to mimic a family meal during the holidays. Believe it or not, they derive great personal satisfaction watching their comrades enjoy a meal they created.
Official designated Culinary Specialists, a military chef prepares meals for hundreds of troops a day, both in garrison and in the field. They are also responsible for keeping their equipment spotless regardless of conditions as they protect health as well as fill stomachs. After Basic Training, recruits attend The Joint Culinary Center of Excellence at the U.S. Army Quartermaster School at Fort Lee, Virginia. The entry level course graduates over 6,500 Soldiers and Marines a year, and the Army offers an Advanced Culinary Skills Training Course for leaders in the field.
Their life is not easy.
Read more: Most "Unappreciated" At Thanksgiving? MILITARY COOKS DO THEIR BEST… STILL GET THE GRIEF
Details

Hits: 122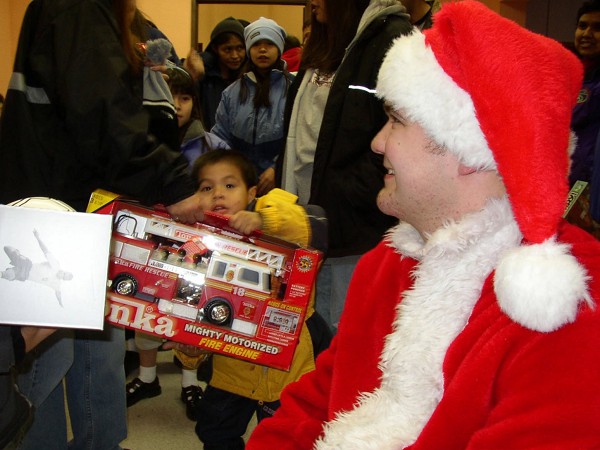 Juneau, Alaska (December 23, 2021): In this photo by Lieutenant Junior Grade Rebecca Chambers, Coast Guard Petty Officer Clinton P. Mooers (aka Santa) is all smiles after handing out Christmas gifts to children in Angoon recently. Mooers is a crewman aboard the Auke Bay-based cutter Liberty who participated in this year's annual food, blanket, and toy drive in Southeast Alaska. The Auke are an Alaskan Native people, whose autonym Aak'w Ḵwáan means "Small Lake People", and they are a subgroup of the Tlingit tribe.
Juneau, Alaska (December 23, 2021): To commercial ships at sea, they are lifesavers. To drug smugglers, they are a nightmare. But to little kids in the remote regions of Alaska, they are a symbol of giving and Christmas joy. They are the U.S. Coast Guard, and they are all these things and more.
What is truly touching is seeing these servicemembers take time to make the holidays joyful for others while they are far from home serving their country. Since February, the U.S. Military has deployed over 20,000 additional forces to Europe in response to the Ukraine crisis. That means over 100,000 American Army, Air Force, Naval, and Marine Forces are standing ready to defend democracy and freedom from the world's tyrants. Most will be far from home for the holidays.
In the case of the U.S. Coast Guard, Alaska, the name of the game is air/sea rescue, and they are the best in the world. Operating in the often-violent Bering Sea, the 2,500 members of Coast Guard Alaska patrol over 43,500 miles of coastline conducting maritime rescues, drug interdictions, distributing humanitarian aid, and fisheries control.
Read more: Taking Time To Give... COAST GUARD DEPLOYS TO BRIGHTEN CHILDREN'S HOLIDAYS
Details

Hits: 119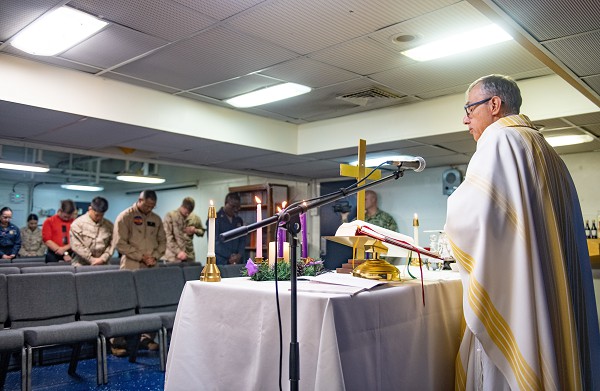 Gulf of Aden. (December 24, 2021): In this photo by Petty Officer 2nd Class Jonathan Word, Lieutenant Paul Guzman, a Catholic Chaplain deployed to Camp Lemonnier, Djibouti, performs Christmas Eve Mass for U.S. Sailors and Marines aboard the amphibious assault ship USS Essex. For thousands of American servicemembers, the holidays can be a lonely time serving far from loved ones at Christmas. Military clergy, of all denominations, are there to counsel young troops to help them cope with their first holiday season away from home.
Gulf of Aden. (December 24, 2021): They are aboard ship in a very bad neighborhood thousands of miles from home and it is Christmas Day. Even the most hardened Sailors and Marines must have sympathy for those serving their first holidays deployed overseas and the Navy has a partial solution… military clergy to help them cope.
As long as man has had armies, military chaplains have accompanied soldiers into battle, often risking their lives ministering to the wounded while under heavy fire. They are the military's expression of support for people of faith while they work to improve morale and comfort the sick or wounded. Today, some 3,000 military clergy serve on active duty backed up by another 2,000-clergy assigned to Reserve or National Guard units. The U.S. Military ensures that the five major faith groups, Catholic, Protestant, Jewish, Muslim, and Buddhist are represented and over 120 denominations.
The USS Essex is part of America's expeditionary forces operating on the horn of Africa whose mission is to provide security for Europe, Africa, and Southwest Asia. The only U.S. military installation on African soil, Camp Lemonnier sustains ships and aircraft operating in one of the worlds most troubled regions. The Base supports approximately 4,000 U.S. joint and allied military forces and civilian personnel and U.S. Department of Defense contractors. Additionally, the base provides employment for approximately 1,000 local and third country nation workers.
Read more: For Servicemembers... MILITARY CLERGY TREAT LONELINESS AND THE SOUL
Details

Hits: 119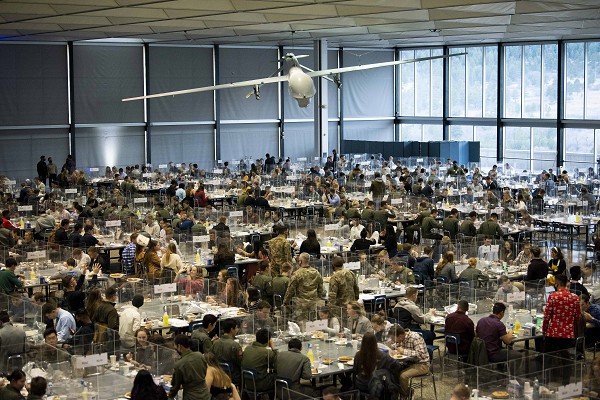 U.S. Air Force Academy, Colorado Springs, CO. (October 2, 2022): In this photo by Joshua Armstrong, Cadets fill the U.S. Air Force Academy's Mitchell Hall for Thanksgiving Dinner, many for the first time in their lives away from home. The Mitchell Hall staff prepared about 4,000 meals a festive atmosphere for the young cadets who stayed at the Academy during the Thanksgiving Holiday.
U.S. Air Force Academy, Colorado Springs, CO. (October 2, 2022): Most veterans remember their first holiday season away from home. Standing guard duty in the jungle, huddled around small fires against the cold in a frozen forest, or staring out to an endless sea, holidays are often the loneliest time for American servicemembers overseas.

Pictured above are the "cream of our youth", twenty something Cadets who volunteered to become Air Force Officers to defend our nation, clustered together for their first Thanksgiving away from home. Should they choose to make the military a career, they can expect to serve many precious holidays thousands of miles from their loved ones.
Details

Hits: 84
Let's Not Forget Our Active Duty Troops
As a veteran, I appreciate the expressions of thanks for my service and sacrifice from civilians, yet I know there are thousands of deployed servicemembers that are far from home and the familiar, alone at the end of each day. As we celebrate America's veterans this week, let's not forget our active-duty troops on station around the world.
To that end, Support Our Troops has issued a national call to all good Americans to show their love and support for our deployed troops this holiday season by joining Support Our Troops' efforts to ship Thanksgiving and Christmas Care Packages to our troops overseas, and maybe a little piece of home.
Support Our Troops delivered over $40 million of tangible support to America's military servicemembers last year with 97 percent of every dollar spent on services. We hope you will take a moment, right now, to show your support for our active-duty military deployed around the world. Here's what you can do…
YOU can make a difference in the life of a deployed servicemember this Christmas. It's simple!
Just go to SupportOurTroops.Org and click on the Christmas 2022 Care Package icon.
You will find a list of things the troops are requesting
Read carefully the packages rules that are posted there
Send to:
Support Our Troops®
249-J Third St.
Ayden, NC 28513
If you would like to provide items for future care boxes or donate to help pay to ship the goods, you can find everything you need to know posted on SupportOurTroops.Org.
As we honor America's veterans this week, please remember our active-duty vets who stand guard for our country. Let's do all we can to give them the support of a grateful nation.
Jim Spearing
SSG. (RET), Support Our Troops
Subcategories