Details

Hits: 559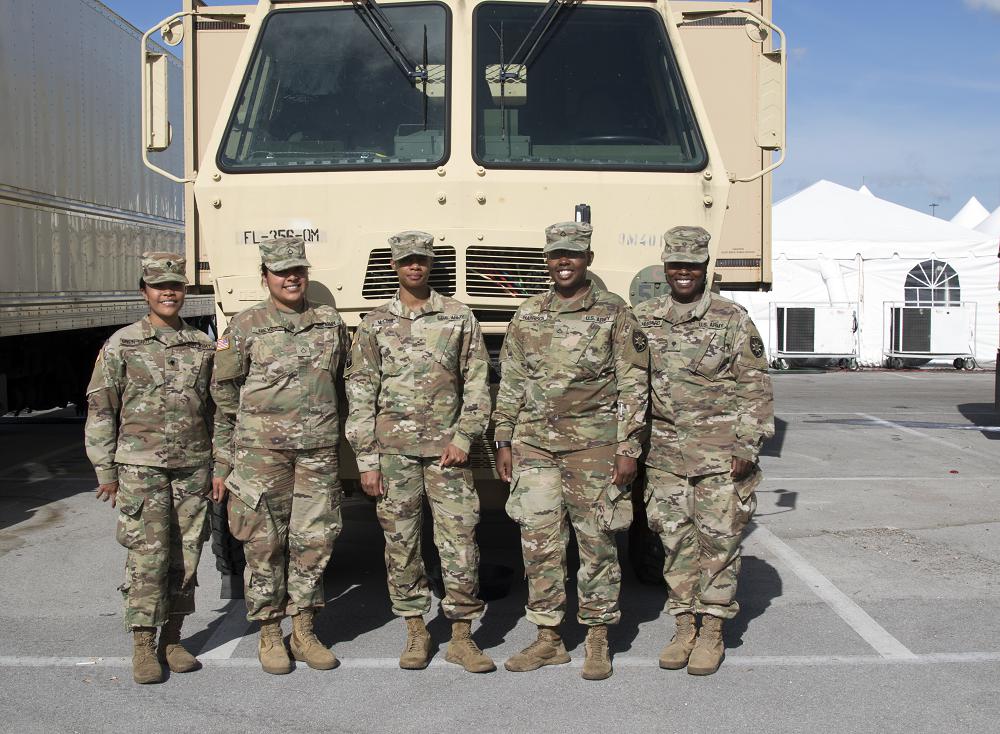 MIAMI GARDENS, Fla. – An all-female team with the Florida National Guard's 356th Quartermaster (War Wagon) Company is managing logistics for a COVID-19 testing site at a local stadium.
"We empower each other as women and build one another up; being on an all-female team is unique and rewarding," said Chief Warrant Officer Latania McCook, a supply systems technician. "We are honored to be here, and without this team, the site would not have the supplies on hand to complete the mission."
Read more: War Wagon's all-female team supports COVID-19 response
Details

Hits: 645
Florida National Guard Soldiers in Orlando's Orange County community based testing site are ready for the mission presented to them.
Video by Pfc. Orion Oettel
Redistributed by permission of the Florida National Guard
Details

Hits: 1029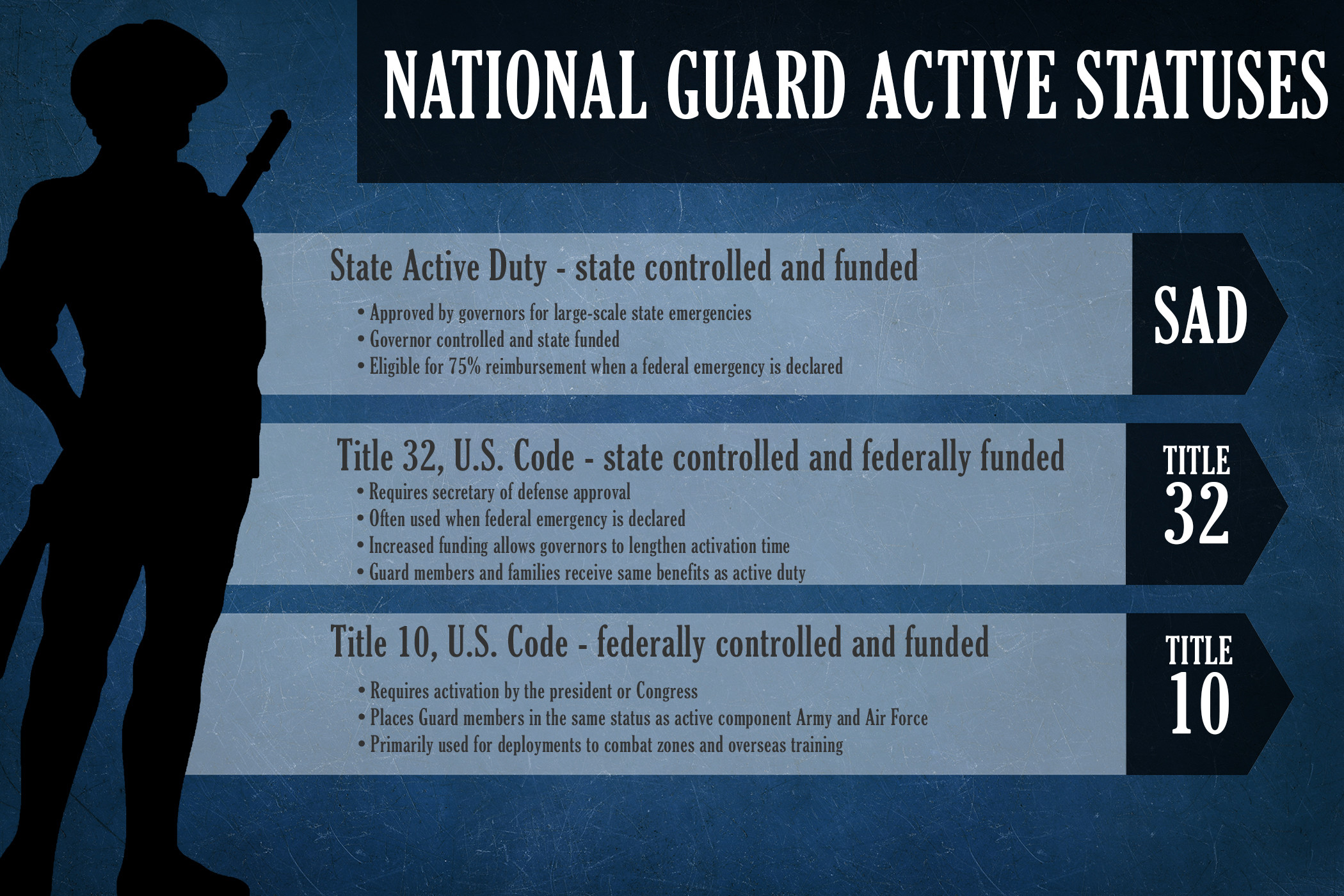 To date, a smaller number of Guard members have been activated under Title 32, 502 F, United States Code, or state activation that is federally funded. In this duty status, the primary change is the funding source. Guard members remain under the command and control of their governor. However, this type of activation requires approval by the secretary of defense and is generally used when a federal emergency is declared. Guard members and their families are also entitled to the same benefits as the active component.
Read more: Guard dual status allows flexibility, rapid COVID-19 response
Details

Hits: 678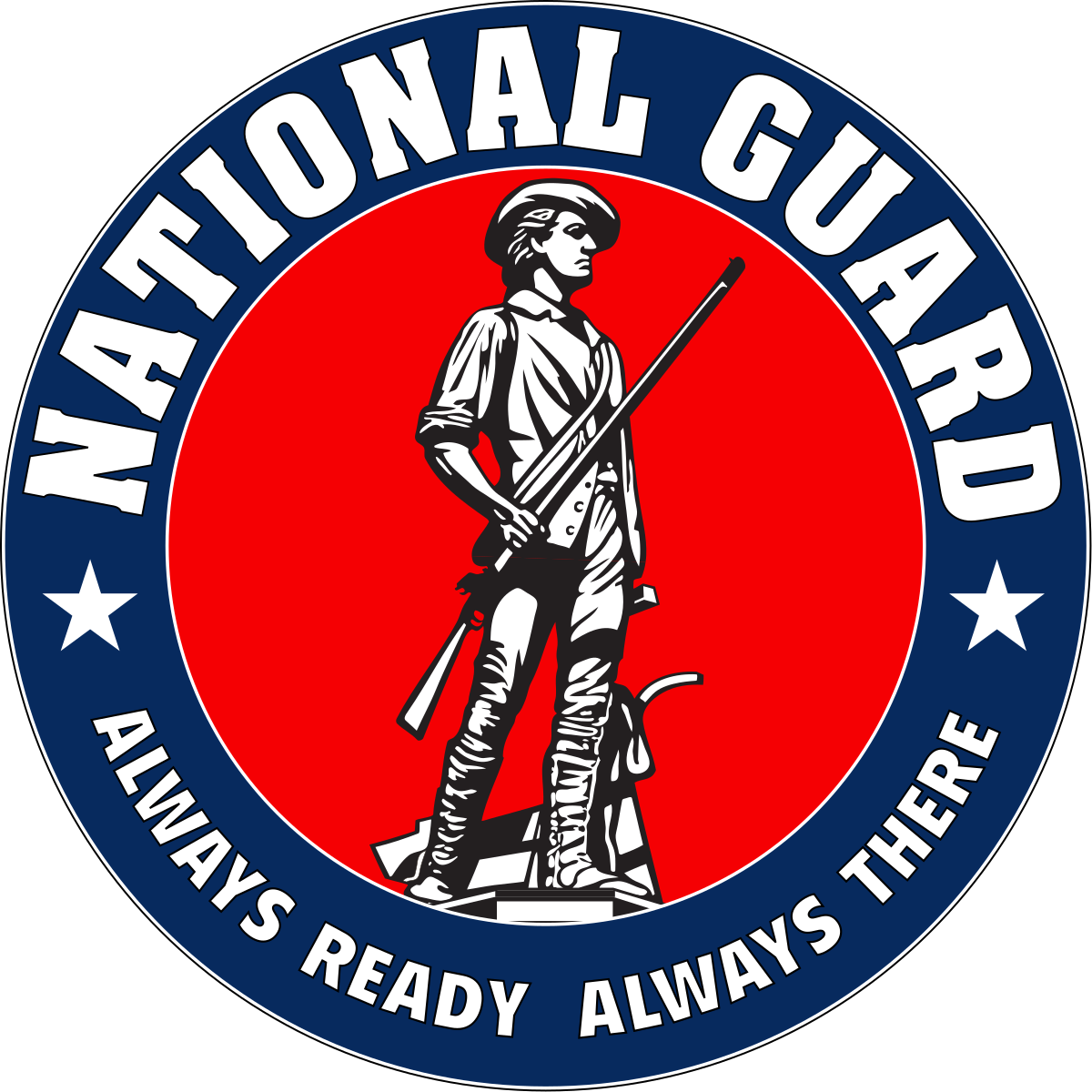 ARLINGTON, VA, March 19, 2020 – About 2,050 National Guard Soldiers and Airmen in 27 states have been activated to support COVID-19 response efforts, the chief of the National Guard Bureau said Thursday. Air Force Gen. Joseph L. Lengyel told reporters at a Pentagon briefing that number most likely would double by the weekend, and it is even possible that tens of thousands of Guard members could be activated as the situation unfolds, depending on the needs of communities.
Read more: National Guard Ramping Up Wuhan Virus COVID-19 Response
Details

Hits: 1076
Immediate Release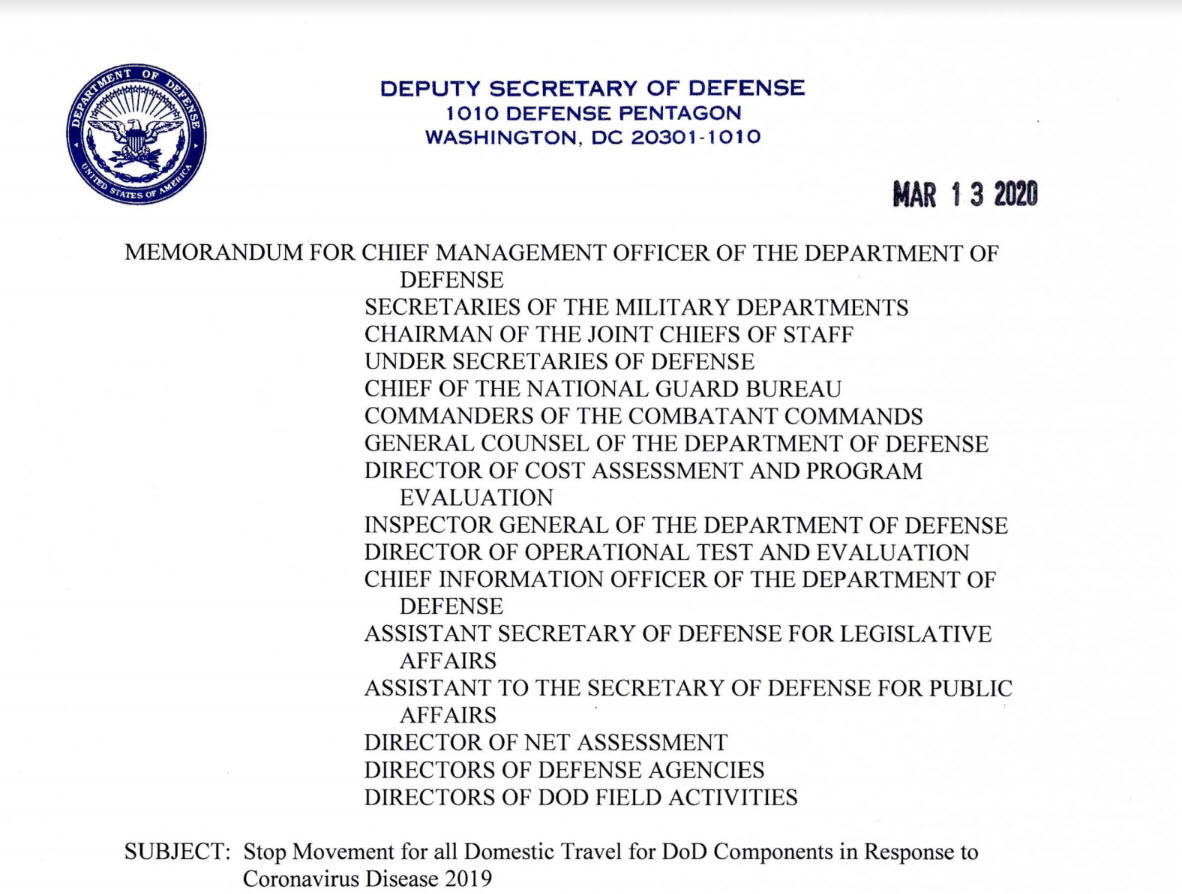 DOD Stop-Travel-Coronavirus-2019.PDF1.06 MB
March 13, 2020 - Today, the Deputy Secretary of Defense David L. Norquist approved new travel restrictions for service members, DoD civilians, and their families assigned to DoD installations, facilities and surrounding areas within the United States and its territories. This restriction will halt all domestic travel, including Permanent Change of Station, and Temporary Duty. This restriction will also pause civilian hiring at DoD installations and components for persons who do not reside within the hiring entity's local commuting area.
Additionally, service members will be authorized local leave only, following Service guidelines. This new guidance is effective March 16 and continues through May 11.
Read more: COVID-19 (aka Coronavirus 19, Wuhan Virus) DoD Stop Movement Order Issued
Details

Hits: 680
BOBLINGEN, Germany, March 3, 2020 -
Nearly 1,500 U.S. service members are taking take part in Exercise Cold Response 20 in Norway from March 9-18.The U.S. is represented by service members from the United States Marine Corps, the United States Navy, the United States Army, and the United States Air Force who have joined forces with Norway and eight other allied and partner nations.In total, some 15,000 personnel will take part in this large-scale, tactical field training exercise, which is being hosted by the Kingdom of Norway. Cold Response 20 is designed to enhance military capabilities and allied cooperation in high-intensity warfighting in a challenging Arctic environment with rugged terrain and extreme cold weather.
This exercise is emphasizing and testing critical activities ranging from the reception of allied and partner reinforcements and command and control interoperability to combined joint combat operations, force sustainment, and combat logistics. The United States stands firm with its ally Norway and its allies and partners in Europe in this exercise in the strategically important arctic region.
Story from Marine Corps Forces Europe
Subcategories