Details

Hits: 141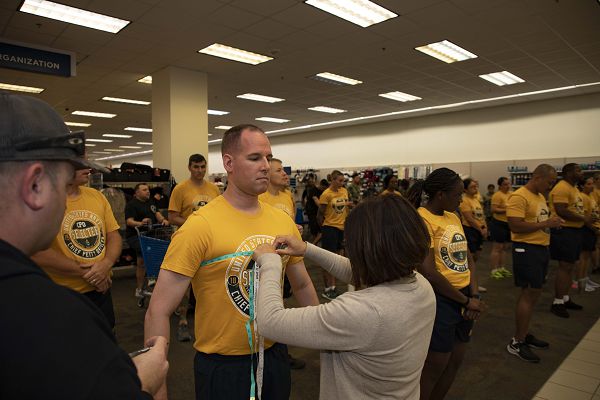 Naval Station Norfolk, Virginia. (September 5, 2023): In this photo by MC2 Levi Decker, Hospital Corpsman 1st Class John Gorey, from Philadelphia, assigned to Naval Medical Forces Atlantic, is measured for his chief petty officer uniform as he joins the ranks of the "backbone of the Navy".
A chief petty officer in the Navy is a senior enlisted member who serves as a leader and mentor to junior sailors. They are responsible for managing and supervising the day-to-day operations of a ship and maintaining discipline within the ranks. In this highly challenging role, they are the vital link between commanders and the rank-and-file. A Chief holds a "rating", or job specialty, and must be pay grade E-7 and above (E-9 is the highest enlisted rank).
Becoming a Chief typically takes around 14-16 years of service advancing through the ranks and meeting the necessary requirements at each promotion. They must also pass a selection process that includes a written exam, a review of their service record, and an interview. Once selected, they will attend the Chief Petty Officer Leader Development Course to familiarize them with their new role as a chief petty officer.
Details

Hits: 350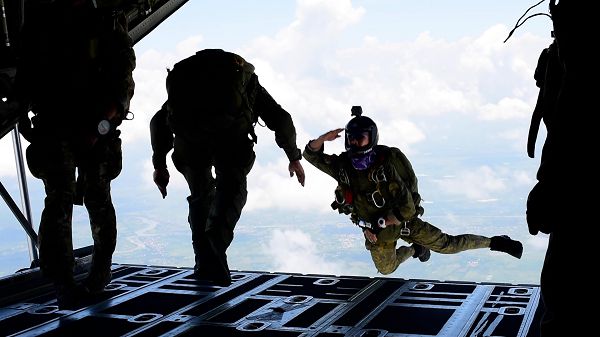 Clark Air Force Base, Philippines. (September 3, 2023): In this photo by Master Sergeant Robert Webb, Airmen assigned to the Philippine Air Force salute the jump master as they bail out of a C-130J transport plane during Pacific Airlift Rally 2023. This annual multinational exercise is in its 14th year with some 780 participants from Japan, Indonesia, Malaysia, Bangladesh, Brunei, Canada, Maldives, Mongolia, Nepal, Singapore, Sri Lanka, and Timor-Leste. This is the largest humanitarian assistance and disaster response exercise of its kind in the Indo-Pacific.
Hosted by the U.S. Pacific Command and the Philippines Air Force, Pacific Rally gave partner nations the chance to practice expeditionary medicine, evacuation procedures, and in-flight emergency response. Airmen focused on container delivery, personnel transport, cargo loading, and low-altitude airdrops.
Two U.S. Air Force 374th Airlift Wing C-130J Super Hercules and associated Airmen from Yokota Air Base, Japan, joined Philippine and Japanese C-130H crews in field training transporting patients in critical condition.
Nations exchanged subject matter experts regarding austere and expeditionary medicine, ground evacuation, in-flight emergency response, and C-130 aircraft maintenance. Planners also conducted tabletop exercises on humanitarian assistance and disaster relief operations.
Large scale exercises like Pacific Rally will ensure the relief forces are primed and ready should a disaster occur.
Details

Hits: 161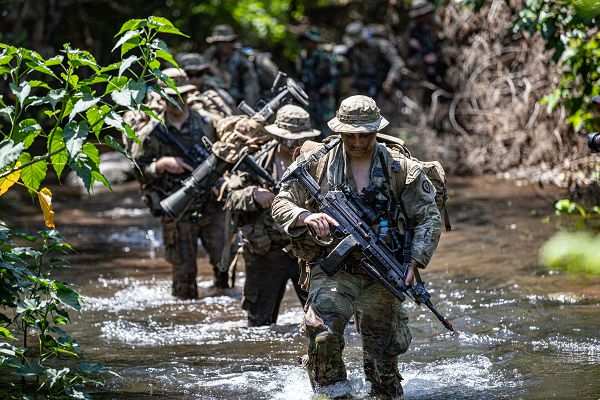 Puslatpur, Indonesia. (September 4, 2023): In this photo by Sergeant First Class Austin Berner, soldiers assigned to 2nd Platoon, Berzoi Company, 2nd Brigade, 25th Infantry Division join members of the Indonesian military as they cross a river obstacle during Exercise Super Garuda Shield.
Super Garuda Shield 2023 is an annual exercise that has significantly grown in scope and size since 2009 and now includes 7 participating and twelve observing nations in a partnership for a free and open Indo-Pacific.
This renewed sense of urgency is due to China's increasingly aggressive air and naval activity in the South China Sea. As the largest archipelago in the world, Indonesia lies at the apex in the rivalry between China and the West and is strategically located astride the major sea lanes connecting the Indian and Pacific Oceans.
Although Indonesia and China have generally cordial relations, increased activity of Chinese Coast Guard vessels and fishing boats in the region has alarmed officials in Jakarta. China has lodged territorial demands and ignored international law by encroaching on Indonesia's economic zone in the South China Sea. China accuses the U.S. and Indonesia of building an Indo-Pacific "NATO" to contain their world ambitions.
Details

Hits: 172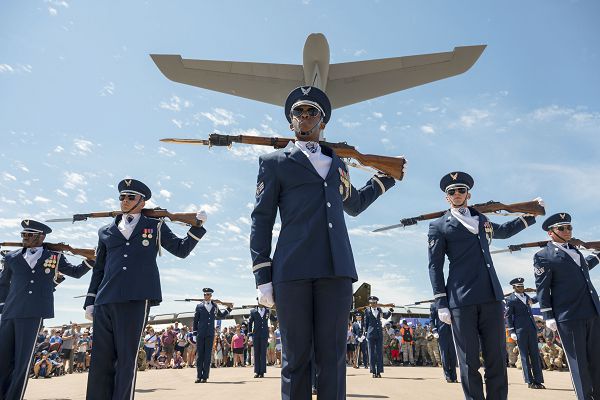 Oshkosh, Wisconsin. (September 5, 2023): It is one of America's oldest military traditions, rendering honors to the fallen in a solemn, dignified manner befitting their service to our nation. This sacred duty falls upon the Air Force Honor Guard Drill Team, pictured here performing for a civilian crowd, who are responsible for delivering spotless performances of ceremonial honors at military funerals (Photo credit Kristen Wong).
The Honor Guard also represents the Air Force at public and official events including the wreath-laying ceremonies at the Tomb of the Unknowns at Arlington National Cemetery. The team performs at White House ceremonies, receptions, and other state and military occasions.
As you can imagine, a posting to the Honor Guard is prestigious and highly sought after.
Air Force members from all careers and posts worldwide can apply for this special posting. If selected, Airmen are reassigned to Bolling Air Force Base for a standard tour of duty (usually 3 years) and are referred to as Ceremonial Guardsmen.
Color guard teams trace their roots to the custom of carrying the colors onto the battlefield to identify the location of the combatants and to inspire pride and confidence. The team is led by a non-commissioned officer and includes a flag bearer and two rifle guards. During funeral ceremonies, the rifle guards fire three rounds in memory of the fallen.
Details

Hits: 155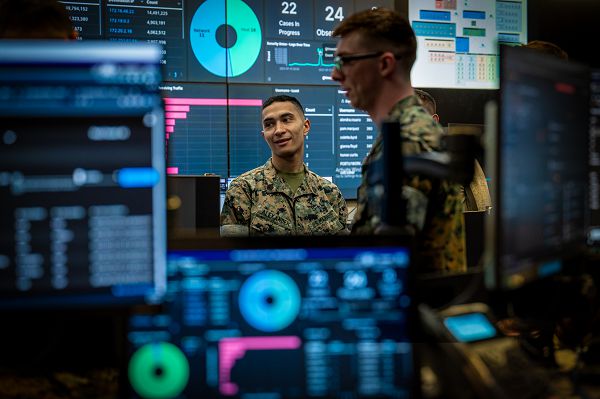 Undisclosed Location. (September 7, 2023): They do not storm beaches, but these Marines play a vital role defending the nation from attacks on the new frontier of Cyberspace. In this photo by Corporal Brian Stippey, Marines and their civilian counterparts with the Marine Corps Cyberspace Warfare Group compete in Cyber Flag 23-2, an annual defensive exercise that provides realistic "hands-on-keyboard training" against the activities of malicious cyber actors in the virtual world.
Also participating in Cyber Flag were the U.S. Army Cyber Command, Navy Fleet Cyber Command, and more than 250 computer professionals from eight different nations. International partners included teams from Australia, France, Japan, New Zealand, Republic of Korea, Singapore, the United Kingdom.
Cyberwarfare is defined as a set of actions by a nation or criminal organization to attack a nation's network systems to disrupt, damage, or destroy infrastructure. These bad actors also launch "denial of service" attacks against computer networks or plant viruses, trojans, spyware, and worms into existing software. Here they hide, undetected, until their assault is launched.
These "cyberweapons" conduct attacks that would normally require a soldier or a spy and would be considered an act of war if done by a human agent. These network breaches are deliberate attempts to violate the privacy and sovereignty of American defense computer networks and can cause catastrophic harm to our national security.
Details

Hits: 170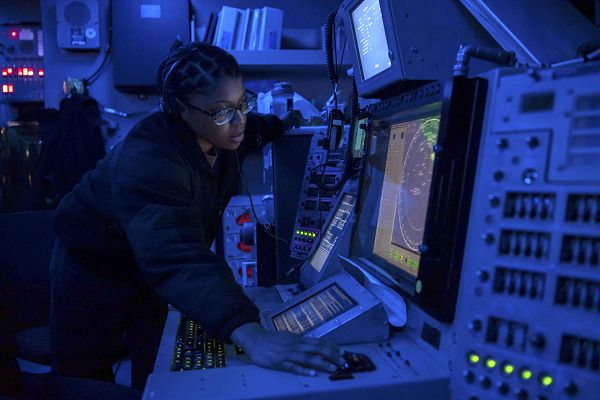 Pacific Ocean. (September 7, 2023): They are the brains of the nerve center of American warships, the Combat Information Center or CIC, and they perform the most sensitive and vital duties in the Navy. In this photo by MC3 Brittney Camacho-Pietri, Operations Specialist 2nd Class Tenisha Clayton, from Roxboro, N.C., stands watch in the CIC aboard the aircraft carrier USS Nimitz while underway in the Pacific. The Operations Specialists are responsible for the organized collection, processing, display, evaluation, and dissemination of combat information to command-and-control stations. The information they transmit is used by commanders at all levels to make sound tactical decisions.
The CIC is the most top-secret location aboard and Operations Specialists must meet stringent security clearance requirements and earn the trust of their commanders. These technicians are at the heartbeat of ships operations, developing a complete picture of all assets in the area while tracking potential targets, recording their movements, and using complex radars to give commanders a strategic advantage.
They are trusted advisors on shipboard warfare operations and navigation, and experts at interpreting and evaluating radar presentations and tactical situations. The safety of the entire ship often depends upon how skilled these professionals are at spotting dangers to the fleet.
Subcategories