Details

Hits: 148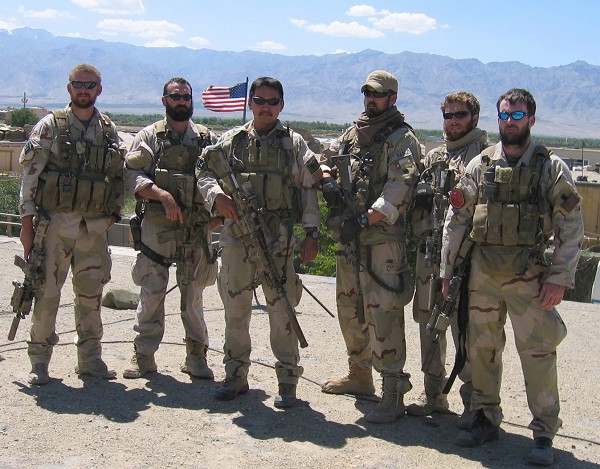 Above is an official Navy filed photo of Navy SEALs operating in Afghanistan in support of Operation Enduring Freedom. From left to right, sonar technician (surface) Petty Officer 2nd Class Matthew G. Axelson, of Cupertino, Calif.; Senior Chief information systems technician Daniel R. Healy, of Exeter, N.H.; quartermaster Petty Officer 2nd Class James Suh, of Deerfield Beach, Fla.; hospital corpsman Petty Officer 2nd Class Marcus Luttrell; machinist's mate Petty Officer 2nd Class Eric S. Patton, of Boulder City, Nev.; and Lt. Michael P. Murphy, of Patchogue, N.Y. With the exception of Luttrell, all were killed June 28, 2005, by enemy forces while supporting Operation Red Wing.

We take security to the extreme, and the only reason this photo is published showing their faces is because the military the Department of Navy has released the photo confirming it is now acceptable to do so without placing lives at risk. Loose lips sink ships and as always their faces would otherwise be obscured..

The amazing thing about heroes is, they are so ordinary. They come from all walks of life, rich and poor, big cities, and country farms, basically the fabric of American society. A very few choose to serve their country in the armed forces and fewer still reach the level of excellence of a Navy SEAL.

They volunteered to tackle the most dangerous missions, knowingly risking their lives as the tip of the spear for America's armed forces. Some make the ultimate sacrifice while trying to save their comrades. Lt. Michael P. Murphy, from Patchogue, N.Y. was one such hero.

Murphy was born May 7, 1976, in Smithtown, New York and his family moved to Patchogue on Long Island when he was very young, Murphy was good at sports, and he began sticking up for others at an early age — his family said he got into a fight at school while defending a student with disabilities.

After graduating from High School in 1994, Murphy went to Penn State University where he graduated with honors with two degrees, one in political science and one in psychology. Murphy was accepted into a few law schools, but he decided on a different path — he wanted to become a Navy SEAL. After completing this legendary training, Murphy earned his trident in July 2002, eventually deploying to Afghanistan.
On June 27, 2005, Murphy took part in Operation Red Wings, a reconnaissance mission to locate Ahmad Shah, a high-level anti-coalition militia leader in the Hindu Kush mountain range east of Asadabad. Murphy, along with three fellow SEALs: Petty Officer 2nd Class Danny Dietz, Petty Officer 2nd Class Matthew Axelson and Petty Officer 2nd Class Marcus Luttrell, inserted into a rugged, enemy controlled area high in the mountains when they came across three goat herders who they questioned and let go. It is believed the herders sympathized with the enemy and promptly reported the presence of the Americans to the Taliban.
Read more: MEDAL OF HONOR MENTION… THE REAL HEROES BEHIND "LONE SURVIVOR"
Details

Hits: 187
Philadelphia, Pennsylvania. (December 10, 2022): They leap from airplanes thousands of feet in the air and then perform a perfect landing in the middle of a football game as the crowd roars in appreciation. They are called "Leap Frogs", and they are something special.
In the above photo by Petty Officer 2nd Class Austin Breum, Chief Aircrew Survival Equipment man Mike Halford and Special Warfare Operator 1st Class Cory Hager, members of the Navy parachute team the "Leap Frogs," perform a demonstration at the 123rd Army-Navy Game held at Lincoln Financial Field in Philadelphia. The Leap Frogs are the official parachute demonstration team of the United States Navy and are part of the United States Naval Special Warfare Command. The Leap Frogs Navy Parachute Team are made up of active-duty Navy SEALs, Special Warfare Combatant-craft Crewmen (SWCC), Explosive Ordnance Disposal (EOD) Divers, and support personnel.
The Team began in 1969 when Navy SEALs and Underwater Demolition Team members volunteered to perform at weekend air shows. The team was officially commissioned "The Leap Frogs" in 1974 by the Chief of Naval Operations with the mission to demonstrate Navy excellence throughout the United States. Each team member has conducted real-world operations before volunteering to join this elite unit. Following a three-year commitment with the Navy Parachute Team, they will return to their operational units.
Today, the Leap Frogs continue to tour nationwide dazzling audiences with aerial demonstrations.
Details

Hits: 142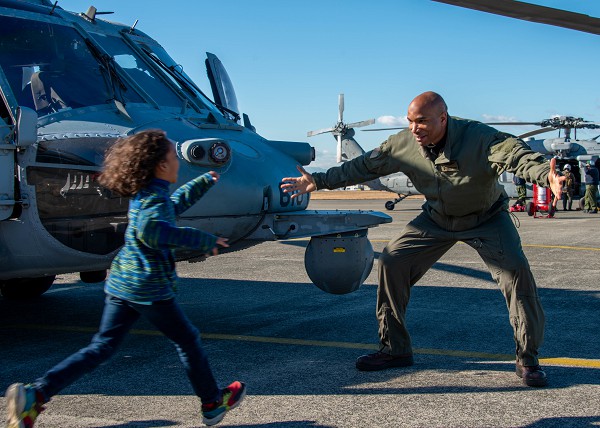 Atsugi, Japan (December 15, 2022): In this photo by MC2 Ange Oliver Clement, Chief Naval Air Crewman (Helicopter) Reginald Harvey from the "Golden Falcons" of Helicopter Sea Combat Squadron is greeted by his family at Naval Air Facility Atsugi, Japan. Crewman Harvey and the "Golden Falcons" completed a U.S. 7th Fleet deployment where they provided airpower in support of the USS Ronald Reagan Carrier Strike Group while it operated with allies and partners in support of a free and open Indo-Pacific.
The Golden Falcons are a helicopter anti-submarine squadron established in 1952 and they are the oldest active anti-sub squadron in the Navy. The unit has a complement of 190 enlisted and twenty-two officers who operate eight MH-60S Seahawk helicopters.
Read more: DADDY'S HOME! JOYOUS REUNIONS AS SQUADRON RETURNS
Details

Hits: 129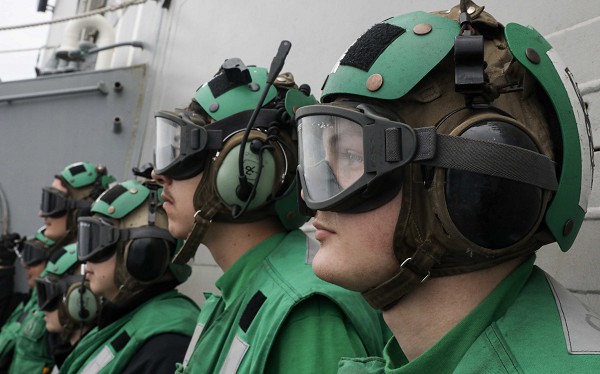 PHILIPPINE SEA (Jan. 17, 2023): In the photo by MC1 Greg Johnson, Sailors assigned to the Arleigh Burke-class guided-missile destroyer USS Rafael Peralta wait for an MH-60R Sea Hawk helicopter assigned to Helicopter Maritime Strike Squadron 51 to lift off from the ship's flight deck. The Rafael Peralta is assigned to Commander, Task Force 71/Destroyer Squadron (DESRON) 15, the Navy's largest forward-deployed DESRON and the U.S. 7th Fleet's operating in the Philippine Sea.
Commissioned in 1991, the USS Rafael Peralta is the 65th Arleigh-Burke-class guided missile destroyer, one of the largest warship production run in Navy history. The Rafael Peralta's mission is to guard the fleet from attack from enemy aircraft, surface ships, and submarines. A devastating weapon in its own right, the Rafael Peralta is packed with five types of weapon systems including the Tomahawk Cruise missile. The vessel's undersea warfare capability includes the ability to launch four types of torpedoes, Defensively, the ship has a mix of defensive weapons including the deadly Phalanx anti-aircraft system that fires a shattering 50 rounds per second.
Details

Hits: 134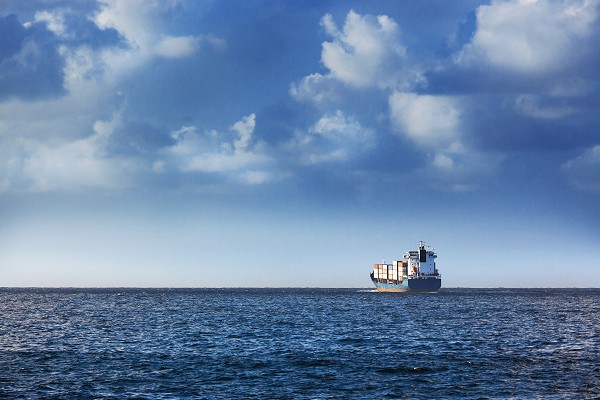 U.S., January 31, 2023 - As reported last week, America has quite a few service members stationed in Jordan efforting matters in that general geographic area, including Syria. Good morale bolsters a good mission, and SupportOurTroops.org runs a substantial MWR (morale, well being, and recreation) program to help assure that. An interesting project has been underway for some time, and on the 17th it left port on a freighter headed their way. Its now on the high seas making its way over, which will take some weeks. This really is a hole in one for the troops, demonstrating Americans' goodwill toward their military service members! Keep your eyes peeled for the series we're developing on it. All Together now!®
Details

Hits: 185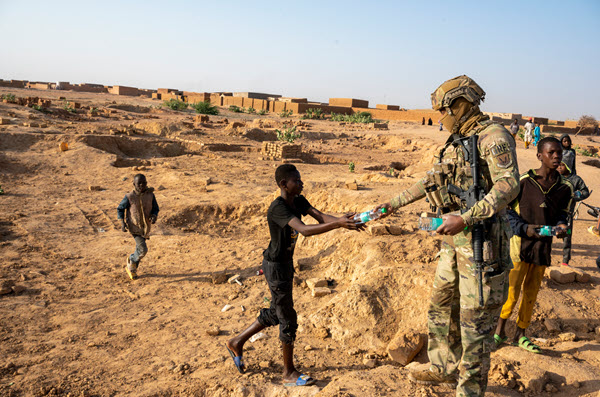 NIGERIEN AIR BASE 201, AGADEZ, Niger: (January 6, 2023): In this photo by Master Sergeant Michael Matkin, U.S. Air Force Senior Airman Lorenzo Bennette, assigned to the 409th Expeditionary Security Forces Squadron, hands a bottle of water to a local child near Air Base 201 in the African country of Niger. MSgt. Matkin is part of the base Quick Reaction Force (QRF), an elite unit comprised of Airmen from multiple squadrons trained in combat and evasion. These Airmen are highly skilled professionals who undergo special training to perform their duties in austere and potentially hostile environments.
Typically, a QRF is an armed military unit capable of rapidly responding to developing situations, to help allied units in need of such assistance. They must have the personnel and equipment ready to respond to any type of emergency within ten minutes or less.
The 409th Air Expeditionary Group was first activated in June 1943 during World War II. Today, the group operates intelligence, surveillance, and reconnaissance aircraft from unspecified locations in the horn of Africa.
Subcategories