Details

Hits: 259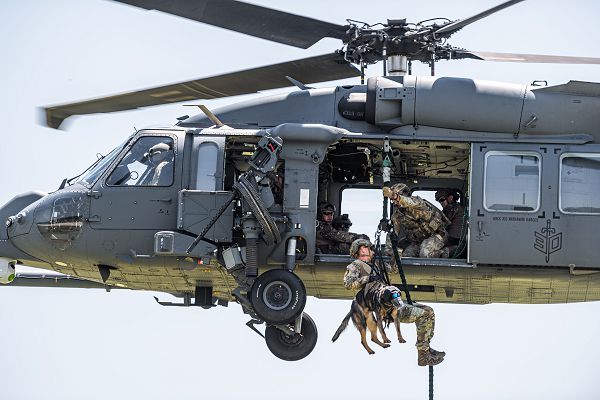 Moody Air Force Base, Georgia. (July 25, 2023): In this photo by Air Force Captain Katie Tamesis, a 45th Security Forces Squadron military working dog handler and K9 partner conduct fast rope insertion and extraction training from a HH-60W Jolly Green II helicopter. The 45th Security Forces Squadron, based at Patrick Space Force Base, came to the 93rd Air Ground Operations Wing headquarters at Moody AFB to train with the 820th Base Defense Group. The goal was to bolster air mobility employment capabilities of military working dog teams.
Most dog owners have witnessed their pet's fear and anxiety brought on by sudden loud noises like thunder or fireworks on the 4th of July. There are even companies that sell "thunder shirts" to calm pets during these noisy events.
Which begs the question; "How in the world do these military K-9 teams get their dogs to join them as they fast rope to the ground amid the roar of helicopter blades and bombs exploding all around?"
That is the specialty of the Air Force Dog Handler Team program which trains the 1300 working dog teams worldwide including those from the Army, Navy, and Marine Corps. In addition to traditional explosives and drug detection duties, the Dog Handler Team Program exposes K-9s to the sight, sound, smell, feel, and raw environment of a helicopter while its handler rappels the team to the ground.
The teams begin by familiarizing their dog with the entry and exit of the aircraft and, once they are comfortable with moving in and out of the chopper, the pilot fires up the engines and the real challenge begins. Both working dogs and handlers are equipped with hearing protection and as they practice boarding and exiting the chopper multiple times before the helicopter blades come to a stop.
Details

Hits: 288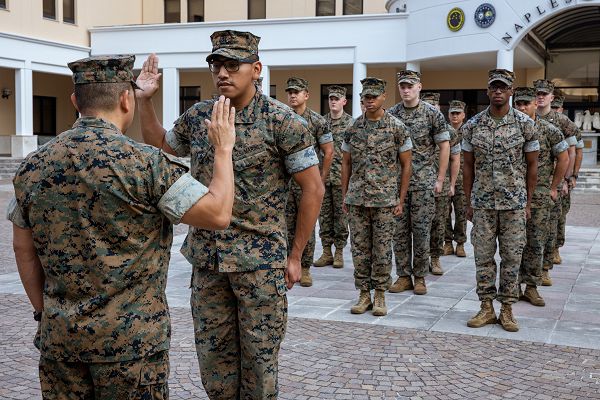 Naples, Italy. (July 20, 2023): In this photo by Lance Corporal Jack Labrador, U.S. Marine Corps Corporal Eduardo Garcia, Data System Administrator, 2nd Marine Expeditionary Brigade, recites the Oath of Enlistment during his reenlistment ceremony under the under the Commandant's Retention Program (CRP) at Naval Support Site Naples, Italy. The CRP expedites the reenlistment process for selected Marines and offers them meaningful incentives to reenlist, such as assignment prioritization, to help retain the most talented first term marines.The overall military retention rate for the US is 55% with the Army having the highest overall attrition rate and the Marine Corps having the lowest. According to data from the Defense Manpower Data Center, the reenlistment rates for the four US military branches in Fiscal Year 2021 were as follows:
United States Air Force: 66.8%
United States Navy: 59.6%
United States Coast Guard: 59.1%
United States Marine Corps: 56.2%
United States Army: 48.3%
One factor having a significant impact on retention is the number of deployments servicemembers are asked to make.
Details

Hits: 286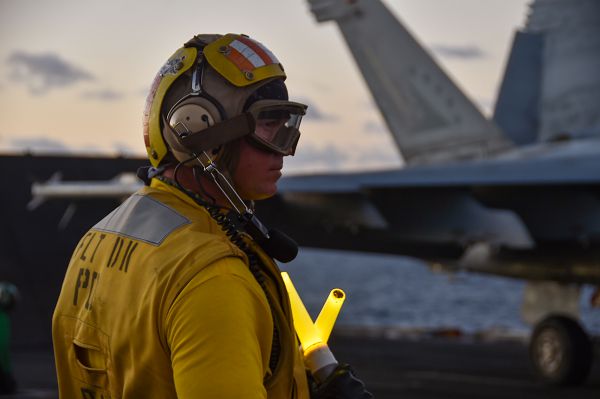 INDIAN OCEAN (July 19, 2023): In this photo by MC3 Natasha Chevalier-Losada, Aviation Boatswain's Mate (Aircraft Handling) 1st Class Jarred Scifert, from Monticello, Indiana, directs aircraft on the flight deck aboard the U.S. Navy's only forward-deployed aircraft carrier, USS Ronald Reagan in the Indian Ocean. The Ronald Reagan is the flagship of Carrier Strike Group 5, a combat-ready force that protects and defends the United States in the Indo Pacific region.
Aviation Boatswain's Mate (Aircraft Handling) is one of the most important roles in naval aviation and is responsible for helping launch and recover aircraft quickly and safely aboard ships at sea. Their duties also include firefighting, salvage, and rescue operations.
Aircraft handlers work outdoors on the deck of aircraft carriers that launch aircraft every 20 seconds in all climatic conditions in fast-paced and often potentially hazardous environments. They are called the "salt of the deck" by pilots as they supervise the safe movement of aircraft on busy flight decks in all-weather day and night. In the event of a crash, the Aircraft Handlers help rescue personnel, perform firefighting duties, and do debris removal.
To become a Navy Aircraft Handler, a candidate must pass ten weeks of Basic Recruit Training at Great Lakes, Michigan and then complete four weeks specialized training at Pensacola, Florida. Upon graduation, the Boatswain's Mate (Aircraft Handling) may be assigned to an aircraft carrier or other types of ships with airplanes or helicopters.
Details

Hits: 272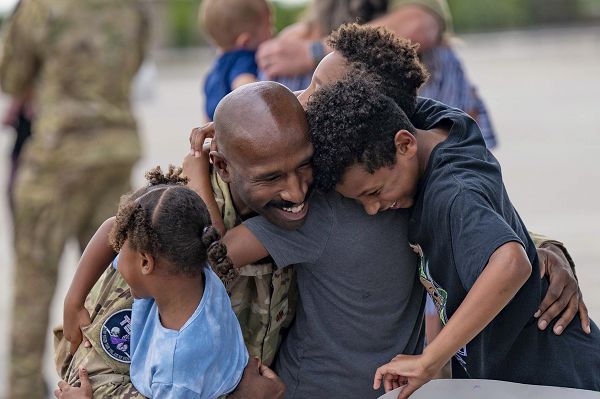 Patrick Air Force Base, Florida. (July 7, 2023): Few homecomings are as joyous as those of servicemembers returning to their families after a long deployment. In this photo by Senior Airman Dakota Raub, Combat Rescue Airmen with 920th Rescue Wing return from deployment and are reunited with their family and friends.
The 920th Rescue Squadron is America's premier combat search and rescue unit with over 2,500 airmen trained and equipped to locate and recover U.S. personnel in military operations. Additional missions include supporting NASA crewed flights by providing rescue support during water landings and they also rescue civilians in distress or lost at sea. The 920th plays a major role during disasters and in American humanitarian relief efforts around the world.
Air Force Pararescue are America's elite combat forces specifically organized, trained, equipped, and postured to conduct full spectrum Personnel Recovery. These Battlefield Airmen execute the most perilous, demanding, and extreme rescue missions anytime, anywhere across the globe. Whether shot down or isolated behind enemy lines; surrounded, engaged, wounded, or captured by the enemy; Pararescue forces will do whatever is required to deny the enemy a victory and bring our warriors home to fight another day.
Details

Hits: 318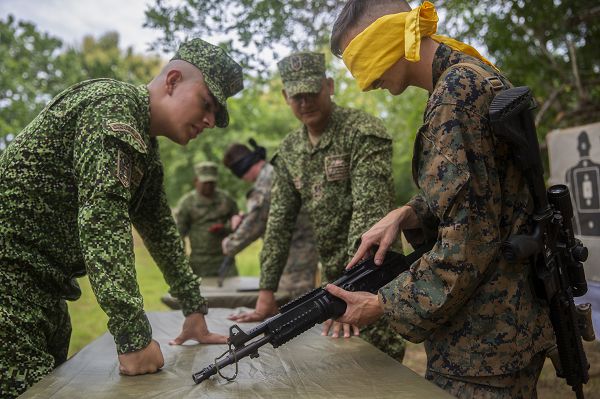 Covenas, Columbia. (July 17, 2023): In this photo by Lance Corporal Samuel Qin, U.S. Marines with Lima Company, 23rd Marine Regiment, Marine Corps Forces Reserve race to assemble and disassemble the Columbia Army's standard issue weapons while participating in UNITAS LXIV, the longest running multinational maritime exercise that brings together forces from twenty partner nations. Under the guidance of Columbian instructors, the Marines familiarized themselves with various rifles with the blindfold adding an extra challenge.
The U.S. and Columbia have a long history of military cooperation in counterterrorism, drug interdiction, and counterinsurgency matters. The U.S. currently maintains seven existing bases in Colombia including two naval bases at Cartagena and Tolemaida, three air force bases located in Malambo, Palanquero, and Apiay and two more army bases at Larandia and Tolemaida. In addition to rotating military exercises, there are about 200 U.S. personnel stationed at three radar sites around the country to monitor suspected drug flights. The Columbia Army, with over 361,420 active personnel as of 2020, is the largest and oldest service branch in Colombia and the third largest army in the Americas.
Details

Hits: 287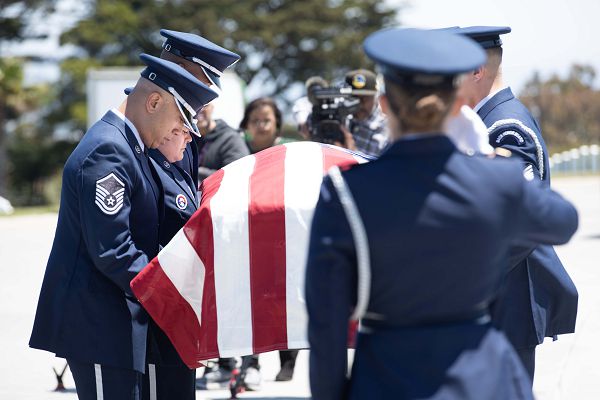 San Bruno, California. (July 21, 2023): America makes a guarantee to every servicemember sent into harm's way… you will not be left behind. Another example of fulfilling this promise happened this week with the funeral of Colonel Ernest L. De Soto, an Airman lost during the Vietnam War. In this photo by Senior Airman Alexander Merchak, Airmen from the 60th Air Mobility Wing Honor Guard render full military honors to Colonel De Soto at Golden Gate National Cemetery in San Bruno, California after his remains were accounted for by the Defense POW/MIA Accounting Agency and returned to his family.
On April 12, 1969, Lt. Col. De Soto was the pilot of a F-4D Phantom II assigned to 390th Tactical Fighter Squadron, 336th Tactical Fighter Wing. De Soto, his navigator Captain Hall and another aircraft were returning from a cancelled strike mission near Quang Nam Province, Vietnam when both aircraft ascended into heavy cloud cover. The lead aircraft noticed De Soto's plane was not in sight and immediately began an aerial search without success. De Soto was promoted to Colonel while in a missing status.
A search and rescue airborne mission were deployed and located De Soto's crash site, there were no signs of the crew; however due to the hostile activity in the area prevented a ground investigation of the site.
In May 1995, a Joint Field Activity team located the crash site in the Giang District, Quang Nam Province and his remains were discovered during a recovery mission in March 2021 and sent to the Defense POW/MIA Accounting Agency (DPAA). The DPAA's mission is to provide the fullest possible accounting for our missing personnel from past conflicts to their families and the nation.
Read more: AMERICA'S PLEDGE: "LEAVE NO AIRMAN, MARINE, SOLDIER, OR SAILOR BEHIND"
Subcategories