Details

Hits: 103
SPECIAL FORCES SOLDIER VOLUNTARILY RISKS HIS LIFE TO SAVE OTHERS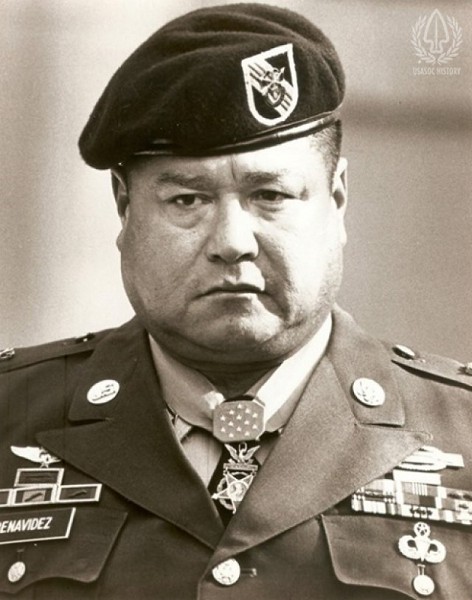 MSgt. Roy P. Benavidez of the Army's 5th Special Forces Group was awarded the Medal of Honor for voluntarily risking his life to save his fellow soldiers during the Viet Nam War. He was presented the Medal of Honor by President Ronald Reagan in 1981. The U.S. Navy commissioned a ship in his honor, the USNS Benavidez, in 2003.
"Greater love hath no man than this, that a man lay down his life for his friends."
John 15:13 King James Bible.
It was just past dawn on May 2, 1968, during the height of the Viet Nam War when a 12-man Special Forces Team was inserted by helicopter into dense jungle to gather intelligence on enemy activity. It was a day that would change the life of Army Master Sergeant (Staff Sergeant at the time) Roy P. Benavidez forever and earn him the Medal of Honor.
After a short period on the ground, the Special Forces Team ran into heavy enemy resistance, taking numerous casualties and requesting extraction by helicopter. Three choppers attempted to rescue the men but were unsuccessful due to intense small arms and anti-aircraft fire.
SSgt. Benavidez, assigned to the 5th Special Forces Group (Airborne), was monitoring the situation by radio when one of the helicopters landed to off-load their wounded. SSgt. Benavidez voluntarily boarded a returning aircraft to assist in yet another rescue attempt totally disregarding the danger to himself.
Details

Hits: 116
A BATTLE WON BY THE "CHOSEN FEW"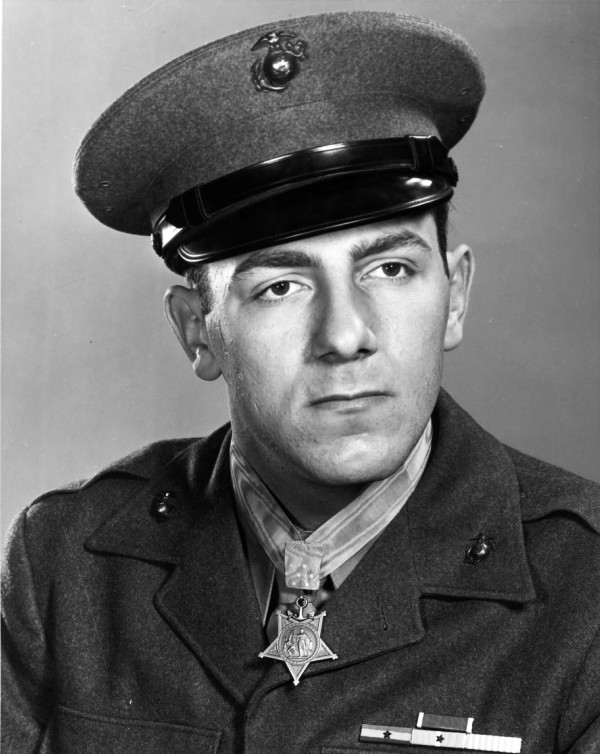 Marine Corps Base Quantico, VA. (September 29, 2022): Private First-Class Hector A. Cafferata, Jr. was laid to rest at the Quantico National Cemetery at Marine Corps Base Quantico, Virginia, April 22, 2016. Cafferata received the Medal of Honor for his actions during the Chosin Reservoir campaign of 1950 for single-handedly holding off an enemy regiment during the Korean War and safeguarding his comrades from a live grenade until he was felled by a sniper's bullet. He went on to live to the ripe old age of 86.
Marine Corps Base Quantico, VA. (September 29, 2022): It was the defining moment of the Korean War, a bloody battle between 30,000 Marine, Army, and South Koreans against approximately 120,000 Chinese regulars resulting in over 10,000 allied battle casualties. Thirteen Medals of Honor were awarded to participants in the Battle of the Chosin Reservoir, among them was 21-year-old Marine Private First-Class Hector A. Cafferata Jr.
Outwardly, there was nothing special about Hector Cafferata. He was born in Queens, New York and was raised in New Jersey enlisting in the Marines when he was 19. He graduated from Boonton High School and worked for the Sun Dial Corporation until his nation called up men for the Korean conflict. He was assigned as a rifleman to Company F, Second Battalion, Seventh Marines of the First Marine Division and shipped off to Korea.
Details

Hits: 101
LAST SURVIVING WWII MEDAL OF HONOR WINNER CELEBRATED BY FELLOW MARINES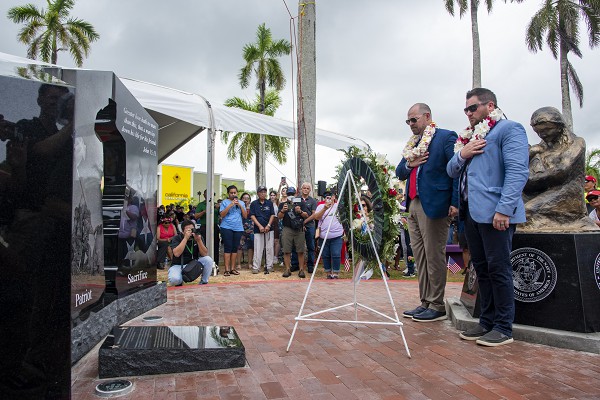 HAGATNA, Guam (July 25, 2022): In this photo by Shaina Marie O'Neal, family members of the late Hershel "Woody" Williams lay a wreath at the new Gold Star Families Memorial Monument during an unveiling ceremony. Williams was the last remaining Medal of Honor recipient from World War II and founder of the Woody Williams Foundation, which honors Gold Star families and servicemembers who lost their lives in the line of duty.
HAGATNA, Guam (July 25, 2022): World War II was carnage on a scale that is unimaginable today, resulting in between 35 and 60 million deaths worldwide. According to the National World War II Museum, fifteen million soldiers were killed and another 25 million wounded and there were an estimated 45 million civilian deaths.
Into this maelstrom stepped Hershel "Woody" Williams, a country boy born on a dairy farm in in rural West Virginia in 1923. The youngest of eleven children, Woody tried to join the United State Marine Corps after the attack on Pearl Harbor and was told he was too short to enlist (he was an imposing 5'6" tall).Woody became a Marine a year later after the height requirement was lowered and he trained as a demolition man and flamethrower operator before shipping out to the Pacific.
After stints at Guadalcanal and Guam, Corporal Williams found himself on the island of Iwo Jima and in the center of one of the bloodiest battles of the Pacific war. Assigned to the 21st Marine Regiment, Williams landed on the beach on February 21, 1945, to take part in a battle that cost 7,000 fellow Marines their lives and, of the 21,000 Japanese defenders, only 200 survived.
Details

Hits: 143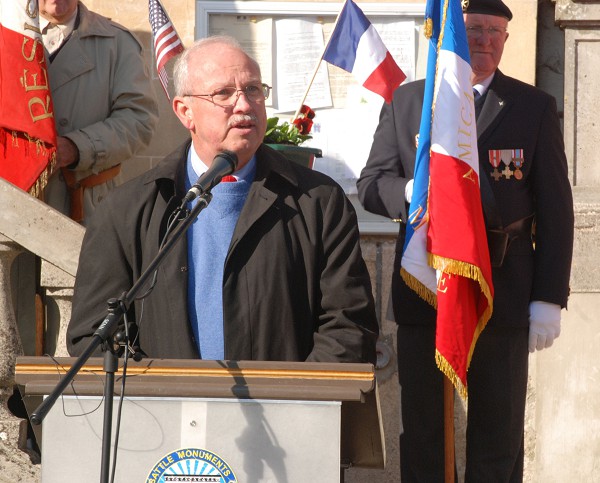 Chatel, France. (September 28, 2022): In this photo by Dave Melancon, more than 600 soldiers, family members, and history enthusiasts gather with the French Military to celebrate one of the U.S. Army's most famous World War I warriors… Sergeant Alvin York.
CHATEL, France. (September 28, 2022): It is hard to believe that one of our nation's greatest heroes during World War I started out as a conscientious objector, refusing to fight as a matter of moral principle. Yet Sergeant Alvin York of the 82nd Infantry Division initially objected to serving in the Army, yet he would become one of the most famous American soldiers in history, and the subject of books and movies still celebrated today.

Known as the "All American" Division, York was part of the American Expeditionary Forces sent to fight against the German Imperial Army in the Meuse-Argonne Offensive, France during World War I. Sgt. York (Corporal at the time) was assigned to G Company, 328th Infantry Regiment of what would later become the 82nd Airborne Division and was on patrol with his battalion on October 8, 1918, when they ran into a German unit. After a brief firefight, York and his comrades captured the 5 enemy soldiers but not before they called out for help. An enemy machine gun mowed down nine Americans , including all the sergeants.
Corporal York took command.
As the survivors returned fire, York took on the machine gun singlehandedly. A hunter back home, York worked his way towards the machine gun nest but before he could reach it he was rushed by a group of German soldiers. York defeated his attackers and eliminated the machine gun nest. The German commander decided to surrender rather than lose more men and York and his band bagged 132 German prisoners that day making it safely back to the American line.

York's bravery shattered the Germans, triggering a retreat from the Argonne Forest that saved his battalion from defeat.
Read more: Sgt. Alvin York… FROM CONSCIENTIOUS OBJECTOR TO WORLD WAR I HERO
Details

Hits: 73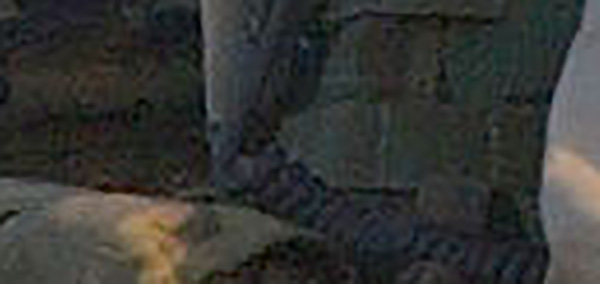 October 2022 - As discussed in a previous e-mail SOT fulfills various specialty equipment requests. One such recently made its way to its destination and your SOT Team received the following thank you to Americans for having their six: "I was in the field when the shipment arrived and inspected it when I returned a couple of days later. It had the [ ] we needed. Thank you so much for your high quality specialty support".
SSg [ ]
Details

Hits: 99
FROM WWI TO IRAQ
AMERICA HONORS ITS FLYERS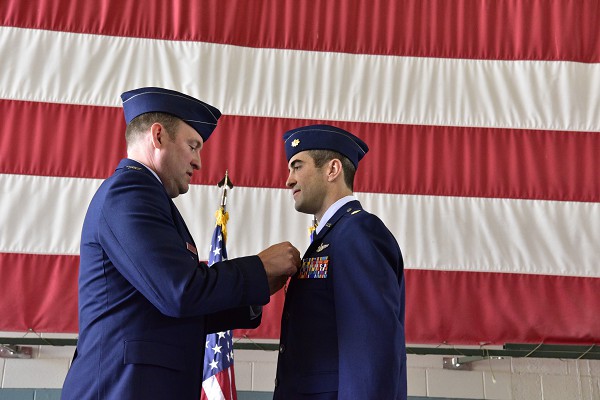 Kirkland Air Force Base, N.M. (September 21, 2022): It is an honor dating to the birth of military aviation, to the World War I ace who dueled above the skies of Europe, and the countless acts of heroism that were common in the "Great War". Since that time, the military has bestowed the Distinguished Flying Cross to over 4,000 American flyers, the first given to none other than Charles A. Lindbergh. "Lucky Lindy" received the award for his historic solo flight across the Atlantic in May 1927 in his single engine plane the Spirit of St. Louis.
Established by an act of Congress and signed into law by President Calvin Coolidge, the Distinguished Flying Cross is the second highest honor given to servicemembers in the U.S. Military. The honor is granted to servicemembers who distinguish themselves for heroism while "participating in aerial flight involving action in the face of danger well above the actions of others in similar circumstances. This extraordinary achievement must be so exceptional that is clearly sets the recipient apart from their colleagues."
A shining example is the derring-do of then Captain Michael Tolzien of the Air Force's 58th Special Operations Wing for his actions while deployed to Afghanistan. Responding to Special Operations units who were isolated and under heavy enemy fire, Captain Tolzien air dropped over 1,600 pounds of combat-critical supplies to the beleaguered special forces who, without this support, would be overrun. Flying as low as eight hundred feet and after his aircraft suffered multiple hits, Captain Tolzien's delivered ammunition and vital medical supplies within fifty meters of his target. His quick decision making and courage under fire saved lives (tragically, Sergeant 1st Class Matthew McClintock of the Washington National Guard was the only casualty of the attack that day).
Subcategories