Details

Hits: 287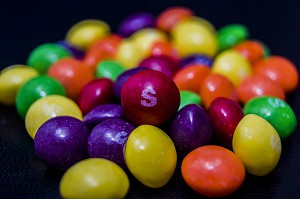 As young soldiers deployed to Saudi Arabia in Desert Storm, we were justifiably concerned about being sent hundreds of miles into an unforgiving desert with only what we could carry. As we set up camp near a tiny little town called Hafr al Batin in the western desert, the first supply trucks arrived and just in the nick of time. As we unloaded, I came across an enormous box of Skittles candy, neatly packaged in platoon sized pallets. Right then I knew we would win the war.

Honestly, what other nation on earth can go so far as to provision a troop's favorite candy? That, my friends, is logistical excellence. It's an American specialty.
The historical facts bear this out. Led by the brilliant Lieutenant General "Gus" Pagonis, Americas fighting forces had more than enough for a quick victory. This was one of the largest mobilizations in history, involving 500,000 troops, seven million tons of supplies and over 12,500 aircraft.
Flash forward to today, and America's airlift might is being put to the test yet again as the latest round of military and humanitarian assistance to Ukraine, some $800 million dollars, including 105 Howitzers, 40,000 artillery rounds and armored personnel carriers. To date, America has shipped $2 Billion in direct assistance in less than two months.

These are devastating weapons, but they are only as valuable as the quality of their ammunition. This is where the Army's Munitions Quality Assurance experts step in. Based in ordnance units around the world, they are part of the over 100,000 American service personnel on the ground in Eastern Europe.

Logistics win wars. Ask Mr. Putin. He's apparently having trouble delivering cans of gas across his own border.

Jim, The SOT Team (SSG Rt'd)
Details

Hits: 130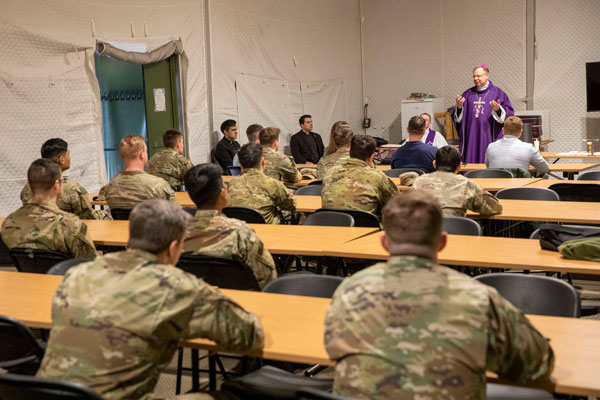 PABRADE, LITHUANIA, April 12, 2022 - U.S. Army Soldiers with 3rd Battalion, 66th Armored Regiment, 1st Armored Brigade Combat Team, 1st Infantry Division, attend Catholic mass hosted by Lithuanian Archbishop Gintaras Grušas, at Camp Herkus, Lithuania, April 12, 2022. Photo by Sgt. Brandon Bruer.
The famous "Devil" Brigade of the 1st Infantry Division, one of the Army's oldest units, are deployed to Lithuania to shore up NATO's easter front and to train with local forces. Deployed last year, the "Big Red One" joins over 100,000 Americans facing down threats from the Russians.

At SOT, we stand ready to assist these brave men and women and their families on all manner of assistance, from help paying rent to comfort shipments overseas, SOT is there for our troops when they need us. Please, join our family, right now. Show your continued support for these young warriors as they stand in defense of freedom.
Details

Hits: 156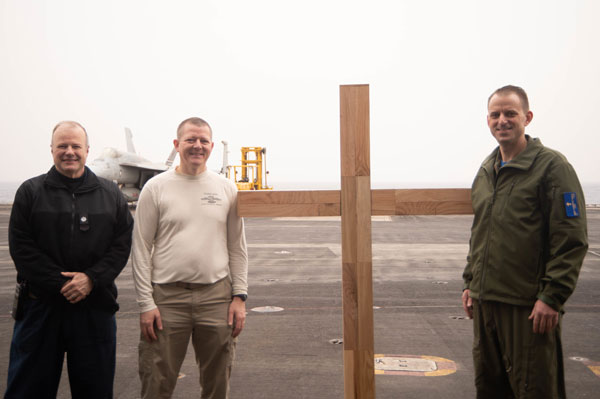 IONIAN SEA, April 17, 2022 - 220417-N-JU123-2185 IONIAN SEA (April 17, 2022) Cmdr. Chris Hester, from LaGrange, Georgia, left, Lt. Cmdr. Steven Hervey, center, from Silver Lake, Kansas, and Lt. Mike Smith, from Roanoke, Virginia, pose for a photo with a cross after an Easter Sunday service on the flight deck of the Nimitz-class aircraft carrier USS Harry S. Truman (CVN 75), April 17, 2022. The Harry S. Truman Carrier Strike Group is on a scheduled deployment in the U.S. Sixth Fleet area of operations in support of U.S., allied and partner interests in Europe and Africa. Photo by Specialist Seaman Jibreel Uddin.
From SOT Staff: The Ionian Sea lies between Italy and Greece atop the Mediterranean Sea. Warships transiting to and from the Black Sea into the Mediterranean Sea pass alongside the bottom right of the Ionian Sea. Why is this important? Ukraine sits atop the Black Sea, and the Mediterranean lies next to the south through the Bosporus Strait that passes through Istanbul in Turkey. As part of the joint plan agreed some years ago by Russia and China, Russia seeks to position itself as the dominant influencer in the Mediterranean and Middle East by its annexation of Crimea, war on Ukraine, and conquest of the Ukrainian port cities and Black Sea coast. If successful, Russia will logically build a major southern naval base there, and the usefulness of that base will be wholly dependent on the Bosporus Strait for access to the Mediterranean and from there to the Atlantic. Logically, Putin and Russia will next need to secure total control over the land around the Bosporus Strait to guarantee this strategic plan.
Details

Hits: 140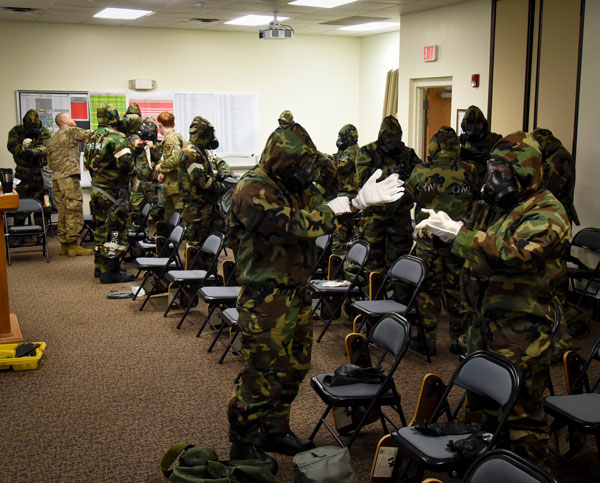 Sumpter Smith Joint Base, April 10, 2022 – Members of the 117th Air Refueling Wing participate in CBRNE annual training at Sumpter Smith Joint Air National Guard base, April 10, 2022. CBRNE training is designed prepare military members and first responders to effectively respond to a chemical, biological, radiological, nuclear, or explosive (CBRNE) or mass casualty incident. Photo by Staff Sgt. Wesley Jones.
Details

Hits: 124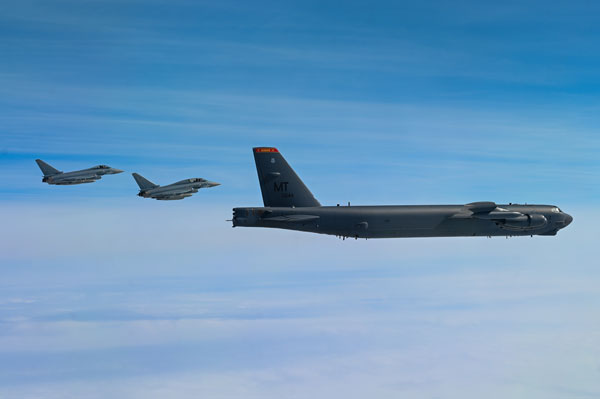 Mediterranean, April 5, 2022 – Two German Air Force Eurofighters escort a United States Air Force B-52H Stratofortress assigned to the 69th Expeditionary Bomb Squadron at RAF Fairford, England April 5, 2022. The German Air Force escorted the 69th EBS on their way to the Mediterranean region to integrate with Allies as part of pre-planned Bomber Task Force Europe series of missions. Photo by Airman 1st Class Zachary Wright.
FLYING AIRCRAFT TWICE THEIR AGE…
America's Fighting "Nighthawks" Take to the Sky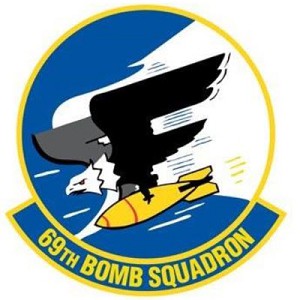 Hats off to the brave members of the storied 69th Expeditionary Bomb Squadron, currently based in Fairfield, England, seen in action Courtesy of Military Photographer Airman 1st Class Zachary Wright.

It's true. The young pilots and aircrews of today's B52 Stratofortress operate planes that are often more than twice their age.

The veritable American B52 Stratofortress first flew in 1952, 60 years ago this year, and is the longest serving aircraft in the world according to the Air Force. When extensive refitting is completed, the 69th Squadron will likely fly these ships beyond the year 2030.

The "Nighthawks" got their name from the fierce American Nighthawk (Chordeiles minor), a nocturnal predator that hunts by night, is difficult to spot with the naked eye in the daytime and is best known for its terrifying shriek in the darkness.
Details

Hits: 103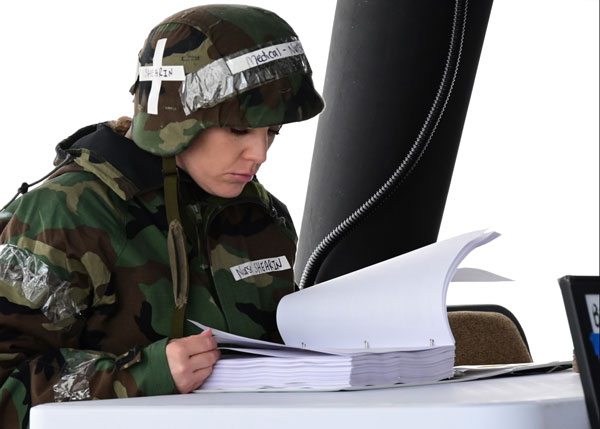 Berry Field Air Base, April 7, 2022 – U.S. Air Force 1st Lt. Rachel Shearin, a nurse with the 118th Medical Group, reads through a medical manual in a deployment situation April 7, 2022 at Berry Field Air National Guard Base, Nashville, Tennessee. Members from across the 118th Wing took part in the largest on-base readiness exercise in wing history April 5-9, to help prepare and train the wing for a near-peer conflict. Photo by Staff Sgt. Jordan Harwood
Subcategories