Details

Hits: 110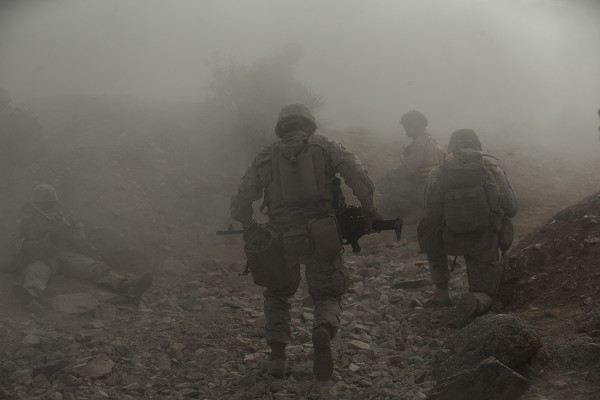 Twenty-Nine Palms, CA. (October 3, 2022): In this photo by Marine Corporal Brian Bolin, Jr., U.S. Marines assault an objective using a Bangalore torpedo breach during realistic training at Marine Corps Ground Combat Center, California. From North Africa to Afghanistan, Americans have survived and thrived in desert environments.
Twenty-Nine Palms, CA. (October 3, 2022): A haboob, derived from the Arabic "Hab" or "to blow", is a powerful wind that flows through the Sahara Desert creating a gigantic sandstorm that moves as a wall of dust reaching as high as 3,000 feet. These monsters appear suddenly, darkening the desert sky with their ominous reddish-brown clouds while producing thunderstorms and crackling lightning.
Soldiers in Operation Desert Storm reported haboob events that arrived in the middle of the night and lasted up to 3 hours. These ferocious winds collapsed tents and hurled anything not tied down out into the desert. Sand from these storms was ultra-fine, like talcum powder, and filled your nostrils, clogged your eyes, and seeped into everything from clothing to weapons.
Read more: DESERT WARFIGHTING: HABOOBS SOMETIMES CAN BECOME ALLIES
Details

Hits: 146
George Santayana
Life of Reason, 1905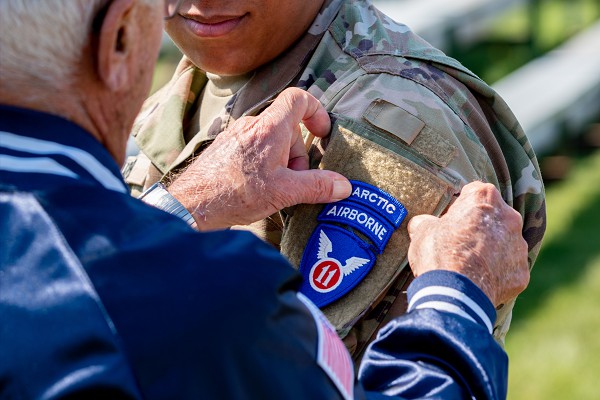 Joint Base Elmendorf-Richardson: (October 5, 2020): In this photo by Senior Airman Patrick Sullivan, Wayne Porter, a U.S. Army veteran who was assigned to the original 11th Airborne Division before its deactivation in 1958, places an 11th Airborne Division shoulder patch on Specialist Jihad Yarber. The presentation was part of a reactivation ceremony for the Army's newest version of the 11th Airborne that will focus operations on extremely wintry weather and mountainous terrain.
Joint Base Elmendorf-Richardson: (October 5, 2020): Sometimes, they never learn. In 1812, French Emperor Napoleon Bonaparte invaded Russia with his Grande Armée that featured more than 500,000 soldiers and staff, the largest European military force ever assembled.
During the opening months, the invasion went well despite the scorched earth tactics of the Russian Army who burned everything as it retreated deeper and deeper into Russia. Napoleon arrived in Moscow hoping to find supplies and a comfortable resting place for his army for the winter as he awaited a Russian surrender that never came. As the brutal Russian winter set in, Russian patriots burned Moscow forcing Napoleon to retreat with his starving army without proper freezing weather clothing. Throughout the catastrophic retreat, Napoleon's army was stalked by hunger, extreme cold, and a suddenly aggressive Russian Army who mercilessly harassed the defeated Frenchmen.
Read more: "THOSE WHO CANNOT REMEMBER THE PAST ARE CONDEMNED TO REPEAT IT."
Details

Hits: 167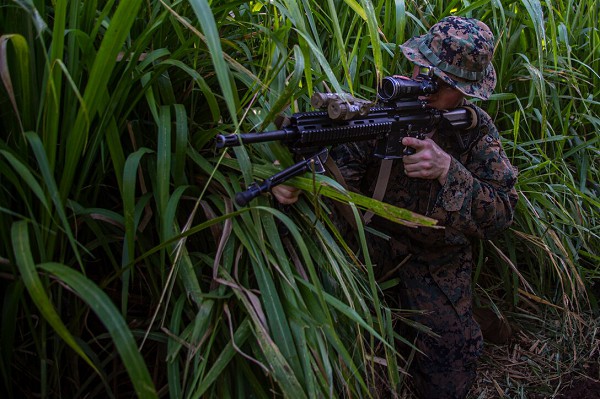 Marine Corps Base Hawaii, HI. (October 1, 2022): In this photo by Lance Corporal Jacob Wilson, Marine Lance Corporal Brendan Kelly, a rifleman with Alpha Company, 1st Battalion, 3rd Marine Regiment sights in his weapon while on patrol during a company-wide jungle warfare competition in the mountains of Oahu. America has over a century experience fighting in jungles from the South Pacific to Viet Nam and has learned many lessons on adapting to its harsh conditions.
Marine Corps Base Hawaii, HI. (October 1, 2022): The daily life of an infantry soldier in Viet Nam was often determined by the skies above. There are only two seasons in Southeast Asia, dry and wet. For soldiers in the jungle, the "dry" season meant oppressive heat, stifling humidity, and never-ending thirst and fatigue. On a typical day, a "grunt" gets up before dawn, saddles up a 70-pound pack, and then hikes ten hours through mountainous jungle in one hundred plus degree heat. The constant moisture affected both man and machine as many weapon systems failed in jungle conditions , often eliminating America's technological advantage.
Next came the monsoon season which stretched from May through September bringing over 190 inches of rain and plenty of misery for troops in the field. Ordinary cuts or sores developed into Jungle Rot; a persistent infection aggravated by wet conditions that turned soldiers' feet red causing painful lesions that took weeks to heal. As tough as the Vietnamese enemy was, weather also took a terrible toll on American forces.
Read more: WELCOME TO THE JUNGLE… BATTLING WEATHER NEARLY AS BAD AS THE ENEMY
Details

Hits: 122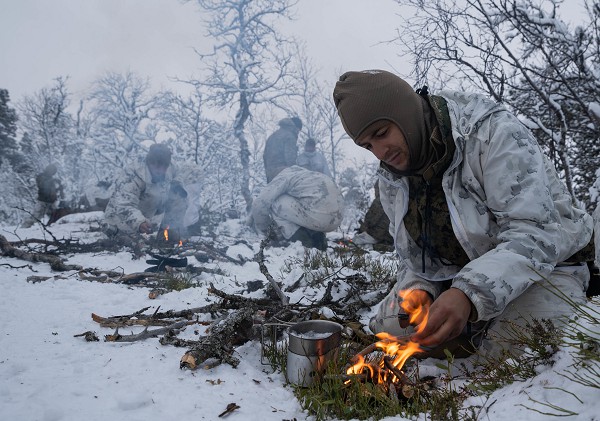 Tolga, Norway. (October 5, 2022): In this photo by Marine Sergeant Robin Lewis, U.S. Marines with the 2nd Marine Expeditionary Force boil snow for drinking water while participating in training to increase familiarity with and proficiency operating in Arctic conditions alongside our allies and partners. Throughout history, weather has proven to be both friend and foe to military forces, often determining the outcome of the battle.
Tolga, Norway. (October 5, 2022): Sometimes the weather can be your friend, a sudden ally that appears just in time to save you and your unit from disaster. Other times, old man weather brings calamity, death, and destruction on a biblical scale.
Twice, the Mongol leader Kublai Khan (the son of Genghis Khan) attempted to expand his empire by invading the island of Japan, and twice his massive fleets of ships ended up on the bottom of the ocean. The Khan's plan was to attack the Japanese city of Kyushu from the sea, and he had assembled the largest armada the world had ever seen, staffed by over 140,000 sailors. Both times his invasion plans were dashed by sudden, typhoon strength winds that destroyed his ships, ending his plans to expand his empire. Legend has it that the Japanese Emperor, himself a "living god" to his people, summoned these "divine winds" or Kamikaze to destroy the Mongol enemy. Unfortunately, American pilots would later encounter fanatical Japanese pilots willing to commit suicide in the name of their Emperor… called Kamikazes.
Details

Hits: 88

$40 million of tangible support was delivered into the hands of America's military servicemembers worldwide last year! The 2021 financials demonstrate organizational efficiency combining with highly effective programs to yield great impact — 97% average to program goods and services to the troops, their spouses, and their kids CY2019 - CY2021. The final numbers and finally in, and the support of the American people and patriotic American companies for their military was again clearly evident last year. Support Our Troops delivered over 97% percent of its resources to program goods and services for the troops, their spouses, and their kids. What a great country we have!
Details

Hits: 127
"NO ONE IS CONCERNED ABOUT THEMSELVES."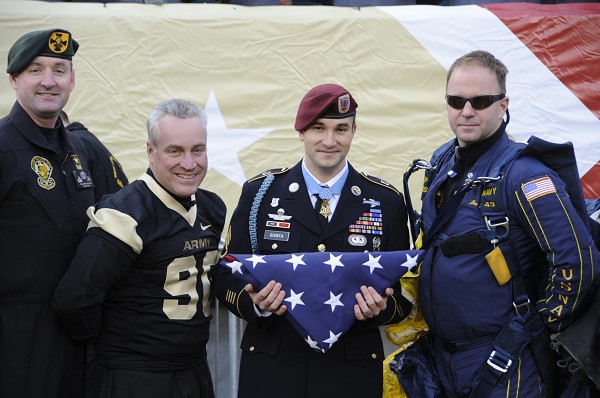 Lincoln Financial Center, PA. (December 11, 2010): Army Staff Sergeant Salvatore "Sal" Giunta is presented the U.S. flag by Navy Parachutist Jim Wood (Right) assisted by members of the famous Army Golden Knights parachute team. SSgt. Giunta was awarded the Medal of Honor for distinguishing himself by acts of gallantry at the risk of his life above and beyond the call of duty in combat operations against enemy forces in Afghanistan.
Lincoln Financial Center, PA. (December 11, 2010): Surrounded by fellow parachutists, Staff Sergeant Salvatore "Sal" Giunta basked in the glory and admiration of a grateful nation recently when he was presented the American flag at the 111th Army-Navy game, SSgt. Giunta became the only living servicemember to receive the Medal of Honor in 40 years.
He's that lucky.
Assigned to B Company, 2nd Battalion, 503rd Airborne Infantry Regiment, 173rd Airborne Brigade Combat Team, SSgt. Giunta was on his second deployment to Afghanistan when he and his comrades were ambushed by enemy forces in the rugged Korengal Valley, Afghanistan on October 25, 2007.
Subcategories