Details

Hits: 138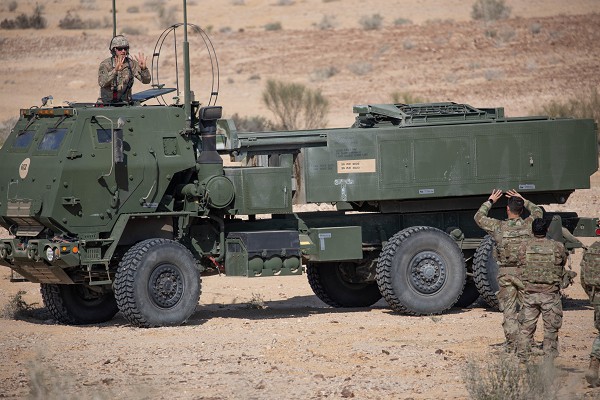 Israel. (January 23, 2023): In this photo by Specialist David Campos-Contreras, a Soldier with 2nd Battalion, 130th Field Artillery Regiment, Task Force Spartan, communicates with Soldiers from his battalion through hand signals from the air guard hatch of their High Mobility Rocket Artillery System. The Americans and the Israeli Armed Forces joined forces during exercise Juniper Oak 2023, a large-scale bilateral military exercise to build teamwork among U.S. and Israeli forces.
This year, American forces trained their Israeli counterparts on the now world-famous High Mobility Artillery Rocket Systems (HIMARS) system now being employed with significant effect in Ukraine.
Details

Hits: 163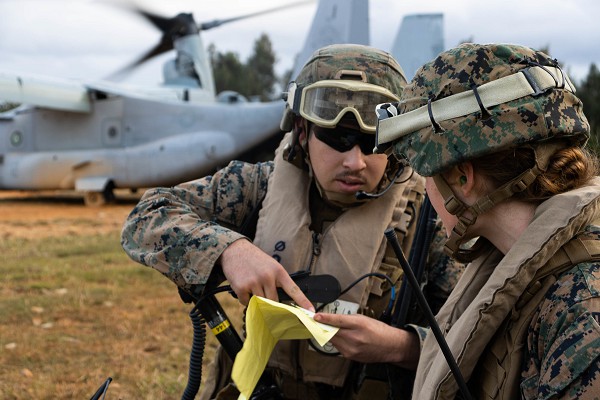 Philippine Sea. (January 25, 2023): In this photo by Lance Cpl. William Wallace, U.S. Navy Lt. Catherine Cloetta, a triage officer, and U.S. Marine Corps Cpl. Angel Marmolejo, a radio system operator, both with the 31st Marine Expeditionary Unit (MEU), coordinate an extraction during a ship to shore casualty care exercise at Camp Hansen, Okinawa, Japan. The training simulated a real-life mass casualty incident to test readiness and to improve response times. The 31st MEU is operating aboard ships of USS America Amphibious Ready Group in the 7th fleet area of operations.
A mass casualty event, by nature, is chaotic. These exercises allow Marines to practice keeping their nerves under control while dealing with dozens of emergency situations at once.
Details

Hits: 123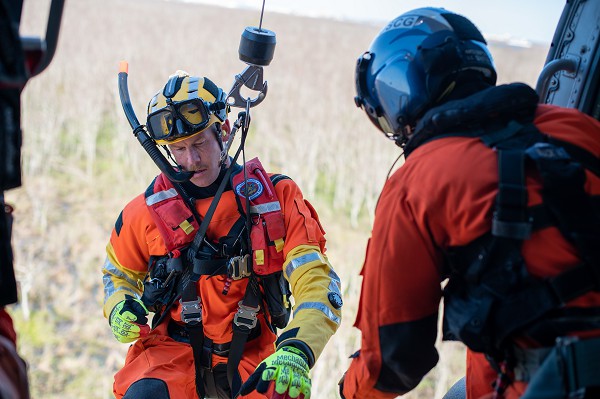 Coast Guard Air Station, New Orleans, LA. (January 26,2023): In this photo by Petty Officer First Class Gabriel Wisdom, rescue swimmer Petty Officer 2nd Class Richard Hoefle is lowered from an MH-60 Jayhawk helicopter by Petty Officer 2nd Class Hunter Simpson, a flight mechanic at Air Station New Orleans. The Coast Guard launched this MH-60 aircrew from Naval Air Station Joint Reserve on missions that included a flyover of New Orleans and emergency landing and hoist training. Every branch of America's military has a "rescue swimmer" program, but the Coast Guard is unique due to the constant stream of real-life emergencies it faces every day, from rescuing civilians in a hurricane to conducting search and operations rescues far out at sea.
Becoming a U.S. Coast Guard Rescue Swimmer is considered by many to be one of the hardest things one can do in the service. The schooling and physical training are some of the most demanding you will find in any branch of the U.S. Military.
Coast Guard Rescue Swimmers have been called upon in natural disasters like hurricanes and flooding. They routinely handle extreme rescue situations in high seas often involving frantic civilians. A rescue swimmer needs physical strength and endurance, and the mental toughness to ignore their personal safety to save others.
Details

Hits: 118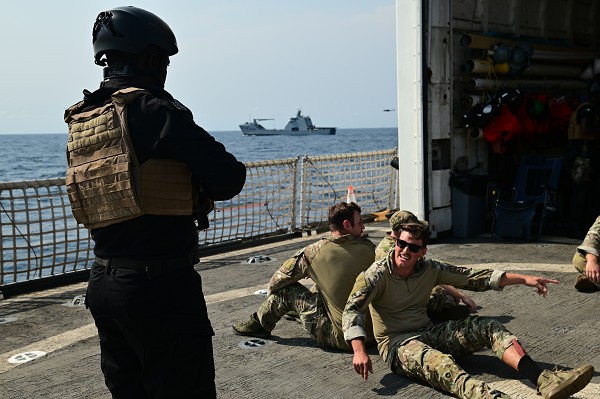 Atlantic Ocean. (January 29, 2023): In this photo by Petty Officer 3rd Class Mikaela McGee, U.S. Coast Guardsmen and a member of the Nigerian Navy conduct law enforcement training aboard USCGC Spencer in the Atlantic Ocean. These training sessions are part of the annual Obangame Express 2023, a multi-national maritime exercise conducted by U.S. Naval Forces Africa to improve cooperation in the Gulf of Guinea and the Southern Atlantic Ocean.
The U.S. Sixth Fleet, headquartered in Naples, Italy, plays host to multiple navies conducting the full spectrum of joint naval operations to advance U.S. national interests and security in Europe and Africa.
Obangame Express 2023, staged in Lagos, Nigeria, includes both in-port and at-sea exercises with the Nigerian Navy and 32 other nations to improve coordination among forces. The participating nations exchanged knowledge on search and rescue operations, boarding suspect vessels, and emergency medical techniques. The goal for Obangame Express 2023 is to ensure interoperability between forces which is vital to success in combat or an emergency.
The exercise centers on the Gulf of Guinea, a vast and diverse region stretching from Senegal to Angola with approximately 3,700 miles of coastline. It is an important shipping zone transporting oil and gas, as well as goods to and from central and southern Africa.
Details

Hits: 153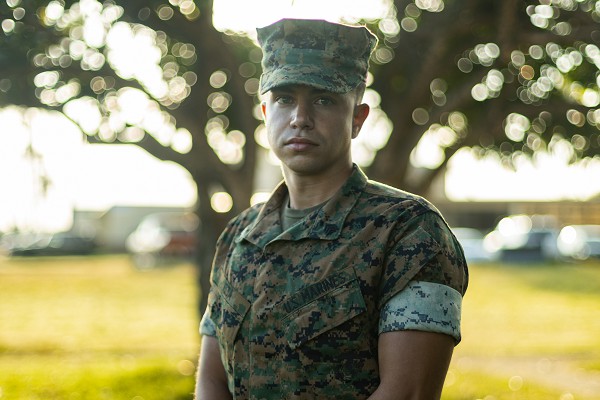 Marine Corps Base Honolulu, Hawaii. (January 24, 2003): In the above photo by Corporal Patrick King, Marine Sergeant Amed Issa poses for a press photo after his heroic actions while off duty in Honolulu exploded into the local media. According to local press reports, Sgt. Issa was off duty after a night spent in famous Waikiki when he came to the aid of a stranger who had been shot. He performed lifesaving techniques he learned in the Marine Corps to come to the victim's aide. According to the Honolulu Police Department, no suspect has been arrested in the case. Sgt. Issa is a classic example of why Americans admire the Marines… Always Faithful.
Details

Hits: 119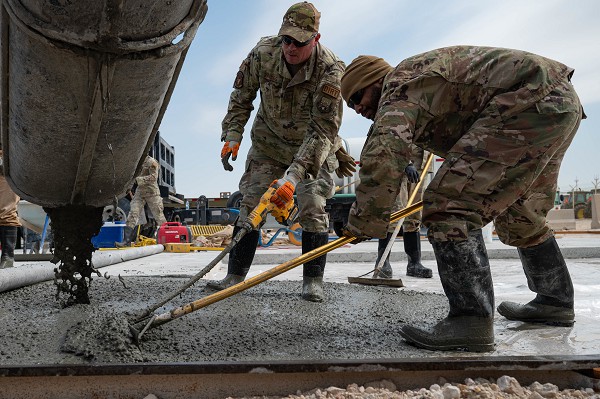 Al Udeid Air Base, Qatar (January 12, 2023): In this photo by Staff Sgt. Derek Seifert, Technical Sergeant Tech. Sgt Jeremy Briggs and Senior Airman Kenan Pierre, 379th Expeditionary Civil Engineer Squadron pavements and construction equipment journeymen, lay concrete at the 379th Expeditionary Logistics Readiness Squadron compound on Al Udeid Air Base, Qatar.
The 379th Expeditionary Civil Engineer Squadron facility management team was created to address an increasing amount of "enhancement" work to dormitory facilities at Al Udeid Air Base, a major U.S. ally in the Persian Gulf. Today, the sprawling hub is Qatar's strategic gem, showcasing the Gulf Arab emirate's tight security partnership with the United States.
Built on a flat stretch of desert about 20 miles southwest of the Qatari capital Doha, Al-Udeid Air Base once was considered so sensitive that American military officers identified it as only being somewhere "in southwest Asia.". At the height of U.S. wars in Afghanistan, Iraq and Syria, more than 10,000 troops called the base and other sites in Qatar home. Today, the U.S.-Qatari relations are stronger than ever in this very strategic part of the world.
Subcategories