Details

Hits: 132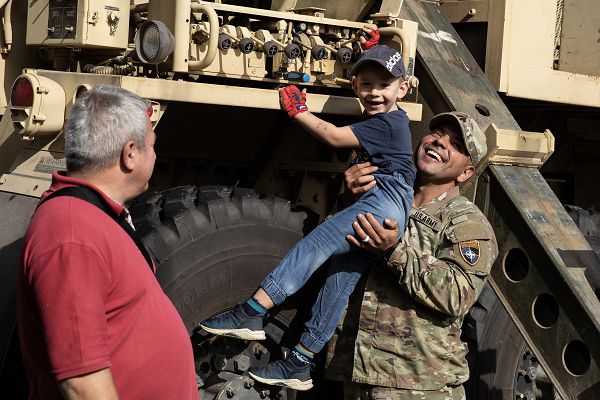 Ostroeɫęka , Poland. Division2, 2023): In this photo by Alex Soliday, U.S. Army Sergeant Francisco Quinones, assigned to Golf Company, 2nd Battalion, 69th Armored Regiment "Panther Battalion," 2nd Armored Brigade Combat Team, 3rd Infantry Division, shows a child how to move and operate a hitch on the back of a HEMTT recovery vehicle during the Polish Army's 11th Cavalry competition for the prized Mayor of Ostroeɫęka Cup". The event is held every year in honor of the Polish regiment that defended the city in the 1920s.
Since 1989, Poland has been a stalwart ally of the United States and is one of America's most important partners in Eastern Europe. As a fellow member of both NATO and the European Union, Poland is literally at the center of allied defense plans for Europe. Poland has deep cultural ties to America based on immigration and a shared support for democratic institutions. What is more, Poland is one of the most consistently pro-American nations in Europe and the world, with 79% of Poles viewing the US favorably. According to a BBC World Service Poll, 55% of Poles view US influence positively, the highest rating for any surveyed European country. Poland was also one of four participating countries in the American-led Iraq War coalition in 2003.
Over the last five years, the United States has provided more than $34 million in security assistance to Poland for military mobility, security services, and intelligence capabilities. The U.S. Army V Corps is establishing its Headquarters Forward Command in Poland marking the first permanently stationed U.S. Forces on NATO's eastern flank since World War II.
The 3rd Infantry Division's mission in Europe is to engage in multinational training and exercises across the continent, working alongside NATO allies and regional security partners.
Details

Hits: 110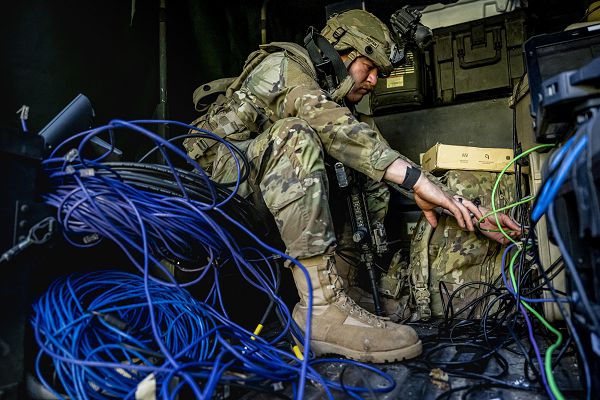 Hohenfels, Germany.(September 24, 2023): In this photo by 1st Sgt. Michel Sauret, Army Specialist Dylan Horak, a network communication systems specialist with the 44th Expeditionary Signal Battalion, reconnects cables to a communication system after a drone attack during Saber Junction 23. This annual exercise with NATO allies and partners included 4,000 participants from sixteen different countries. Participants trained with drones to simulate unmanned aerial combat including fixing damage to facilities.
Network communication systems specialists install tactical fiber and cable wiring, help troubleshoot computer systems, and routine maintenance on assigned vehicles, power generators, and equipment. They give technical assistance at the unit level to install automated telecommunications systems and are often called upon to repair malfunctioning network connections.
Created in October 2022, the network communication systems specialist was the first new military occupational specialty in two years. To become a 25H, students undergo 19 weeks of Advanced Individual Training at the U.S. Army Signal School at Fort Gordon, Georgia following their standard 10 weeks of Basic Combat Training. Soldiers learn to operate multiple nodes, or communications hubs, transmission assemblages, and ways to develop/splice fiber cables. Throughout the course, Soldiers also train on warrior tasks and battle drills to prepare them for a comprehensive field evaluation prior to graduation.
Commanders count on these highly skilled technicians to keep their communications up and running.
Details

Hits: 107
Riga, Latvia.(September 24, 2023): In this remarkable photo by Staff Sergeant Jesus Sepulveda Torres, a Marine assigned to Battalion Landing Team 1/6, 26th Marine Expeditionary Unit appears to be directing both sea and air forces ashore using a handy laptop. This amphibious landing scene unfolded during Northern Coast 2023; a German-led multinational exercise hosted by the Latvian Armed Forces.
The United States established diplomatic relations with Latvia in 1922 following its independence after World War I. In World War II, Latvia was annexed by the Soviet Union in 1940 and the country finally claimed its independence in 1991.
Latvia and the United States have signed treaties on investment, trade, intellectual property protection, extradition, mutual legal assistance. Latvia has enjoyed most-favored-nation treatment with the United States since December 1991.
Details

Hits: 101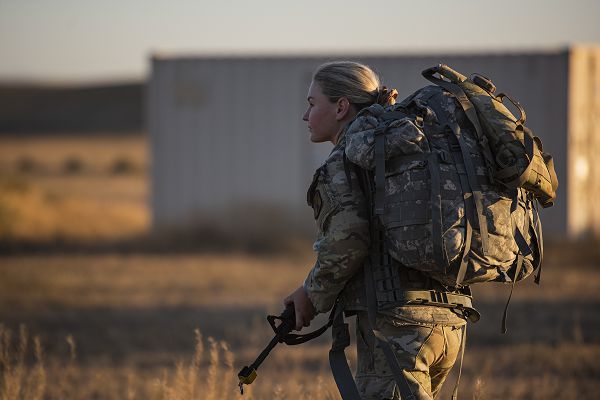 Orchard Combat Training Center, Boise, Idaho.(September 23, 2023): In this photo by Master Sergeant Becky Vanshur, Army National Guard Soldier Staff Sgt. Lauren Cox completes an 11-mile ruck march with 40 lbs. of weight carried in a pack during the Best Warrior competition held here. The Idaho Army National Guard hosted the four-day event that featured fifteen Idaho National Guard Soldiers competing for the prestigious title.
The Best Warrior Competition is an annual event conducted by the United States Army to identify and honor the most skilled and proficient Soldiers across various military occupational specialties. It is designed to evaluate a Soldiers' physical fitness, military knowledge, marksmanship, tactical proficiency, leadership abilities, and mental resilience.
The Best Warrior Competition consists of a series of challenging events that simulate real-world combat scenarios and tasks. These events include an Army Combat Fitness Test, a land navigation course, and shooting competitions to demonstrate weapons proficiency. Soldiers must overcome various obstacle courses including urban warfare simulations and tactical combat casualty care. They also must pass various written exams and oral boards to assess their knowledge of military doctrine, tactics, and leadership skills. Competitors had to endure little sleep and high stress that challenged them both physically and mentally while evaluating their ability to shoot, move, communicate, and survive.
Details

Hits: 99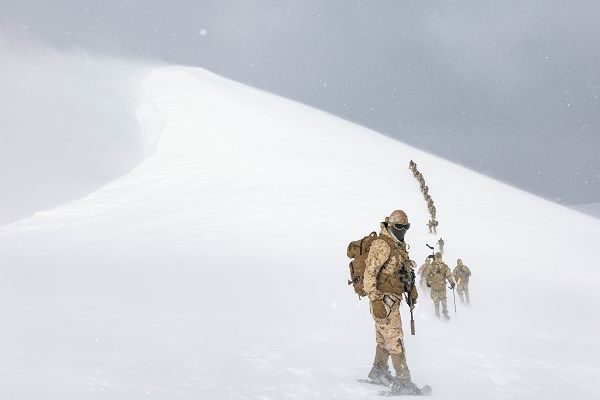 Punta Arenas, Chile.(September 21, 2023): In this photo by Sergeant Cameron Hermanet, U.S. Marines with 1st Battalion, 4th Marine Regiment, 1st Marine Division, and members of the Chilean naval infantry climb Mount Tarn for the culminating event of a bilateral freezing weather training exercise. Throughout the maneuver, Marines learned proper techniques for obtaining food and water, employed different weapons and gear, built shelters, practiced foot movements over snow, and conducted wintry weather personnel rescue. Training exchanges in South America provide U.S. forces opportunities to train in exotic environments such as humid jungles, frigid mountains, and complex waterways while strengthening partnership and enhancing overall interoperability with regional partners.
Chile is one of the United States' strongest partners in Latin America and a leader in promoting respect for the rule of law, economic stability, education, environmental protection, human rights, and sustainable development.
Regarded as one of the least corrupt and most vibrant democracies in South America, with a healthy economy, Chile is noted as being one of the closest strategic allies of the United States in the Southern Hemisphere, along with Colombia, and remains part of the Inter-American Treaty of Reciprocal Assistance.
The Chilean Marine Corps consists mainly of an amphibious assault force, a coastal defense force, special forces, and support garrisons. The Chilean Marines provide artillery and coastal defense, with batteries of howitzers and Excalibur missiles, and they protect the country's naval facilities. They also specialize in bomb disposal as part of their international responsibilities.
Details

Hits: 104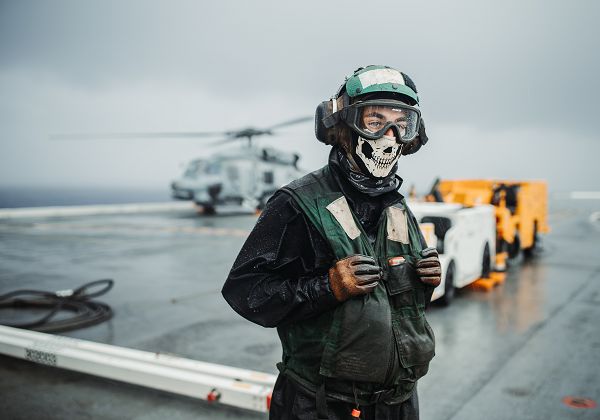 Atlantic Ocean.(September 21, 2023): Working on a busy flight deck is one of the most dangerous jobs on earth, and these guys wouldn't have it any other way. In this photo by MC1 Seaman August Clawson, Aviation Boatswain's Mate (Launching and Recovery) Airman Apprentice Ryan Bowden, assigned to Air Department V2 Division, stands by to recover aircraft during flight operations aboard the Nimitz-class aircraft carrier USS George Washington.
Imagine the scene on the flight deck of an aircraft carrier at sea. This 300-foot runway is packed with incoming and outgoing aircraft taking off and landing in all climates, day, and night. The noise created by jet engines and helicopter rotors is so deafening. Sailors must communicate through hand signals. Danger is everywhere on the flight deck as bombs and missiles are transported to waiting fighters while other planes are taxiing to the launch catapults or to their parking locations. The slightest mistake and a Sailor can be blown off the deck or sucked into one of the planes jet engines.
To work in this "controlled chaos," Seamen must be in excellent physical and mental condition and be cool in extremely stressful situations. Despite the dangers, Aviation Boatswain's Mates seem to enjoy the adrenalin rush of this chaotic work environment.
To become a Navy Launching and Recovery Boatswain's Mate, candidates attend Class A Technical School in Pensacola, Florida after passing basic training. This five-week course trains Sailors to operate, maintain, and perform maintenance on steam catapults, barricades, arresting gear, and associated equipment. Students learn how to operate catapult hydraulic systems, retraction engines, water brakes, jet blast deflectors, and arresting gear engines. They are also taught the necessary aircraft handling duties related to the operation of aircraft launching and recovery equipment.
Read more: Sailors Thrive In The "Controlled Chaos" Of A Carrier Flight Deck
Subcategories