Details

Hits: 153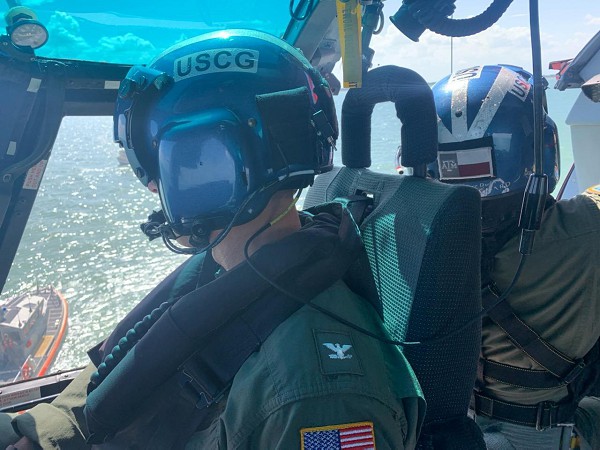 Corpus Christi, Texas. (March 23, 2023): In the famous "Wreck of the Edmund Fitzgerald, singer Gordon Lightfoot implores "Where does the love of God go, when the waves turn the minutes to hours". For stranded mariners facing mortal danger miles from land, the U.S. Coast Guard is all that stands between them and disaster. Fortunately, the Coast Guard fields the highest trained and best equipped rescue teams in the world. In the above photo, a Coast Guard Air Station Corpus Christi MH-65 Dolphin helicopter crew works alongside a 45-foot Response Boat to assist a 44-foot fishing vessel taking on water with two people aboard 3 miles southeast of the Corpus Christi. Coast Guard crews help pump out the vessel and then escorted its thankful crew to the Corpus Christi Marina and safety.
Coast Guard Sector Corpus Christi was commissioned in May of 2005 by joining all the units within the area of Port Lavaca throughout Brownsville under one unified command. Last year, Sector Corpus Christi personnel conducted over 450 search and rescue cases, assisted 554 people in distress, and saved 101 lives and $11 million in property. The unit's law enforcement activities included seizing 22 small craft conducting smuggling and illegal fishing and confiscated over 5,500 pounds of drugs. The unit also interdicted over 130 illegal immigrants and performed 375 vessel inspections.
The Euro copter MH-65 Dolphin is a twin-engine helicopter used for medevac-capable search and rescue and can be armed for airborne use of force missions. There are now 102 Dolphins in the Coast Guard Fleet based at 17 cities on the Atlantic and Pacific Ocean, Gulf of Mexico, Hawaii, and the Great Lakes region.
For mariners lost at sea, the sight of a Coast Guard Dolphin bringing highly skilled rescuers is a wondrous thing indeed.
Details

Hits: 145
Moron Air Base, Spain. (March 17, 2023): In this photo by Airman 1st Class Alexander Nottingham, Air Force Staff Sergeant David Petrie (left) and Staff Sergeant Timothy Patterson (right) inspect the engine of an incoming B-52H Stratofortress after Bomber Task Force Operations. Both Sergeants are crew chiefs assigned to the 23rd Expeditionary Bomb Squadron, affectionately known as the "Bomber Barons". They fly and maintain an aircraft that is older than some of their parents yet remains a vital component of America's nuclear deterrence.
Based at Minot Air Force Base, North Dakota, the 23rd Bomb Squadron is one of the oldest in the United States Air Force, dating to 16 June 1917, and the unit deployed to England as part of the American Expeditionary Forces during World War I. The squadron saw combat during World War II and became part of the Strategic Air Command (SAC) during the Cold War.
Originally built during the 1960s, the B-52H Stratofortress is a long-range, heavy bomber that can perform a variety of missions. Flying at high subsonic speeds at altitudes of up to 50,000 feet, the Stratofortress can carry nuclear or precision guided conventional ordnance for precise delivery anywhere in the world. The B-52 can perform strategic attack, close-air support, air interdiction, offensive counter-air, and maritime operations.
Details

Hits: 199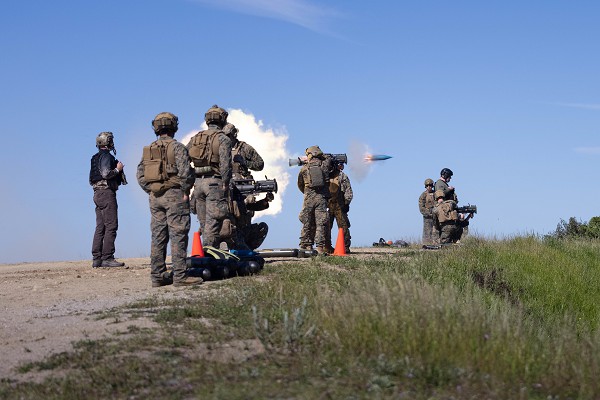 Camp Pendleton, California. (March 22, 2023): In this photo by Lance Corporal Juan Torres, Marines fire the M3E1 Multipurpose Anti-Armor/Personnel Weapon System (MAAWS) while training to locate and destroy tanks and other armored vehicles in combat. The MAAWS is best described as a two-person artillery piece with enough firepower to destroy enemy tanks at long distances.
The MAAWS is a portable and reusable breech loading recoilless rifle that can fire an 84mm round capable of destroying enemy vehicles at over 500 yards. The M3E1 rifle weighs just 14.8 pounds and features an electronic control system that automatically provides ballistic solutions for static and moving targets at the touch of a button.
Today's M3E1 is named after Carl Gustaf, a Swedish scientist that developed a man-portable, shoulder-fired recoilless rifle for the Royal Swedish Army during the second half of World War II. Since then, there have been many different version of this light weight, close range anti-tank weapon on battlefields across the world.
Currently, U.S. Special Operations Command troops such as the Army Rangers, Army Special Forces, Marine Raiders, Navy SEALS, and JSOC operators use the M3 in combat.
Details

Hits: 109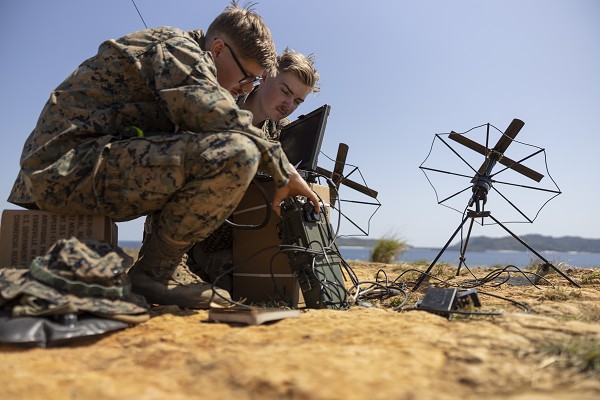 Okinawa, Japan. (March 17, 2023): Your unit is under fire and the enemy is closing in and, without an aircraft strike, you and your comrades are about to be overrun. Thankfully, our nation's warfighters can depend on the skills and daring of a Marine Corps Tactical Air Control Party (TACP) to come to the rescue. In this photo by Corporal Bridgette Rodriquez, Marines from the 31st Marine Expeditionary Unit program a radio for use in ground communications during exercises with Japanese Defense Forces. The Marines and their Japanese counterparts practiced locating and tracking maritime targets under various strike scenarios.
Details

Hits: 133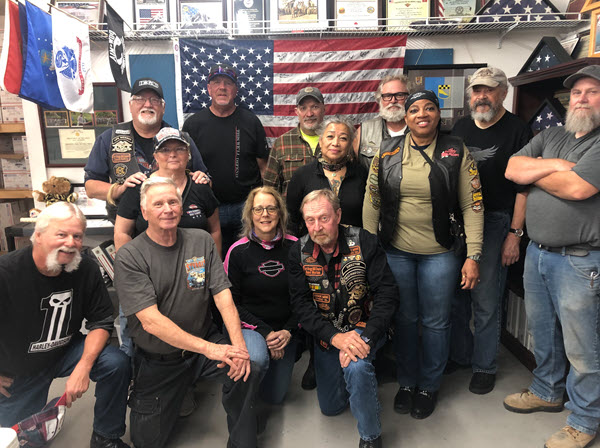 North Carolina, March 2023 - The HOG Chapter of Cumberland County, North Carolina, stopped by SOT's Regional Distribution Center in NC and packed over 350 snack bags, talking all the time about what they would have liked in the bag, salty or sweet! Known as sticky-chewies in military parlance, they're one of the most appreciated things you can get!
Details

Hits: 155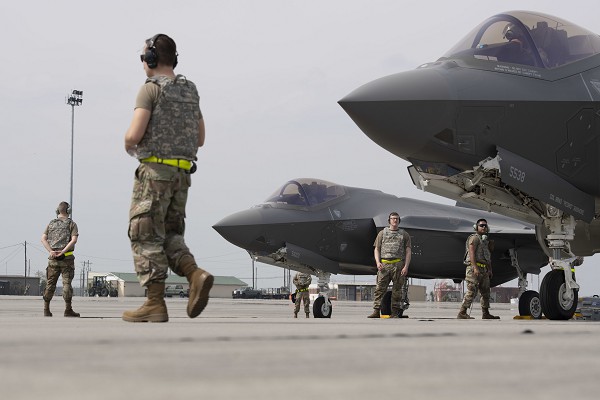 Savannah, Georgia. (March 1, 2023): In this photo by Tech. Sgt. Joshua Edwards, Airmen from the 388th Fighter Wing prepare for two F-35A Lightning IIs for takeoff during Agile Flag 23-1 at the Air Dominance Center in Savannah, Georgia. Agile Flag is Air Combat Command's certifying event for its Lead Wings throughout the Air Force. The nine-day bi-annual exercise involved 10 Airforce units working between the Air Dominance Center and nearby Hunter Army Airfield.

The training was led by the 366th Fighter Wing and included the 4th Fighter Generation Squadron which brought six F35As, the Air Force's latest fifth-generation fighter, to the task. The F-35 replaces the Air Force's aging fleet of F-16 Fighting Falcons and A-10 Thunderbolt II's which have been the primary fighter aircraft for more than 20 years. The conventional takeoff and landing F-35A has the power to dominate the skies – anytime, anywhere. It is an agile, versatile, high-performance, multirole fighter that combines stealth and unprecedented situational awareness.
During Agile Flag, the F-35s used six difference airfields in a scheme of maneuvers designed to test their flexibility and agility in combat. Exercise players simulated physical oppositional forces with well-developed intelligence, surveillance, and reconnaissance capability. Pilots had to contend with constantly changing threats while ground crews adapted their logistics while executing a dispersed base defense. Each unit was challenged by contested logistics, disrupted command control, and interruptions to communications.
Subcategories