Details

Hits: 109
AWARD RECOGNIZES MARINE HERO AFTER 70 YEARS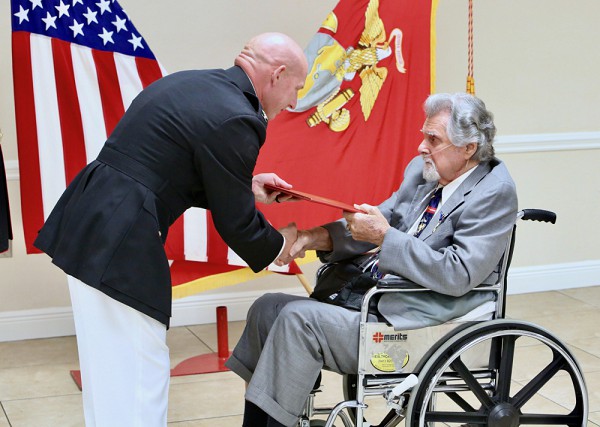 Sarasota, FL. (September 17, 2021): In this photo by Gunnery Sergeant Eric Alabiso, U.S. Marine Corps Chief of Staff Colonel John Polidoro pins the Silver Star upon Corporal Salvatore Naimo, seventy years after his heroic actions in the Korean War. Due to a series of tragic mishaps, Corporal Naimo was never formally recognized for risking his life to save fellow Marines (details below).
Sarasota, FL. (September 17, 2021): It was September 14, 1951, when Corporal Salvatore Naimo and his Marine comrades huddled together in foxholes just north of the 38th Parallel in Korea waiting for another charge from their Chinese enemy. Assigned to H Company, 5th Marines, Cpl. Naimo was 19 years old and already a hardened veteran of the brutal fighting that defined the Korean War. On this day, the Chinese attacked with mortars and cannons followed by waves of infantry. As rifle fire and grenades bombarded his position, two fellow Marines were gravely wounded. Ignoring his own safety, Cpl. Naimo dragged the first wounded Marine to the company corpsman in the rear, suffering his own wounds from artillery fire along the way.
Stopping just long enough to have his wounds patched up, Cpl. Naimo raced back to the fighting, rescued the second wounded Marine, and later single handedly fought off an enemy attack. So impressed was his platoon lieutenant that he pledged to recommend Naimo for the Navy Cross, the nation's second highest award for gallantry in battle. Tragically, the platoon lieutenant was killed two days later and the award for Cpl. Naimo's actions never materialized.
Until now.
Seventy years after his courageous actions, the U.S. Marine Corps awarded him the Silver Star Medal, our nation's third highest award for "acts of gallantry against enemies of the United States". Created by an act of Congress during World War I, the Silver Star got its name from 3/6th inch star emblazoned in the center of the medal.
The first Silver Star was awarded seven times to General Douglas MacArthur in 1932 but his was not the most ever received. Army Colonel David Hackworth received ten Silver Stars for his deeds during the Korean and Viet Nam Wars. Other famous recipients include Army General George Marshall and former Lieutenant Colonel Oliver North. To date, over 100,000 awards have been made to military and civilians recognizing their selfless service.
Please consider showing your support for today's heroes by contributing funds to Support Our Troops' Patriot Brigade®.Here you will join thousands of patriots who make monthly donations to pay for comfort items and recreational programs for our military deployed overseas. Please go to our secure website https://supportourtroops.org/donate to contribute to America's finest today!
Details

Hits: 119
AN AWARD WHERE THE "V" MAKES ALL THE DIFFERENCE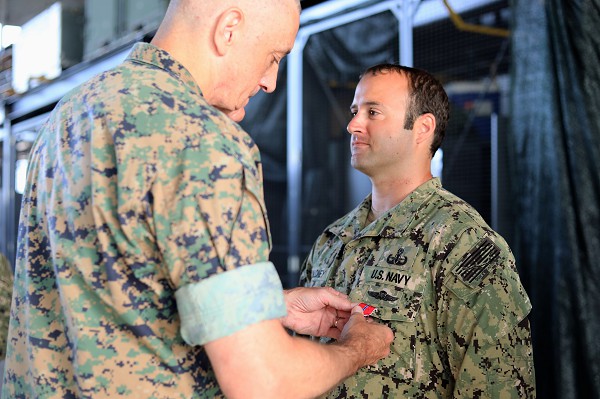 Naval Station Rota, Spain. (September 22, 2022): In this photo by Seaman Julleos Fernandez, Major General David Coffman, Director of Expeditionary Warfare, presents the Bronze Star Medal to Explosive Ordnance Disposal Technician Senior Petty Officer Joseph L. Maloney for service while deployed in support of Operation Inherent Resolve in Iraq. The Bronze Star dates to World War II and is the fourth highest award a servicemember can receive for a heroic and meritorious deed in an armed conflict.
Naval Station Rota, Spain. (September 22, 2022): Army Colonel Russell Reeder was himself an American hero, even Hollywood standards. In 1944, Colonel Reeder commanded the 12th Infantry Regiment, 4th Infantry Division's 3,000-man soldiers on D-Day. His unit was dropped two miles from their landing site forcing Col. Reeder and his regiment to fight off Utah beach and attack inland. Col. Reeder was hit by enemy artillery, injuring his led which was later amputated. He was awarded the Distinguished Service Cross, Silver Star, and the Purple Heart.
His exploits became a book and later the 1955 film The Long Gray Line starring Tyron Power.
What is not common knowledge is the critical role this American hero played in creating the Bronze Star Medal we know today. While working in Washington D.C., Colonel Reeder wanted to develop a new award that small unit commanders could give to reward their servicemembers for extended periods of meritorious service in combat or for common acts of heroism. The Colonel wanted the medals awarded quickly, without lengthy delays and red tape.
Today, the Bronze Star is the military's fourth highest award and thousands have been awarded since its inception. Much rarer are those receiving a V-device for combat gallantry as only one in forty Bronze Stars are conferred for personal courage under fire.
Details

Hits: 113
THE LEAST SOUGHT-AFTER MILITARY HONOR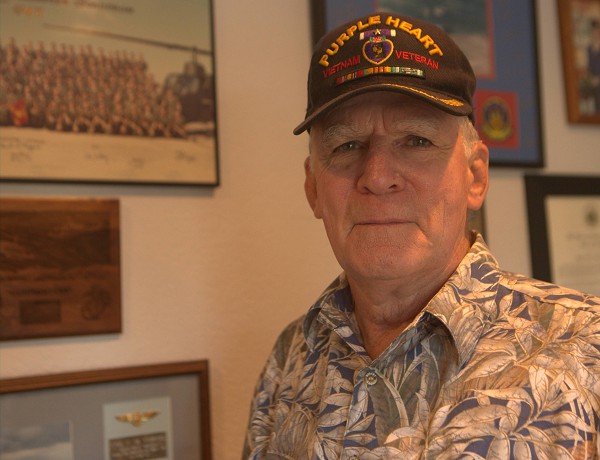 Temple, PA. (September 24, 2022): It is the "medal" no servicemember wants. The Purple Heart medal is awarded to those who have been wounded or killed in combat and, according to the National Purple Heart Hall of Honor, more than 1.8 million Americans have been presented the award.

One such recipient is retired Marine Corps Colonel Skip Curtis (pictured above) who served as a chopper pilot from 1965 to 1996 and earned his second Purple Heart after he and his crew were shot down over Viet Nam. Like millions of servicemembers before him, Colonel Curtis was characteristically humble about his accomplishments saying simply, "It was one of those things that happened that I'll never be able to forget, What did I do that day? Just flew the helicopter."
It was none other than General George Washington who created the forerunner to the Purple Heart in 1782. Originally called the "Badge of Military Merit, the award was the first to be awarded to ordinary servicemembers. Up until then, only officers who won major engagements were awarded medals making the new medal truly by the people and for the people.
The first recipients of the award were Revolutionary War soldiers William Brown and Elijah Churchill in honor of their service in 1781 fighting the British at the Siege of Yorktown and the Battle of St. George at Long Island, respectively. The men were recognized by Washington for their "singularly meritorious action" and its wearer was permitted to pass guards and sentinels without challenge.
Details

Hits: 99
SOMETIMES IT DOESN'T TAKE A HERO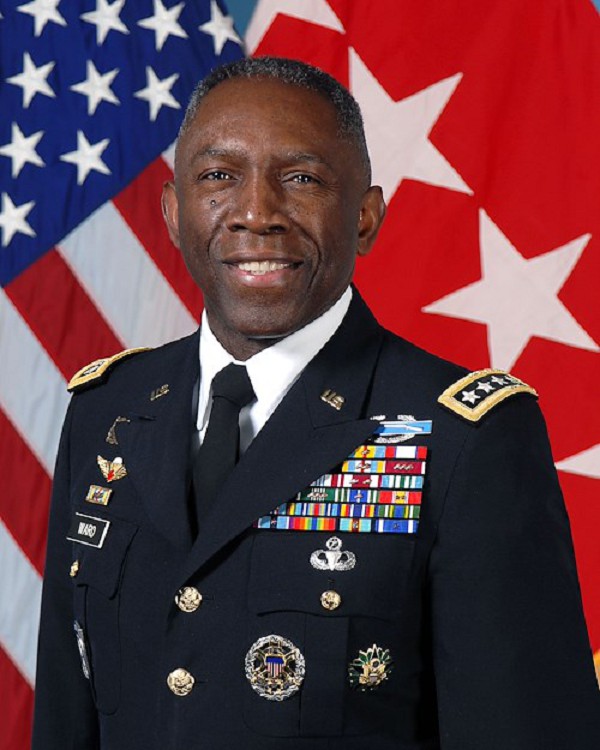 Joint Base Myer-Henderson Hall, VA. (September 26, 2022): Retired General William E. "Kip" Ward is a classic example of recipients of the Distinguished Service Medal granted to "any soldier (or civilian) who distinguishes themselves with exceptionally meritorious service to the United States in a duty of great responsibility". General Ward retired after 40 years' service to our nation in increasingly responsible posts stretching around the globe.
Joint Base Myer-Henderson Hall, VA. (September 26, 2022): While heroic acts of bravery deservedly receive the most notoriety, it is the long and faithful servant that often goes overlooked. The military recognized this dilemma when it created the Distinguished Service Medal, granted to "any soldier (or civilian) who distinguishes themselves with exceptionally meritorious service to the United States in a duty of great responsibility".
Retired General William E. "Kip" Ward provides a classic example.
Over his 40 years of military service, General Ward held increasingly responsible positions of command across the globe. Commissioned in 1971, President George Bush appointed Ward to be the first leader of Africa Command with responsibility for Egypt, Sudan, Eritrea, Ethiopia, Djibouti, Somalia, and Kenya. Prior to this, he headed the European Command with military operations in ninety-six countries ranging from Germany to Saudi Arabia.
Ward also served as commander of the Stabilization Force during Operation Joint Force in Sarajevo, Bosnia; as commander of the 25th Infantry Division and U.S. Army, Hawaii; and as assistant division commander for the 82nd Airborne Division.
Before that, he was commander of the 10th Mountain Division's 2nd Brigade and Operation Restore Hope in Mogadishu, Somalia, and as commander of the 6th Infantry Division's 5th Battalion, 9th Infantry, 2nd Brigade, and the division's logistics staff.
Details

Hits: 122
Wings of Victory For U.S. Army Europe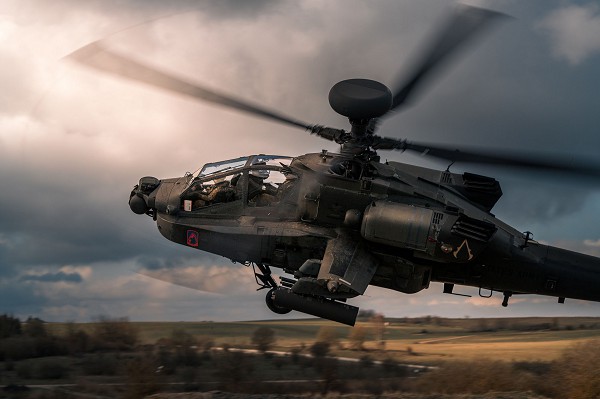 Grafenwohr Training Area, Germany. (September 7, 2022): In this photo by Major Robert Fellingham, Chief Warrant Officers Max Wannelius and Laura Chmielowski, AH-47 pilots assigned to the 12th Combat Aviation Brigade circle their Apache Longbow to re-attack targets during aerial gunnery practice at Grafenwohr Training Area. Produced by McDonnell Douglas's plant at Mesa, Arizona, the Apache was designed to be a tough survivor in combat because of its advanced target acquisition and night vision capabilities.
Katterbach, Germany. (September 7, 2022): Its symbol is a mythological creature called a griffin, a beast with the head and wings of an eagle but the body of a lion. Surrounded by flames, the griffin connotes courage, speed, and vigilance which fits with the motto of the Army's 12th Combat Aviation Brigade, "Wings of Victory".
This storied unit has patrolled the skies defending America for the past 57 years, through four wars and numerous humanitarian missions.
They are just getting started.
From its beginnings at Ft. Benning, Georgia in 1965, the 12th Aviation first served in combat in Viet Nam where they earned a Presidential Unit Citation, a Meritorious Unit Commendation, and a Valorous Unit Award for bravery in combat. The unit next saw action in Operation Desert Storm in 1990-91 and deployed to Iraq and Afghanistan as part of the war on terror. Wartime has not been the only time the 12th Aviation has responded to the call, the unit performed humanitarian missions in Kurdistan, Bosnia Herzegovina, and Kosovo to protect civilians and save lives.
Based at Katterbach, Germany, the unit consists of the 1-3 Attack Reconnaissance Battalion flying the Apache (pictured above), the 1st General Support Aviation Battalion manning Chinooks, and the 4-3 Assault Helicopter Battalion flying the UH-60 Black Hawk.
Today, the 12th Combat Aviation Brigade is the largest aviation unit for all U.S. Army Europe, and it trains pilots and crews in support of the European Command and NATO.
Details

Hits: 107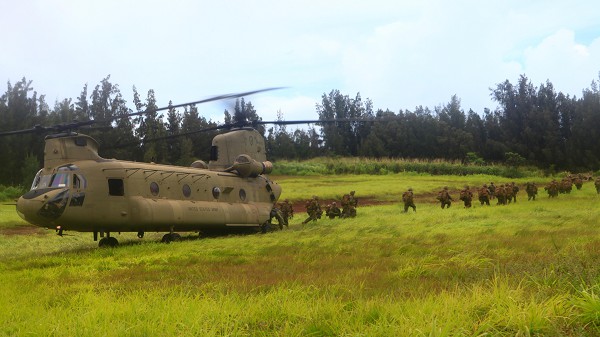 Training Area Kahukus, Hawaii. (September 13, 2022): In this photo by Corporal Alex Kouns, Marines assigned to Lima Company, 3rd Battalion, 3rd Marine Regiment, 3rd Marine Division exit a CH-47 Chinook helicopter. The Chinook is celebrating 50 years in the air and the Army plans to keep them flying for another 50 years. What a remarkable bird!
Training Area Kahukus, Hawaii. (September 3, 2022): To the Native Americans who lived along the Columbia River, the Chinook was the "Snow Eater", a great south wind that arrived each year that often-made life all but impossible. To the U.S. Army, the Chinook has proven a reliable workhorse in the sky delivering troops, food, and supplies for the past half century.

The Army is planning to fly the Chinook Helicopter for another 50 years.

That's right, through a series of technological upgrades to this flying platform, the military believes it can keep the newest version, the CH-47F Chinook, in the air for nearly a century. First produced in the 1960s, the Army plans to continuously upgrade the Chinook until at least 2060. This is good news for the pilots and crews that fly them, but even better for the troops who will be safely ferried into combat riding the "great south wind".
Read more: THE CHOPPER OF THE CENTURY… ARMY CHINOOK TO FLY 100 YEARS
Subcategories