Details

Hits: 168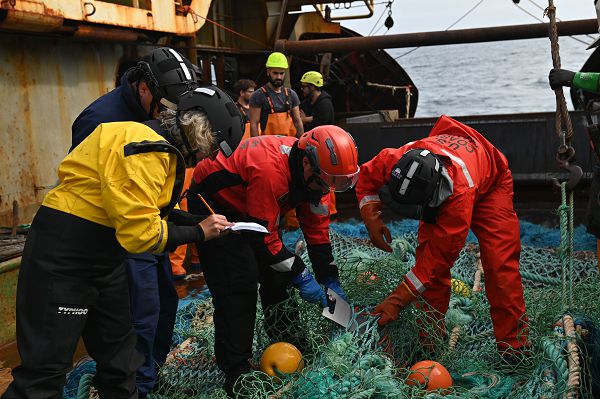 Atlantic Ocean. (September 5, 2023): While chasing drug traffickers gets all the headlines, America's Coast Guard protects us in an important, if not so flashy, way. In this photo by Petty Officer 3rd Class Mikaela McGee, Coast Guardsmen assigned to U.S. Coast Guard Cutter Forward assist fisheries inspectors with the Northwest Atlantic Fisheries Organization to measure a fishing net while at sea. Illegal, unreported, and unregulated fishing (IUU fishing) is one of the greatest threats to ocean health and a significant cause of overfishing. It contributes to the collapse or decline of fisheries that are critical to the economic growth, food systems, and ecosystems of numerous countries around the world. It is also a global problem that disadvantages law-abiding fishers and seafood producers.
According to the United Nations Food and Agriculture Organization, between 11 and 26 million metric tons of fish are caught illegally each year. By avoiding the operational costs associated with sustainable fishing practices, fishers, companies, and nations that engage in IUU fishing receive economic benefit over legitimate actors. These criminals exceed harvesting limits and disregard other conservation and management measures, destroy habitats, and use methods that result in wasteful bycatch. These practices destroy not only the resource today, but also its ability to be sustainably harvested for years and decades to come. Left without alternatives, these conditions entice more and more fishers to seek alternative sources of income such as piracy, drug trafficking, and human trafficking, creating a dangerous downward cycle furthering regional instability.
Examples of IUU fishing include:
Fishing without a license or quota for certain species.
Failing to report catches or making false reports.
Keeping undersized fish or fish that are otherwise protected by regulations.
Fishing in closed areas or during closed seasons and using prohibited fishing gear.
Conducting unauthorized transshipments (e.g., transfers of fish) to cargo vessels.
The Coast Guard, however, faces an elusive enemy in this war against overfishing. The inherent nature of IUU fishing makes it difficult to accurately quantify the full global economic impacts from these activities. But there is little disagreement that it is in the billions, or even tens of billions, of dollars each year.
Details

Hits: 153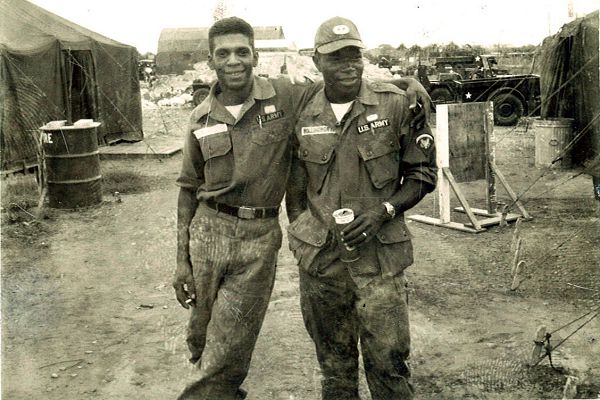 Washington, D.C. (September 1, 2023): Some of the most heroic displays of courage and selfless sacrifice are done by the most ordinary people. Take Army Sergeant 2st Class Melvin Morris, pictured above (left) with a friend in Vietnam, whose decoration for bravery was recently upgraded to the Medal of Honor for his actions saving a fallen comrade on September 17, 1969.
The son of a handyman, Morris was raised in rural Oklahoma and enjoyed the simple life of fishing, hunting, and roaming the outdoors. Although there were few black folks in the Army National Guard, Morris decided to join right out of high school in 1959. He requested airborne training and applied for the newly formed Special Forces where he earned the Green Beret.
As Commander of a Strike Force with the 5th Special Forces Group (Airborne), Morris and his unit were on a search and destroy mission in the Mekong Delta when they were ambushed by a superior Viet Cong force. The team's commander was killed and Sergeant Morris led a three-person element to recover his body. With both of his teammates wounded, Sgt. Morris charged forward through blistering fire to attack a series of bunkers with hand grenades until he reached his fallen leader. After repulsing multiple enemy attacks, Morris was wounded three times on the arduous trek back to friendly lines.
Details

Hits: 263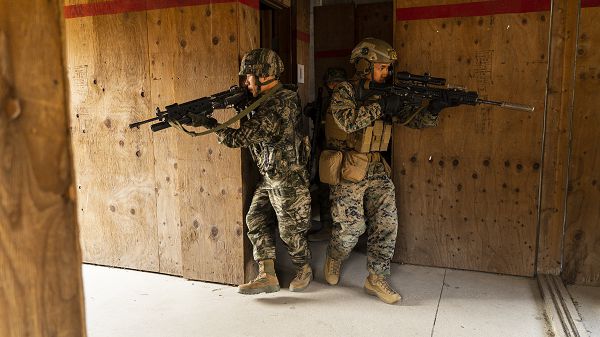 Seoul, South Korea. (September 7, 2023): Kim Jong Un beware. Except for the U.S.M.C, the ROK Marines are the toughest, most disciplined fighting force on earth. In this photo by Sergeant Mario Ramirez, U.S. Marines with 3rd Battalion, 6th Marines join Republic of Korea Marines with 3rd Battalion, 1st Regiment, 2nd Marine Division in close quarter urban infantry training during Korean Marine Exercise Program 23.3 at the Rodriquez Live-Fire Complex here.
The American Korean alliance began when North Korean troops, backed by China and the Soviet Union, poured across the 38th parallel into the South on June 25,1950. The United Nations essentially liberated South Korea from invasion with a single amphibious stroke, and the country has maintained a large and powerful Marine Corps ever since. Under the mentorship of the U.S. Marine Corps, South Korea has absorbed the lessons of General Douglas McArthur's successful amphibious assault at the port of Inchon in the Korean War.
During the war, South Korean Marines earned the dark reputation as "ghost-catching marines" for their invincibility during several key amphibious landing operations. In Vietnam, the ROK Marines were dreaded by the Viet Cong. In one famous battle, a force of 300 South Koreans successfully fended off an entire North Vietnamese brigade with minimal casualties. They were famous for their special style of combat, and ROK commandos sometimes killed Vietcong with karate chops in close-up fights. U.S. Army studies of the South Korean forces that fought in Vietnam noted that the South Korean Marines seized more weapons than American units did in similar operations.
This reputation for fierceness goes a long way toward deterring a future attack from the North. Any future Korean War will require extensive amphibious operations to avoid a costly war of attrition with a North Korean Army estimated to be 1.2 million strong with millions more in reserves. To counter these numbers, South Korea requires all able-bodied men (sorry, no women) serve a two-year stint in the armed forces. Unlike their U.S. allies, South Korean enlistees serve in often poor and aging facilities and are not free to leave the base, even on weekends. They're given only a handful of leave opportunities during their two-year mandatory service.
Details

Hits: 165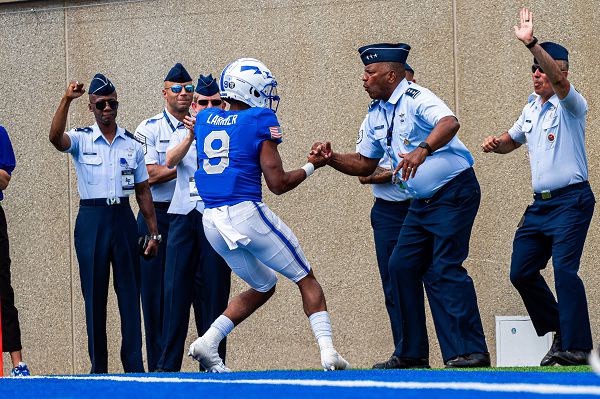 Colorado Springs, Colorado. (September 12, 2023): In many ways, Air Force Academy Cadet football players are just like everyone else in college football with one key distinction. These young men will become officers and leaders in the most sophisticated naval force in history. In this photo by Trevor Cokley, Air Force quarterback Zac Larrier celebrates with Lt. Gen. Richard M. Clark, Air Force Academy superintendent, after scoring a touchdown against Robert Morris University during a game in Falcon Stadium.
The recruiting process at the service academies is the same as at any school, the coaches set their targets and build relationships with recruits like everyone else. The journey to becoming an Academy player begins in high school where applicants are screened and coaches are allowed to contact recruits to help guide them through the process.
While the recruiting process is essentially the same, there are other substantial differences between service academy and civilian football players. Perhaps the biggest is the nature of the scholarships that are awarded to service academy student-athletes.
Details

Hits: 148
Pacific Ocean. (September 10, 2023): These chilling words reflect one of the darkest fears of a Sailor at sea, falling overboard undetected while your mates proceed without you. In this photo by MC2 Matthew Cavenaile, Ensign Conor Backhaus, from Omaha, Nebraska, and his comrades conduct man overboard drills from the amphibious transport dock ship USS Green Bay. With thousands of Sailors at sea, the American Navy takes "Man Overboard" drills very seriously.
Sailors are taught to shout 'man overboard' until the entire crew is aware of the situation. The person who sees the man overboard should maintain eye contact as long as possible, noting distance and speed from the vessel. A lifebuoy is released, the position is marked by GPS, and a buoyant smoke flare is fired. If the person is close to the ship, flotation equipment is lowered in their direction.
These small boat drills test communications between the bridge, deck crew, and the rescue boats while they coordinate with other vessels in the vicinity. Their skill and coordination could very well save the life of a Sailor lost at sea.
Details

Hits: 139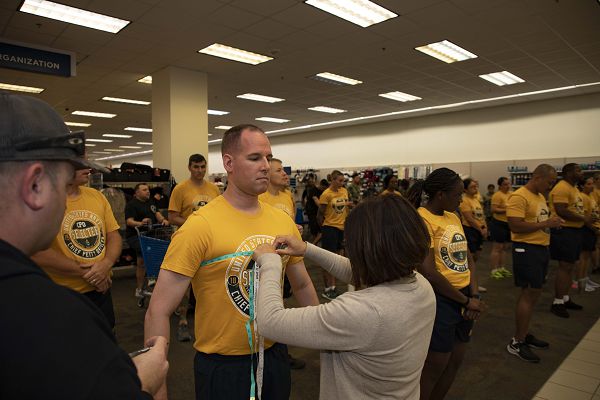 Naval Station Norfolk, Virginia. (September 5, 2023): In this photo by MC2 Levi Decker, Hospital Corpsman 1st Class John Gorey, from Philadelphia, assigned to Naval Medical Forces Atlantic, is measured for his chief petty officer uniform as he joins the ranks of the "backbone of the Navy".
A chief petty officer in the Navy is a senior enlisted member who serves as a leader and mentor to junior sailors. They are responsible for managing and supervising the day-to-day operations of a ship and maintaining discipline within the ranks. In this highly challenging role, they are the vital link between commanders and the rank-and-file. A Chief holds a "rating", or job specialty, and must be pay grade E-7 and above (E-9 is the highest enlisted rank).
Becoming a Chief typically takes around 14-16 years of service advancing through the ranks and meeting the necessary requirements at each promotion. They must also pass a selection process that includes a written exam, a review of their service record, and an interview. Once selected, they will attend the Chief Petty Officer Leader Development Course to familiarize them with their new role as a chief petty officer.
Subcategories