Meet Your Military
Details

Hits: 5233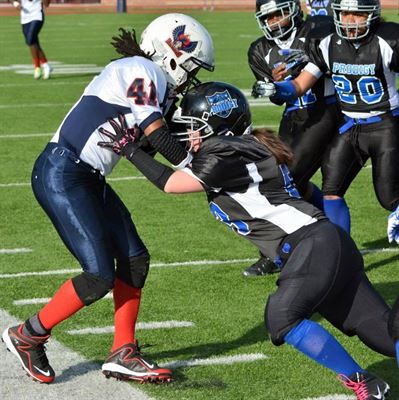 Navy Petty Officer 1st Class Colleen Dibble, right, a master-at-arms assigned to Naval Support Activity Bethesda, Md., makes a tackle during a Washington Prodigy game against the Philadelphia Firebirds in Washington, May 9, 2015. Courtesy photoBETHESDA, Md., March 30, 2016 — About 18 percent of active-duty sailors are women, and serving in the even more male-dominated field of master-at-arms, Navy Petty Officer 1st Class Colleen Dibble knows about being the only woman in the room.
For 11 months, she was the only female master-at-arms during her first assignment to Misawa Air Base, Japan, and has been one of the few women to work in Naval Support Activity Bethesda's security department since she came to the installation in 2013.
Read more: Meet Your Military: Sailor Tackles Goals on Football Field
Details

Hits: 3698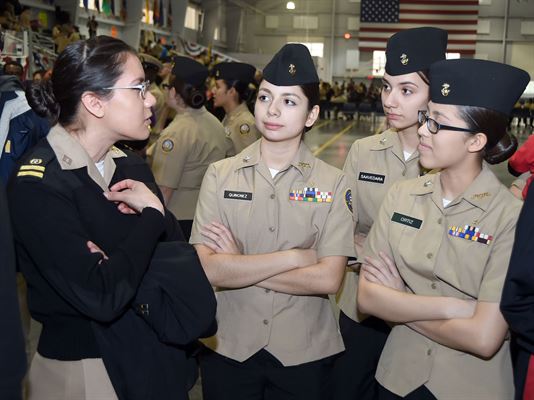 Navy Lt. Kimberly Rios talks with Navy Junior ROTC cadets from East Aurora (Ill.) High School at the 2016 Navy Junior ROTC Area 3 West regional academic, athletic and drill competition in the Pacific Fleet ceremonial drill hall at Recruit Training Command, Naval Station Great Lakes, Ill.,, Feb. 8, 2016. Navy photo by Scott A. ThornbloomGREAT LAKES, Ill., March 31, 2016 — Navy Lt. Kimberly Rios made a reconnection with her past when she was promoted to lieutenant Feb. 8.
That reconnection was with her East Aurora High School Navy Junior ROTC unit and her former Navy Science instructor, retired Navy Chief Petty Officer Greg Fayfar, who was on hand to pin Rios' lieutenant bars on her khaki shirt collar. It also allowed her to reflect how being part of Navy Junior ROTC molded and guided her to being a member of the Navy Judge Advocate General Corps.
Read more: Meet Your Military: Lieutenant Credits Navy Success to Junior ROTC Program
Details

Hits: 5726
Then-Air Force Staff Sgt. Joshua Smith, 326th Training Squadron military training instructor, speaks to a trainee going through basic training at Lackland Air Force Base, Texas, in April 2010. Smith served as an MTI for four years before moving to McConnell Air Force Base, Kan., and eventually becoming an Airman Leadership School instructor. Courtesy photoMCCONNELL AIR FORCE BASE, Kan., March 17, 2016 — Joshua Smith was 17-years-old and starting to earn a reputation for skipping his high school math class every afternoon when he was called into his guidance counselor's office. The most surprising part of the meeting for Smith was seeing his visibly distressed mother in the office.
"My mom was on the verge of tears, because they were so close to kicking me out for missing so many days of school," said Smith, who's now an Air Force technical sergeant and an Airman Leadership School instructor for the 22nd Force Support Squadron here almost 15 years later.
The guidance counselor tried to figure out the cause of the situation, and Smith explained that there was very little learning happening in class. Instead, the teacher was allowing students to cheat and copy from each other without consequences.
Read more: Meet Your Military: Inspired NCO Spends Career Teaching Airmen
Details

Hits: 3805
California Army National Guard Sgt. Cassandra Peel, an avionics mechanic in Bravo Company, 640th Aviation Support Battalion, 40th Combat Aviation Brigade, practices taekwondo kicks at Camp Buehring, Kuwait, April 2, 2016. Peel has practiced taekwondo for six years and is now a second degree black belt. Army photo by Staff Sgt. Ian Kummer
CAMP BUEHRING, Kuwait, April 19, 2016 — The sun is setting over the horizon here as Army Sgt. Cassandra Peel practices one of her final kicks of the day. Precision. Power. Passion. These words come to mind as she delivers one swift kick after another. It is evident that this woman is in her element.
Peel, an avionics mechanic with Bravo Company, 640th Aviation Support Battalion, 40th Combat Aviation Brigade, is a self-proclaimed "Army brat," born at Fort Riley, Kansas.
Read more: Meet Your Military: Soldier Combines Lessons From Military Service, Martial Arts
Details

Hits: 5326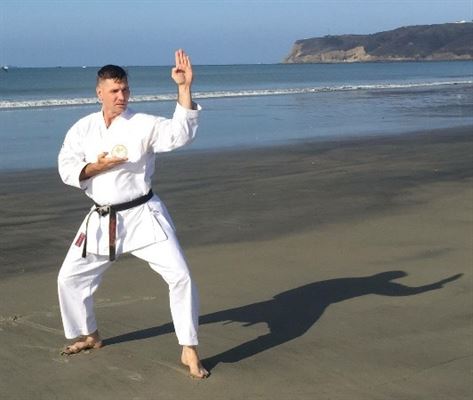 Lt. Col. Gregory Rooker, provost marshal for Marine Corps Air Station Miramar, Calif., practices Wado-Ryu karate at Coronado Beach in San Diego, Calif. Rooker holds a sixth-degree black belt in karate after 31 years of studying the style.MARINE CORPS AIR STATION MIRAMAR, Calif., March 22, 2016 — Before most of the junior-enlisted Marines serving under him were born, Marine Corps Lt. Col. Gregory Rooker started on a journey to become part of an elite group of warriors.
Now 31 years into that journey, Rooker, the provost marshal here, is among an elite few who hold the title of sixth-degree black belt in Wado-Ryu karate.
Wado-Ryu, a mixture of Shinto-Yoshin-Ryu jujitsu and karate, was developed on mainland Japan in the early 1900s. It consists of eight belt levels with three degrees of brown and 10 degrees of black.
When he was 15 years old, Rooker asked his parents to enroll him in karate classes at a nearby community college for his birthday.
"It's definitely one of the best presents I have ever gotten," he said. "It's been a gift that keeps on giving, that's for sure."
Read more: Meet Your Military: Provost Marshal Holds Sixth-Degree Black Belt