Meet Your Military
Details

Hits: 2255
JOINT BASE ELMENDORF-RICHARDSON, Alaska, June 2, 2017 — Air Force Airman 1st Class Lukas Johnson joined the Air Force to save lives. He thought he could pursue his calling sealed snugly inside a bomb suit, defusing improvised explosive devices as an explosive ordnance disposal technician.
Air Force Airman 1st Class Lukas Johnson, an aircraft structural maintenance technician with the 3rd Aircraft Maintenance Squadron at Joint Base Elmendorf-Richardson, Alaska, works with a C-130 Hercules leading-edge training aid April 20, 2017. The Phoenix native works to prevent aircraft corrosion, which can compromise an aircraft's structure. Air Force photo by David Bedard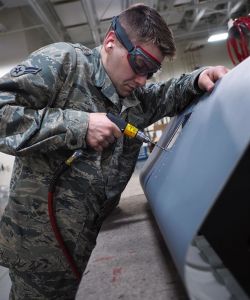 Air Force Airman 1st Class Lukas Johnson, an aircraft structural maintenance technician with the 3rd Aircraft Maintenance Squadron at Joint Base Elmendorf-Richardson, Alaska, works with a C-130 Hercules leading-edge training aid April 20, 2017. The Phoenix native works to prevent aircraft corrosion, which can compromise an aircraft's structure. Air Force photo by David Bedard EOD was the job listed on his original enlistment contract, but the Phoenix native was disqualified during medical screening.
Fortunately for the 3rd Maintenance Squadron airman assigned here, he found his calling in aircraft structural maintenance, a career field charged with maintaining and repairing the sheet metal, tubing and composites that make up an aircraft fuselage.
Instead of saving lives by manually detonating artillery rounds strung together on the side of a road, Johnson defuses structural problems that could cause a catastrophic failure in flight.
Read more: Meet Your Military: Structural Maintenance Airman Keeps Aircraft Safe
Details

Hits: 3109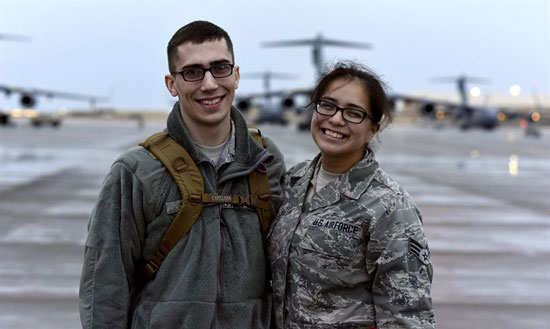 By Air Force Senior Airman Cynthia Innocenti
379th Air Expeditionary Wing
AL UDEID AIR BASE, Qatar, March 10, 2017 — The sky casts a grey haze, damp concrete calmly reflects ramp lights in the distance, and a light mist dampens the sage uniform worn by Air Force Senior Airman Sylvia Feigum as she illuminates the orange marshaling wands in her hands.
After she crosses her arms above her head signaling the aircraft to stop, Feigum walks swiftly to the exit door of the plane.
Feigum, a combat oriented supply organization journeyman with the 8th Expeditionary Air Mobility Squadron, is responsible for coordinating supply requests for C-17 Globemaster III aircraft maintenance and also maintains mobility readiness spares packages containing high-demand and critical aircraft parts for the C-17 and C-5 Galaxy aircraft here.
Since arriving, Feigum has also volunteered to step outside of her primary career field to learn and execute aircraft marshalling, or visual communication with aircraft.
Taking on this extra duty would hold extra significance to her on one day in particular when she had the opportunity to direct a Boeing 777-200 aircraft carrying her husband, Air Force Senior Airman Matthew Feigum, a combat crew communications journeyman with the 816th Expeditionary Air Lift Squadron.
Read more: Meet your Military - Married Airmen Serve Together on Deployment
Details

Hits: 2754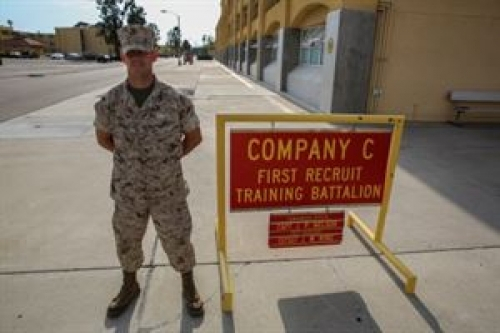 Marine Corps Private First Class Sean F. Evans, Charlie Company, 1st Recruit Training Battalion, stands in front of his squad bay at Marine Corps Recruit Depot San Diego, May 17, 2016. Marine Corps photo by Sgt. Tyler ViglioneMARINE CORPS RECRUIT DEPOT SAN DIEGO, June 09, 2016 — Joining the military is a life changing experience, and reaching the end of a contract can sometimes lead to an emptiness that can only be filled by joining the ranks once again.
Marine Corps Private First Class Sean F. Evans, Charlie Company, 1st Recruit Training Battalion here, felt that emptiness since leaving the Army almost six years ago, and believed the Marine Corps was the best way to fill the void.
Evans says he was always interested in the infantry. In 2004, at age 18, he enlisted in the Army to become an infantryman. After infantry school, he attended airborne school and then reported to his first unit -- the 4th Brigade Combat Team, 25th Infantry Division, at Fort Richardson, Alaska.
Less than two years later, Evans was deployed to Iraq in support of Operation Iraqi Freedom, where he spent a year conducting patrols, executing missions involving high-value targets and cross-training with Iraqi forces. During his tour, he received several individual awards, including the Combat Action Badge. Additionally, his unit received three Valorous Unit Awards, which is the second-highest unit award and is considered the unit equivalent of the Silver Star. It is awarded to units that show extraordinary heroism against armed enemies.
A Second Deployment
Read more: Meet Your Military: Decorated Soldier Becomes Marine
Details

Hits: 3467
SPRINGFIELD, Ill., Oct. 7, 2016 —
Illinois Army National Guard Sgt. Wesley Todd of La Porte, Indiana, invented a device that improves soldier safety and equipment longevity while working on a light-towed howitzer.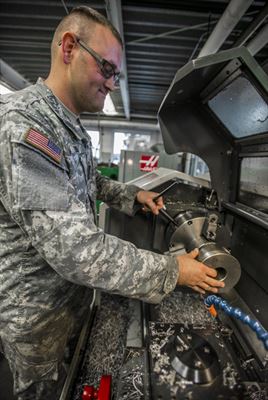 Illinois Army National Guard Sgt. Wesley Todd, of La Porte, Indiana, places his invention that's used to remove the muzzle break from the light towed howitzer, onto a lathe at the Combined Support Maintenance Shop in North Riverside, Illinois, Sept. 21, 2016. Todd device improves soldiers' safety and equipment longevity while working on the light towed howitzer. Illinois Army National Guard photo by Staff Sgt. Robert R. AdamsTodd's idea is being adopted by the entire U.S. Army later this year, and is projected to save taxpayers hundreds of thousands of dollars, perhaps more.
"I am shocked that the Army is going to adopt something I designed myself," said Todd, a noncommissioned officer with the 333rd Military Police Company in Freeport, Illinois, and a military technician with the Combined Support Maintenance Shop at North Riverside Armory in North Riverside, Illinois.
"It's an honor to know I improved the Army in a small way," Todd said.
Army Maj. Gen. Richard J. Hayes, the Adjutant General of the Illinois National Guard, said Todd's invention will affect the Army in more than a small way.
Invention Provides Savings, Safety Benefits
"This soldier's invention will increase safety and save the entire Army hundreds of thousands of dollars in equipment parts and repair time," Hayes said. "These are resources that will now be able to be devoted to other U.S. Army priorities. Sgt. Todd and his leadership have set a great example."
Hayes added,"Sgt. Todd has shown how a single Illinois Army National Guard soldier can improve a process for the entire Army, and his leadership has shown us a great example of how to listen to your soldiers' ideas and help them implement positive changes. I'm proud to have these soldiers under my command."
Read more: Meet your Military - Soldier's Idea Saves Army Big Money
Details

Hits: 2573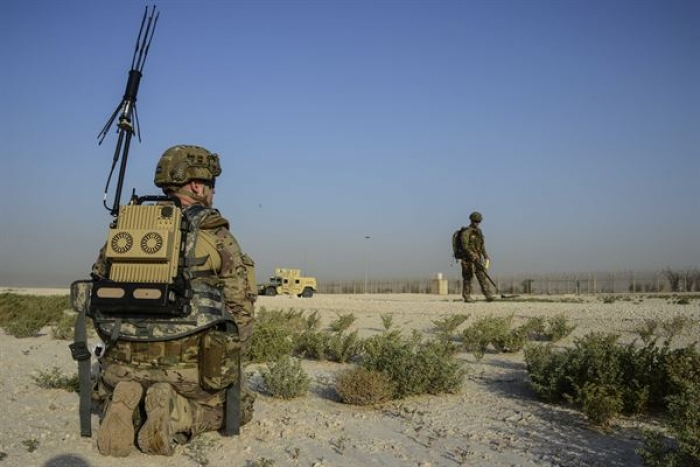 AL UDEID AIR BASE, Qatar, June 07, 2016 — A 5-year-old boy stood in front of his kneeling father in a hotel room, the boy weighed down with 50 pounds of tactical body armor. The gear weighed more than the boy.
Air Force Tech. Sgt. Kelly Badger, an explosive ordnance disposal craftsman with the 379th Expeditionary Civil Engineer Squadron here, placed his hand on his encumbered son's shoulder and looked him in the eyes. It was a powerful moment between father and son.
Read more: Meet Your Military: Airman Balances Family Life, Mission